A beautiful child died and Christians mocked the relentless faith of a church family.
Kalley Heiligenthal stomped her feet and waved her arms, dancing her way from one side of the bright-lit stage to the other.

"Come alive, come alive!" the congregants at Bethel Church in Redding, California, shouted in expectation as they clapped and sang praises.

The faithful shared these scenes on Instagram Tuesday night as they prayed for Heiligenthal's 2-year-old daughter, Olive Alayne, to be raised from the dead.
A little time has passed since the heartbreaking death of Olive Alayne, the daughter of a Bethel Church worship leader. While the news story has settled down, I still can't deny the grief that I am feeling. My spirit is deeply troubled. In fact, I don't believe it's too strong to say that I'm sickened by the response of so much of the church during this tragic time. No parent wants to go through the unspeakable pain of losing a child. When it happens you must have the love and support of a faith-filled family surrounding you. A spiritual family like Bethel Church in Redding, California isn't going to offer simple "hopes and prayers" as most everybody in the world does at the time of crisis. No, they are going to contend for a miracle. Of course they would, right?
A CHILD DIES AND CHRISTIANS MOCK
Other evangelical Christians are beginning to question the church's ongoing calls for resurrection. Author Wade Mullen, who writes about abuse within evangelical institutions, cautioned that attempted resurrections are often associated with cults. 
I'll admit I was quite shocked when I started to hear about Christians on social media voicing disapproval of such an effort to contend for a resurrection. Who wouldn't pray with passion in such an unspeakably terrible situation? Who wouldn't take a step of great faith and gather as many prayer warriors as possible to believe with them?
52

 And all were weeping and mourning for her, but he said,

"Do not weep, for she is not dead but sleeping."

53

 And they laughed at him, knowing that she was dead. Luke 8:52-53 (ESV)
Jesus experienced something similar when he suggested a pending resurrection. He was laughed at. The laughing continues today. I propose it's to the shame of the church that supernatural happenings are rare and so resisted in our Western culture. The default for every life crisis should be a corporate war in the Spirit for wonders to come. Help from deity is required. A faith-filled cry should echo out of us as otherworldly aliens who live by a set of different rules and live in a very different realm.
OUR OWN FOR RESURRECTION
My wife and I have lost seven children to still-birth and miscarriage, and we have battled in tears for each of them. I'll never forget one night several years ago when my wife and I were a part of the International House of Prayer in Kansas City. Amy was pregnant, and using her at home doppler heartbeat monitor, she frantically searched for the baby's heartbeat. There was none. After a confirming visit to the emergency room, sadness overcame us and we devised an unusual plan to match our heart-wrenching desperation. Within hours we were on a flight to Lakeland, Florida. We were going to do whatever it took to gather with other faith-filled people who would agree with us for a miracle. At that time all we knew was that God was moving extremely powerfully and thousands of people were converging under a massive tent, hungry for encounter with God. The intense anointing we felt there as 10,000 people were worshiping with passion was undeniable. Hindsight would give us a glimpse into the assault of the enemy against what God was doing, and, unfortunately, how Todd Bentley would fail. I'll tell you this. Todd's failure and exposure in no way diminished the faith, passion, hunger and legitimate love for Jesus that the people under that tent had. God was manifesting unusually, remarkably, powerfully. I wish I had the space to share the mind-boggling way the Holy Spirit orchestrated the events there. We were back stage throughout the night, doppler in hand, as people hovered around my wife and decreed and declared resurrection nonstop. Their love for two total strangers will never be forgotten. No laughing. No mocking. Only love. After many dramatic encounters and untold expressions of determined faith by two humbled, broken people, we flew home. There was still no heartbeat. The next night a spontaneous "resurrection service" took place in one of the classrooms at the International House of Prayer. Well over one hundred people worshiped with fiery zeal, cried out for God to move and then, one-by-one, lined up and took turns commanding our dead daughter, Livi, to live. With tears in their eyes, they pointed at my wife's pregnant belly as she sat in a chair, hands lifted, eyes swollen and faith raised, and shouted, "Livi, come forth!" The next day at the hospital she was induced and a tiny, lifeless body emerged. She was dead. The following night we had a memorial service, and most of those who were at the resurrection service were there. We worshiped intensely, refusing to surrender to unbelief even in the midst of failure. God was still God. Suddenly, in the midst of the worship, faith hit me powerfully. God pointed out a friend of mine across the room who was totally blind. God told me to pray for him. As the loud worship music filled the room, I started commanding his eyes to open. Nobody heard me, nobody knew what I was praying. Moments later it was my turn to preach. I released a bold message of faith and revival. I refused to allow this to defeat our belief in a miracle-working God and I determined to see revival come as a result. That was the passion of my heart. That was the message of the night.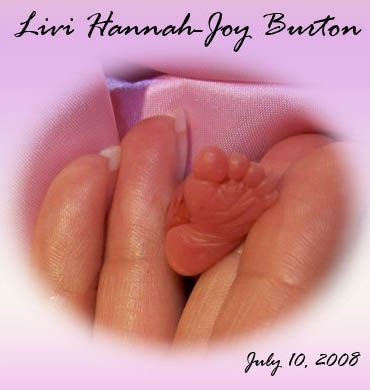 After I was finished I was called over to my blind friend. He said, "John, I just need you to know, when you were preaching on revival, my eyes started to burn. I wondered if I was about to be healed." He had no idea I prayed for him. God was doing something.
IT'S TIME FOR THE CHURCH TO BELIEVE AGAIN
The moral of this true, emotional story? We don't have all the answers. We don't always know how to react in the time of trial. I firmly believe the Lord revealed to me that all of this was training ground for my wife and me. You see, walking in increasing faith requires much learning and revelation. There's a way to walk in the Spirit and there's a realm of faith that simply requires becoming familiar with how things function in that realm. Simply "believing" and quoting Bible verses won't cut it. A life of supernatural faith demands much more. Did this, along with the lost of six other babies, damage our hearts? Honestly, yes. Did we question God? Yes. Did we evaluate our faith? Absolutely. Did the enemy try to overtake us, to shame us, to mock us? Oh boy did he. Are we closer to seeing blind eyes open and dead people raised after experiencing this overwhelming season of our life? Yes. I believe we are. It's time for the church to wake from its secular humanistic slumber into a supernatural reality. Read the reports. Around the world blind eyes are opened, dead people live and miracles are normal. In fact, read the Bible. It's all in there. I've never met the parents of Olive Alayne, but I'm confident that, even in the midst of mourning, they are growing deeper in faith and they are learning how to function in the Spirit. They may not feel it, they may be limping and they will never forget this tragic season of their lives. I would never pretend to understand their private, personal heart response, but I do know their daughter will forever be in their hearts and they will see her again very soon. Oh, and I'm convinced they don't regret the fight for her life in the least. Kalley Heiligenthal, Olive's mom:
"Olive, we miss you, love you so much and we'll see you soon. We know now more than ever that King Jesus is good and His every word is worth believing and following at any cost. That's the song we'll sing until we're with you again and we finally sing it together. We cannot wait." "It's a new day, and we're awake for it. This is a victory story," she concluded.