The faith in the room was pulled on during this powerful and challenging teaching—watch now!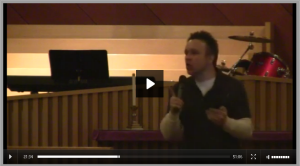 We are called to move from a life of low level prophetic influence, to a much more effective level of prophetic authority. Discover how in this teaching, Prophetic Authority. You can watch the video or listen to the audio at http://media.johnburton.net.
I received several comments about this teaching. It really hit home and impacted people deeply.
Here are some quotes from the video:
When our prayer moves into the place of deep groaning, we move from intercession to legislation.
Our natural analysis that fuels our prayer and our prophecy is locking us into a lesser life.
Doubt fueled prayer actually causes more damage than good.There's power of life & death in the tongue.It would be better not to pray at all.
Unbelief can cancel out even the most accurate and weighty prophecies and plans of God.
Regarding petition: we should stop wasting time in prayer trying to convince God to do something we don't believe he'll do.
If we don't deal with unbelief, our ministry will actually transfer unbelief to others, which will result in them being condemned. (Mark 16)
In a day when we're trying to get the church praying more, there's actually a deeper graduation into a life of less petition.
Unbelief keeps us from moving from having mere influence to a place of operating in great authority.
AND, don't forget to submit dreams, visions and prophecies to www.detroitprophecy.com!