Disqualified people are rushing to social media to establish illegitimate ministries. Are pastors to blame?
There's a level of toxicity regarding the prophetic in today's churches that must be addressed if we hope to hear God's voice and advance with clarity and power in these end times. People who have had their ministries rejected in the church are taking their services to Facebook and other social communities in hopes of developing influence. The problem? Influence without authority is birthed out of deep dysfunction and it can lead people into that same dysfunctional, unauthorized spirituality. They would argue they receive their authority and their authorization from God directly. This tired argument is evidence of resistance to being rightfully responsive to flesh and bone people that God has called us to serve and honor. We don't have the option to reject human authority while, in the same breath, attempting to establish ourselves as an authority. It's silliness. Listen to the podcast on this topic…
PROPHECY IS CRITICAL IN THE CHURCH TODAY
We cannot go on without pure, potent and mature prophecy filling our churches every single week. The lack of God's rhema voice is telling as churches are resorting more and more to sociological mind tricks instead of advancing according to supernatural revelation. It has become quite rare to see a body that's healthy and strong in the prophetic as people are rightly equipped and released to communicate oracles from heaven. Faith is epidemically low as millions of Christians have no idea what God's voice sounds like.
17

 So then faith comes by hearing, and hearing by the word of God. Romans 10:17 (NKJV)
The word "word" in the above verse is translated as rhema. This is the "now" word of God, the revelation whether it's a prophetic word or the words of Scripture leaping off the pages. When this active, precise and timely message from God pierces a people, faith skyrockets. Not only does a strong prophetic culture give a local church body the ability to move ahead in the direction God has determined, but everybody involved is wildly invested as a result of hearing God speak. True prophetic messages don't stop at the ears or the mind, but they sear our spirits and impact our emotions like no other message can. When this happens, faith goes up and we respond in unity, power and joy. Sadly, most churches could not be described as prophetic churches. There are reasons for this. Blame rests both on the
pastor
and on the people. Let's deal with the people first.
10 REASONS WHY PASTORS DON'T LET YOU PROPHESY IN CHURCH SERVICES
ONE: A LACK OF HUMILITY
I'll begin by communicating loud and clear something many prophetic people won't want to hear: never, ever start attending a church with the intention of mentoring, teaching or refining the
pastor
via prophecy or otherwise. What arrogance it must take for you to presume such an uninvited role in your church. If your wealth of wisdom, knowledge and experience are needed, be sure the pastor will request your counsel. Otherwise, keep quiet. Whether in this scenario or another, pastors have no use for people who want to minster to those they have been commissioned to protect if they aren't truly humble. Meekness is a prerequisite for prophetic ministry as any measure of arrogance or selfish ambition will taint the messages being delivered. This following passage of Scripture speaks to this issue perfectly:
13

 Who is wise and understanding among you? Let him show by good conduct that his works are done in the meekness of wisdom.

14

 But if you have bitter envy and self-seeking in your hearts, do not boast and lie against the truth.

15

 This wisdom does not descend from above, but is earthly, sensual, demonic.

16

 For where envy and self-seeking exist, confusion and every evil thing are there.

17

 But the wisdom that is from above is first pure, then peaceable, gentle, willing to yield, full of mercy and good fruits, without partiality and without hypocrisy. James 3:13-17 (NKJV)
Wisdom is demonic if self-seeking and envy is what drives it. Follow the advice in verse seventeen and be willing to yield.
TWO: DISORDER
Speaking of being willing to yield, undisciplined prophetic people tend to enjoy rebelling against the order of the house. Influencing the service with the spiritualized sound of their voice is what drives them. Many years ago as I was planting my first church a visitor asked me about our prophetic protocol. I explained that we value prophecy and that she could deliver a prophetic word to me or leadership for review during the worship service. She didn't like that answer. She went on to say that she would have to interrupt the service, even if I were preaching, if God gave her a prophetic word for the body. Ummm, nope. She presumed her supposed prophetic insight was important enough to violate order. We were interested in investing in her and in her prophetic gift and in developing a very active, life-giving prophetic culture, but she didn't want to function within those boundaries. She ended up leaving the church and we were the better for it.
THREE: IMMATURITY
There's a difference between someone who is actively and willingly growing in their gift and someone who refuses to grow up. Those who are intentionally undisciplined and who are not giving themselves to everything that needs to be done to grow and develop their gifting should not be set free to prophesy in the church. A lot of damage can be done. These people love to prophesy, but you don't see them in the prayer rooms. They are unresponsive to leadership. They aren't in the Word.
12

 For though by this time you ought to be teachers, you need someone to teach you again the first principles of the oracles of God; and you have come to need milk and not solid food.

13

 For everyone who partakes only of milk is unskilled in the word of righteousness, for he is a babe.

14

 But solid food belongs to those who are of full age, that is, those who by reason of use have their senses exercised to discern both good and evil. Hebrews 5:12-14 (NKJV)
Those who are prophesying are most definitely functioning in the arena of spiritual discernment. If they cannot discern spiritually due to a lack of maturity, there's no way they can be trusted to deliver prophetic words. Does this mean their prophecy is always wrong? No. But it means they are reckless in their devotion to stewarding their gift, and if they are driven by the wrong spirit, they can do damage.
FOUR: ADVERSE TO CORRECTION
There's no pastor alive who should allow someone to influence the body who won't take correction. This is not only an indicator of immaturity, but also of a dangerous, unsubmitted person. It reveals their heart and that's a heart that should never be trusted to minister.
1

 Whoever loves instruction loves knowledge,

But he who hates correction is stupid.

Proverbs 12:1 (NKJV)
Enough said.
FIVE: YOU WON'T TAKE NO FOR AN ANSWER
The pastor has the right and responsibility to refuse to allow someone to deliver a prophetic word (or to minister in any fashion) if he chooses. If someone reacts wrongly to this, that's evidence enough that they shouldn't have been allowed to share the message. Understand, much of the time a leader will disallow a prophetic word simply because he doesn't feel it fits. It may have nothing to do with the character of the person who desires to share the word. It may just be a timing issue. We need to yield to our leaders and not get uptight or feel rejected if they don't believe our ministry is appropriate at that time. If you are a prophetic person, you need to understand that what you wish to share in a public setting isn't always what others feel should be shared. Since you are a person under authority, you need to be okay with the reality that your leaders may not want you to share your revelation at times. If not, you'll grow bitter very quickly, and then we should run far and fast from any prophetic word you try to impose on us.
SIX: A POOR TRACK RECORD
It wouldn't make sense for a pastor to allow someone to preach on a Sunday morning if they have a history of teaching error. Further, they shouldn't allow someone to minister as a part of the worship team if they are always off key or don't show up for rehearsals on time. This simple and obvious realty applies to prophetic people as well. If they repeatedly deliver wrong, confusing or unscriptural messages, they can't be allowed to continue. Pastors must ensure truth is communicated and if someone can't be trusted to deliver truth, they must be benched until they can grow as a Believer.
SEVEN: MANIPULATION
This is a big, big point and I want to make sure I have your full attention: If you are attempting to use your supposed prophetic gift to steer the church in a direction not sanctioned by the leadership, you are functioning in witchcraft. You are in rebellion and your ministry is dark and it should not be tolerated. Charismatic witchcraft is rampant and we must have bold pastors who fear God more than man to deal very aggressively with it. If you are operating in this unruly spirit and attempting to pass it off as prophecy, you need to go. Leave. Don't come back. I'd be quick to show someone like this the door, unless they were truly repentant. Don't underestimate the damage that such a demonic spirit can do in a church, especially if the leaders God ordained to protect the flock refuse to act. Their silence can kill an entire church, and it happens every day. God will protect a leader who is "wrong" (I'm not talking about
sin
, I'm talking about organizational direction) before he affirms a prophetic person who is "right" yet manipulative, rebellious and fueled by an evil spirit of witchcraft.
EIGHT: DOMINATING THE SERVICE
There goes Sister Linda again! Oh, Brother Joe is about to stand up and deliver a word…I can just feel it!
We know the all too predictable scenario all too well. In many churches there's one or two people who, week after week, dominate the prophetic culture by delivering word after word after word after word after word…you get it. Again, the counsel is to yield! Do you have any idea how much cringing goes on in the church, by the pastor and by most of the body, when the same people are giving nearly the same words in most every service? Oh, it's true. The cringe factor is high. Pastors, the body is often wondering why you don't put a stop to it. You need to do your job and lovingly encourage these types of people on how to rightly minister in your local church setting.
NINE: GOSSIP
Closely related to manipulation, and equally as deadly, is gossip. Sadly, unrestrained prophetic people are famous for their ability to gossip. Stopping with a manipulative prophetic word is definitely not enough for them. When leadership doesn't change the course of the church after repeated doses of prophetic pressure, their next step is to gather people around them and to sell their perspective. Any good charismatic witch would do just that. All it takes is a Christianized coven meeting to give real power to their motives. Gossips are some of Satan's most anointed salesmen, and when that person is looked up to as a prophetic voice, you have some incredible manipulative, supernatural and extremely evil power behind their words. They can destroy a church overnight, and they cannot be tolerated.
TEN: YOU ARE NEEDY/YOU HAVE IDENTITY ISSUES
People who need to minister for the sake of affirmation, or to feed their misguided identities, shouldn't be given a platform, unless that platform is at the altar. Too many wounded prophetic people have developed a craving for affirmation in their gifting, and that weakness has compromised that gift, no matter how precise or developed it is. Our identity must be found in nobody and nothing else than Jesus. It should be easy to lay our gifts and callings down, with the only grief coming from our passion to see lives transformed. Our own need to minister should never be a factor. Those who need to minister should not be allowed to minister. Instead, they should spend time with Jesus and give themselves to the process of healing. Then, they will be free, healthy and trustworthy when it's time to step into ministry again.
PASTORS, THIS IS WHAT PEOPLE NEED FROM YOU REGARDING THEIR PROPHETIC CALLING
ONE: EQUIPPING
A key reason there's so much dysfunction in prophetic people today, and a reason they are running to Facebook to minister, is because pastors have failed to equip them. It's as simple as that. Prophetic people are yearning to be trained, but it's nearly impossible to find a church today that includes a prophetic school as a part of their foundational culture. Heck, you can barely find a Sunday School class focusing on it. Pastors, it's your responsibility to equip the people in the prophetic. How can you hear what God is saying if you don't? Church is a corporate venture, and while you are the point person, and while God will speak directly to you in most situations, you need others to confirm those words and to introduce additional revelation that's critical for the mission. If you shut down the prophetic in your services to avoid the issues I addressed above, you are wrong. It's as clear as that. Their failure is most often your failure.
19

 Do not quench the Spirit.

20

 Do not despise prophecies. 1 Thessalonians 5:19-20 (NKJV)
TWO: AN OUTLET
People need an outlet. Prophetic messengers especially must have a place to release their revelations. If not in the church, then where? If not in a safe place with the oversight of leadership it will happen unmoderated, uncontrolled and undisciplined in public. Pastors, you have no option but to nurture your prophetic culture in such a way that the body can minister the various impacts the Spirit of God is having on them. If they are muzzled they will most usually break free and unleash those words from a place of rebellion. Their rebellion is not only their fault. Very often, it's also yours.
26

 How is it then, brethren? Whenever you come together, each of you has a psalm, has a teaching, has a tongue, has a revelation, has an interpretation. Let all things be done for edification. 1 Corinthians 14:26 (NKJV)
THREE: FEEDBACK
Prophetic people want feedback. Those who are thin skinned will be revealed, which is advantageous to you. Those who are truly humble and teachable will come alive as you share your heart regarding their ministry. Did they prophesy from a healthy heart? Let them know. Was their message a little confusing? Coach them. Be invested in their development and your church will be the better for it.
FOUR: NO FAVORITISM
First things first. It's okay for pastors to acknowledge prophetic people who have passed tests, proven themselves and been faithful. They absolutely should be favored. Further, those who have failed the tests should not be favored. That being said, all things being equal, it's important that pastors give room to everybody who's healthy and ready to minister. The young need room to grow, the new people need a family to thrive in and those who have been trusted for years need to mentor the next generation. If you want to ensure a church stays in a spiritual rut, refuse to acknowledge anybody except those who have been in the inner circle for decades.
FIVE: A RIGHT RESPONSE
Prophetic people don't simply want to share a legitimate word from God. They are excited about the shift in the atmosphere that it will bring. Too often, pastors want to grab the reigns as fast as possible after a prophetic word is given and redirect back in the previous direction. Pastors must humbly admit that God will use prophetic people to bring fresh wind that demands the sails are repositioned so the boat starts moving the direction the Holy Spirit desires. These prophetic people simply want to see the fruit of their obedience to release oracles instead of the resistance and rejection that is so commonplace in the church today.
SIX: ENCOURAGEMENT 
Everybody needs encouragement, especially prophetic people! Speak life into them and let them know how blessed you are because of their ministry. Thank them for their heart, for their devotion to humility, for their growth. Let them know you see them developing and that you appreciate them. A healthy, loved and encouraged prophetic person is a valuable member of your team.
SEVEN: VALIDATION
There comes a time to publicly validate a ministry. This holds true for every ministry, but it seems those with prophetic callings are all too often overlooked. If someone has passed tests and proven themselves, over an extended period of time, let the body know you trust them and that their ministry is valid. Not only will this encourage the individual and give them a track to run on, it will show everybody else the type of person and what it takes to be validated. It will give them a goal. It will communicate that others, who have not proven themselves, are not affirmed, at least not at that level.
VICE VERSA
A bunch of the above points could be applied to the other party. Pastors also must be humble. They shouldn't manipulate. They must be mature, teachable and not a gossip. The prophetic person should encourage their pastor. They should have a right response to leadership. However, lets start the way I laid it out. We must see health come to the church, especially today, and most certainly in the arena of the prophetic. God has a lot to say to us.
Innumerable Christians are willingly engaging in occultic behavior, and it's not only on Halloween.
17

 

For nothing is hidden that will not be made manifest, nor is anything secret that will not be known and come to light.

Luke 8:17 (ESV)
I once heard about a Spirit-filled
pastor
who strategically avoided watching certain, questionable movies at theaters in his home town, instead driving an hour away to watch them in obscurity. He didn't want his choice of entertainment to be known, so he would head to the city to hide. This is an occultic maneuver.
oc·​cult

 

|

 

\

 ə-ˈkəlt : not revealed : SECRET: to shut off from view or exposure : COVER
Sadly, it has become common to hear about yet another Christian
pastor
or minister who has been exposed. Their secret life of
sin
was discovered, and the fallout is always devastating. Many go to great lengths to cover up their indiscretions, and they leave a trail of destruction that reaches far and wide. The Bible gives us a clear instruction to expose the darkness, yet today, too many Christians are doing the opposite, living secretive lives,
sinning
regularly and enjoying their dark, temporarily pleasurable deception.
14

 For God will bring every deed into judgment, with every secret thing, whether good or evil. Ecclesiastes 12:14 (ESV)
Listen to the podcast here… Before you start pointing a crooked finger at others, consider your own life. Is it possible you are driven by the occult as well? Have you created a system of checks and balances to ensure your private life is not exposed? How well does your mask fit? Are you sweet, holy and appropriate in public and altogether different in private or with your family? This is the occult at work, and it is a killer spirit. It's one thing to expose someone else's darkness, and it's something entirely different to deal with your own deception.
HALLOWEEN EVERY DAY OF THE YEAR
I personally believe it's absolute foolishness for Christians to participate in Halloween, and I've written on it quite a bit in the past. You can read one of my articles titled 
Halloween: The Invitation HERE
. Here is a portion of the article that speaks to our topic:
Over my last 25 years of ministry, I have had many encounters with witchcraft and the evil that is celebrated on Halloween, and I implore you to trust me: If you participate in Halloween at any level, you are at risk. There is nothing innocent about it and there is no way to sanctify it. The stories I could tell would make your skin crawl.  The level of demonic activity around the world on this night should result in millions of Christians gathering together to pray on fire in response. We must understand that a key role for us as Christians is to expose darkness. Strangely, instead of doing that with anointing and passion, when October rolls around, Christians—actual blood bought servants of a holy God—are actually enjoying and promoting darkness. If we understood the evil that surrounds this unholy day, we'd shout from the rooftops the danger and evil that is overcoming our culture.
It might shock you to consider that you may oppose Halloween while still vigorously affirming the occult. It's one thing to stand opposed to the clear, demonic and evil activities that surround Halloween, but if we embrace those same demons in the hopes they will help us hide our 365 day-a-year
sin
, we are deeply deceived—and in a lot of trouble. As dark as Halloween is, and it is extremely dark, I propose the occult that's present in so many devoted Christians the rest of the year is even more deadly. Covering up immorality will devour even the most devoted religious person.
8

 Be sober-minded; be watchful. Your adversary the devil prowls around like a roaring lion, seeking someone to devour. 1 Peter 5:8 (ESV)
PORN, LUST AND OTHER SECRETS
8

 for at one time you were darkness, but now you are light in the Lord. Walk as children of light

9

 (for the fruit of light is found in all that is good and right and true), Ephesians 5:8-9 (ESV)
I believe one of the most valuable attributes of a healthy marriage is transparency. Not only is it a catalyst for intimacy, but it diffuses the darkness. When Amy and I we were first married 24 years ago, we agreed to alert other the moment we found ourselves even the slightest bit attracted to someone else in an unhealthy manner. If there was an emotional connection initiating, or if unrighteous thoughts attempted to come in regarding another person, we were quick to share that. The result? It was diffused. Our voluntary accountability and devotion to bring things into the light not only immediately diffused a few specific situations, it resulted in a culture within our marriage that was not conducive to immoral and threatening feelings and behaviors flourishing. This commitment to each other has expanded to most every part of our lives. My wife, Amy, knows she can access any device I own, any computer, any phone, any tablet, and freely search through them. She can check my history. I can do the same on her devices. Any inappropriate pictures, videos, messages or material would be easily discovered. We are both grateful to God that porn, lust or impure media is not a part of our lives, and our entire marriage from start to where we are now is a testament to that. It feels good to be squeaky clean, and thanks to the empowering of the Holy Spirit, the darkness never has to overtake us. The occult must give way to the light!
12

 Again Jesus spoke to them, saying,

"I am the light of the world. Whoever follows me will not walk in darkness, but will have the light of life."

John 8:12 (ESV)
I want to encourage you to reject deceptive, occultic strategies. Don't hide the various compartments of your life, but rather be an open book. Don't live in fear of being exposed, but readily invite scrutiny in. You can be completely, entirely free from lust, pornography, anger, addictions, immorality and every other behavior and vice! This means you will make a dramatic shift in the direction of
holiness
. Celebrate the opportunity to eliminate questionable television and movies. Get excited about shutting out secular music in favor of Holy Spirit anointed worship music. Allow joy to replace your anger. You can finally be free from everything you've been trying to hide. The light of Jesus will certainly bring freedom to you and your family! You will then become a mighty threat to the darkness, ready to expose it, devoted to assaulting the devils that are celebrated by so many this time of year.
11

 Take no part in the unfruitful works of darkness, but instead expose them.

12

 For it is shameful even to speak of the things that they do in secret.

13

 But when anything is exposed by the light, it becomes visible,

14

 for anything that becomes visible is light. Therefore it says,

"Awake, O sleeper,

and arise from the dead,

and Christ will shine on you."

Ephesians 5:11-14 (ESV)
Three simple yet powerful truths will help unlock your financial future.
Listen to the podcast here:
When my family of seven moved to Branson, Missouri, we were in uncharted territory after twenty years of local church ministry. We were excited to jump into this new season, yet we knew we'd have to get creative with our financial strategy. The Ozark Mountains have millions of beautiful trees, but money doesn't grow on any of them. Super long story very short, we decided to start a new business in this tourist destination. Specifically, a new escape room attraction was our plan, and we had a lot work ahead of us in the next six weeks (yes six!) before we opened the doors.
THE SECRET SAUCE OF FINANCIAL FREEDOM
WISDOM
18

 You shall remember the

LORD

your God, for it is he who gives you power to get wealth, that he may confirm his covenant that he swore to your fathers, as it is this day. Deuteronomy 8:18 (ESV)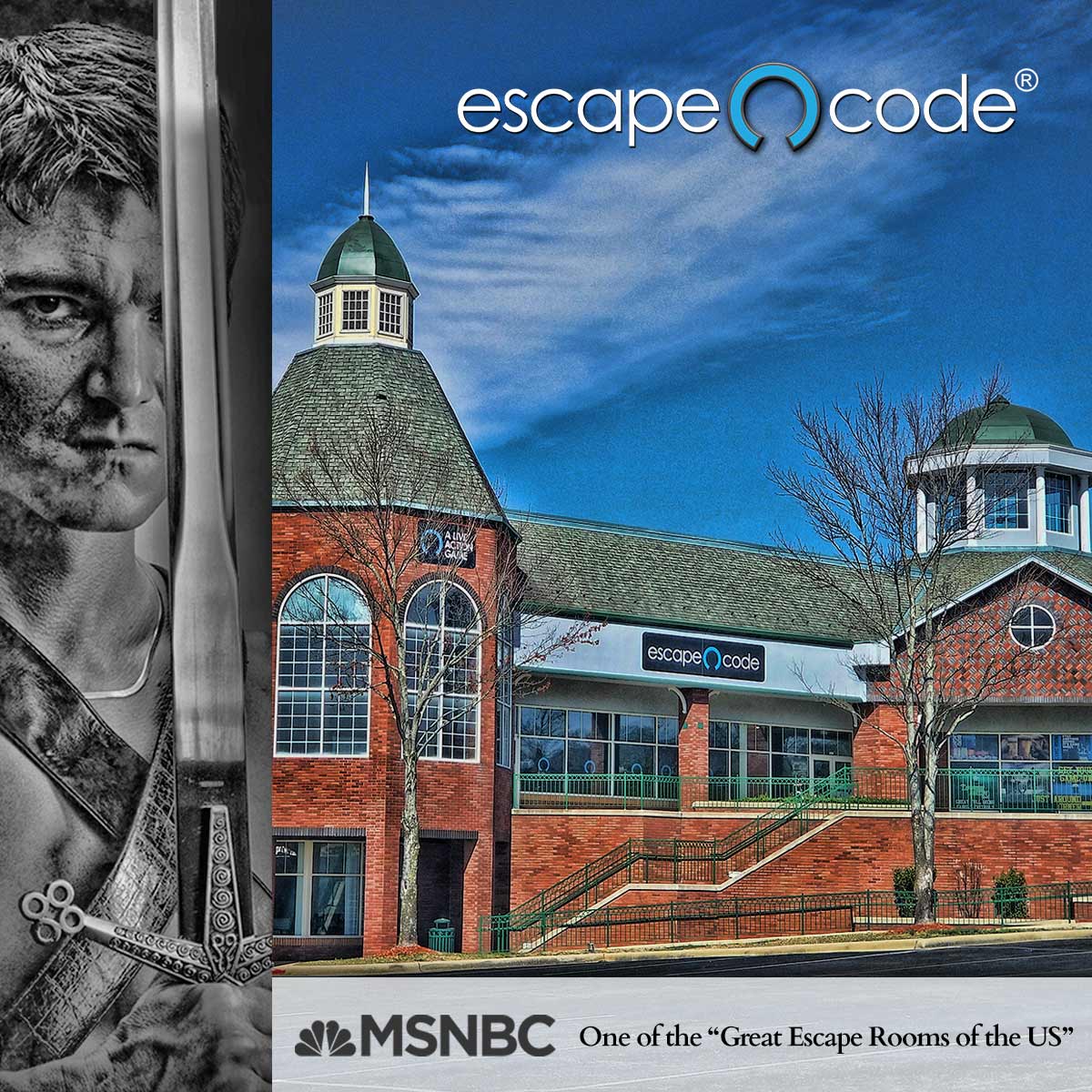 Today, the escape room industry is quite saturated and it's difficult to start one in most cities.
Competition
is fierce. In late 2015, however, that was not the case. Nobody had started an escape room in Branson, and we felt it made sense to move toward being the first as being first to market in this industry is critical. We believe this was a "God idea," and we didn't hesitate in our planning for one minute. Time was of the essence. From that point on, we remained prayerful and diligent as we covered every base we could find, and then several we didn't even knew existed! We consulted with experts, researched (and visited) many other escape rooms in the nation and learned all we could about starting a business. We studied nonstop. Understand, God absolutely has given us the power, the ability, to create wealth. What does this mean? He paved the way, but he's not going to do it for us. He has set us up for success. He's ready to move miraculously as we move obediently. He is the one who will bring the increase, yet, it's you and I who must move out and build the systems, do our due diligence and work smartly in the creation of wealth. Of course, we must be very careful to understand that it's God, and not us, who enables this wealth creating ability. (Wealth is simply financial resource, money and material goods that we can use in our lives and to advance the Kingdom
Wealth
and
wealthy
are not one in the same.) For us, this step of applying wisdom also included hiring the best architect, consulting with the city's planning department, following every one of their rules perfectly, choosing the right colors and design for our logo and other branding, researching how to best market and how much to spend on ads and so much more. In fact, our diligence resulted in passing a state audit a few years later with flying colors. They were gladly surprised to see such honesty and attention to detail. Precise record keeping, among other disciplines is wisdom, and wisdom is one of the three keys to financial breakthrough. When we understand God gives us the power to create wealth, it's important that we believe it, that we respond to it and that we do it rightly.
FAITH
19

 And my God will supply every need of yours according to his riches in glory in Christ Jesus. Philippians 4:19 (ESV)
In the midst of learning how to relate to the fire department, the planning department and other city officials, it got a little scary. The little money we had was being devoured by the thousands, and if this didn't work, we were in trouble! Even though the Branson, Missouri city leaders and employees are absolutely amazing, we were in the dark regarding approval processes and how much there was to do when opening a business here. At one point Amy, my wife, was in tears and ready to stop everything. It was too much. Today she shares that it was my faith that kept her on board. She's so thankful that we stayed the course! As a side note, it's wonderful being in a relationship that exhibits such diverse giftings, strengths and weaknesses. Amy is absolutely brilliant in the wisdom department. Faith regarding finances specifically is a strength of mine. We both have to consistently monitor all of our various ventures in life to ensure both faith and wisdom are working together. Leaping out in faith without being wise is a recipe for disaster. Wisdom without faith will keep us hiding out in caves! Knowing that God has promised to supply our every need makes it easier to keep moving forward. Faith is a result of trusting truth found in Scripture. God has gone before us and he understands we are fully reliant on him.
PEACE
23

 The steps of a good man are ordered by the LORD,

And He delights in his way.

Psalm 37:23 (NKJV)
This final ingredient in our secret sauce is one that may trigger financial breakthrough for many. Peace. Peace is a manifestation of faith, and the above verse has been a very important one for the Burton family. God knows faith requires risk, and he doesn't want us holding back due to overreaching "wisdom," which is actually fear. He wants us jumping, moving, shifting and advancing! So, he makes it clear that, as we do this, he has our back. He's ordering our steps. As long as we are living rightly, moving ahead the best we can, trusting his voice and refusing to allow any measure of fear to keep us paralyzed, that he will keep us on the straight and narrow. Wisdom plus faith equals peace. If we aren't at peace, we need to evaluate why before moving forward. It may reveal a lack of wisdom or misguided faith. God is not waiting to crush us under the weight of his disapproval. He is cheering for us! Even if, after investing in the process that wisdom demands and after doing our best to respond to God's instructions in faith, we fail, he's got us! He will make things right. He will order our every step. We don't have to hesitate, delay or be afraid. God will take very good care of us, even if we stumble. Miraculously, we opened Escape Code in Branson, Missouri six weeks after having the first thought about starting a new business. The sign was up, the rooms designed, the website published, marketing launched and the open sign turned on—and people started coming! Wisdom, faith and peace were the secret sauce that caused this to happen. Since then we've received awards and recognition including being voted the fifth best escape room in the nation by USA Today in 2017! It's exciting to see God moving in a project from concept to implementation!
A NEW TEST(IMONY)
Tests are simply an opportunity for a testimony. We believe it's important (and wise) to develop multiple streams of income. In addition to Escape Code I make a little (very little) selling my books and we enjoy producing travel videos on our YouTube channel that has recently become eligible for monetization (we can't wait for our first $100 check!). In addition to those endeavors, we decided to implement our wisdom/faith/peace strategy again by opening two additional businesses, both of then right next door to Escape Code in the same shopping mall. The Axe Game's build out was more expensive than we had expected and Sagas Mysteries would have to wait an additional twelve months before we opened it, even though we were pouring money into the lease for an empty storefront (which we had to secure so we didn't lose it). The investment and monthly expenses, even though we applied as much wisdom as we could have, and moved out in faith, with peace, resulted in a difficult season. It greatly impacted our overall financial situation. The solution? This might seem insignificant, but it's what God prescribed: In addition to our regular tithe and our already established additional monthly offerings and other giving, in the midst of financial crisis, we were to start giving an additional one percent. We did that, and last month the entire investment in our new businesses was paid off! New seasons will have new tests, but if we implement wisdom, faith and peace, God will always be there! It's wise to give. It takes faith to give. We should be at peace when we give. Add increased giving to the other strategies that also require wisdom, faith and peace and you'll start to see a new financial culture developed in your life and family. Oh, and by the way, this secret sauce isn't really secret at all. It's all right there in the pages of Scripture.