We'll experience God through powerful worship all night long in a special event with Aaron Crider!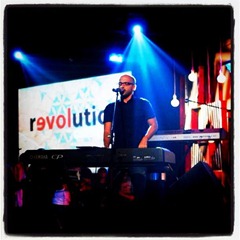 Sunday at 6pm come ready to love Jesus with deep passion!
Aaron Crider and our own amazing Revival Church worship team will be leading the entire night along with interjections of personal ministry, prophetic exhortations and explosions of life!
There a lot of new info including a new "Our Friends" section that includes info about our connections and also comments from friends such as Brian Simmons, JD King and many others!
Also, check out some of the ministries we love like Bethel, IHOP, The Ramp and others!
Take some time to experience The Ramp at www.theramp.org. We see a similarly structured ministry being established right here in Detroit. theLab is moving ahead in that huge, fiery vision! Visit www.revivallab.com for info!
Of course, check out the articles, videos and loads more at www.detroitrevivalchurch.com!

Are you ready to be a part of what many believe will be a world impacting center of ministry in Detroit?
I had no idea what I was getting into when God moved us from Kansas City to Detroit. Sure, I knew it was about revival. I also understood that the coming outpouring would impact this region and even well beyond. But, I was nowhere near being able to comprehend what would actually come to pass.
1 Corinthians 2:9-10 (ESV) 9 But, as it is written, "What no eye has seen, nor ear heard, nor the heart of man imagined, what God has prepared for those who love him"— 10 these things God has revealed to us through the Spirit. For the Spirit searches everything, even the depths of God.
The Spirit searches the deep things of God, and then reveals and imparts those things to those he loves. Man, that absolutely wrecks me!
I am convinced that the coming revival in Detroit will bring the shock and awe of the mysteries of God that mankind has never imagined.
IF YOU BUILD IT THEY WILL COME
I do my best to avoid cheesy movie quotes in prophecy. However, I just couldn't deny that God was talking to me.
God had been highlighting a vision of a massive movement and center of prophetic and revival focused ministry. I saw a regional center of reformation, revival and equipping very much like The Ramp in Hamilton, Alabama being established in Detroit. Keep in mind that I didn't know much about The Ramp, which is led by Karen Wheaton, as God was speaking that name into my spirit. I wasn't out to copy another ministry that was enjoying success. There was something else to this. God was calling me to plant a large center of revival that would draw thousands of people into God's holy fire.
During prayer before a service at Revival Church approximately a year ago the Lord spoke that famous movie quote to me, "John, if you build it, they will come."
It was a very heavy and exciting word. Well, things got very interesting as the service got started that night. Someone wandered in late and stood up in the service to get my attention. He looked at me and said, "John, God wants you to know that if you build it, they will come."
The trembling commenced. He had no idea what happened in the prayer room, and he had no clue that I had a mandate to launch a new ministry. God had my attention.
THE RAMP
I started connecting more with The Ramp online just to catch a glimpse of their flavor and focuses, as well as checking out the practical nuts and bolts of launching and running a ministry like that.
The vision we have here in Detroit is certainly unique as we focus on the groans of intercession, preparing for revival on a city and then international level and raising up carriers of fire who will take the burnings of God to the nations.
However, there are many overlapping circles of vision that are undeniable, and the driving force (the Holy Spirit) is the same. God is looking for reformers who will rock the nations.
At one of the events at The Ramp, Dutch Sheets said:
"You crave His presence, but you loathe the average church service. You are part of the reforming generation."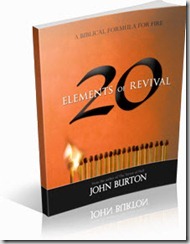 That's it! God is gathering similar people here in Detroit—loathers of mediocrity.
WHAT IT LOOKS LIKE
The Culture: If you read my book 20 Elements of Revival, you will have a good idea of what we're going after. The culture in this emerging ministry is one of extreme fire, burnings and groanings of intercession, going after manifestations of healing and deliverance and the development of leaders who will impart this to the nations of the Earth.
The School: Of course, theLab is blowing everybody's mind right now! This school of burning was dramatically prophesied over us by Jeff Jansen just before launch. He said I'd be writing books and we'd be launching schools (plural!) of the Spirit. We'd be taking people into the place of encounter and into heavenly experiences. It's been prophesied that we'd take caravans of revival into the cities of the Earth. This is a huge part of this mission, and I envision a large campus with hundreds of students being equipped and released.
The Events: An attention grabbing series of prophetic words has us focused on praying in a huge property. People that we meet keep prophesying that they see theLab and huge events in stadiums. One person said it will take a stadium to hold the events and the school at theLab. You'd be stunned if you knew how many times I've heard this. We desire to bring in people like Dutch Sheets, Bill Johnson, Rick Pino, Catherine Mullins, Brian Simmons, Cindy Jacobs, Heidi Baker and others who share our heart for revival. I'm praying for a 2000+ seat auditorium plus a campus with classrooms for schools of worship, prayer, etc. that will house our daily activities—and then favor with stadiums when we hold regular (monthly?) events.
The Nations: theLab will be sending teams to cities to establish schools and hold revival focused events.
HOW YOU CAN JUMP IN
Gather your family, friends and everybody you can on Sunday nights at Revival Church. As a regional center, we are thrilled when other pastors and people join with us when their church isn't holding a service. At Revival Church you will gain the traction necessary to see the vision and see how you can lock in with this revival movement.
Pray with us every Friday night from 10pm-midnight as we travel the Detroit region. This is the anchor of the ministry and you will immediately catch a powerful glimpse of our passion.
Give financially. We are literally looking for extreme miracles of millions of dollars to get this ministry center developed. Additionally, there's big plans to develop the school further, to launch into other cities and to continue writing materials. You can give online at www.detroitrevivalchurch.com/donate, or if you want to discuss a broader financial partnership, just contact me at

[email protected]

.
So, get ready! The harvest is coming. That means hundreds of thousands or more people are coming to Detroit! Are we ready to receive them?
We at Revival Church and theLab are doing our part!
Love you all!
Check out the developing plan for facilitating the move toward revival in the Detroit region.
The last prophetic word I received before leaving IHOP and Kansas City for the new mission in Detroit came from a pastor and friend from World Revival Church—the ministry that hosted the Smithton Outpouring. The word was something like:
"John, you are a fire starter. You ignite the fires of revival when you minister, and now God is calling you to build a fireplace. He needs a place to host and facilitate that fire so it continues to burn hot, so it doesn't die out."
I often wondered how I was to do that. Then, Brian Simmons rocked me this past Saturday morning when he said, several times, that the Detroit region was to be a fireplace of God's presence.
You see, my calling and focus in Detroit is very much regional as opposed to local. Revival Church is a regional prophetic center of revival. My heart is to see the fire of the Holy Spirit burn all over the greater Detroit Metro area.
Additionally, I have been feeling strongly the need for a monthly event, much like The Ramp in Alabama, in Detroit for quite some time. Now, that plan is starting to come to pass.
So, we are investing significantly into the regional revival strategy. Here's some of what is coming:
theLab prayer—We're calling 1000 intercessors to gather with us each week as we pray in a different church somewhere in Detroit.
theLab internship—We are raising up a team of revival minded, prayer fueled people who are interested in serving the coming outpouring. We are in pre-launch right now and are inviting those who want to join with us to show up at our next meeting (We meet at IHOPE every Monday, Wednesday and Saturday from noon-1pm, ever Friday somewhere in Detroit from 10pm-midnight and at Revival Church Sundays at 6pm). We'll have an info meeting in March, then we plan on launching in June. Contact me for more info at

[email protected]

. Also, visit www.revivallab.com.
theLab sponsored/endorsed events—Pastor Joe Sazyc is giving leadership, along with several other pastors, to a new monthly gathering. The fire is simmering, and we will be stoking those flames once a month in a worship and teaching mini-conference once a month somewhere in Detroit. The Fire in February Conference started something that words cannot describe. I'm still trembling! Stay tuned… we'll announce the schedule as we develop it.
I'd love to hear from you! What do you think? How would you like to participate?
I believe theLab internship will go a long way in covering the monthly events in intercession AND in serving the events practically. A well oiled machine, a unified team of revivalists will be working together each month to serve the mission of revival in Detroit!
Of course, there are other key movements under way as well including EACH, 24FLOOD, IHOPE and several others. We're behind all of them and can't wait to see how it all will come together!
This is very exciting! Contact me at [email protected] and share your thoughts!