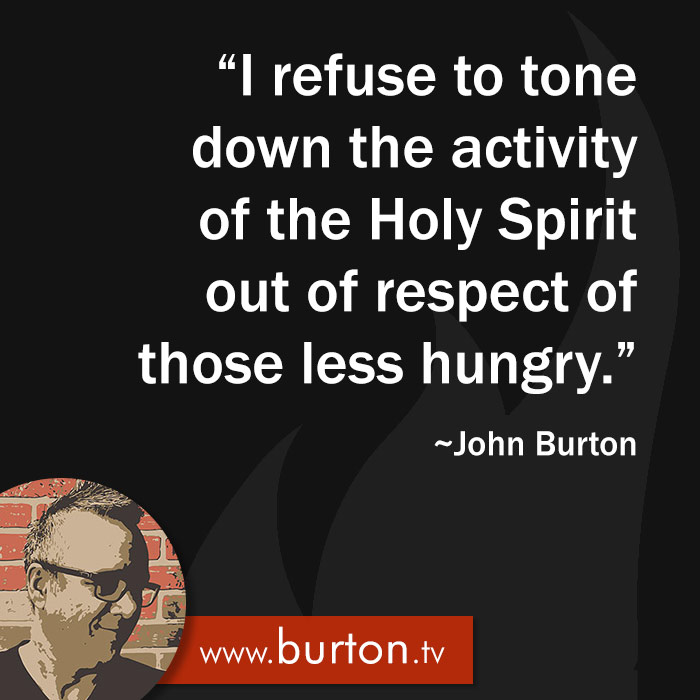 Churches that don't fan the flames of intense Holy Spirit activity need to go.
Like so many, I'm crying out for an earth-shocking move of God, an undeniable invasion of supernatural power that will drive us to our knees. The tears and the tremble that result will never leave us. Our very reason for existing will shift in an instant knowing we have just encountered Deity. 
The church has both the call and the authority to usher in such a holy visitation. Tragically, many have left the church with deep frustrations, giving up after holding out such high hope that revival would be the prime focus. Hosting the presence of God with the ultimate goal of igniting a regional outpouring is simply not the supreme motive of most churches today. Sure, many pastors and leaders would give a hearty head nod to the idea, but when it's time to contend, those who have refused to put down the weapons of warfare are few.
EMBRACE THE WEIRD
A pastor friend of mine recently mentioned the reason why so many in his Charismatic/Pentecostal denomination shy away from pursuing revival. They are "afraid of weird." 
I've said often that as a leader, I refuse to tone down the activity of the Holy Spirit out of respect of those less hungry. I fully embrace the weird. We need pastors who no longer care very much about how many mortals they have in the pews and start crying out for our immortal, fearful and omnipotent God to come! Oh yes, it will get wonderfully, supernaturally weird! Revival is messy, otherworldly, hard to understand and impossible to contain.
This is actually the problem. Many of today's pastors and leaders prefer a controlled flame to a wildfire. God is yearning to blow the winds of the Spirit over fast spreading fire that threatens everything in its path. He wants to consume homes, businesses and all his fiery love can overcome. He doesn't want containment. This fire must be wild.
NO MORE (SPIRIT-FILLED) CHURCH AS USUAL
Many have been campaigning for an end of church as usual. We need to take it a step further. It's easy for the Spirit-filled crowd to presume they have it. They are open to the moving of the Spirit of God and, as a result, have somehow arrived. This couldn't be further from the truth.
If a church genuinely wants the fire, they can no longer shut up the tongues. Tongues of fire must be unleashed in our churches again!
How rare is it to find supposed Spirit-filled churches that are roaring from groans that can't be uttered? The explosive, guttural cries of supernatural fire erupting out of the mouths of desperate people is a rare experience today. After all, that's weird and many of today's Charismatic pastors avoid it like the plague. 
We are all familiar with a typical Spirit-filled church service. You'll get some extended, nicely polished worship along with some lifted hands, dancing and shouts. Sometimes people will fall over when prayed for which is a sure sign you are in a Charismatic church. A long, enthusiastic sermon comes next followed by quality time at the altars. You are with me, right? We've all been there, done that.
Of course, all of what I described, if authentic, is very good. Very, very good.
However, it's not nearly what is needed if we want God's supernatural presence to absolutely overwhelm us. Revival doesn't launch from such a predictable, controllable church strategy.
A FORMULA FOR FIRE
To take the church from tired, predictable services into the mission of revival requires a significant shift in strategy. Carefully crafting a smooth, vibrant, mildly supernatural Sunday church experience will never suffice. Churches that refuse to go into the depths in these end-times should go. They are standing in the way of legitimate revival in their city and are robbing God's people of the opportunity to experience an outpouring.
While churches may be exceptionally good at any number of things, including growth, outreach, teaching, encouraging and discipleship, if they aren't doing it in the fire, they have become a liability in the Kingdom. Pastors may be brilliant leaders with thousands of people showing up to hear what they have to say each week, but without the knee-bending wind of the Spirit of God howling through the church, what's the point?
Here are some of the key steps for promoting a wildfire revival.
A REMNANT MINDSET
In order for revival to become job one in the church today, the seeker mindset of old must go. We have to be ready and willing to allow the majority to exit our churches never to return if that is, in fact, the required cost of revival. Pastors, find your remnant and burn hot with them. Until we realize the church is more about ministering to God than it is ministering to people we'll never even take the first step toward an outpouring. Pastors need an army of locked-in people who aren't showing up for themselves, but rather as sacrificial warriors who are ready to pierce the darkness as a single unit.
TONGUES AND GROANS
From my article, The Tone of the Groan:
Throughout scripture we see groans preceding a great deliverance—and this deep groan of the Spirit must erupt in our churches and in our cities now. The days of quiet, sedate church services built upon human order must come to an end—Sunday mornings must resound with a prophetic shock and a new sound of trembling people exploding in groans of the Spirit.
We need Azusa-level reports to shoot around the planet as we explode in supernatural cries!
In a skeptical front-page story titled "Weird Babel of Tongues",[17] a Los Angeles Times reporter attempted to describe what would soon be known as the Azusa Street Revival. "Breathing strange utterances and mouthing a creed which it would seem no sane mortal could understand", the story began, "the newest religious sect has started in Los Angeles".[20] Another local paper reporter in September 1906 described the happenings with the following words:

…disgraceful intermingling of the races…they cry and make howling noises all day and into the night. They run, jump, shake all over, shout to the top of their voice, spin around in circles, fall out on the sawdust blanketed floor jerking, kicking and rolling all over it. Some of them pass out and do not move for hours as though they were dead. These people appear to be mad, mentally deranged or under a spell. They claim to be filled with the spirit. They have a one eyed, illiterate, Negro as their preacher who stays on his knees much of the time with his head hidden between the wooden milk crates. He doesn't talk very much but at times he can be heard shouting, 'Repent,' and he's supposed to be running the thing… They repeatedly sing the same song, 'The Comforter Has Come.'
This is the most important and most effective step, by far, in promoting a wildfire atmosphere. Instead of nice, catchy worship and other typical church elements, introduce the raging glory and power of groans and tongues. Literally, when stepping into the sanctuary on Sunday mornings, the atmosphere will radiate with supernatural power as everybody is engaging in aggressive, expressive and booming groans and tongues! 
When pastors lead the way by engaging everybody in 30-60 minutes (or more) of continual, intense intercession at this level, literally everything in the church will change. It will shift from a low-level, mildly spiritual atmosphere that is mostly dependent on coercing people to tithe more, serve more and attend more to one that has people lined up outside the doors for hours waiting to get in.
VISIONARY LEADERSHIP
I'm not talking about worldly vision or an entrepreneur spirit. I mean pastors and leaders must be living their lives saturated in prayer and the Word to such a degree that God exploded supernatural vision into their spirits. Dreams, visions and encounters will rock and shock them to such a degree that little else matters than running toward the fulfillment of what God has revealed to them. 
Happy sing-a-longs, tepid prayer times, powerless sermons and a nice little family environment will give way to a vibrant, anointed, fearful and weighty atmosphere. Joshuas, Gideons and other bold, relentless biblically-modeled men and women of God will lead the charge into the great unknown. They know that only a remnant can get them where they need to go. Most will need to be released into the deserts of their own makings as they identify the few who have the courage to advance into the land of promise.
A PROPHETIC CULTURE
If authentic prophecy isn't predominant in each and every gathering, the advance toward a glorious revival will be stunted. 
While low-level, carnal, fake and invented "prophecy" must be rejected wholesale, true prophetic revelation must be embraced. Decrees and declarations based on the timely insight that God has revealed to that local body will shock the atmosphere with authority. The people, the remnant soldiers, should be trained and empowered to prophesy, and the entire body must be ready to shift and redirect as the winds of the Spirit move them. 
Fire and brimstone preaching will have to make an appearance in such a revival-focused environment. Unapologetic calls to radical consecration are absolutely mandatory. Holiness and repentance must be a common thread through everything in the ministry. While an atmosphere of grace is key, allowing people to authentically reveal their struggles in a loving atmosphere, the severity of the fear of the Lord must also be felt.
THE WORD OF GOD
The Word of God must be read and fully believed, proclaimed and boldly decreed if revival is to be had. The mission must be based on extreme adherence to the challenging truths of Scripture. Those who know God will be strong and do great exploits, and the revelation of the Word along with an atmosphere of fervent prayer will result in a people who know their God.
Simply, Sunday School style Bible teaching won't cut it. We need faith-filled, vision-driven and fearless proclamations of Scripture that rips apart strongholds and shatters the teeth of the enemy. We need biblical revelation that strikes us, marks us and wrecks us. We need the Word of God to pierce our hearts, captivate our minds and overwhelm our intellect.
THE SURRENDER OF CHURCH GROWTH
The pursuit of revival is a regional and national pursuit, not a local one. What I mean is, the end goal is not local church growth. It's beyond time to forever surrender the annual goals of more people, more small groups, more offerings, new buildings and any focus on local. 
If God starts moving powerfully in another local church in the city, pastor, you must shut your thing down for a season and support what God is doing on the other side of town. The goal is regional outpouring. The vision is much greater than four walls.
The moment the goal is the development of a single local church is the moment that church has been disqualified from the pursuit of regional revival.
INTERCESSION
I covered this mostly in the section about tongues and groans, but felt it necessary to doubly impress upon you the need for constant, fervent and powerful intercession. This is not a separate, side ministry that takes place before a service or on an off night. It's not to be relegated to a side room or to be led by anybody other than the senior leader. It's the most important, most powerful and most neglected ministry of the church.
The church isn't a house of preaching, a house of relationships, a house of evangelism or a house of anything other than a house of prayer. That's it.
Sunday services should be mostly vibrant prayer meetings. The cookie-cutter model we've become so used to must go. The worship, announcements, preaching, altar time paradigm must cease. The new wine skin is bathed in intercession, and every member of the remnant church must deliberately give themselves to it night and day.
FINAL THOUGHTS
We are far from revival. I hear prophets and preachers talking about how near we are, and I just have to shake my head and wonder what exactly they are discerning. In terms of timing, can revival break out sooner than later? Sure. But in terms of distance, in terms of where we are now and were we must be as a church to see revival hit, we are far.
The church must experience a reformation that will shock it to its core. It's this shock and awe of God's supernatural invasion that will never let us do church as usual again, Spirit-filled or otherwise. Every goal will change. Board and staff meetings will never be the same. Strategies and how money is spent will morph over night. When God visits, nothing else matters. The result will be a church on fire that prays night and day with ferocity.