Today's Christian generation in this nation at least is becoming quite the expert at right versus wrong. The fruit from the Tree of the Knowledge of Good and Evil has been bit into, and not only does it taste great but it's being shared among friends. Eve knew she needed Adam to taste and see that the tree was definitely good to make one wise—and the serpent was very pleased.
"So when the woman saw that the tree was good for food, and that it was a delight to the eyes, and that the tree was to be desired to make one wise, she took of its fruit and ate, and she also gave some to her husband who was with her, and he ate." (Genesis 3:6)
My recent article posted to Charisma Media on the debacle with David Dao and United Airlines and various related Facebook posts resulted in some disturbing retorts.
Time and again professing Christians were speaking as supposed experts in right versus wrong, and many eagerly supported the rebellious behavior of David Dao. They were proud of him for standing up for his 'rights' and sticking it to United Airlines. The point that David may or may not be a Christian doesn't matter. It's not his behavior I'm addressing, it's the response from Christians that is disturbing. The behavior of United Airlines or the airport police are non-factors as well, at least in regard to the appropriate reaction we should be supporting. No matter how badly we are treated, we must respond rightly, biblically.
I'm glad Jesus didn't stand up for his rights when he was wrongly convicted and then slaughtered on a cross. He didn't have to prove his innocence. He didn't have to plot revenge. He didn't have a "how dare they" attitude. He wasn't analyzing right versus wrong.
His famous words would be well repeated by all of us: Father forgive them, they don't know what they are doing.
If we support violating Scripture in our attempt to right wrongs we are utilizing a demonic anointing of rebellion and witchcraft to do so. It's that serious.
There's an unholy spirit of protest that's gaining strength in our nation in recent years, and much of the church is cheerleading that spirit from the pews and from the streets. Is there a way to deal with improprieties? Of course, but it involves the fruits of the Spirit. When we advance strategically against the enemy, we can never adopt his own strategies and anointing. The fruits of love, joy, peace, patience, kindness, goodness, faithfulness, gentleness and self-control must be evident.
The unhealthy spirit of protest actually plays out every day in churches around the world. People who don't get what they want, and who are offended by pastors and leaders, do all they can to prove they were violated—while plotting revenge through gossip, complaining, accusation, slander or other devious means.
STOP USING LEADERS TO GAIN WHAT YOU WANT
It's a spirit of religion that's driving so much of the angst and anger that's directed at those who stand in our way.
My definition of religion is: man's attempt to use God to get what he wants.
Further, when we use other people to selfishly advance in our own lives, especially as it relates to spiritual matters, we can know it's a demonic spirit of religion that's driving us. In fact, it was Eve's desire for spiritual advance that caused her to eat the fruit. It's appropriate to desire to advance but it's improper to walk it out by using people and disobeying the Word of God.
In my nearly three decades of ministry my heart is grieved at how often people live defeated and then blame leaders, pastors, parents and others for their misfortune.
I love this Tweet by @IHOPKC:
We can do the will of God in our life without relying on others to open doors or be our source of promotion.
We don't have to fight with pastors, bosses, airlines, the police or other supposed oppressors. We don't have to blame them for misfortune. There's a better way.
I come alive when I see people growing and stepping into their ministries. When they take their callings seriously and give themselves to the process of promotion, God takes notice, and it's God, not man who will ensure our ministries are fulfilled.
FROM MY BOOK SIX ENEMIES: ENEMY NUMBER SIX—RELIANCE ON MAN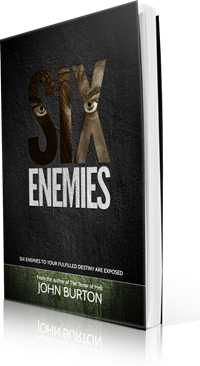 A foundational component of God's government (His way of delegating and administering) on the Earth is the facilitation of ministry through mankind.  God uses people in a variety of very important manners in order for Kingdom life to function well.  In this divine and diverse system God has established a system of interdependence.  I need you and you need me.
Added to this key truth is the very important principle of submission.  We must submit to one another, and we must most certainly submit to our authorities.  I address this topic more comprehensively in my book Covens in the Church.  We are not called to be anarchists who embrace a non-Biblical methodology of self-governance.  God's government demands humble submission to others in our lives.
It's from this position and attitude of service where God  can more effectively trust His children to become holy dreamers.  God can entrust divine missions to us when He knows that our heart is bent on loving others well and preferring them above ourselves.
The problem comes when healthy interdependence gives way to burdensome co–dependence.  All sorts of issues arise when we find ourselves being frustrated and held back in ministry and attaching blame to other people.  If we align ourselves with this enemy, we'll be fooled into thinking that the fulfillment of our ministry is fully dependent on our pastor or leader.
Does God use others to help facilitate our ministry?  Yes.  Are we to take it upon ourselves to determine how others are to facilitate our ministry?  No.  God has called us to serve.  True ministry is actually service.  So, as servants, we humbly avail ourselves to others and do our best to help them in their ministry.
Luke 14:8-11 (NKJV)"When you are invited by anyone to a wedding feast, do not sit down in the best place, lest one more honorable than you be invited by him; and he who invited you and him come and say to you, 'Give place to this man,' and then you begin with shame to take the lowest place. But when you are invited, go and sit down in the lowest place, so that when he who invited you comes he may say to you, 'Friend, go up higher.' Then you will have glory in the presence of those who sit at the table with you. For whoever exalts himself will be humbled, and he who humbles himself will be exalted."
As we truly embrace the principle of preferring others above ourselves, it will actually feel unusual to expect others to make a place for us and our ministry.  Instead of becoming frustrated when a place isn't made for us, we'll be at peace knowing that God is fully in charge of our destiny.  We can serve well, expect nothing, be fearless of rejection and allow the process of biblical promotion to naturally take place.
When that issue is resolved, you can focus on the journey of personal development and preparation for the ministry that God has called you to.  If a call to preach has been burned in your heart, then in due time you will most certainly preach, but not before you are ready.  God may use others to create a divine delay in your ministry.  Don't blame others for this speed bump.  You aren't to be reliant on others, but you are to avail yourself to others.  Serve them well.
Luke 14:11 (NKJV) For whoever exalts himself will be humbled, and he who humbles himself will be exalted."
Your promotion isn't dependent on others noticing your greatness, but rather is on the revelation of your weakness!  When humility becomes the driving force in our lives, God gets very excited about the powerful ministry that will eventually flow through us.
John 13:2-5 (NKJV) And supper being ended, the devil having already put it into the heart of Judas Iscariot, Simon's son, to betray Him, Jesus, knowing that the Father had given all things into His hands, and that He had come from God and was going to God, rose from supper and laid aside His garments, took a towel and girded Himself. After that, He poured water into a basin and began to wash the disciples' feet, and to wipe them with the towel with which He was girded.
Jesus was about to experience mankind enforcing their rule over him.  However, no matter how resistant other people were to the ministry of Jesus, God would not be denied!  Pontius Pilate couldn't stop the earthshaking ministry of Jesus.  Judas couldn't.  The guards couldn't.  Jesus prevailed.
This act of humility, as Jesus washed the feet of His disciples, was a visible revelation of the condition of His heart and character.  Our call to humility is the same.  No man can stop what God desires to do through our lives as we surrender in complete humility.
Our destiny will be facilitated in many ways through God's government on Earth; however no man can stand in the way of our fulfilled destiny.  Our reliance is on God, not man.
Often, people will leave churches because their ministry isn't received.  It's hindered or even rejected.  For example, someone may feel a calling to sing on the worship team.  The worship team leadership, however, may not feel that this particular person is a good fit for the team.  It can be very easy for the individual to allow offense to take root in their heart.  Their thought is that the worship leader is standing in the way of God and is stifling the Holy Spirit.  This person can easily embrace a divisive spirit, bitterness and anger.  So, in frustration they just leave in hopes of finding a more enlightened leader who will allow them to minister.
This scenario tragically occurs every day in churches around the world.  Rebellion to authority is embraced along with a heart of accusation as they take their immaturity to the next church on their unhealthy journey to personal affirmation.
Ministry is service.  If a church doesn't need our particular gifting to be expressed, then that's OK.  We serve another way.  If God needs us to sing, to preach or to work in a particular function He will make sure that no man can stand in our way.  Ministry, though personally fulfilling, isn't about personal fulfillment.  It's about service.
Check out Paul's description of ministry:
2 Corinthians 6:3-10 (NIV) We put no stumbling block in anyone's path, so that our ministry will not be discredited. Rather, as servants of God we commend ourselves in every way: in great endurance; in troubles, hardships and distresses; in beatings, imprisonments and riots; in hard work, sleepless nights and hunger; in purity, understanding, patience and kindness; in the Holy Spirit and in sincere love; in truthful speech and in the power of God; with weapons of righteousness in the right hand and in the left; through glory and dishonor, bad report and good report; genuine, yet regarded as impostors; known, yet regarded as unknown; dying, and yet we live on; beaten, and yet not killed; sorrowful, yet always rejoicing; poor, yet making many rich; having nothing, and yet possessing everything.
Are you sure you want to minister?  Though the question is sobering and thought-provoking, the answer for all of us must remain "Yes."  We are called to minister, however true ministry as defined in Scripture may be something quite different than many think.  It's a call to wash feet and to die at the hands of others.  It's a tragic yet precious calling.
1 Thessalonians 2:6 (NIV) We were not looking for praise from men, not from you or anyone else. As apostles of Christ we could have been a burden to you …

2 Corinthians 4:8-12 (NIV) We are hard pressed on every side, but not crushed; perplexed, but not in despair; persecuted, but not abandoned; struck down, but not destroyed. We always carry around in our body the death of Jesus, so that the life of Jesus may also be revealed in our body. For we who are alive are always being given over to death for Jesus' sake, so that his life may be revealed in our mortal body. So then, death is at work in us, but life is at work in you.
If our destiny is to minister (it is!), then we must grab hold of the amazing example of Paul and other biblical leaders.  In these two passages alone we discover:
We are not to seek praise (affirmation, promotion, etc.) from man.
We are not to be a burden.
Though hard pressed we are not to be crushed.
Truly, our destiny, as Paul emphasized, is to die.  The very people that we wanted our promotion to come through may actually be those that disappoint us and cause our flesh to die.  God values the process of killing pride, selfish ambition and other obstacles to pure ministry.  We must understand this if we are to come out of this healthy and invigorated!  God is calling us to minister with power, and this reality should take us well beyond our own personal fulfillment when we are able to minister according to our own giftings and desires.
Our destiny will not be held back by pastors, leaders, friends, parents or anybody else, but God will use these people to facilitate the process of brokenness that is so necessary in our lives.
As we allow this process to happen, and refuse to indict others, a humble and burning man or woman of God will emerge as a powerful weapon in the hands of the living God!
1 Corinthians 1:26-31 (NIV) Brothers, think of what you were when you were called. Not many of you were wise by human standards; not many were influential; not many were of noble birth. But God chose the foolish things of the world to shame the wise; God chose the weak things of the world to shame the strong. He chose the lowly things of this world and the despised things–and the things that are not–to nullify the things that are, so that no one may boast before him. It is because of him that you are in Christ Jesus, who has become for us wisdom from God–that is, our righteousness, holiness and redemption. Therefore, as it is written: "Let him who boasts boast in the Lord."
It's from a humble, vulnerable place where we can allow God to flow through our weaknesses.  God receives the glory and we boast in Him alone.  It's our reflection of the glory of God that will most quickly result in fulfilled destiny.  As we shine Jesus, the world will crave what we have to impart.
Ephesians 4:1-3 (NIV) As a prisoner for the Lord, then, I urge you to live a life worthy of the calling you have received. Be completely humble and gentle; be patient, bearing with one another in love. Make every effort to keep the unity of the Spirit through the bond of peace.
So, the message of humility should be quite obvious at this point.  The very simple conclusion for us as we pursue a fulfilled destiny and ministry is this: Rely on God and trust His process.  God will use people to both encourage us and discipline us.  They will be used to refine us and promote us.  They are instruments in God's hands.  Don't get upset at the instruments if they don't recognize you.  Serve them well and trust God to make you ready for the ministry that He has called you to.
The chaos that erupted on a United Airlines flight yesterday should never have happened.
I was in the vicinity of two unfortunate United Airline situations over the past week.
First, I was on my way to preach at the Strike The Match Conference in Melfort, Saskatchewan, Canada last Thursday. My flight from Chicago to Toronto was delayed most probably due to a fake bomb threat on a Toronto to Chicago flight earlier in the day.
Second, I was at O'Hare International Airport again, this time on my way back from the conference yesterday (which, by the way, was an electric and supernatural explosion of Holy Spirit power!) —the same day passenger David Dao was forcibly removed from a United Airlines flight.
The police never should have been called. David never should have been dragged off the airplane. He never should have been bloodied or knocked unconscious. This never should have become a trending story on social media.
David Dao should have obeyed the directive to walk off the plane.
I have to admit, I am disturbed at the number of Christians who are knee-jerk reacting against United Airlines and in favor of the unruly passenger. While the police may have possibly employed regrettable actions, the airline was acting within their rights, just as they do many times a day in similar situations. Submission to authority is an elementary level truth for Believers. David Dao, and every one of the nearly one billion air travelers in the United States agree to very clear, non-negotiable terms when they buy their ticket. The Contract of Carriage allows airlines to remove and rebook passengers.
Complaining, refusing to comply and rejecting the directives of our authorities is ungodly behavior. Period. David may or may not be a Believer, but Christians, you should know better.
Do all things without grumbling or disputing, that you may be blameless and innocent, children of God without blemish in the midst of a crooked and twisted generation, among whom you shine as lights in the world… (Phil 2:14-15)

And the people complained in the hearing of the Lord about their misfortunes, and when the Lord heard it, his anger was kindled, and the fire of the Lord burned among them and consumed some outlying parts of the camp. (Num 11:11)
MY UNITED AIRLINES EXPERIENCE YESTERDAY
Everybody who travels by air is well aware of the fact that there is a chance you won't make it on time. My trip to Canada and back was negatively impacted both directions. I was exhausted in both instances and easily could have been grumpy and unreasonable with the decision makers who were putting stress on my journey.
Two flights were delayed on the way to Canada and air traffic control issues forced the cancelation of my flight from Chicago to home last night. I missed my daughter's birthday because of it. Plus, the airline only paid half of my hotel. I'm out at least $160 for hotel, food, toiletries, etc. Guess what? That's life folks! I wasn't pounding my fist on the United Airlines customer service counter (after waiting in line for an hour) demanding better treatment. I didn't strong-arm them into finding my luggage, that was unnecessarily checked through to my final destination at the gate by the way, so I could have clean clothes to wear today. I was tired, probably a little smelly and ready to go home. Instead I emptied my wallet because of no fault of my own, checked into a hotel somewhere in Chicago, slept just a little, woke up early, wore the same smelly clothes today, and finally flew home.
How sad of a story that is, right? You have to be kidding. That's simply called travel.
Come on people. It's not all about us. Sometimes life doesn't go as planned. Yes, the man in Chicago who refused to deplane was extremely in the wrong.
It's our job as lights in a dark world to smile and reveal the life and love of Jesus in challenging and unfair situations and not grumble and demand our rights to be met!
Ironically, just as I emerged from the jet bridge in Springfield, Missouri, I saw the group of people waiting to board the plane for their own flight. The attendant said, "This flight is overbooked and we are looking for volunteers to surrender their seats." I'm sure those who either volunteered or were forced to give up their seats acted a lot more maturely and appropriately than the gentleman did yesterday.
THE LOST ART OF SUBMISSION TO AUTHORITY
Let everyone be subject to the governing authorities, for there is no authority except that which God has established. The authorities that exist have been established by God. Consequently, whoever rebels against the authority is rebelling against what God has instituted, and those who do so will bring judgment on themselves. For rulers hold no terror for those who do right, but for those who do wrong. Do you want to be free from fear of the one in authority? Then do what is right and you will be commended. For the one in authority is God's servant for your good. But if you do wrong, be afraid, for rulers do not bear the sword for no reason. They are God's servants, agents of wrath to bring punishment on the wrongdoer. Therefore, it is necessary to submit to the authorities, not only because of possible punishment but also as a matter of conscience. (Rom 13:3-5)
We aren't only to submit to authority that is fair or right. We don't turn our submission on and off based on our own analysis of the situation. We should have no fear of authority, of pastors, of leaders, of the police, if we are doing what is right.
Regardless of whether David Dao was treated properly or not, he disobeyed a clear and direct order. He was wrong, no matter how important he believed himself to be. Entitlement must go. Humility and submission to authority must find its way into our independent, narcissistic culture.
As I said above, I'm stunned at the Christians who are instant in their defense and outright celebration of David's clear indiscretion. In today's society it seems it's the authority that's always the villain. Corporations, pastors, police officers, parents and others are held in suspicion at best and rebelled against without apology at worst.
Airlines absolutely have the right to remove people for any reason. Refusal to comply is against the law. That simply cannot be argued. We are required, per Scripture, to obey. Our supposed 'rights' are not more important than our responsibility to submit.
God will always support authority that is wrong before he supports one under authority who is right and in rebellion. Those who don't understand this set themselves up for great bitterness both against authority AND God.
We presume God is most interested in right vs. wrong. He is not. He's interested in our response, our reaction.
It doesn't matter if United Airlines was wrong (though I personally do not think they were), David's reaction was unacceptable. The airline had the right to do what they did. They had no obligation to explain themselves. They along with the lawmakers write the rules.
There are many "unfair" rules the flight attendants must enforce on flights. They are irritating. I really don't think my seat being two inches more upright is really going to save me in an air disaster. However, they are the boss! What they say goes, whether it's when we can wear headphones, get up to use the restroom or whether we get to fly that day at all. They and ultimately the captain are our authorities in the air. It doesn't matter if we like the rules or agree with the rules. We simply have to obey the rules. I think introducing "yes sir, yes ma'am, no sir, no ma'am" back into our culture would do us all a lot of good.
FALSE HUMAN RIGHTS
From my Charisma News article False Human Rights Destroying the Church and our Nation:
Today we are absolutely overwhelmed by the constant, self-centered shouts of those who demand that their country—or their church—gives them what they believe is rightfully theirs.

It's a false human rights movement.

The right to abortion. The right for same-sex marriage. The right to be equal. The right to be heard.

It's a sickening, selfish focus that is driven by human desire instead of a willingness to take up our cross and die. How often have people left churches because their supposed rights weren't addressed? How much dissension is in the workplace because people are looked over in favor of another?

I've said it before—today, when people's self-centered pursuits are rejected, they abandon relationships, leave churches and cause division, but when Jesus was rejected, He didn't abandon people. He didn't forsake the church.

An offended people will destroy a nation. A surrendered people will build a nation.
All over social media today I'm reading about who was right and who was wrong. Some are screaming that United Airlines was wrong and that David is the victim.
Friend, it's not about right or wrong. It's about our response.
Christians are being tortured, raped and murdered as martyrs all over the world, and we think someone being required to vacate a seat on an airplane is a violation of human rights? We'd have to be sick to think such a thing!
COVENS IN THE CHURCH
From my book on authority, Covens in the Church:
The enemy has caused many to believe that we can't experience freedom while being submitted. This is simply not true.

Freedom from authority is rebellion. Freedom in the absence of authority is anarchy. Freedom under authority is liberty.

It must be made clear now that while God desires leaders to serve with great love, humility, passion and care, there are some in the body who simply do not do so. While God will hold those leaders deeply accountable for their leadership, God will hold the rest of us accountable for how we respond to them. Do we serve from a position of great love, humility, passion and care–or not?

Loving submission to authority is non-negotiable and more important now that it has ever been.

God loves you very much and is capable of protecting you even as He has placed you under the authority of imperfect men and women. Remember, we are not to be self-governing in an attempt to protect ourselves from flawed leaders. That is the wrong response to the problem. Using a spirit of Control to fight a spirit of Control doesn't work. This is the core idea of the entire book. As we submit to those whom God placed over us, be they good or evil, God will ensure our protection.

We may have to go through difficult situations that seemingly limit us, put our dreams on hold or even violate our pet ideas and opinions. The situations may last years, but we must submit in love without failure! God is able to bring us through!

We never speak against or elevate our own opinions above God's established authority. Pastors, prophets, apostles, politicians, policemen, bosses, etc. We humbly support them, unless, and only unless, they were to cause us to violate a CLEAR Scriptural truth. That's it.

It's important to understand that to submit to God's appointed leaders in our lives only to the point where we agree with the order is NOT submission at all.

Submission is actually spotlighted when someone honors his or her authority when the order is contrary to their own opinions, experience or position. We can agree with our authority while not agreeing with the order or instruction or position. It is never appropriate to remove ourselves from a position of submission if the order given is inconvenient, bothersome or irritating.
HONOR OF AUTHORITY MUST RETURN—TO THE NATION AND TO THE CHURCH
It's time to crucify our narcissistic, independent flesh and love and honor—and obey—the authorities God has put in our lives. We don't have to be afraid. We can be free.
Today there seems to be a new uprising against the establishment, against leadership almost continually.
We can contend for cultural change. In fact, as Kingdom Christians, we have a mandate to do that! But, we do it with intercession, love and honor for our leaders.
God will not affirm those who use control, manipulation, unrighteous anger and an independent spirit to affect change.
Entire movements of zealous intercessors and godly social activists can do wonders in society—as long as their heart is right.
Come on friends, let's change the world the right way. Let's go the way of honor. God will have our backs.
Satan has a plan to infiltrate and defile the modern worship movement.
The first sin in the universe was pride and the first being to sin was Lucifer, an Arch angel who dwelled in the very presence of God in heaven.

Theologians believe that Lucifer was the worship leader in heaven, in the very presence of God. He was exceedingly beautiful and endowed with special abilities. As we see in the passage from Isaiah 14, Lucifer looked upon his own beauty and wisdom – attributes created in him by the Lord – and he decided that he would raise his throne above God. He foolishly declared, "I will make myself like the Most High." ~CBN

Luciferianism is a belief system that venerates the essential characteristics that are affixed to Lucifer. The tradition, influenced by Gnosticism, usually reveres Lucifer not as the devil, but as a liberator, a guardian or guiding spirit or even the true god as opposed to Jehovah. For Luciferians, enlightenment is the ultimate goal. ~Wikipedia
As one who lives much of my life with headphones on, including as I write this article, with anointed worship music being pumped into my spirit night and day, this is a challenging message to deliver. It's challenging due to the fact that I highly revere the anointing that rests on so much of today's and yesterday's worship music. It disturbs me that such an article would even be necessary. The obvious argument would highlight the overt evil, immorality and demonic culture we live in, and the filth in media that results. The argument would declare it's highly inappropriate to attack music that, in comparison, should be celebrated.
I concur that the majority of music and media today is offensive and a stench in the nostrils of God. I also agree that we must encourage all to flood their lives with truly anointed media including worship music. For years, my prescription for people who have come to me confessing struggle in their walk with God was to eliminate all media for a season that was not explicitly anointed, worshipful and godly. In fact, I'd go so far as to ask them to consider turning off even contemporary Christian music (or whatever else they enjoyed) and take in a steady diet of Vineyard (my favorite back in the day) or other worship music for a month.
Without fail, those who took me up on my experiment reported powerful breakthrough while those who did not continued to struggle. Worship music anointed by the Holy Spirit is more powerful than we might realize. So is music that's anointed by Lucifer.
A recent, related article that I wrote for Charisma Media has been shared over 50 thousand times from their site alone. Worship Leaders Must Take a Stand Against Homosexuality addresses the need for holiness in worship leaders, and it was a call for them to make a vocal stand in opposition to the spirit of the age. Why is this important? Because the theological and moral positions of our worship leaders will directly impact the advance of revival and the Kingdom. Additionally, the enemy, just as he did in the very beginning, is looking to seduce today's spiritual generation by subtly twisting worship music just enough so that it takes on his anointing instead of God's.
THREE WAYS LUCIFER CAN INFILTRATE WORSHIP MUSIC
ONE: Theology
Many people wrongly believe that the worship leader's theology is unimportant. The train of thought is that the Senior Pastor is the gatekeeper regarding theology in the local church and the worship leader plays a lesser, supporting role. All we have to do is jump back a bunch of years to see that the Great Gatekeeper, God himself, was assaulted and his mission was radically damaged.
"How you have fallen from heaven, O star of the morning, son of the dawn! You have been cut down to the earth, you who have weakened the nations! But you said in your heart, 'I will ascend to heaven; I will raise my throne above the stars of God, and I will sit on the mount of assembly in the recesses of the north. I will ascend above the heights of the clouds; I will make myself like the Most High.' Nevertheless you will be thrust down to Sheol, to the recesses of the pit. Those who see you will gaze at you. They will ponder over you, saying, 'Is this the man who made the earth tremble, who shook kingdoms, who made the world like a wilderness and overthrew its cities, who did not allow his prisoners to go home?'" (Isaiah 14:12-18)
Lucifer, the worship leader, was not unified with God and truth was violated. God himself couldn't (or didn't) stop what happened next:
One third of the angels fell with Lucifer.
Countless millions of humans will burn in the Hell that was made for him after he was cast out of Heaven.
Bad theology in your worship leader can easily lead to many others in the church succumbing to the deception.
Why?
Your heart was proud because of your beauty; you corrupted your wisdom for the sake of your splendor. (Ezekiel 28:17)
The mix of pride and beauty can be extremely seductive. I think we'd all admit there are worship leaders we absolutely love. Their music, their stage presence, their passion is all extremely attractive. For those who are truly humble and godly, there is nothing wrong with that. However, for those who embrace theologies and belief systems that are unbiblical, their anointing will remain—but the source of the anointing will change. The music, stage presence and passion will be as compelling as ever, but the truth will not be what is driving their worship. Bad doctrine compromises anointing.
You would be shocked at how many worship leaders (and pastors for that matter) affirm the grisly act of abortion. Others have been conditioned by false-grace doctrines, supposed "gay Christianity," prosperity, me-centered theologies and other beliefs.
For many, the goal of a worship experience is enlightenment. To tap into another realm and experience the supernatural isn't bad. It's good, as long as it's the right realm. Unfortunately, too many simply want the high regardless of just what anointing exists there. This is Lucifer's goal. Seduce with enlightenment and trap people with what the biblically compromised worship leader is offering.
They retain their "beauty," the enlightenment is powerful and their attraction is intense. However, their anointing can be very dangerous indeed.
TWO: Secret Life
Worship leading should not be the primary job description of worship leaders. It should be the natural outflow of a life of intense, continual prayer. Praying in the spirit night and day must be job one for all of us, and especially those who are supposing to lead us into an encounter with a holy God.
It should be obvious that we cannot lead people where we have not gone. I propose many of today's worship leaders are simply pointing people to the holy place instead of going ahead of them and leading them there.
One of my favorite takeaways from my time at the International House of Prayer in Kansas City was the worship culture. Every day, the worship teams spent hours in the prayer room, praying, studying the Word, pacing around the room crying out to God, and only then would they take the stage. Only then would they truly have something to offer. Only then could they hope to lead people into the encounter they just had with God. The result is powerful, often spontaneous songs that are deep and spiritual alive instead of the karaoke worship we are all so used to.
On the contrary, so many of Sunday morning's worship leaders and musicians are taking the stage after possibly saying a quick, casual prayer together, and often after spending many prayerless days. Many are coming off a Saturday night that was filled with unholy media and movies. Others are secretly struggling with sins—while others aren't struggling at all. They are embracing a sinful lifestyle wholeheartedly.
Decades later, I'm still shocked at the times early in my Christian walk when I witnessed worship leaders, pastors and others in the church casually enjoying vile, R-rated movies or listening to music that is unholy. They'd fill their lives with the pleasure of the day, every single day, and then sing and preach in God's house of prayer. My spirit is sickened.
Sadly, the church has become so desensitized that we can't tell when the anointing has departed.
The secret lives of worship leaders absolutely can result in Ichabod being hung above the doorposts of the church.
And she named the child Ichabod, saying, "The glory has departed from Israel!" because the ark of God had been captured… (1 Sam 4:21)
Do we even understand the cost involved in hosting the ark of God today?
THREE: Lyrics
Does anybody else notice the trend in worship music toward the glorification of man?
Benefits, our position, our experience…shouted in song after song.
We need to get back to God-centered lyrics that proclaim his goodness!
"We exalt thee! We exalt thee! We exalt thee, oh Lord!"
"All hail the power of Jesus' Name! Let angels prostrate fall; Bring forth the royal diadem, and crown Him Lord of all."
"Blessing and honor, glory and power Be unto the Ancient of Days From every nation, all of creation, Bow before the Ancient of Days Every tongue in heaven and earth shall declare Your glory Every knee shall bow at your throne in worship You will be exalted O God And Your kingdom shall not pass away O Ancient of Days"
"Are you washed in the blood, In the soul cleansing blood of the Lamb? Are your garments spotless? Are they white as snow? Are you washed in the blood of the Lamb?"
Friend, it's not about us! It's not about our benefits! It's not even as much about how much God loves us as it is about how much we love him!
Imagine writing a love song for your spouse, and then passionately singing it to them. Imagine the lyrics were all about how much he or she loves you instead of how deeply you are in love with them. That would be bizarre! We need to exalt God a lot more than we do celebrating his love for us.
It is becoming more and more common to hear worship lyrics (and contemporary Christian music lyrics) that are either wishy-washy and watered down or simply not biblical at all.
LET'S INITIATE A TRUE WORSHIP MOVEMENT
There is a true worship movement that emphasizes our death and exalts God that will shake the foundations of the earth!
As we live lives of humility, deep prayer and holiness, the music that comes out of this movement will cause demons to flee!
Worship leaders, I plead with you, don't allow your beauty and your passion to lead the people God has given you to serve. Lead from your knees, from the prayer room, from that secret place of intercession. Only then will you have what is necessary to set the captives free and introduce a troubled and demon-assaulted generation to the love and power of a holy God!
And whenever the harmful spirit from God was upon Saul, David took the lyre and played it with his hand. So Saul was refreshed and was well, and the harmful spirit departed from him. (1 Sam 16:23)