Posts Tagged 'fire tunnel'
At 11:30pm I finally went home—after a night of wonders in the form of gold dust and encounters in a fire tunnel!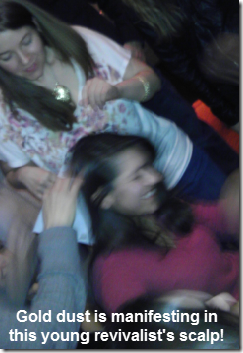 When I walked into the auditorium after pre-service prayer, I knew something very different was going to happen Sunday night. The spirit of revival was most definitely there.
I've experienced the manifest presence of God in extremely heavy forms many, many times over the last two decades—and I can easily say Sunday night was the heaviest its been since I've arrived in Detroit.
HOW IS THIS HAPPENING?
The combination of so many red hot burning people praying with passion an hour before the service starts plus the most anointed, powerful worship team I've ever had along with a sharp, prophetic message of Kingdom advance and a bold mandate of taking the city of Detroit equals an atmosphere of extreme Holy Spirit activity!
The place was absolutely electric! People have been driving from over two hours a way just to get a taste of God with us at Revival Church!
Revival is starting to pop!
Just when you thought the service might be done, and after the personal prophetic ministry was coming to an end, God started manifesting again!
One of our key leaders was in a God induced trance and was encounter flame carrying angels. Gold dust was covering people. One young lady kept having it appear in her scalp and the crowd rushed around her to see—and then exalted God and thanked him for his touch!
Finally at 11:30pm I hit the road totally shocked and rocked by the power of God. Amazing.
Spread the word. God is up to something very, very special and rare at Revival Church. Wow.
CATHERINE MULLINS AND BRIAN SIMMONS
Get ready for a weekend of fire!
Our great friends Catherine Mullins and Brian Simmons will be back in Detroit February 3rd-5th!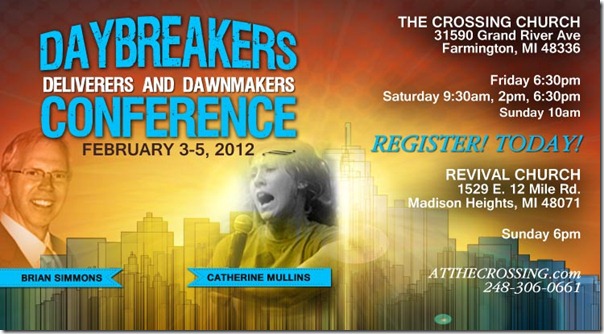 This is a remarkable video of a manifestation of gold dust at Bethel Church's Open Heavens Conference!
Church it's time to contend for a culture of supernatural life that's filled with wonder!
Check out this video of a visible cloud of gold during a fire tunnel at Bethel Church's Open Heavens Conference in Redding, California. It was posted by their Youth Pastor, Tom Crandall.
http://www.facebook.com/photo.php?v=2310539496490&mid=504592
MARK 16:17-18 REPENTANCE MOVEMENT
Mark 16:17-18 (ESV) 17 And these signs will accompany those who believe: in my name they will cast out demons; they will speak in new tongues; 18 they will pick up serpents with their hands; and if they drink any deadly poison, it will not hurt them; they will lay their hands on the sick, and they will recover."
Repentance? I believe so. We have done a great job of talking about the Kingdom, but have been satisfied with a lack of demonstrating the Kingdom. There must be a movement of repentance in the church for this reality. God must grip our hearts!
As Christians, we have no option to remain removed from a supernatural life of signs, wonders and miracles. We are mandated to experience God in this fashion as a normal part of our ministry.
It's sadly rare to find a church that highlights a culture of miracles, but that is going to change. If we want revival, it must.
Bizarre and monumental phenomenon's are coming to the church, and I am convinced that Detroit will be one of the forerunner cities. The glory cloud of God will be visible in this city!
I was amazed several times over two specific weekends when many people noticed a visible glory cloud at Revival Church. Then, I found out that it was also at Pastor Joe Sazyc's church in Dearborn Heights.
Get ready church for a reformation of understanding of what it is to know God, to encounter him and what it is to go to church! The masses are coming and they aren't coming for one of our nice church services! They won't settle for anything less than the tangible, weighty glory of God! I won't either!
As usual, it's not humanly possibly to put into words what happened at theLab today—people went after God, and he responded.
FIRST—Don't forget tomorrow at Revival Church we'll have personal prophecy after the service. Last Sunday over 50 people crowded into the room and received powerful ministry. Service starts at 6pm!
---
Last night theLab was downtown Detroit roaring and flagging and crying out in deep intercession, all while people gathered around to watch us burn! The police and other were mesmerized with what was happening. Many were prayed for and a full blown fire tunnel formed as people from the streets walked through and received serious fiery prayer! Wow!!!!!
Today at theLab, life shifted unexpectedly and with great power. We are forever wrecked.
I grabbed some Facebook comments after today's session:
Really theLab was all I could imagine and so much more and it was only the first day!!! Ahhhhhhh ~Catie

If the 1st day is like this! I'm almost scared to see what the last one will be like! Oh my! ~Kita

Orientation to the revival lab….wow if today was a the beginning my mind can't comprehend the level the staff and interns are going to be at in 3 months ~Jeswin
Start preparing for the NEXT SESSION which begins on January 7, 2012. Visit www.revivallab.com for info!