The condition in our nation is so weighty that we must awaken 'groaning intercessors' who contend together for revival in the church.
Throughout scripture we see groans preceding a great deliverance—and this deep groan of the Spirit must erupt in our churches and in our cities now. The days of quiet, sedate church services built upon human order must come to an end—Sunday mornings must resound with a prophetic shock and a new sound of trembling people exploding in groans of the Spirit.
Acts 7:34 (ESV) I have surely seen the affliction of my people who are in Egypt, and have heard their groaning, and I have come down to deliver them.

Romans 8:22-26 (ESV) 22 For we know that the whole creation has been groaning together in the pains of childbirth until now. 23 And not only the creation, but we ourselves, who have the firstfruits of the Spirit, groan inwardly as we wait eagerly for adoption as sons, the redemption of our bodies. 24 For in this hope we were saved. Now hope that is seen is not hope. For who hopes for what he sees? 25 But if we hope for what we do not see, we wait for it with patience. 26 Likewise the Spirit helps us in our weakness. For we do not know what to pray for as we ought, but the Spirit himself intercedes for us with groanings too deep for words.
I've been privileged to give leadership to some events where intercessors and hungry people have shaken and shocked atmospheres. The loud, erupting sound of groans have been resounding in our meetings. It's been prophesied many times that a new sound is going to be released. A new tone. I am convinced that this is not a new musical style, but rather it is a new groan of the Spirit. It's the tone of the groan that will be heard around the world.
One of the most misapplied scriptures is Romans 8:28. When people are struggling, it's common to share this verse with them. It's actually pretty bad counsel if we don't let them know that this verse is dependent on the preceding verses. Romans 8:28 starts with the word "And," which should reveal that it's connected to what came before it:
Romans 8:26-28 (ESV) 26 Likewise the Spirit helps us in our weakness. For we do not know what to pray for as we ought, but the Spirit himself intercedes for us with groanings too deep for words. 27 And he who searches hearts knows what is the mind of the Spirit, because the Spirit intercedes for the saints according to the will of God. 28 And we know that for those who love God all things work together for good, for those who are called according to his purpose.
Things work together for good WHEN we allow the Holy Spirit to intercede through us with groans! No groan, no guarantee of success.
This is talking about a literal groan. Just like praying in tongues requires a literal sound to come out of our mouths, the groans are also deep, zealous sounds…tones…emitted from the depths of our inner man.
Churches must begin to become prayer and groan driven! The sound will break strongholds and usher in deliverance into our nation.
Yes, it will make a lot of people uncomfortable…but the Holy Spirit will be radically comfortable.
When the groans begin, Romans 8:28 initiates. As the powerful mysteries of God are exploding out of us in prayer, we easily find ourselves loving God with deep intimacy. We embrace the calling that's on our lives. We have a resounding yes in our spirits even though we don't know logically what we are agreeing with! In fact, bypassing our logic and intellect through groans of intercession is a primary reason WHY we are in agreement with God!
Our minds can't understand what's being prayed, and therefore can't come into disagreement with it!
PRAYING IN TONGUES: THE SOLUTION FOR DEAD PRAYER MEETINGS
I don't know that you can really have a dead prayer meeting if people are erupting in tongues!
Honestly, it's difficult to understand why so many Charismatic churches minimize tongues in their meetings. It makes no sense whatsoever!
We need Azusa-level reports to shoot around the planet as we explode in supernatural cries!
In a skeptical front-page story titled "Weird Babel of Tongues",[17] a Los Angeles Times reporter attempted to describe what would soon be known as the Azusa Street Revival. "Breathing strange utterances and mouthing a creed which it would seem no sane mortal could understand", the story began, "the newest religious sect has started in Los Angeles".[20] Another local paper reporter in September 1906 described the happenings with the following words:

…disgraceful intermingling of the races…they cry and make howling noises all day and into the night. They run, jump, shake all over, shout to the top of their voice, spin around in circles, fall out on the sawdust blanketed floor jerking, kicking and rolling all over it. Some of them pass out and do not move for hours as though they were dead. These people appear to be mad, mentally deranged or under a spell. They claim to be filled with the spirit. They have a one eyed, illiterate, Negro as their preacher who stays on his knees much of the time with his head hidden between the wooden milk crates. He doesn't talk very much but at times he can be heard shouting, 'Repent,' and he's supposed to be running the thing… They repeatedly sing the same song, 'The Comforter Has Come.'
The Comforter has come! Oh, for a movement where the testimony of our heart was simply that! The Comforter is here! He is blowing in and through us and there is absolutely no denying his love and power!
Now think of a typical American prayer meeting. I know, I don't want to attend either!
We must see the tone of the groan return to the church again! Oh, and a supposed "disgraceful intermingling of the races" would do wonders for the a movement of unity and revival too, don't you think? We could fix dry and dusty prayer meetings along with the current racial turmoil in the land at the same time!
I often propose to churches, and model it often in our own ministry, to pray for one or two hours straight in nothing but tongues. No English. No petition. No prayer requests. No worship. Nothing but tongues, nonstop, for hours. Prayer meetings, Sunday meetings and every other meeting would begin to radiate brightly and new life would come to the church almost overnight.
TONGUE DRIVEN PRAYER MOVEMENTS
I've seen two powerful prayer movements impact two cities, Colorado Springs and Detroit.
Every Friday night our team of local zealots would be invited into a different local church in the city. We'd pray, without ceasing, for two hours in tongues. In all, we prayed in over 170 total churches between the two cities.
We had one foundational rule: tongues would never be sacrificed or minimized for anything, including unity. How could true unity reign if we ask the Holy Spirit to wait outside the door?
It was always tempting, because of our love for pastors and people from all Christian streams, to remove the tongues requirement. That would gain us entrance to hundreds of additional churches that didn't embrace the gifts of the Spirit. I was always resolute, however. I knew the movement would die when tongues ceased.
I simply don't believe prayer is sufficiently powerful without the burning of the Holy Spirit. We need tongues of fire that scorch atmospheres.
I'm believing for new movements of prayer that result in churches being baptized afresh in the fire and power of the Holy Spirit.
I don't know about you, but I am craving revival in the church of our nation, and we can be sure that all things will absolutely work together for good in America if the church begins groaning in the Spirit. Time is short, open your mouth and let the fire of the Holy Spirit rage through you in an other worldly language. That supernatural cry will have a sound that shakes atmospheres and brings life to the dead. You absolutely have a unique tone. It's the tone of the groan.
Then when Mary came where Jesus was, and saw Him, she fell down at his feet, saying to Him, "Lord, if You had been here, my brother would not have died." Therefore, when Jesus saw her weeping, and the Jews who came with her weeping, He groaned in the Spirit and was troubled … Then Jesus, again groaning in Himself, came to the tomb. It was a cave, and a stone lie against it … now when He had said these things, He cried with a loud voice, "Lazarus, come forth!" And he who had died came out …" John 11:32-44
Everywhere I turn I hear someone angrily calling out controlling pastors, and it has to stop.
I often hear people use the term 'spiritual abuse' when sharing about challenges in their church. It seems to lend a clearly valid reason to leave a church, right? Not necessarily. I do understand that there are some horrible, selfish, mean spirited, controlling pastors—and congregants—out there. My heart is broken over situations like that. However, actual abuse is quite rare. I recently had a conversation with someone regarding spiritual abuse, and here's my response when it was argued that spiritual abuse is rampant in the church:
I think it's tragic when rejection causes people to flee the church when it was rejection that caused Jesus to die for the church. Jesus was abused, hated, physically destroyed… yet he served the church. He forgave. We have people today who are leaving churches because of the most ridiculous reasons. When they don't get what they want, they accuse the pastor of control. Whenever accusation is in the mix we know someone has embraced a demonic anointing. He is the accuser of the brethren… and we should not be. I also believe that abuse of people towards leaders is extremely rare. My wife and I have been in ministry 21 years… and we've experienced some very difficult things. Very cruel people… gossip, division, mistreatment, etc. But we've never been close to being abused. I used to work for a 10/40 Window ministry. I've met Christian leaders in those nations who have been imprisoned in horrific conditions… stories of abuse like having a shotgun put in someone's mouth because they didn't renounce Christ… they pulled the trigger and she lived. I could go on and on… pastors murdered in front of their congregation… another stripped naked and abused as he preached. I've seen piles of burning Christian bodies that were killed and torched by terrorists. So, no, I haven't seen abuse much at all. I've seen bad stuff. Tough stuff. Inconvenient stuff. Emotionally difficult stuff. Unfair stuff. My heart goes out to those who have been treated poorly by pastors. And my heart goes out to pastors who have been treated poorly by people. But, I won't call it abuse if it's simply a very bad trial.
As I said, I understand what it is to endure extremely unfair actions by leadership that were emotionally painful and that resulted in trauma and hardship in our family. Going through these seasons are so painful, however as I look back I see just how important they were in our development, in our training, in our pursuit of love and humility. It's easy to love everybody when you are celebrated. The real test comes when you are are treated wrongly. I believe this is a test that God will allow us all to take. Unfortunately, too many people take on a victim mentality and run away from their church assignment hurling accusations and screaming about abuse. Test failed. False-expectations can easily lead to offense. As part of the church, too many presume it's the
pastor
's job to coddle them and to jump through their hoops. In fact, it's our job as the congregation to serve the mission of the church. It's not the job of the
pastor
to serve ours. It will do all of us a world of good if we lay down our expectations and simply minister to God with passion!
SPIRITUAL ABUSE
I'll never forget a powerful moment when I was ministering in Connecticut several years ago. I was speaking at conference. After one of the final sessions, one that I was not speaking in, I was approached by a lady who presumed I was a pastor at the church. I told her I was simply visiting as a guest minister, and apparently that was okay with her. I was someone she could talk with. What she told me shook me to the core, and my definition of spiritual abuse changed forever. She told me her discussion with me was the final step in a process of healing for her. I didn't understand, but I continued to listen. Several years ago she attended a church in the area. She went on to describe her experiences with Satanic Ritual Abuse (SRA). I won't describe the grotesque abuses in this article, but simply know it's enough to make you cry uncontrollably…and vomit. The fact that this lady regularly was abused in this manner in a church, by a supposed pastor, was beyond what the human mind could understand. After years of being emotionally incapacitated, God met her. He gave her an assignment of forgiveness and healing. She set out to do everything God prescribed her to do, and she was not at her final step. She drove to the city where the abuse took place, the city where I was ministering, a place that she never returned to. She avoided it like the plague (to her it was) for years. So, there she was, standing before an unsuspecting visiting minister releasing forgiveness to her abusers, decreeing her own freedom and finding healing. It was a spine-tingling, absolutely remarkable moment. This lady was abused. I hope you can now see how most accusations of abuse will never even come close.
SPIRITUAL TESTS ARE DIFFERENT THAN SPIRITUAL ABUSE
Am I unsympathetic toward those who are treated poorly? No. I'm really not. But, I must admit, I actually expect God to put people in those situations. So, I don't immediately rush to judgment of the pastor and I don't immediately attempt to rescue them from their pit. It's there where character is built.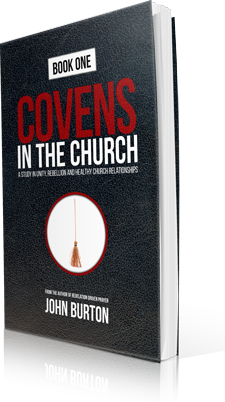 Joseph was wrongly thrown into a pit, sold into slavery, cast into prison…and ultimately made the second most powerful person in the nation. Why was Joseph welcomed into the palace? Because he passed the test of the pit and the prison. He forgave and loved his brothers, the very ones who tried to destroy him. I wonder how many people who are leaving churches, hurling accusations against their pastors, realize they are doing great damage to their lives. The palace that God has for them a couple decades down the road (Joseph waited over 20 years between being thrown into the pit and seeing his brothers again) may never be enjoyed. A failure to bless those who curse will result in a failure to fulfill your life calling. I've met many people who are so disillusioned by the church that they are attempting to form
doctrine
that neuters leaders of their authority. They don't believe in any measure of rank or hierarchy and are quick to assault those who do. Many are leaving the institutional church and forming house churches. They cite 1 Corinthians 14:26 as evidence that leadership is unnecessary and even unbiblical while ignoring Hebrews 13:17. I've heard people say that pastors and leaders should not be designated, they should not be preaching, they should not even be there at all as everybody is at the same level and everybody can bring ministry equally. This is not true, friend.
What then, brothers? When you come together, each one has a hymn, a lesson, a revelation, a tongue, or an interpretation. Let all things be done for building up. 1 Corinthians 14:26 (ESV) Obey your leaders and submit to them, for they are keeping watch over your souls, as those who will have to give an account. Let them do this with joy and not with groaning, for that would be of no advantage to you. Hebrews 13:17 (ESV)
Many house churches are fully biblical and ordained of God, but many are movements of rebellion, full of wounded and disillusioned people who are rejecting leaders who have failed them instead of welcoming them to the table as Joseph did with his brothers. I write more about this in my book Covens in the Church. I'd encourage you read that, especially if you have been tempted to leave a church.
GOD'S GRACE
The truth is that God will supernaturally impart
grace
to endure seasons of testing. There will be many tears and many questions…and you can absolutely ask those questions! But, do so with a humble heart. Don't attempt to figure out who is right and who is wrong? Why? Your leadership may most certainly be wrong, but that's not the point of focus—your response is. Will you respond in love and humility, or will you become an Absalom, demanding attention is given to your particular problem or point of view? God is well able to give you supernatural strength to endure the pit, the test. The focus is not on who was wrong, but on how we respond when wronged. Is there ever a time to leave a church? Yes, but it's much less often than you'd think. If God leads you to leave a church, it's not a decision you make alone. Your pastor must play a part, and significant process must take place before you move on… with a blessing.
---
You can order Covens in the Church and other resources at www.burton.tv/resources.