Trump, right, wrong and a deeply divided nation
As Christians we have a sober responsibility to expose darkness, promote righteousness, preach truth and bring glory to God. Yes, when handled well, shining the light of truth on the darkness in our nation can bring positive results that will raise the water level of godliness. However, when handled wrongly it can bring death.
A bite from the fruit of the tree of knowledge of good and evil most certainly will empower one with data that can be used against their opponents. The prideful indignation feels pure and righteous as they are, after all, promoting what is good and true. What they fail to understand is that fruit can bring nothing but destruction. It kills.
If your emotional health is dependent on you being right and others acknowledging that you are right, you will not last. You will not endure. As our end-time mission intensifies, we will have every opportunity to be offended, or to advance with our beliefs and ideologies in such a way that offense of others is all that results. You may be right about whatever you are attempting to communicate, but your tainted heart infects the hearers with the same bitter fruit.
IT'S NOT A MATTER OF RIGHT VERSUS WRONG
As I said, as end-time Believers, we do have a mandate to expose wickedness, to sound alarms and to do all we can to rescue the perishing. Sadly, too often this noble pursuit becomes compromised when the heart of the matter (whatever our cause may be) becomes more important than the heart of people.
The news media, for example, provides an endless source of information that is fueled by the tree of knowledge of good and evil. The intent of most in the media is not to nurture, encourage and bless those who are watching, listening and reading. As we well know, fake news is alive and well as biased people attempt to manipulate the national narrative. The media isn't in existence for our benefit, it seems, but for theirs.
This same spirit has infiltrated many in the church. Flip on over to Facebook and try to stomach a barrage of finger pointing and accusations against any and all who disagree with their views, especially when it comes to Donald Trump, masks and other recent hot topics.
As Christians, we have a choice, We can live off of the fruit from the tree of knowledge of good and evil, and be right about whatever battle we are fighting. Or, we can live from the tree of life where we still advocate for truth, but we do it from a heart of love and with a strong desire to bless others.
You see, the tree of the knowledge of good and evil masterfully pumps out the fruit of offense. It manifests often in blaming others for our ills.
I'm right, you are wrong!
You hurt me!
My pastor won't affirm my ministry!
That politician is destroying America!
Those people are hateful!
This results in living as victims, professing that we are hindered because of the actions of another. The accusatory shout is, "You are ruining my life!" instead of blessing those who curse us and forgiving those who have offended us.
I'm dismayed by Christians who refuse to pray for President Biden, Alexandria Ocasio-Cortez, Nancy Pelosi, Kamal Harris or other Democrats. Instead, they seek to call them out, to ridicule them, to shame them and to blame them. The fruit they are eating results in them unable to see them as future children of God, brothers and sisters in the Lord, and people who God deeply loves. No, instead they want to snipe all who threaten their concept of righteous American political viewpoints.
Take a few moments and peruse various news outlets. Take note of how many articles, quotes and opinions include blaming others for whatever problems they are experiencing. You'll be stunned. Or, maybe not. Then, take what you have discovered and ask yourself whether you employ the same tactics in your own life.
Wives do it to husbands, and husbands to wives. Employees do it to employers and vice versa. Conservatives do it to liberals. The left does it to the right. Students do it to teachers. Church members to it to pastors. Blame, it seems, has infected our entire society. The tree of knowledge of good and evil is our nation's buffet.
In this world of blinded eyes, dull ears and hardened hearts, the life of God isn't imparted according to formulas, facts and carefully researched data, but rather by dynamic, life-giving relationships. We can and should deal directly with problematic issues while dealing in a life-giving, honoring manner with people, especially brothers and sisters in Christ.
A person living in the tree of life loves and serves in the spirit of Truth (Jesus) while those living in the tree of knowledge of good and evil are fueled by facts. If we become enraged by situations in our lives and then seek to accuse and blame others for our troubles, we can know we have been poisoned by desirable fruit from a deadly tree.
I don't question people's desire to stand for truth by supporting Donald Trump. Their determination to expose darkness and any fraud and corruption is good. Unfortunately, few have discovered how to do so without blaming and accusing and with a heart of love. The tree of the knowledge of good and evil is the quickest route to gathering facts and winning debates while losing the heart of God in the process.
THE DESIRE FOR GODLINESS
Much of the venom from Christians today is a result of their strong opinions about the election. Sadly, too many have not figured out how to stand for truth while also being life-giving in the process. Their heads are raised and fangs out when they come across anyone who isn't in perfect alignment with their perspective on the outcome of the election.
Interestingly, most every time their aggressive retort comes in the form of facts, videos, conspiracy theories, interviews, prophecies and other supposed evidences. The goal is to shame their opponent with facts instead of honoring them as children of God.
Genesis 3:4 Then the serpent said to the woman, "You will not surely die. 5 For God knows that in the day you eat of it your eyes will be opened, and you will be like God, knowing good and evil." 6 So when the woman saw that the tree was good for food, that it was pleasant to the eyes, and a tree desirable to make one wise, she took of its fruit and ate. She also gave to her husband with her, and he ate. 7 Then the eyes of both of them were opened, and they knew that they were naked; and they sewed fig leaves together and made themselves coverings.
Interestingly, Satan appealed to Eve's desire for godliness, but, while it resulted in knowledge, it was devoid of life.  A form of godliness but devoid of power. Eve was pursuing godly knowledge! This is such a powerful truth that can easily be missed. The problem was that God knew mankind would not know how to handle the information with humility, love and surrender.
Their recognition of their own nakedness was correct, but it was different than the revelation that God wanted for them. They were suddenly ashamed instead of free.
He wanted them to be childlike, but now they didn't have that capacity.
When they ate of the tree, which provided absolutely accurate knowledge, they became servants to it.
This same poison has infected much of the church, and certainly most all of secular society. A desire for "rightness" has resulted in division, hatred, anger, blame and shame.
THE BLAME GAME
Many Christians live in the tree of knowledge of good and evil their entire lives.
John 5:39 "You diligently study the scriptures because you think that by them you possess eternal life. These are the Scriptures that testify about me yet you refuse to come to me to have life."
Remember, we should be seeking out truth, not facts. We should be blessing, not blaming. Adam was compromised immediately upon eating the fruit.
Genesis 3:11 He said, "Who told you that you were naked? Have you eaten of the tree of which I commanded you not to eat?" 12 The man said, "The woman whom you gave to be with me, she gave me fruit of the tree, and I ate."
Blame! Can you see it?
The tree of the knowledge of good and evil always causes us to point at somebody and say "I can't, because they didn't," but living from the fruit on the tree of life causes us to proclaim, "I can, no matter what they do."
This is a prime reason why I personally don't get spun out because Joe Biden is our President. We as the church can advance the Kingdom of God no matter what policies a secular politician advances.
I'm not naïve either. I know it's important to engage the secular, political system as light bearers. We should not stay silent. But, we shouldn't be dismayed either. We engage, we love, we prophesy, we proclaim, we expose and we advance, but from a life-giving perspective. I absolutely can see Joe Biden and the rest as on-fire worshipers of Jesus! He doesn't threaten me, we as the church threaten him with prophetic decrees of salvation, love and abundant life!
Someone called me a liberal hiding behind a pulpit because of my positive view about the election. I had to laugh. If anything, I'm not a liberal, BUT if my love for our new administration results in accusations of being a liberal, so be it!
Do you see the difference between being driven by truth instead of facts? The truth sets people free while facts have the power to imprison.
Jesus told us the truth must be written on our hearts, not our brains!
John 8:30-32 (NKJV) 30 As He spoke these words, many believed in Him. 31 Then Jesus said to those Jews who believed Him, "If you abide in My word, you are My disciples indeed. 32 And you shall know the truth, and the truth shall make you free."
Proverbs 3:3-4 (NKJV) 3 Let not mercy and truth forsake you; Bind them around your neck, Write them on the tablet of your heart, 4 And so find favor and high esteem In the sight of God and man.
Facts have the power to divide, but truth delivered in love, with mercy, as they are written on our own heart, will result in favor with man!  It's a powerful contrast!
The tree of knowledge of good and evil just grows and grows as we attempt to figure out right versus wrong. Again, remember, we have a duty as Believers to expose the darkness, but being fueled by facts in order to defeat another with arguments and accusations only results in the darkness growing more impenetrable.
The blame game must come to an end. If it doesn't, the consequences are dire.
Matthew 24:9-13 (KJV) 24:9 Then shall they deliver you up to be afflicted, and shall kill you: and ye shall be hated of all nations for my name's sake. 10 And then shall many be offended, and shall betray one another, and shall hate one another. 11 And many false prophets shall rise, and shall deceive many. 12 And because iniquity shall abound, the love of many shall wax cold. 13 But he that shall endure unto the end, the same shall be saved.
Will you endure to the end? Will you be blameless? Will you refuse to complain and dispute?
Philippians 2:14-16 (NKJV) 2:14 Do all things without complaining and disputing, 15 that you may become blameless and harmless, children of God without fault in the midst of a crooked and perverse generation, among whom you shine as lights in the world, 16 holding fast the word of life, so that I may rejoice in the day of Christ that I have not run in vain or labored in vain.
I feel impressed to invite many of you who are reading this to consider repenting for the way you have responded to Joe Biden's election to President of the United States. Then, pray a heartfelt prayer for him, his family, his Vice President and the rest of the liberal left. Don't pray a haughty prayer of rebuke. Don't stop short by only praying for his salvation. Don't pray manipulatively (God won't hear you). But, pray something like this:
Father, I thank you for the next four years in our nation. I trust you to be the Lord and leader as we see your Kingdom advanced in unprecedented fashion. I ask that you would powerfully and mightily bless President Joe Biden, Vice President Kamala Harris and the rest of his team. I ask that you would visit him, speak to him and draw him close to you. Give him great wisdom to lead our nation. Touch his heart with your fiery love and transform him more and more each day. I pray the more he sees you, the more his leadership is modeled after the life of Jesus. I'm believing we will see this manifest in the years to come. I thank you for his life and I honor him as your established leader for this time.
This teaching has become one of my most requested. I'd like to offer the eBook, audio teaching and sermon notes for free when subscribing at www.burton.tv/free.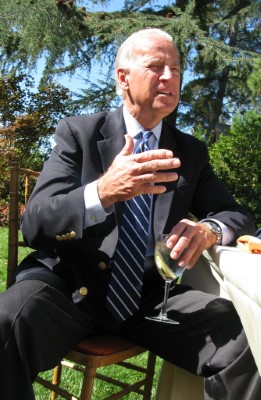 Hocus Pocus, Conspiracy Theory, Vigilante Christianity In A Post-Trump America
Post-Trump America. If those three words have you screaming from the depths of your agitated soul, "Joe Biden is NOT my President!" you have stumbled upon the right article. I voted for Donald Trump and I am quick to shout from the rooftops that Joe Biden and Kamala Harris have teamed up to create a terrible disturbance in the force in our nation. The first several days in office have proven this as they are aggressively and without apology promoting the immorality and wickedness that the liberal left is so famous for. Christians should be deeply grieved, yet so many are actually celebrating the ousting of Trump and the establishment of our new President and Vice President. In fact, I'm sure many who are reading this are among those who are rejoicing over the new administration. I honestly am more troubled and grieved by professing Christians supporting such a devious political party than I am the fact that the left is now leading our nation. Based on what I've seen on social media, there are millions of professing Christians who are vigorously applauding Joe Biden's election. I'm talking about radical Believers who are known to be deeply devoted to Jesus. I'm stunned. I don't believe it's a stretch to suggest that the blood of millions of future dismembered children will be on the hands of those who voted for a pro-death politician. As I've often asked, if a political candidate admitted they would promote legislation to make the killing of any child under the age of two allowable, would you vote for him or her? If they believed parents had the right to tear off their toddler's arms and legs as they bled to death if caring for them became too inconvenient, would it be right to support their candidacy? Of course not. It would make both the politician and the supporter horrid monsters. This is why Christians (or any sane person) supporting a pro-death party simply makes no sense. This among many other disturbing "values" of the left including an alleged stolen election should be enough to make any support laughable.
JOE BIDEN IS OUR PRESIDENT
It would seem, given what I have already written, that I would be right along side those who are plastering all over social media that Biden isn't my President. I'm not. In fact, I don't believe any honest Christian who lives a life of integrity can. The truth that cannot be debated is that Joe Biden is the President of the United States of America. He's living in the White House. Donald Trump isn't. You might argue the "clear and obvious" voter fraud, the corrupt courts and all sorts of other accusations of illegal activity, and you may be right (and you may be wrong). However, none of that has changed the legal outcome of the election. Joe Biden is our President. Left-leaning George Stephanopoulos said the
following
:
No election is perfect. But there were 86 challenges filed by [former] President [Donald] Trump and his allies in court. All were dismissed. Every state certified the results." He also insisted that former Attorney General Bill Barr even said that there was no "evidence of widespread fraud."
I'm personally disappointed by the #notmypresident mantra that so many Christians have adopted. Well, not adopted, it was borrowed from the left. Check out this from the
Washington Post
:
Hillary Clinton dismissed President Trump as an "illegitimate president" and suggested that "he knows" that he stole the 2016 presidential election…
And, from another
source
online:
"They are clapping back with the trending hashtags #NotMyPresident and #ImStillWithHer, simultaneously decrying Trump's win and showing support for his opponent, Hillary Clinton."
A post on Twitter summed it up:
I refuse to accept that a racist, homophobic, pig is going to be president. #NotMyPresident #ImStillWithHer — Brennyn (@UnicornsSlay) November 9, 2016
To employ such a juvenile attack strategy by kicking feet, pouting and whining and slapping #notmypresident all over the interwebs is embarrassing, especially for God's holy church. Christians, shame on you.
HOCUS POCUS PROPHECY
As a Charismatic Christian who strongly believes in the importance of embracing legitimate prophecy, it's easy for me to admit that we need reformation in today's prophetic movement. So much of it has become bizarre hocus pocus released by unleashed ministers without any of the weighing and judging that Scripture demands. You might be shocked at the personal attacks I've experienced simply because I am doing what the Bible mandates we do by weighing and judging prophetic words. One lovely Christian told me that God has turned his face from me. Others have accused me of not having faith. Some have let me know that I don't know how to stand in the midst of trial. Someone called me ignorant and accused me of perpetuating the lies of the left. My agreement with the Hell's agenda makes me complicit, said another. Why is there so much vomit coming out of the mouths of Christians over this election? An intense, negative reaction to the results of the election should terrify you. It reveals where your hope rests. It exposes your lack of readiness for the end times. It opens the door of your soul to the anti-Christ spirit and, in the near future, the anti-Christ himself. Understand, I'm not talking about being passive or not being aggressive against the enemy. I'm talking about triggered people. Depressed, angry, mean, rude, divisive people. Those who have become unhinged and nearly hopeless. Those who will shame, assault and divorce anyone who doesn't join them in their emotional crisis. In fact, I've called people to pray for our new President, and I'm so disheartened by many people's replies. Some refuse outright to pray for him as he's an "imposter." Others refuse to pray anything but God's judgment on him. It's madness! The state of the church must be very bad indeed if this type of response to a call to lovingly pray for someone is so common. I believe a key reason for this intense, unrighteous reaction is partly due to the unbalanced, unrestrained prophetic movement that had such an influence on gullible people during the election. Remember, I'm a promoter of healthy, biblical prophecy. We need more, not less of it. A holy prophetic spirit must emerge in the American church if we have any hope of surviving the vicious wickedness that is both here and on the horizon. But, too much of what has been labeled prophetic in this current season is either flat out wrong or it was handled wrongly. Mario Murillo
said
:
"There were true prophets and false prophets. And, while their messages about Trump seemed the same, there was a stark difference. The true prophets rightly coupled the promise of Trump's victory with a call for the Church to repent. But the false prophets spoke as if we were entitled to an automatic victory."
Mario's point is extremely important. Prophecy is conditional. It must be presented with the conditions so the hearers know how to respond. This is part of the prophetic reformation that is so necessary today.
CONSPIRACY THEORISTS AND CHRISTIAN VIGILANTES
Has anybody else noticed the morphing of recent prophetic words about the election and the QAnon style conspiracy theories? In one breath someone is declaring they are standing on the words of the prophets about Donald Trump's reelection, and in the next they are attempting to prove their positions by sharing various videos and left field news stories. Am I saying all of these reports are false? Of course not. Do I believe there is no fraud, secrecy, corruption or illegal and unconstitutional activity surrounding the election? I actually believe there may be. The problem comes with the way Christians are handling their suspicions. Does that mean we can't keep hunting for fraud? No. Does that mean we can't be hopeful for a dramatic, miraculous turn of events? No. But, let's do so honestly and with integrity. Joe Biden is our President. Saying he's "not my President" is simply false and those who are saying it are surrendering their credibility. All you have to do is consider what is required for someone to be legally elected President of the United States. Joe Biden fulfilled every obligation. Many of you remember the trial of the century as OJ Simpson was accused of the murders of Nicole Brown Simpson and Ron Goldman. Many (most?) would argue that the evidence that OJ Simpson was guilty was absolutely overwhelming. In fact, some would suggest you'd have to be a fool to believe he didn't kill them. However, in our nation, in our judicial system, little matters other than the verdict. The verdict is superior to the facts. No matter how convincing the evidence was, OJ Simpson was found innocent. Not guilty. That was the judgment. He was a free man. It doesn't matter whether you believe it or not or whether he did it or not. It doesn't matter what the evidence was. He was free and he could never be tried for those crimes again. It was settled. The same principle applies with the election. Once the verdict has been delivered, the evidence doesn't matter. What we believe doesn't matter. The suspected fraud doesn't matter. The courts refused every single case. Of course, you might argue that the courts are biased or even corrupt. You may be right, but it doesn't matter. The decision of a biased or corrupt court is still the only decision that matters. All we can do is take it to a higher court. And, as Christians, it sure would be nice if we stormed the courts of heaven over this instead of hurling accusations against everyone who doesn't dance to the drum the conspiracy theorists are incessantly beating. The vigilantes are out in force. Cross them with any suggestion that we should move ahead under the leadership of Joe Biden and his administration and you will be outed, mocked, shamed and assaulted with all sorts of conspiracies and supposed proofs. Get ready for your Facebook Messenger to be flooded with stories and videos that prove their point. This is no way for loving Christians to act. Remember, I believe there may have been some improprieties, I agree there may have been fraud. But conspiracies and goofy prophecies have hijacked too many people. They drank the Kook-Ade (I meant to type Kool-Ade, but I think I'll leave it as I wrote it) and they have lost their balance as if what they were drinking was spiked with an intoxicating and wicked potion. Dr. Michael Brown
wrote
regarding the failed election prophecies:
What you prophesied did not come to pass. There is not an alternative, spiritual reality in which Trump is still functioning as president. Nothing is going to change in a month or a year. It's over. Even if there was massive electoral fraud, the results of this election will not be overturned. Donald Trump will not serve a second, consecutive term. Face the facts, be accountable before God and man, take the hits that will be coming, and humble yourself before the Lord and His people. This is not the time for excuses. This is not the time to concoct spiritual myths. And this is absolutely not the time to blame others. If you prophesied falsely, you and you alone are to blame.
More than any other Christian voice today, in my opinion, Dr. Brown brings wisdom and biblical balance to this volatile situation. He also said:
So many of God's people are hurting, and the world is mocking us, thinking that our faith in Jesus is just as false as these failed Trump prophecies.
He's right. Leaders like Mario Murillo and Dr. Michael Brown are needed more than ever today when conspiracies and divisive Christians are multiplying every moment. Sadly I've heard Christians proudly declare they have stopped following Dr. Brown because of his stance. I'm sure many will unfollow or block me too. Oh, and by the way, if the conspiracy theorists are correct and the election is somehow overturned and Donald Trump is restored as President. I'll celebrate, but sadly too many of the Christian vigilantes will be filled with pride, pointing fingers and puffing themselves up as spiritually superior. How do I know this? Nonstop I've heard from them predicting their victory in this strange, divisive battle. "You'll see!" "Your faithlessness will be exposed!" "Just wait, the prophets are right!" Well, I hope those who are prophesying God's heart are right. I'm ready to celebrate with my vigilante brothers and sisters in Christ. Break out the confetti.
Photo credit: "Lunch with Joe Biden" by jurvetson is licensed under CC BY 2.0
Originally published by The Stream.