Tonight at 7pm: Revival Church begins its new Sunday Equipping Service!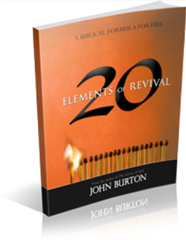 Are you interested in discovering how to burn hot for God and to participate in an Acts 2 level transformation in your city?
Join us TONIGHT at 7pm for our brand new Sunday Equipping Service!
After at time of worship, intercession and rapid fire prayer, I'll begin a series based on my book 20 Elements of Revival.
This is an extended version of theLab University class on the book. You are sure to get equipped and come alive to God's plan for your life in the end-times!
I can't wait to see you TONIGHT at 7pm!
Revival Church is located at 26091 Sherwood, Warren, MI 48091.
Learn more about Revival Church at www.explorerevival.com.
---
theFurnace Radio Show
You can listen to powerful 13 minute teachings before (or after) they air in Detroit on 1440 WDRJ here: http://thefurnace.tv/audio
One I'd strongly encourage you to listen to is a very impacting and strange story about the death of my dad. It will rock you.
Here's the direct link: https://soundcloud.com/johneburton/thefurnace-radio-032014#t=1:05