Author John Burton launches dramatic book, The Coming Church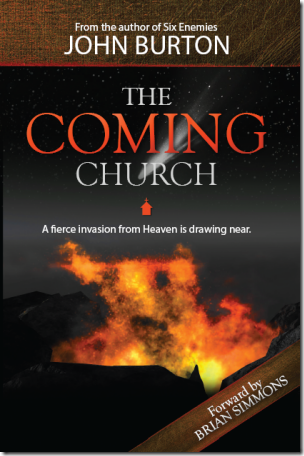 FOR IMMEDIATE RELEASE
CONTACT: John Burton, 719.231.6000
Email: [email protected]
http://www.thecomingchurch.com
DETROIT AREA AUTHOR, CHURCH LEADER AND CONFERENCE SPEAKER LAUNCHES THE COMING CHURCH
"I had an encounter that left me shaken and shocked.
What I saw was clearly a picture of the church…clearly in my spirit, that is, because my intellect was confounded. It didn't make sense.
In my encounter, the vision I saw was shocking and quite mysterious. I have had many visions of the Church, of reformation, but this one was markedly different. It sure didn't look like a vision of the Church, but it immediately felt like one.
I was standing in an apocalyptic looking environment. It was dark and weighty. In front of me was an absolutely massive, burning crater. God immediately revealed to me that I was looking at the soon coming Church."
WASHINGTON, MICHIGAN, Oct. 30, 2013— Church planter and author John Burton of Washington, Michigan, will debut his latest prophetic manuscript "The Coming Church" Oct. 30, 2013. This book is the result of two years of study and teaching on the content in the context of local churches.
Burton, the founder of Revolution House of Prayer in Manitou Springs, Colorado and Revival Church in Warren, Michigan, has been invested in the analysis of the condition of the church, and this book is the result of his study. In addition, he is the founder of theLab University, an ministry school based in the Detroit area. This school is currently expanding to an online version to meet the desires of students worldwide.
The Coming Church is based on a striking vision of a cataclysmic event impacting the planet. The resulting crisis will be felt around the world as fire and smoke engulfs the Earth.
Respected international apostolic leader Barbara Yoder says, "This book will rock your boat! John Burton isn't an ordinary church leader. He is one of the emerging, cutting edge and at times raw (cuts to the chase) ministries who are changing the face of the church. Some will be upset with this book. Those lovers of God, radical revelatory types will jump up and down. John's book will set them on fire. Read with care. This is the future."
Brian Simmons, a renowned author and Bible translator says, "I'm thankful for men like John Burton who hear a sound coming out of heaven, a trumpet sound, calling this generation to something more than good meetings and life as usual. We need men and women who are more than echoes of the past, but voices who prophesy what is to come. I believe those men and women are being prepared to arise and take their place in human history. A message of The Coming Church is needed more than ever! The Holy Spirit has anointed this message, and it will roll on throughout the nations. The call of God is gripping hearts of awakeners to leave the predictability of the church and move into the reality of the ever-fresh kingdom of God!"
John Burton is available for interviews and appearances. For booking presentations, media appearances, interviews, and/or book-signings visit www.johnburton.net/booking and contact [email protected].
Having each faced personal loss, a group of strangers gathers at a cemetery for support. The bestowment of several miraculous gifts brings resolution, and a mysterious inscription holds the ultimate key to healing.
Amy's newest book, The Inscription, is AVAILABLE TO ORDER!
Visit www.theinscription.com for more info.
This is Amy's first work of fiction, and it's sure to impact you powerfully.
---
From the book:
I smiled as the breathless beauty of my surroundings pierced my heart and, for just a second, pushed aside some of the heaviness. I sighed as the temporary reprieve ended and once again, my soul floundered against an onslaught of hopelessness.

After careful maneuvering, I finally reached my destination. I turned off the van's engine and gingerly plucked a colorful package from the passenger's seat. I sat silently, fingering the velvety ribbon that encircled the wrapped box. A tear slipped down my cheek, then another; before long, I was weeping.
---
"Amy writes a beautiful story of grief and, more importantly,
of the hope found through sharing the journey."
Kerry Mand, Former President of Pikes Peak Share
"The Inscription is a heartfelt and poignant story about the unbreakable bonds of friendship formed during times of sorrow. 
A must read for any grieving soul!"
Angie Winton, Group Facilitator of Detroit Metro Share
---
ABOUT THE AUTHOR
AMY BURTON and her husband, John, are accomplished authors and public speakers. Amy serves as an instructor at a pregnancy center in Detroit. She and John founded Revolution House of Prayer in 2001 and currently lead Revival Church. They live in Grosse Pointe Park, Michigan with their three boys.
ORDER TODAY at www.theinscription.com.