Addiction to petition in prayer will cause you to lose passion and effectiveness.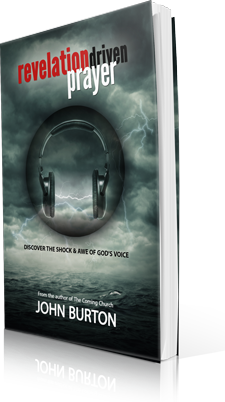 From my book Revelation Driven Prayer:
The Holy Spirit schooled me in the important concept of effective and efficient prayer one day when I was alone in prayer at Revolution Church at the base of Pikes Peak in Manitou Springs, Colorado. Keep in mind that I have always been a 'prayer guy'. I caught the fire of love for Jesus in my early years when I was in the place of prayer and that hunger for intimacy with God has never ceased. This particular day I found myself praying very good prayers… but these particular prayers weren't on God's agenda for me that day. I was praying for church growth, for people that came to mind, for strategic ideas and other good and important topics. However, they were topics that came to mind based on human insight and yesterday's revelation. I had no leading that those focuses were also God's focus for me in that moment. I was praying blindly.

Ephesians 1:15-18 Therefore I also, after I heard of your faith in the Lord Jesus and your love for all the saints, do not cease to give thanks for you, making mention of you in my prayers: that the God of our Lord Jesus Christ, the Father of glory, may give to you the spirit of wisdom and revelation in the knowledge of Him, the eyes of your understanding being enlightened; that you may know what is the hope of His calling, what are the riches of the glory of His inheritance in the saints…

Understand, blind prayers aren't bad. It's a very good thing to intercede for any number of pressing issues. However, I was learning that prayers based on human insight alone were simply not efficient. This particular day something else was on God's heart and he was instructing me to avoid distraction–even honorable distraction such as praying for people in the church–and to have laser precision by praying what was on God's heart. Prayer is all about agreement. If God's calling us to stand in the gap for one thing and we're focusing on another thing we are actually misaligned.
Topic driven prayer, or prayer originates from a list of needs should serve minor part in our life of intercession. We don't want to lean on our natural logic when functioning in the supernatural.
In fact, you'll notice that topic driven prayer tends to become quite repetitious, so much so that it can define the culture of your prayer life. Have you noticed how people tend to pray over and over, day after day, for the exact same things? I was talking to someone recently who made a brilliantly simple analysis of this pattern:
If we ask God to move on an area once, why would we need to do it again? At some point the repetition becomes evidence of doubt that God has responded to the initial request.
This is true! I've actually been teaching this for years. When moving into a prayer watch or a corporate prayer meeting the most powerful and effective thing we can do is pray in the Spirit. Then, from that place we can easily discern what God is searing on our spirits and come into agreement with that. As I transitioned away from petition driven prayer and into revelation driven prayer it has become extremely uncommon for me to pray for what is logical, what I prayed for previously or from a list. That type of prayer is de-energizing. It's soul heavy versus spirit heavy. It results in frustration and doubt that God is actually moving.
Trust in the LORD with all your heart, and do not lean on your own understanding. In all your ways acknowledge him, and he will make straight your paths. Proverbs 3:5-6 (ESV)
However, if we move from mostly asking to mostly decreeing, declaring and commanding, our entire prayer culture will shift dramatically. We are God's agents of change. We are to enforce God's will in prayer much more than we are to request God to move on our behalf.
Therefore do not be foolish, but understand what the will of the Lord is. Ephesians 5:17 (ESV)
The principle I live by is simple: If I know what God's will is (and I am instructed to know just that) then I don't petition. There is no need to. I switch from being inquisitor to being enforcer. I know God's will and I am the one to enforce it, to cause it to come to pass. The mountain is there for me to move.
A quick way to become disillusioned and discouraged in the place of prayer is to become plagued with what I call petitionitis or to discover addiction to petition. The thought that God is simply waiting for us to ask him for something so he can perform it for us is exceedingly short sighted. We should discuss our desires with God, but the idea that this is the limit of prayer is tragically flawed. Yes, we can ask God for things, but the adventure begins when we allow God to reveal his requests to us. It simply makes sense to fuel our prayers with the revelation of what God is working on with us at that moment. One of the most exciting questions we can ask God is, "What are you thinking about right now?" If God revealed that a terrorist attack is scheduled to be carried out in our city within the next twelve hours, and he is attempting to reveal instructions for intercession on that issue it wouldn't make sense to spend precious time praying for other things. ~Revelation Driven Prayer
When I was leading churches in Colorado and Detroit it was extremely rare for us to corporately pray from a list. In fact, I can't remember the last time we did that. We'd simply come together and pray on fire in tongues for up to an hour before we'd be ready to share what we sense God is calling us to pray for during that meeting. We'd continue praying in the Spirit while people boldly prayed out in English what God had revealed to them. Others would write the prophetic revelation down on white boards in the room. Others would draw prophetic pictures. Others would hit their face and groan in the Spirit. It was very common for us to go entire meetings without asking a single thing of God, yet we made significant progress.
Is it possible to work off of a predetermined list of topics and still have a fiery and effective prayer meeting. Well, I do believe it can happen. It's true that I have been in some such prayer meetings that had some very real spiritual zip on them. I know some people can come alive in petition heavy prayer meetings if they are truly Holy Spirit driven, so I want to be careful not to dismiss other forms of prayer that truly have effect for some.
The point of this article is to help awaken people to a fresh realm of Spirit-fueled intercession. Asking over and over again for the same thing most always results in frustration. If honest, most would admit that faith actually decreases with that method. Doubt increases as they wait and wonder of God is moving. The reach of the prayer is limited to what we can analyze with our human senses. The invisible realm of possibility and promise is minimized while our natural analysis drives the intercession. On the contrary, revelation driven prayer is fueled by what we know God is in agreement with. There is no wondering even if there is delay. We are convinced. Even the most fervent topic driven prayer meetings can leave people questioning whether God is going to respond or not.
In fact, I was once in a meeting with one of the nations premiere prophetic worship leaders who wanted me to consider helping bring a fresh prophetic thrust to their prayer events. Understand, these events were attended by hundreds of people who were contending for revival, and the ministry is known for its prophetic heartbeat. However, the intercession was a bit repetitive and driven by what was obvious. The prayer topics were great, but there was an additional step into the invisible realm that would have taken it even further than it was.
Even great prayer ministries can benefit by becoming revelation driven.
"Can you find out the deep things of God? Can you find out the limit of the Almighty? Job 11:7 (ESV)

Oh, the depth of the riches and wisdom and knowledge of God! How unsearchable are his judgments and how inscrutable his ways! Romans 11:33 (ESV)
For the foolishness of God is wiser than men, and the weakness of God is stronger than men. 1 Corinthians 1:25 (ESV)
I am actively contending that the dry seasons of struggle in the prayer room that has weighed on so many will not remain the norm. The cry is for regular, perpetual revelation to rain down from heaven on a continual basis. If we are to walk in the Spirit, we must have the ability to see and hear and discern in the Spirit. Instead of simply praying along with the prayer leader in the room for the nation of Egypt, for example, we'll receive, on both a personal and a corporate level, clear and active revelation about Egypt or whatever is on God's agenda for that session. The more people that receive a strong 'yes' in their spirit as intercession is being led, the more agreed they are and the more effective it is. It's good to pray for what seems obvious any time of the day. It's better to pray in a specific moment for whatever issue God's calling us to focus on. The goal is to lay the list aside as much as possible and wait until God tells us exactly what to agree on. We'll find ourselves more alive, refreshed and strengthened as we ride on that wave instead of pressing ahead without it. As we minimize our agendas and expect God to give us precise instructions for prayer we'll see the testimonies sky rocket around the world. ~Revelation Driven Prayer
5 specific ways to implement a supernatural, prophetic culture of prayer in your life and in your church
Oh, the depth of the riches and wisdom and knowledge of God! How unsearchable are his judgments and how inscrutable his ways! Romans 11:33 (ESV)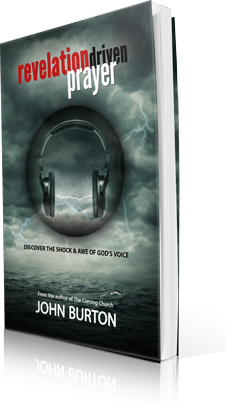 This verse reveals to us the God of our prayer! Our approach in prayer should take us well beyond what our own wisdom, common sense or natural analysis ever could.
…do not lean on your own understanding. Proverbs 3:5 (ESV)
I refuse to give myself to a model or method of prayer that is devoid of expectancy, supernatural life and power, one that is driven by my own intellect or human experience. I just can't do it!
I understand why people so eagerly run away when the call to prayer is sounded. If we were honest, we would admit that models of old have left the church with anemic faith and little more than a religious, soulish measure of satisfaction. Prayer should cause the atmosphere to explode and miracles to occur, but instead boredom too often tends to be the experience for many.
Prayer is most effective, enjoyable and electric when it is driven by revelation. It's based on what God says versus what we perceive. Prophetic prayer is so potent that other methods truly seem to be a poor use of our time. Their effectiveness is lacking.
5 WAYS TO LIVE A LIFE OF PROPHETIC PRAYER
1. Eliminate topic driven prayer meetings:
The prayer list radically limits God's ability to direct the prayer meeting, whether it's public or your own private closet time. I rarely enter a prayer session with any topic, no matter how pressing or obvious it may be. As we press into the heart of God, and nurture a prophetic environment, we will discover the list that God wants us to pray. I believe it's an act of faith at times when we leave the list at the door and trust that God is in control. It might feel like you are failing to cover key issues, but if we pray in the Spirit, that definitely won't be the case. This brings us to our next point.
PRACTICE: Go an entire prayer meeting without introducing any topics at all. Don't think about what's needed or pressing. Instead, go deep in intimacy. Experience God. See what he reveals to you.
2. Pray in the Spirit:
Groans of intercession will do more in a prayer event than any focused, topical focus ever could. Pray on fire, in tongues, as the primary expression of your meeting. The best prayer times I've had are when every person in the room did nothing but pray in the Spirit, with no English words, for well over an hour. When we do this, topics of prayer become much less necessary as we cover exactly what is on God's heart.
Likewise the Spirit helps us in our weakness. For we do not know what to pray for as we ought, but the Spirit himself intercedes for us with groanings too deep for words. Romans 8:26 (ESV)
PRACTICE: Spend the entire prayer session by praying non-stop in tongues. Don't pray any English words at all.
3. Nurture a prophetic culture:
As you drop the prayer lists and contend in the Spirit it will be normal for God to expose his heart and desires to you. Now, instead of praying for something that seems to take precedence, God is actually talking to us and we can pray in agreement. It wouldn't make sense to pray for finances or personal open doors if God reveals we must pray in unity against a potential terrorist attack or for a people group in another nation that's in danger.
He who has an ear, let him hear what the Spirit says to the churches… Revelation 2:11 (ESV)

I was in the Spirit on the Lord's day, and I heard behind me a loud voice like a trumpet. Revelation 1:10 (ESV)
PRACTICE: As you leave your topics at the door and pray in the Spirit, focus on hearing God's voice. What is he revealing? Journal that as you continue through your prayer watch.
4. Pray mostly outside your own doors:
When we can pray mostly about the greater mission, instead of our own situation, the anointing increases and God's heart is truly blessed. Instead of mostly praying for your own ministry to grow or for your finances to increase, pray more for the end of abortion or protection for Christians in dangerous nations. Additionally, pray that God puts the greater call of intercession on your heart. He'll give you a burden that goes well beyond your own situation.
Therefore he said he would destroy them— had not Moses, his chosen one, stood in the breach before him, to turn away his wrath from destroying them. Psalm 106:23 (ESV)

And the LORD restored the fortunes of Job, when he had prayed for his friends. And the LORD gave Job twice as much as he had before. Job 42:10 (ESV)
PRACTICE: Spend the session praying with the nations on your heart. Don't consider your own situation or even the immediacy of the ministry that God has called you to. There's a time for that, certainly, but practice by only interceding for the greater mission.
5. Minimize petition driven prayer:
I call this "addiction to petition" or "petitionitis." So often we are asking God for things that he is already in agreement with. Instead, develop a lifestyle of decreeing, declaring, commanding and calling forth. As an example, nowhere in Scripture do we see the apostles asking God to heal someone. They command the healing. Asking God for things that are already resolved, or that he hasn't revealed his agreement with prophetically (see above), can result in frustration as we waste our time praying in the wrong direction. Is there a place for petition? Sure. We see that in Scripture. But, I believe it should be much less common than it is.
As we focus intently on decreeing, declaring and commanding we will grow in our knowledge of just what God is in favor of. We never have to ask God for something that he has given us the authority and the responsibility to possess ourselves. As we grow in the Word of God it becomes evident what he has already sanctioned. Another example: we never have to pray for our needs to be met because Scripture reveals that he has already promised to meet our needs.
Now, we can give our energy in war against the enemy, by forcing mountains to move and by advancing as true ambassadors in prayer. Add to that the personal, specific prayer focuses God reveals to us via prophetic revelation and we will find it easy to spend hours praying in the Spirit, enforcing what God has already revealed and moving forward with great effectiveness.
PRACTICE: Spend an entire prayer meeting without any petition at all. Trust me, you'll watch your faith explode! Simply don't ask for anything. Learn to decree and declare what God has already revealed that he supports. For example, it doesn't make sense to petition God for financial needs to be met. Those needs are already promised to be met according the the Bible. Instead, command mountains to move and for money to come in. Of course, rely on what you have discovered prophetically as opposed to what topics you are naturally inclined to cover.
The faith in the room was pulled on during this powerful and challenging teaching—watch now!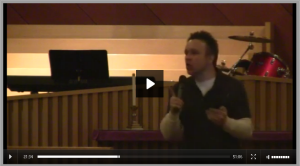 We are called to move from a life of low level prophetic influence, to a much more effective level of prophetic authority. Discover how in this teaching, Prophetic Authority. You can watch the video or listen to the audio at http://media.johnburton.net.
I received several comments about this teaching. It really hit home and impacted people deeply.
Here are some quotes from the video:
When our prayer moves into the place of deep groaning, we move from intercession to legislation.
Our natural analysis that fuels our prayer and our prophecy is locking us into a lesser life.
Doubt fueled prayer actually causes more damage than good.There's power of life & death in the tongue.It would be better not to pray at all.
Unbelief can cancel out even the most accurate and weighty prophecies and plans of God.
Regarding petition: we should stop wasting time in prayer trying to convince God to do something we don't believe he'll do.
If we don't deal with unbelief, our ministry will actually transfer unbelief to others, which will result in them being condemned. (Mark 16)
In a day when we're trying to get the church praying more, there's actually a deeper graduation into a life of less petition.
Unbelief keeps us from moving from having mere influence to a place of operating in great authority.
AND, don't forget to submit dreams, visions and prophecies to www.detroitprophecy.com!