An emerging burning army of young people will usher in revival…theLab is a training ground for this raging remnant!
FIRST: Tomorrow (Sunday) at Revival Church, I'll be teaching on the next threat to revival: FEAR. Get ready to have fear broken off of your life!
Revival Church meets Sundays at 6pm at CENTRAL CHURCH, 1529 E. 12 Mile Rd, Madison Heights, MI 48071.
SECOND: Don't forget to apply for membership to Revival Church! This is an exciting time to lock in with a family of revivalists in Detroit whether you are local, or participate online! www.johnburton.net/membership
---
THELAB: MOTHERS AND FATHERS, SONS AND DAUGHTERS
Some churches have youth groups. We have a School of Fire.
For the very first time, theLab School of Fire is open to everybody in high school and on up. Only $100!
LEARN MORE AND APPLY TODAY! The next session begins January 20th!
God is marking the young generation with fire, and he's awakening them into a prayer-fueled life of wonders.
theLab is a fiery and focused movement of revival that refuses to allow anyone, young or old, to live below their call and destiny.
CARRIERS OF FIRE
Elizabeth was barren and old—yet she carried a burning prophet who would prepare the world for the coming of the King.
Luke 1:15-17 (ESV) 15 …and he will be filled with the Holy Spirit, even from his mother's womb. 16 And he will turn many of the children of Israel to the Lord their God, 17 and he will go before him in the spirit and power of Elijah, to turn the hearts of the fathers to the children, and the disobedient to the wisdom of the just, to make ready for the Lord a people prepared.
Mary was a virgin and young—yet she carried the King of glory.
Luke 1:34-37 (ESV) 34 And Mary said to the angel, "How will this be, since I am a virgin?" 35 And the angel answered her, "The Holy Spirit will come upon you, and the power of the Most High will overshadow you; therefore the child to be born will be called holy—the Son of God. 36 And behold, your relative Elizabeth in her old age has also conceived a son, and this is the sixth month with her who was called barren. 37 For nothing will be impossible with God."
The two generations converged, the baby leaped, the Holy Spirit arrived and the world was shocked into freedom!
Luke 1:39-42 (ESV) 39 In those days Mary arose and went with haste into the hill country, to a town in Judah, 40 and she entered the house of Zechariah and greeted Elizabeth. 41 And when Elizabeth heard the greeting of Mary, the baby leaped in her womb. And Elizabeth was filled with the Holy Spirit, 42 and she exclaimed with a loud cry, "Blessed are you among women, and blessed is the fruit of your womb!
theLab School of Fire is an extreme and unapologetic movement of revival, and our mandate is to raise up carriers of fire who shock the world with the prophetic, burning word of the Lord.
TIME IS SHORT! Applications must be received no later than December 20th, 2012.
Here's a snapshot of the vision and the call for revival in Detroit—join with us as we burn!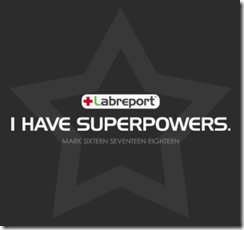 FIRST: There's two new designs at www.labreportbrand.com! Head on over there and grab a shirt and declare the healing power of Jesus everywhere you go!
---
The call for revival in Detroit is both sobering and exciting. We're calling the Church of Detroit to converge together with us and other revival minded people in pursuit of what could be the greatest outpouring in history. Yes, it's that big.
First I'll share what's coming, and then I'll relay the big vision that Revival Church and theLab has a mandate to fulfill. You are invited to jump in with us as we build a regional revival center in Detroit!
WHAT'S COMING
Most of what is coming is well beyond the scope of our understanding or even our expectancy. However, we know some of what's on the horizon:
Thousands of people will be traveling to Detroit from around the world. The reports of God's unusual and weighty arrival in Detroit is going to capture the attention of the world. Desperate people will fly here, and many of them will instantly be healed as they step off the plane.
Healing will be continual and very easy. One of the primary draws to this region will be the flood of miraculous healings. People won't even need to go to the altar or even pray for healing at times. It will surprise them as they are in the presence of God.
The presence of God will be so extreme that people will literally fall down when they walk through the church doors. People will have to crawl deeper into the sanctuary due to the fearful Kabod of God that engulfs them as they arrive.
Mass deliverance will result in hundreds or thousands of people instantly and simultaneously set free from fear, depression, homosexuality, lust, anger and other demon driven issues.
Prayer will be the greatest desire and primary activity of every person touched by God. The prayer rooms will be full and overflowing night and day.
This furnace will result in cries of repentance as the harvest flocks in to the arms of a loving Father.
Local churches will yield to the greater regional Church. The days of burning out trying to build local ministries will come to an end as pastors and leaders instead burn hot leading their people into the regional furnace as it ignites all over the city.
A REGIONAL CENTER OF REVIVAL
We know there are many new friends and fellow warriors that will be joining with us in the coming days, weeks and months. Prayerfully consider how you might participate with us.
Revival Church and theLab are developing as a regional center of revival. We are calling the city church to converge with us in various venues each week as we develop a deeply prophetic command center of revival for the region.
We are believing for a large ministry campus that will facilitate this vision. As we keep our finger on the pulse of revival in Detroit, it's imperative that we keep the ministry manned continually. The masses are coming both for training and for freedom, and when they get here it's important that they can converge somewhere any day of the week. This campus will serve that purpose. I have heard three stories recently of people receiving FREE properties for their church. I'm boldly asking people with the appropriate resources to consider making a significant donation to Revival Church.
1000 Intercessors. This mandate is clear. We are calling EVERY pastor, leader, intercessor and hungry person to gather literally every single Friday night from 10pm-midnight as we pray in a different church each week in the region. It's time to awaken and gather together and pray as a city church.
theLab Internship is gathering and equipping a team of unique specialists in the Spirit. People who carry and release the burning fire of God into people, churches, cities and regions. The next session starts September 3rd and we're praying that God provokes people to take a leap into a life of scorching heat in the furnace of revival.
The 24/7 church. As stated above, our ministry campus will be open continually. Prayer will arise in one area, training in another and worship in another. We are going after a culture of radical devotion to the pursuit of revival.
A regional pursuit. We desire to run this race with many pastors, leaders and others in the region. Our various services and events take place at times that are mostly free. We're looking for pastors to lead their people on Sunday morning and then join with us on Sunday evening at Revival Church, Friday night at theLab and other events.
There's much more, but that gives you an idea. We're inviting people to make Revival Church either their first or second home (if they have another church home) as we function as a regional revival center. A radical devotion to stay connected and to grow fast will do much to initiate the revival in this region very quickly.
If you haven't read my latest post on the coming change to the church, be sure you do. You can do so here: https://burton.tv/2011/07/21/a-fearful-vision-of-what-the-church-will-soon-look-like/
Contact me for more info at [email protected] or just come on out to one of our weekly events! Visit www.detroitrevivalchurch.com for more info!