theFurnace.tv is LIVE! Our media ministry has taken a giant step forward and YOU can participate each week!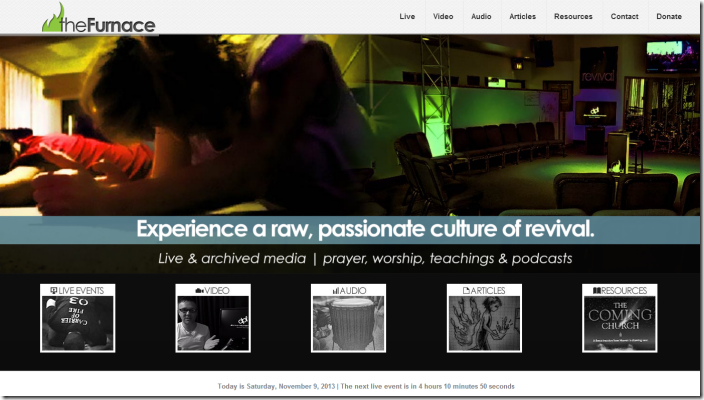 First, TONIGHT at 7pm we will be burning white hot together at Revival Church. By all means, JOIN US!
If you are local, you can arrive as early as 6pm and join us for WAR ROOM prayer just prior to the 7pm service.
If you are remote, you can listen in LIVE at www.thefurnace.tv!
Check out our brand new website, and PRAY for the resources we need to develop a studio quality prayer-charged weekly show that will be broadcast around the world!
If you want to donate to this cause, contact us here: www.thefurnace.tv/contact.
See you tonight!
theLab House of Prayer is moving to a TV studio tonight at 7pm!
You are invited to sit in the studio audience for a taping of Celebrate Live on TCT Christian Television TONIGHT at 7pm! This will take the place of our regular Thursday night prayer set.
I'll be interviewed about theLab University and revival in Detroit and will also be preaching "Carry Like Mary."
This will be aired around the world in the coming days!
LOCATION
You MUST arrive by 7pm, which is one hour before air time.
TCT Of Michigan WDWO TV 18
21174 W McNichols Rd
Detroit, MI 48219-3929
REVIVAL CHURCH AND THELAB UNIVERSITY MISSION BASE
If you are on our database, you should be receiving a postcard inviting you to participate in the building of the house of prayer!
You can take a look at the needs now here: www.explorerevival.com/specialgift
Your financial support is very important—would you please pray about how you can join with us in this critical and exciting season?
Here's what the postcards look like…be expecting them by early next week!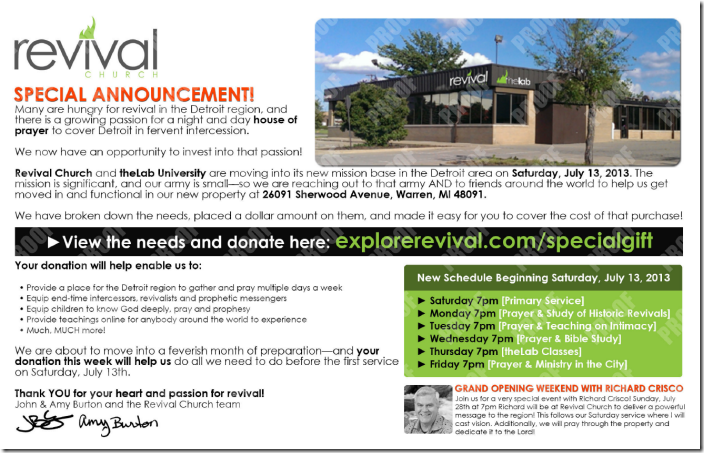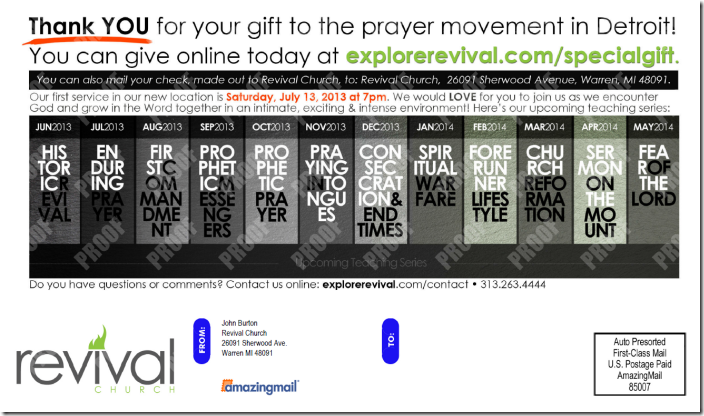 Watch a powerful interview with John Burton on TCT Christian Television on healing, revival and the power of God.
I'd strongly encourage you to watch this video and consider booking our ministry for an event in your region.
We are going after healing and encounter as normal, daily occurrences in the church. My passion is intense and my heart is to see the fire of God's glory and love engulf you, your church and your city.
I'm already starting to hear from people around the nation about the impact this interview had on their lives. A lady from downtown Detroit told me she's headed to have surgery next week, but she came alive when she watched this program. She's coming to Revival Church Sunday night contending for healing! Here's a couple of emails I received today:
John,I watched you today on TCT Christian TV. How refreshing it is to get in touch with a ministry that experience the fire of the Holy Spirit.~Annie

I just saw you on TV. That was powerful. I want to learn more.~John
In this interview I talk about my encounter with Hell, I share a dramatic story of healing in a cave and another of vile curses in a church service resulting in the remarkable salvation of an amazing young lady.
Check out my new landing page at http://about.me/johnburton which will point you toward all of my web and social sites.
Contact me for booking info…I can come alone or bring a burning team of revivalists.
Lets see your city transformed in the fire of God!