Posts Tagged 'upper room'
If a church is small, does that mean God's favor isn't there or that the pastor has failed? Not always.
Given a choice, I'd attend a large, impactful and vibrant church. That's simply a preference of mine, though I understand why many others prefer smaller churches. Additionally, given a choice, I'd prefer to lead a large, impactful and vibrant church instead of a smaller one. The key words are impactful and vibrant. Over nearly three decades of ministry, however, I've learned that large does not always equal successful, small doesn't always equal failure and a lack of numeric growth doesn't always equal stagnant. It's time we overcome the stigma of the small church.
MY STORY
Like most young church planters or pastors, my vision for the church I was leading included explosive numeric growth. That seemed to be the non-negotiable, obvious part of the ministry plan that required no explanation. Starting and developing a church clearly demanded attracting people to the mission as a core strategy. In fact, the Ekklesia is defined by three distinct marks: People. Leadership. Instruction.
The Ekklesia is a gathering of people in the region under governmental authority in order to receive apostolic instruction. More simply, it's people coming together under God ordained leadership to fulfill a mission. So, yes, people are needed if you want to lead a church.
Some of my most memorable church planting moments include an empty 700 square foot room in Manitou Springs, Colorado where I'd pray, usually alone, in the early stages of our church launch there. Eighteen years have passed and a lot of lessons have been learned, but those hours on my knees or pacing around that room were the foundation of my church planting experience.
I'll eliminate the countless remarkable stories, miracles, supernatural encounters and other happenings that spurred the church development process, both there in Manitou Springs and also in Detroit where we planted our second church. I've written about these miracles and wonders in some of my books (www.burton.tv/resources), but suffice it to say, I'm humbled at how God moved. In fact, I'm stunned at just how much God did. I and many others will never be the same, and for all eternity we will be able to praise God for what he did in those seasons.
INTENTIONAL "FAILURE"
To this day I wonder if my two church planting exercises were massive tests—for me. I know for sure that both contained many tests, but my question is about the comprehensive experience. Did God call me to plant two churches mostly to develop me personally and to test my heart? Certainly there were enough stories of impacted lives to fill many books and countless articles, so I don't question whether the ministry was legitimate or not. I'll be forever wrecked by the transformation that resulted in people in those two regions, in those two seasons. Watching lives supernaturally transformed before my eyes caused tears to flow.
Yet, as God truly branded many people with his fire in those many years of ministry, I do wonder if God was mostly testing me. Would I be more interested in growing my legacy, my ministry, my church and my reputation—not to mention my bank account—or, was I truly in it for love and to minister to the heart of God?
In both Manitou Springs and Detroit we saw the churches grow. People to this day count those years among the best of their lives. God was drawing people together and we were contending for revival together.
In both Manitou Springs and Detroit, God tested my heart. It was difficult to say the least. Crushing even. To simplify what he was doing, he called us to go deeper and to raise the bar higher. The cost of consecration and the call to fervent intercession became a much greater focus (and we were already known for being an edgy, intense ministry). While we had amazing people in both churches, I knew the decision to become even more revival focused, even more intercession driven and even more devoted to a consecrated, holy lifestyle would result in many people disengaging. I knew it. I was troubled. God was calling me to "intentional failure."
I'll never forget the key moments in both places when God nailed me to the ground and directed me to surrender all, including my reputation. There were many cries and questions during the many hours of prayer in those two defining seasons in Colorado and Michigan. If I obeyed God and introduced a new wine, reformation church that was very unique and specific to our particular mission, those who were mostly invested in the church experience for reasons other than revival, reformation, intercession and revolution would most definitely jump ship. That would be almost everybody. Literally. No exaggeration.
I was right. That's exactly what happened. I could have stayed the course and watched the churches continue to grow and "thrive," possibly into several hundred in number. I have no doubt that I could have chosen growth over God, and that freaks me out. It would have been very easy to spiritualize my decision and avoid the pointed fingers and accusations of failure by continuing on the way we started. And I would have failed some of my most critical tests. I would have satisfied people and rejected God and the church would have grown. That is absolutely terrifying.
Attempting to transition a passionate, Spirit-filled, fiery church into a church that's even hotter, more costly and one that results in a terrifying tremble in our spirits is not for the feint of heart. You see, there are many who absolutely love to warm themselves by the fire, but very few who are willing to lay across the fire as it consumes their flesh as a sacrifice to the one they love.
FAILURE DOESN'T DEFINE YOU
If small churches have a stigma attached to them, and failure has a stigma attached to it, failed churches most definitely have a stigma attached! But why?
Stop and think about it. Pastor, I want you to be free from the finger-pointing and cruel accusations if you struggle to grow your church or if you fail altogether. Has anybody figured out why failure in this manner is such a negative for some people? Failure in man's eyes means little. The question is, are you growing in God? Are you truly obedient to God even if such obedience results in people presuming you are weak? (By the way, we are all weak!)
Here's a portion of an article based on my book Piece of Cake, which deals directly with the stigma of failure:
One of the greatest fears man has is that of failure. It invites scrutiny, accusation and mocking—but society's greatest leaders embrace a culture of failure!

The goal isn't to look like you know what you are doing, the goal is to experiment, try, fail, try again, grow, have epiphanies, gain knowledge, fail again and ultimately succeed!

Success doesn't develop experts nearly as well as failure does.

Thomas Edison said, "I have not failed 10,000 times. I have not failed once. I have succeeded in proving that those 10,000 ways will not work. When I have eliminated the ways that will not work, I will find the way that will work." (attributed to Thomas Edison)

If we understand the scope of our project, it's actually quite insane to presume we will accomplish it without significant and repeated failures.

Yes, you are going to fail. Go ahead and wrestle with it now, you can't avoid it. I don't mean ultimate failure, of course. But, I do mean that you will pray much, do your best to gain insight from God, consider your best options, seek wisdom from others and then move out with at least a measure of confidence—and you will experience failure!

Failure should not intimidate you! People will presume you to be inadequate, confused or immature during your experimenting.

Most young ministers crave for others to see them as successful and steady with a pipeline directly into the command center of Heaven. The reality? We see in part. We understand little. We have clarity on a small part of the big picture, and when we initiate action, others will watch as we stumble and struggle. Are you OK with that?
THE STIGMA OF SMALL CHURCHES
I've heard it said that small is the new big. I believe that is true for many, though we have to be careful not to use that as a cop out. There are some leaders out there who have what it takes to grow a large church yet their lack of personal growth, faith and surrender is standing in the way. Small is the new big only if God has called a particular ministry to be small. There are a lot of silly excuses pastors give for having a small church, just as there are many compromises pastors make to have a large church.
I know we could have easily seen our churches grow moderately large, but I also know I'm probably not gifted enough to lead anything in the thousands. But, in reality, if I honestly analyze God's mandate on my life, I may not be able to stay true to God's call while leading more than a hundred—if that. Twice I have traded my ability to grow a church for God's mandate for a small army of zeroed in warriors. You have no idea how thankful I am that I didn't fail those tests (though I've certainly failed a bunch of other tests over the years! I'm thankful for God's grace and mercy!).
Further, many pastors simply are not equipped or called to lead a large ministry, yet they expend ridiculous amounts of energy trying to fill the seats.
Pastors, if you have a small church, it could be that you aren't gifted to lead a larger one. God didn't give you that ability. Leadership doesn't come naturally to you. The quicker you can admit that, if it's in fact true, the quicker you can shift expectations and pivot into strategies that take advantage of what you are gifted at.
There's such a stigma regarding small churches. People presume them to be failures. Why is that? Numeric growth should not be the barometer of health and success.
The moment you realize it's okay to be small, the stress and pride and anxiety will fall off. Joy will return as you enjoy being who God created you to be.
The truly scary reality is that many people are naturally gifted to lead a large church or ministry, but God has actually called them to lay that on the altar—and they don't. They can't imagine the ridicule, the mocking, the accusation and the massive price that would come if they took their church in a direction that few would join them in.
In fact, I wonder how many mighty church growth visions are being fulfilled as Ishmaels instead of Isaacs. I propose churches all over the world be laid on the altar of sacrifice as God brings redefinition and redirection. The revival we are yearning for requires a sacrifice—a surrender of personal ambition and dreams of success. Put it all on the altar. It requires the church is birthed supernaturally, as Isaac was, not naturally as Ishmael was.
I often think about heroes like Leonard Ravenhill. I would imagine if Ravenhill had decided to start his own church, it would probably be initially well attended, and then a colossal failure. His rebukes of the church that he's so well known for in his writings would most definitely drive the typical church goer away with mocking and accusations flying out of their mouths. You see, if he would have experienced failure such as this, it wouldn't be his failure, it would be the failure of those who rejected the call to respond.
Leonard Ravenhill received a lot of criticism about his view of the church being weak witnesses for Christ. He sought to rekindle the fire of the church into the devotion that the first century church had. To him, the greatest tragedy was not sinful activities of the world; it was a sick church in a dying world and so he thought, "Save the church and you will save the world!" Leonard Ravenhill was an old time preacher that warned of the wrath of God, hellfire, heaven, the need for repentance, confession of sin, living a life of holiness. ~Jack Wellman
IF I DECIDED TO PLANT MY THIRD CHURCH
I'd encourage you to read an article I wrote about just what my third church plant might look like, should God direct me to launch one: What My Third Church Plant Might Look Like.
Here's a portion:
We Will Be Intentionally Small

Understand, I'm someone who absolutely loves large-group meetings. I love praying and contending with thousands of people at various conferences and events. I also would have no problem with a church that does in fact explode in number as a result of revival. I believe we will see that.

However, after 26 years, much of that in pastoral ministry developing churches, I no longer value growing numerically for the sake of numbers. I don't get excited when more people show up, unless those people are hungry and ready to engage God with us at an extreme level.

I believe the sharp, offensive messages that will be preached, the call for 100 percent of the people to be invested in supernatural, fervent prayer and the extreme commitment necessary to advance apostolically will repel most people. Only a remnant will be left. It's with that remnant that we can preach what much be preached, pray what must be prayed and do what must be done to prepare a region for revival.
IT'S TIME FOR REMNANT CHURCHES—WHICH MEANS MOST CURRENT CHURCH MEMBERS WILL LEAVE
Large churches can be a serious threat to revival—or a great strength to revival. We cannot measure success by the number of people who are attending. We must measure by the number of remnant Christians who are fully devoted and being equipped and marked by God in the fires of intercession. Again, some leaders can gather a small group of firebrands and some can gather hundreds or thousands. The key is the temperature of the fire and the level of surrender. When the fire gets hot, many will leave.
We have too many churches filled with people who are marginally interested in a move of God. They would be counted among those who rejected the call to the Upper Room. Understand, what happened in that Upper Room resulted in the launch of the church. If we don't see tongues of fire igniting above everyone in attendance, and we don't feel the wind of the Spirit of God blowing through the place, we have to know our church is either compromised or not ready.
The call must be so severe that most people reject it. Hundreds rejected the opportunity to be a part of the Upper Room prayer meeting. Those who did respond changed the world and ultimately impacted billions.
So, yes, when I gave leadership to the churches in Manitou Springs and in Detroit, I was so hungry for God to move more in the region than in my own meetings that I refused to pursue church growth at the cost of obedience and the greater vision. Those were painful years that resulted in a lot of tears as people moved on to other places. Understand, I don't blame these people. Many are great friends who simply had a different focus in their lives. It's easy for us to presume such decisions are black and white, but they rarely are. People are at all different places in life, and sometimes one crazy and wild church may just not be what God has for them at that time. I understand that.
I blessed those who left, as difficult as it was to see them go, but I knew my heart was pure and my decision to contend for revival and God's plan instead of growing my church was correct. Would I do some things differently? Of course. But, the final, big decision to say yes to God and no to personal ambition was the only decision that really mattered.
BE ENCOURAGED
Simply do what God calls you to do. Period. It really is that basic. There are many pastors that would be better served entering the marketplace. Others need to come to terms with the size of their ministry. Others have to mature and develop before they will see the next level. But, don't allow people's analysis of your progress control you or impact you emotionally. People, even many Christians, love to capitalize on someone who is down, and they will use that opportunity to elevate themselves. Just let them. It's okay. Love them and trust God. All eternity will be marked by the way you respond to people and challenges. It truly is a glorious thing to be free from the scrutiny of others as we allow the fear of the Lord to overcome us. He is truly a very good Father who is cheering you on, not stepping on your neck when you are down and broken.
Many are working hard to attract the wrong crowd on Sunday—and the result is an Ichabod church.
We soon won't be able to define going to church the way we do now. God is coming to reform, to crush structures of old for what is to be introduced very soon. Our call isn't to stand strong until the shift comes, it's to prophetically sound the alarm and awaken those at risk! God is coming! The force from Heaven, the celestial asteroid, is going to impact the Church, and most pastors and people will resist with everything that's within them. Man-made support systems will be removed. People's financial and relational structures will be threatened by this strange new spiritual invasion. The human wisdom and natural common sense that have been involved in the development of the current church structure will not be usable in the new. Those who walk by sight are in danger. ~The Coming Church, John Burton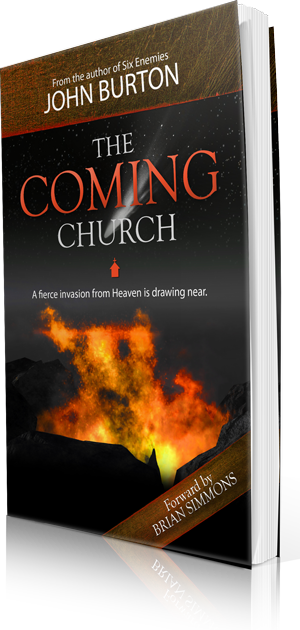 I've met countless pastors and others who say they are focused on revival, but who are misguided on exactly what it is. Their focus is on attracting people to the church, on people getting "saved" and on other church growth strategies.
The problem? The foundational pursuit of revival has nothing to do with church growth or the lost. It has everything to do with the church awakening, contending in intercession and attracting the fire of the Holy Spirit.
The lost didn't show up in the Upper Room. Marginal followers of Jesus were repelled by the Upper Room.
Revival isn't marked by a full house. Revival starts in a room that reveals the remnant. The revival that erupted in that roomful of remnants resulted in explosive church growth and Kingdom advance.
Premature church growth will result in a multiplication of lukewarm, dead and dying people who have no idea what it feels like to have tongues of fire igniting over top of them.
1 When the day of Pentecost arrived, they were all together in one place. 2 And suddenly there came from heaven a sound like a mighty rushing wind, and it filled the entire house where they were sitting. 3 And divided tongues as of fire appeared to them and rested on each one of them. Acts 2:1-3 (ESV)
VISITORS SHOULD BE SHAKEN BY WHAT THEY SEE IN THE CHURCH.
The pure Christian message of surrender, repentance, holiness, intercession and rescuing souls from Hell has been replaced by a self-centered gospel that boldly affirms a focus on benefits without cost, on personal gain without sacrifice, on freedom without consecration. The Church has been unapologetically and boldly focused on how to have faith to receive while forsaking the call to have faith to give. The spirit of the age infiltrated churches long ago—and now, all too often, that demonic spirit is the primary counselor. ~The Coming Church, John Burton
It's time self-focused, semi-interested people are no longer given the opportunity to demand what they are looking for in a church. It's time to close up the welcome centers and put away the welcome gifts. When presented with the unmistakable burning only a supernatural church can offer, their decision to stay or leave will be immediate. I've often said that one indicator of the Holy Spirit moving in power is that bystanders will do one of two things. They will either marvel or they will mock.
12 And all were amazed and perplexed, saying to one another, "What does this mean?" 13 But others mocking said, "They are filled with new wine." Acts 2:12-13 (ESV)
When naturally minded people walk into a furnace of intercession, a place that is electric with supernatural activity, they should be radically unsettled, yet so many church assimilation teams today attempt to make the environment as familiar and comfortable as possible.
I've often heard pastors admit they hide the pre-service prayer (for those who have pre-service prayer at all!) in a side room instead of filling the sanctuary with groans of intercession because they don't want to freak out the soon-arriving visitors. I've heard that many, many times and I was grieved every time. There are a few legitimate reasons why prayer might not work in the sanctuary prior to the service in some churches, but that's not one of them. If we are attempting to introduce people into the wonder of a supernatural encounter with Jesus, why would we, at the same time, work so hard at shielding their eyes? I propose bringing the fire and the groan right into the heart of the Sunday service! Those who remain will be the laborers you need to fulfill your mission.
Many years ago, when I first started Revolution Church in Manitou Springs, Colorado, I worked hard at assimilating visitors. I would excitedly connect with them and share just how much they would enjoy making our church their new home. It didn't take long for me to start feeling like a used-car salesman; dirty; compromised. My strategy grieved my spirit. The truth was that our atmosphere and our vision were called by God to be driven by intercession and marked by a strong prophetic emphasis. The messages were intense. Revolution Church was not designed for those who would be marginally committed (as no church is}. The "Sunday go to meeting" Christians would, by choice, not remain for long.
The reality was, that by attempting to attract those types of people, I was compromising the vision. The church needed the remnant who would lock in and pray, who would contend for revival and who would endure with great strength. A large group of non-remnant people would be a distraction. Years would be lost. Lives would be at risk. Eternities would be in danger.
So, I shifted. I started literally trying to scare people away from our church.
To the dismay of those who simply want to hear a little worship and listen to good (and short) teaching, services will become more like prayer meetings. This is one of the most critical and most upsetting shifts that will come–and it must come now. Today, most of the energy church leadership teams expend is usually on attracting and keeping visitors instead of training and engaging intercessors. ~The Coming Church, John Burton
A CHURCH ON FIRE
America doesn't need another bed-and-breakfast church that comforts our flesh (our natural desires). Our nation needs a Church with a volatile atmosphere that explodes, burns human flesh and shocks our culture. ~The Coming Church, John Burton
I knew we were called to lead a church on fire, and that just wasn't possible with tepid, resistant, lukewarm people.
1 …I know your works. You have the reputation of being alive, but you are dead. 2 Wake up, and strengthen what remains and is about to die… Revelation 3:1-2 (ESV)
I was confident that, if I clearly shared the wild, costly, other-worldly vision that God had given us, and how people at our church were called to invest into that vision, that those who would not be interested in such a lifestyle would not return. Understand, my invitation for them to run with us was genuine. Our door was wide open. When I say "I tried to scare them away" I mean I was simply authentic. I stripped off the suit of a salesman and shared my raw, passionate dream of God to advance with a team of zealots for Jesus. Such an invitation was all I needed to see who was deeply hungry for revival and who was not. I would do my best to help those people connect in another local church. I'd give them the names of some churches they might enjoy. While I truly wanted the very best for them, it always broke my heart when they decided against adopting a lifestyle of intercession and revival. That lifestyle is not for a specialized few. It's for all.
This resulted in a confidence that those who remained were, in most cases, part of our remnant, firebrands who would dig in and assimilate with our tribe of revivalists.
When you spend energy attracting the mildly committed, you compromise your entire vision. Simply, you need soldiers to become equipped and ready to lay down their lives and fight for the freedom of souls in the region.
I believe it's core to the mission of the church to give opportunity for people to clearly evaluate their commitment and to give room for them to leave. The intensity of the truth demands it. We must call people out of a natural life and into the supernatural, out of a casual place and into radical surrender.
63 It is the Spirit who gives life; the flesh is no help at all. The words that I have spoken to you are spirit and life. 64 But there are some of you who do not believe." (For Jesus knew from the beginning who those were who did not believe, and who it was who would betray him.) 65 And he said, "This is why I told you that no one can come to me unless it is granted him by the Father." 66 After this many of his disciples turned back and no longer walked with him. 67 So Jesus said to the Twelve, "Do you want to go away as well?" John 6:63-67 (ESV)
Understand, similar to the way Jesus ministered in the above passage along with other key examples in Scripture, the Upper Room served as a filter. It filtered out those who weren't radically devoted. Most were repelled by the call to pray. The agenda did not change in the hopes of assimilating more people. The disciples loved them as they went their way…and then they turned the world upside down with the few who remained as a result. What filters do you have in your church, pastor, to call people to a transparent, genuine place of soul searching and decision? You must start and continue with an Upper Room atmosphere and an offensive, flesh-crushing Gospel message.
It's important to remember that the Ekklesia, the church gathering, was not designed for the lost. So many pastors get derailed on this point alone. The church is a house of prayer for all nations. The predominant church activity should be white hot intercession with tongues of fire atop everyone, with groans filling the atmosphere. It's a remnant ministry. This call is for all who call themselves Christian.
If you build a church with people who won't devote themselves to the prayer room, you build your church with those who are disinterested at best and lukewarm at worst. Your church will be a low-water-level church. It will be a place where the fire can't rage. It will be naturally familiar with distant, elusive, marginally supernatural dreams. Pipe dreams.
Christians who aren't invested in fervent, supernatural prayer will be enticed by the natural familiarity of Ichabod churches (where the glory has departed). ~The Coming Church, John Burton
WHAT ABOUT THE SEEKERS?
A question I hear from very good-hearted people is this: What do we do with people who are seeking? Do we just turn them away?
We absolutely don't turn them away! We invite them into the furnace. We do not turn down the fire. We turn it up! Those who are hungry for God must not be introduced to a tepid, natural environment with an image of God that looks just like themselves. Reveal the glory of our mysterious, fiery, living God and watch them collapse to their knees in desperation!
However, as I have stated already, many will choose to leave at the sight of something so alien and costly. That's a choice they themselves have a right to make.
Again, we must faithfully reveal the cost of following Jesus. We don't come on our terms. We come on God's. Too many are interested in warming their flesh by the fire instead of their flesh being consumed by the fire.
23 But when he heard these things, he became very sad, for he was extremely rich. 24 Jesus, seeing that he had become sad, said, "How difficult it is for those who have wealth to enter the kingdom of God! 25 For it is easier for a camel to go through the eye of a needle than for a rich person to enter the kingdom of God." 26 Those who heard it said, "Then who can be saved?" 27 But he said, "What is impossible with man is possible with God." 28 And Peter said, "See, we have left our homes and followed you." 29 And he said to them, "Truly, I say to you, there is no one who has left house or wife or brothers or parents or children, for the sake of the kingdom of God, 30 who will not receive many times more in this time, and in the age to come eternal life." Luke 18:23-30 (ESV)
Many will turn away sad. Even the most devoted will feel the severity of a life devoted to Jesus. They will cry out, "Then who can be saved?" That tension will result in a church that is sober and on fire and something that true seekers will give themselves to. Pretenders will certainly go away sad as the remnant church is revealed.
My lifelong commitment in ministry is this: I refuse to tone down the activity of the Holy Spirit out of respect of those less hungry.
That commitment requires everything I do to have the smell of smoke. In fact, pastors, one reason even the most devoted people aren't coming to your prayer meetings is simple—they are dead, humanistic and boring. They are logically driven. They are simply a rehashing of what the natural mind can discern. As someone who comes alive in prophetic, prayer-fueled environments, I aggressively avoid powerless prayer meetings that are driven by lists of needs and human understanding. I don't want my soul activated. I want my spirit to burn! I think tired, powerless petition-driven prayer meetings can do more damage than good much of the time. Do your prayer meetings have the smell of smoke? Are tongues of fire resting on everybody? If not, don't be surprised when the even the most devoted disciples are no-shows.
We need a church on fire today more than ever. The lost are being introduced into lukewarm, natural, Ichabod religion instead of a supernatural shaking that can only come from the Great I Am. They are convinced they are saved as they are assimilated into a community of likeminded quasi-spiritual people who would love to see God manifest in their natural realm—yet have no interest in manifesting in the spiritual realm where the Holy Spirit broods.
My challenge to pastors is simple. Risk everything. Allow your church to dwindle, if necessary, to a few remnant people who will live, pray, walk and advance in the Spirit. The world is waiting for them.
First—I thought you'd enjoy notes from our Revival Church staff meeting. I charted Elements 1-10 from my book 20 Elements of Revival. You can see the PDF here: www.detroitrevivalchurch.com/files/20ElementsofRevivalChart1-10.pdf
---
Yesterday's teaching on the Prophetic Mandate is ready to listen to at www.detroitrevivalchurch.com/teaching.
If we are looking to lead a generation of fire-breathers, we simply have to go deeper, burn hotter and give more then the wild radicals that are multiplying on the face of the Earth.
Here's the notes:
1. Introduction
a. We've been given a clear mandate at Revival Church to help introduce revival to Detroit.
i. This means the way things are now must morph into something very different.
ii. The most successful way to ensure the coming outpouring remains for decades is to introduce reformation before it arrives.
iii. It's the upper room strategy—respond to an extreme lifestyle call and carry it out forever.
iv. Do you ever get frustrated when a new road is under construction forever?
1. This situation is just like a road under construction—hundreds of thousands will benefit from it. But, it's still being built. We are not those who are frustrated, we are the ones with the hard hats and gloves on. We are the workers!
2. The fact that it's a long term project doesn't frustrate us because we understand the scope of the project. We know it takes a long time to pull together a work force, to survey the area, to bring in the bull dozers, to dig, to lay asphalt… for it to harden, and on and on.
3. We need the work force to simply show up for work every day.
4. Greek: technites- an architect, one who plans, calculates and constructs a building
5. Have you ever gotten frustrated watching construction workers just standing there by the side of the road doing nothing while you are backed up in traffic?
b. Hebrews 11:8-10 (ESV) 8 By faith Abraham obeyed when he was called to go out to a place that he was to receive as an inheritance. And he went out, not knowing where he was going. 9 By faith he went to live in the land of promise, as in a foreign land, living in tents with Isaac and Jacob, heirs with him of the same promise. 10 For he was looking forward to the city that has foundations, whose designer and builder is God.
1. The process of building is critical
2. This passage is true for individuals, and it's also true for mission driven churches.
3. Luke 6:46-49 (ESV) 46 "Why do you call me 'Lord, Lord,' and not do what I tell you? 47 Everyone who comes to me and hears my words and does them, I will show you what he is like: 48 he is like a man building a house, who dug deep and laid the foundation on the rock. And when a flood arose, the stream broke against that house and could not shake it, because it had been well built. 49 But the one who hears and does not do them is like a man who built a house on the ground without a foundation. When the stream broke against it, immediately it fell, and the ruin of that house was great."
4. Now, the enemy understands what a unified group of people who are determined to build can do.
5. In fact, he borrowed this Godly strategy himself and was on pace to do great things for his kingdom.
6. Just as the Holy Spirit is calling us together to build, an unholy spirit was orchestrating things behind the scenes here.
c. Genesis 11:1-8 (ESV) 1 Now the whole earth had one language and the same words. 2 And as people migrated from the east, they found a plain in the land of Shinar and settled there. 3 And they said to one another, "Come, let us make bricks, and burn them thoroughly." And they had brick for stone, and bitumen for mortar. 4 Then they said, "Come, let us build ourselves a city and a tower with its top in the heavens, and let us make a name for ourselves, lest we be dispersed over the face of the whole earth." 5 And the LORD came down to see the city and the tower, which the children of man had built. 6 And the LORD said, "Behold, they are one people, and they have all one language, and this is only the beginning of what they will do. And nothing that they propose to do will now be impossible for them. 7 Come, let us go down and there confuse their language, so that they may not understand one another's speech." 8 So the LORD dispersed them from there over the face of all the earth, and they left off building the city.
1. We are seeing the enemy do to the church what God did to his mission—people are being scattered.
2. So, our goal, and God's goal is for us to put on the hard hats, pick up the shovels and have one language.
Rom 8:31 What, then, shall we say in response to this? If God is for us, who can be against us?
i. If we agree, if we align ourselves together in the purpose of God for Detroit- who can stop us? Who can be against us?
ii. Every noble work is at first impossible. Thomas Carlyle
1. On the contrary, if we are not aligned, we cannot win- we need each other, in a place of agreement, in a place of health and maturity and fully devoted to taking city for Jesus!
2. I challenge you—take inventory of your alliances. Who and what you are aligned with will determine your destiny.
3. Agreement is a powerful force.
ii. Matthew 18:18-20 (ESV) 18 Truly, I say to you, whatever you bind on earth shall be bound in heaven, and whatever you loose on earth shall be loosed in heaven. 19 Again I say to you, if two of you agree on earth about anything they ask, it will be done for them by my Father in heaven. 20 For where two or three are gathered in my name, there am I among them."
1. This is usually used when talking about prayer—but this is really talking about mission.
2. Do you see the focus is on being together and warring against the enemy and moving ahead in agreement?
iii. You know the old saying, "United We Stand, Divided We Fall." This saying is applicable within the church too. In the battle for Stalingrad during World War II the Russian commanders ordered their soldiers not to give up any more ground. Any soldier who fled from the Germans was shot on the spot. The Russian commanders knew that if even a couple of soldiers fled their post the Germans would have an opening through which they could pour into the city. Likewise, when the church is divided, Satan finds it so much easier to attack and to conquer.
1. We have to know that we are aligned, agreed, together and committed as builders, workers and warriors.
iv. Tonto and the Lone Ranger were riding through a canyon together when all of a sudden both sides were filled with Native American warriors on horses, dressed for battle. The Lone Ranger turned to Tonto and asked, "What are we going to do?" Tonto replied, "What you mean 'we,' Whiteman?"
v. 1 Cor 1:10 I appeal to you, brothers, in the name of our Lord Jesus Christ, that all of you agree with one another so that there may be no divisions among you and that you may be perfectly united in mind and thought.
1. In a Peanuts cartoon Lucy demanded that Linus change TV channels, threatening him with her fist if he didn't. "What makes you think you can walk right in here and take over?" asks Linus. "These five fingers," says Lucy. "Individually they're nothing but when I curl them together like this into a single unit, they form a weapon that is terrible to behold." "Which channel do you want?" asks Linus. Turning away, he looks at his fingers and says, "Why can't you guys get organized like that?"
2. So, what must we be agreed on?
2. The Terror of Hell
a. Intimacy
b. Salvation
a. Many in the church will be surprised one day, just as you were surprised in the dream, to find themselves under the control of demons as they are taken to hell.
a. Proverbs 14:11-14 (ESV) 11 The house of the wicked will be destroyed, but the tent of the upright will flourish. 12 There is a way that seems right to a man, but its end is the way to death. 13 Even in laughter the heart may ache, and the end of joy may be grief. 14 The backslider in heart will be filled with the fruit of his ways, and a good man will be filled with the fruit of his ways.
b. Matthew 7:21-23 (ESV) 21 "Not everyone who says to me, 'Lord, Lord,' will enter the kingdom of heaven, but the one who does the will of my Father who is in heaven. 22 On that day many will say to me, 'Lord, Lord, did we not prophesy in your name, and cast out demons in your name, and do many mighty works in your name?' 23 And then will I declare to them, 'I never knew you; depart from me, you workers of lawlessness.'
b. This message is probably the number one mandate from God for me.
a. It's all about two things:
i. Intimacy- seeking, knocking and finding Jesus, hunger, desire
ii. Lawlessness- in control of ones own life, not surrendered, not responsive, following Jesus on one's own terms like the Rich Young Ruler.
1. There's an anti-authority, anti-submission, scattering spirit in the church today, and it's exceedingly dangerous!
2. 2 Peter 2:9-10 (ESV) 9 then the Lord knows how to rescue the godly from trials, and to keep the unrighteous under punishment until the day of judgment, 10 and especially those who indulge in the lust of defiling passion and despise authority.
iii.
c. House of prayer movement
a. The house of prayer is not a splinter movement, it is a call to calibration for the entire church.
b. Luann Zettle- "..a house of Prayer for all Nations..yep, totally agree with you John. Biblically this is so clear. And there are SO many I know that do see it that way. But, I think the biggest problem is that we don't know how to get there from here. The current church structure just seems to throw prayer in as an "add-on" or an additional ministry/program or that 10 minute exercise we do in the morning as opposed to the driving furnace of the Church, through which all other church Life flows. And i agree. IHOP,KC looks a lot more like Church than most anything else I've seen. "
3. Reformation in the Church
a. 20 Elements of Revival
b. Ancient and emerging
c. Dangerous scattering in the church
d. Cares of life
e. Misunderstanding of the purpose of the church
i. A wrong understanding of why we go to church will immediately result in a faulty understanding of how to participate.
ii. Many are saying that they don't need the church anymore, or they only need the church a few times a month. This is an indicator of a wrong understanding of what the church is.
iii. Have we ever considered whether the church needs us?
iv. Can you imagine the USA military being strong if the soldiers only reported one day a week? No way! America would have been defeated and held captive long ago—and this is what has happened to the church.
v. Old paradigm- God first, family second, ministry third
vi. New paradign- all of it happening in the same places at the same time
1. We've come to believe that our families are healthier as we sit in front of the TV together instead of in the prayer room.
2. We might have a measure of personal health as we participate at a low level, but it comes at the expense of the church.
f. Some are saying that the Kingdom must advance out of the four walls of the church and into society. I agree! But, this can only happen if we are strategy minded and mission oriented in a place of burning prayer within the four walls of the upper room.
4. Encountering God
a. Making it easy for people to thoroughly enjoy God
b. We want people to know God, not just know about God.
c. 2 Chronicles 7:1-3 (ESV) 1 As soon as Solomon finished his prayer, fire came down from heaven and consumed the burnt offering and the sacrifices, and the glory of the LORD filled the temple. 2 And the priests could not enter the house of the LORD, because the glory of the LORD filled the LORD's house. 3 When all the people of Israel saw the fire come down and the glory of the LORD on the temple, they bowed down with their faces to the ground on the pavement and worshiped and gave thanks to the LORD, saying, "For he is good, for his steadfast love endures forever."
5. Prophetic Atmosphere
a. A command center for the region.
b. Manitou Springs—a revival command center for the nations.
Technorati Tags:
prophetic
,
mandate
,
church
,
detroit
,
revival church
,
generation
,
upper room
,
20 elements of revival
,
fire
,
deeper
,
radicals