"Last night your message was incredible!  I was trembling the whole message and my spirit was coming alive!"~Ruth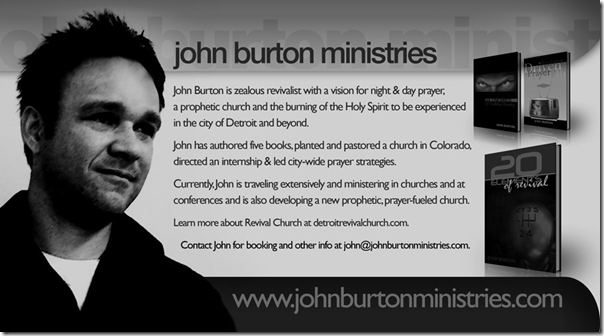 Head on over to
www.johnburton.net/booking
and learn more about what John can bring to your church or conference. He's a burning revivalist with a deep passion for the advance of the church. He just finished his sixth book,
Pharaoh in the Church
, a burning message of reform and transformation in the wilderness of encounter. He is able to minister on that topic or on any number of others.

BIO
Planted Revival Church in the Detroit region
Directed one of the four major internships at the International House of Prayer in Kansas City
Planted Revolution House of Prayer in Manitou Springs, Colorado
Appeared on The Miracle Channel program, The Bridge
Has written six books including 20 Elements of Revival
Has led two city-wide prayer initiatives
Is launching theLab internship in Detroit (www.revivallab.com)
Have been active in ministry for 20 years
On the booking site, you can fill out a form and we'll be in touch shortly!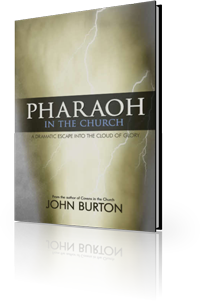 TESTIMONIES:
I listened to Sundays message again. I'm so messed up, tears, groans, trembling (can barely type) such an anointing…o God, give us your heart and let us take heed to the call to prayer. I see us on the verge of a deep valley (the glory) (the radical call) God is saying just take the step down and let go. Make the changes and you will see my glory manifest in Detroit! – Michele
So much fear and bondage has broken off my life. I am very grateful for John's persistence in calling out destiny in people's lives and the deliverance anointing that is on his life.  I am grateful that he is not afraid to make clear the mandate for God's people to raise the bar in their lives so they will be a people who are deeply in love with God and willing to follow Him wherever He leads.  God is calling more to take the challenge and live the adventure!  Don't hesitate to respond! – Amy
God called you last night to rip open a revival in me, and it was REAL – building on the call and the BURNING I felt last Friday. Truly the Holy Spirit spoke into my life and burned through me – I was shaking from my feet up, like I was boiling. Your prophecies spoke to deep, deep rooted lies and hurts. I left wanting more -I woke up in the middle of the night still talking to God. I asked him to keep my revival going through my dreams so I would not have to let go of Him – and I dreamt all night of praising Him powerfully. There is such a strong desire in me for more intimate encounters with the Spirit. I ache – ACHE to hear his voice, and PRAISE JESUS I have HIM with me always! I will be back and I am ready to be part of God's incredible work here in Detroit!!! Thank you, thank you, thank you for ushering us into that closeness with the Holy Spirit. His calls keep getting louder – and I want nothing more than to respond. -Katie
Posted in
Revival
and tagged
20 elements of revival
,
amy god
,
anointing
,
author
,
booking
,
books
,
books plants
,
burn
,
catholic liturgy
,
charles harrison mason
,
christian views of jesus
,
christianity
,
church
,
churches
,
conference
,
deep
,
deep passion
,
detroit
,
eastern catholicism
,
eastern orthodoxy
,
fire
,
human behavior
,
invite
,
is a
,
john
,
john burton
,
message
,
pharaoh in the church
,
prayer
,
religion
,
revivalist
,
teaching
,
the bridge
,
the miracle channel
,
thelab
,
video