John Burton carries and releases the tangible fire of God. ~Matt Sorger
Experience our brand new website and learn more about the urgent yet joyful mandate for revival that John carries.
John Burton is available to minister in your church or at your conference or event. John has been developing and leading ministries for over 20 years and is a sought out teacher, prophetic messenger and revivalist. John has authored six books, has appeared on Christian television and radio and directed one of the primary internships at the International House of Prayer (IHOP) in Kansas City.
Additionally, he planted two churches, has initiated two city prayer movements and is currently directing a prayer and revival focused ministry school in Detroit called theLab.
In addition to his thrill ride as the senior leader at Revival Church in the Detroit region, an equally thrilling mission of his is to bring a message of revival and unity to churches around the world.
We would have a lot of fun and your local mission would experience a serious surge of strength and life as John ministers messages including:
Covens in the Church (Serving with leadership with joy and passion)
Carry Like Mary (A message of awakening)
Becoming Unoffendable (John's most popular teaching)
A Spirit of Insignificance (Freedom from rejection and insignificance)
And more!
John also has a web and graphic design business and is continually developing new and exciting ventures. He and his beautiful wife Amy have four children and currently live in the Detroit region.

RECOMMENDATIONS
I want to recommend to you the ministry of John Burton. John carries a real passion and anointing for revival, breakthrough and transformation. He carries and releases the tangible fire of God and brings people into encounters with God's presence. He is a strong equipper in the areas of prayer and evangelism and mobilizes people to carry God's word and presence outside the four walls of the church building. John is also a great preacher of the word. He has had many years of ministry experience both as a pastor and evangelist. His understanding of local church ministry makes his ministry well rounded and unique. He pastors, oversees a school of ministry and travels releasing the fire of God and igniting hearts with a passion for Jesus. I believe he would be a great blessing to your church.
Matt Sorger
---
"John is dangerously prophetic, provoking passion in those in pursuit of revival. In just a few short years, I have witnessed the impact of his obedience to Christ in a region bound by division & religion. His mandate is one of radical devotion, raising up burning ones and releasing them into new levels in their kingdom assignment."
Marcellis Smith, Lead Pastor
Jubilee City
Detroit, MI
---
"John Burton is a modern day revivalist that sees and wants the heart of God rise up in this present generation! I highly recommend him for any ministry you may be considering. In my opinion, he is like a modern day John the Baptist going ahead preparing people for the Lord! We had him in our church and we were not disappointed and neither will you!"
Pastor Tim Martin
---
"John Burton is a man who has continued to allow himself to be thrust into the middle of what God is doing. He not only hears from Heaven, but is willing to boldly shout it from the rooftops. If John is stirred about something, I would recommend that you listen."
J.D. King, International Director World Revival Network of Ministries
---
John Burton is a man with unquenchable passion for God. His life is a living Epistle of the truth that the Kingdom of God is not just in word, but in power. He lights fires wherever he goes leaving behind the unmistakable fragrance of the life of Christ. I highly recommend his ministry to you.
Glenn Bleakney
---
I highly recommend John's ministry! Can't wait to do some meetings together with him!
Pastor Brian Simmons
---
"If you are in a room with John Burton for more than 10 minutes and you don't have a fire in your belly, I would check your pulse. This man is a fire starter and it's catchy! John is a revivalist who burns with a passion to see cities and nations set ablaze with love for Jesus! He is a gifted writer, preacher and prophetic minister. He has clear vision and strategy for city wide breakthrough of revival. I highly encourage you to invite his team at TheLab to your church if you are in need of corporate breakthrough!"
Julia Palermo
Posted in
Revival
and tagged
church
,
conference
,
design
,
detroit
,
event
,
ihop
,
international house of prayer
,
invite
,
j.d. king
,
john burton
,
matt sorger
,
messages
,
messenger
,
minister
,
prayer
,
prophetic
,
recommendations
,
revival
,
revivalist
,
school
,
spirit of revival
,
teacher
,
teachings
,
thelab
,
video
,
videos
,
website
,
world revival church
,
world revival network
1 Comment
You can now submit a testimony, recommendation or review of one of our books and be featured on our site!
Check out several new videos that have been uploaded to our media site at http://media.johnburton.net!
The Power of Agreement, A Culture of Healing, Catherine Mullins, Brian Simmons and more!
---
The testimonies are truly remarkable. I'm truly amazed at how Jesus continues to visit and heal people in our meetings!
For info on booking an event in your church or at your camp, conference of other event, go to www.johnburton.net/booking.
Check out the testimonies and recommendations, and you can also submit your own just after the featured recommendations at www.johnburton.net/recommendations.

You can also check out our network of social networks, ministries and businesses right the right sidebar of www.johnburton.net: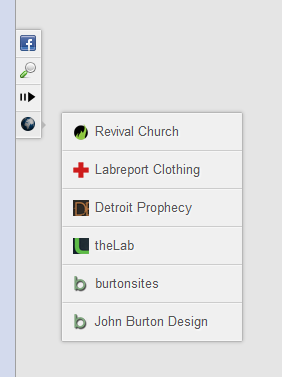 "Last night your message was incredible!  I was trembling the whole message and my spirit was coming alive!"~Ruth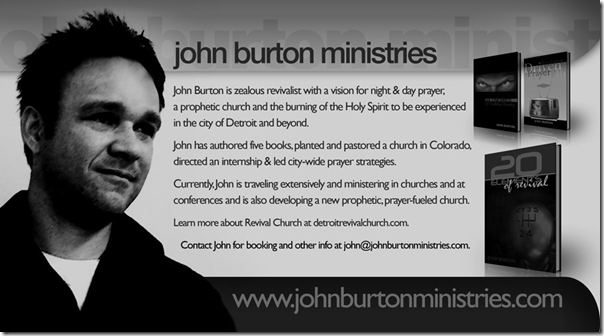 Head on over to
www.johnburton.net/booking
and learn more about what John can bring to your church or conference. He's a burning revivalist with a deep passion for the advance of the church. He just finished his sixth book,
Pharaoh in the Church
, a burning message of reform and transformation in the wilderness of encounter. He is able to minister on that topic or on any number of others.

BIO
Planted Revival Church in the Detroit region
Directed one of the four major internships at the International House of Prayer in Kansas City
Planted Revolution House of Prayer in Manitou Springs, Colorado
Appeared on The Miracle Channel program, The Bridge
Has written six books including 20 Elements of Revival
Has led two city-wide prayer initiatives
Is launching theLab internship in Detroit (www.revivallab.com)
Have been active in ministry for 20 years
On the booking site, you can fill out a form and we'll be in touch shortly!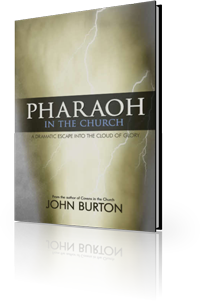 TESTIMONIES:
I listened to Sundays message again. I'm so messed up, tears, groans, trembling (can barely type) such an anointing…o God, give us your heart and let us take heed to the call to prayer. I see us on the verge of a deep valley (the glory) (the radical call) God is saying just take the step down and let go. Make the changes and you will see my glory manifest in Detroit! – Michele
So much fear and bondage has broken off my life. I am very grateful for John's persistence in calling out destiny in people's lives and the deliverance anointing that is on his life.  I am grateful that he is not afraid to make clear the mandate for God's people to raise the bar in their lives so they will be a people who are deeply in love with God and willing to follow Him wherever He leads.  God is calling more to take the challenge and live the adventure!  Don't hesitate to respond! – Amy
God called you last night to rip open a revival in me, and it was REAL – building on the call and the BURNING I felt last Friday. Truly the Holy Spirit spoke into my life and burned through me – I was shaking from my feet up, like I was boiling. Your prophecies spoke to deep, deep rooted lies and hurts. I left wanting more -I woke up in the middle of the night still talking to God. I asked him to keep my revival going through my dreams so I would not have to let go of Him – and I dreamt all night of praising Him powerfully. There is such a strong desire in me for more intimate encounters with the Spirit. I ache – ACHE to hear his voice, and PRAISE JESUS I have HIM with me always! I will be back and I am ready to be part of God's incredible work here in Detroit!!! Thank you, thank you, thank you for ushering us into that closeness with the Holy Spirit. His calls keep getting louder – and I want nothing more than to respond. -Katie
Posted in
Revival
and tagged
20 elements of revival
,
amy god
,
anointing
,
author
,
booking
,
books
,
books plants
,
burn
,
catholic liturgy
,
charles harrison mason
,
christian views of jesus
,
christianity
,
church
,
churches
,
conference
,
deep
,
deep passion
,
detroit
,
eastern catholicism
,
eastern orthodoxy
,
fire
,
human behavior
,
invite
,
is a
,
john
,
john burton
,
message
,
pharaoh in the church
,
prayer
,
religion
,
revivalist
,
teaching
,
the bridge
,
the miracle channel
,
thelab
,
video