Donald Trump revealed some issues that demand discussion.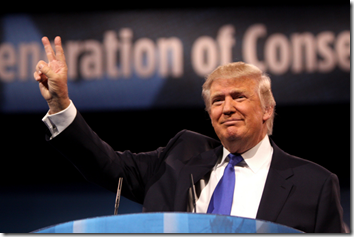 President Trump. I never thought I'd ever hear myself saying those words. President Hillary. I'm thrilled that I'll never have to say those words.
There is a spirit of euphoria spreading through much of the church thanks to the overwhelming and unprecedented election results. As many of you know, I was one who wasn't sold on the idea of a Donald Trump presidency, but as it stands now, we must all honor him as the soon to be inaugurated President of our nation. Many are saying he was God's choice. I don't know that any of us can know that for certain, but what we do know is that God has established him, just as he does with all leaders, be they good or evil.
That being said, we must contend for God's purposes as Donald leads us from one national experience into another. We have to pray that his steps are ordered and refuse to complain no matter how vexing his leadership may be.
Then all the congregation raised a loud cry, and the people wept that night. And all the people of Israel grumbled against Moses and Aaron. The whole congregation said to them, "Would that we had died in the land of Egypt! Or would that we had died in this wilderness! Why is the LORD bringing us into this land, to fall by the sword? Our wives and our little ones will become a prey. Would it not be better for us to go back to Egypt?" And they said to one another, "Let us choose a leader and go back to Egypt." Numbers 14:1-4 (ESV)
We do not want to go back to Egypt. And, no, at this point, we absolutely do not want a new leader.
No more cries, no more tears, no more grumbling.
Let every person be subject to the governing authorities. For there is no authority except from God, and those that exist have been instituted by God. Therefore whoever resists the authorities resists what God has appointed, and those who resist will incur judgment. Romans 13:1-2 (ESV)
Donald Trump is our authority and he has been instituted, established, by God. Resisting and complaining can only result in judgment. It's time to serve, honor, love and contend for revival in America, and we must do so with Donald Trump at the helm of our nation's government.
And the men whom Moses sent to spy out the land, who returned and made all the congregation grumble against him by bringing up a bad report about the land— the men who brought up a bad report of the land—died by plague before the LORD. Of those men who went to spy out the land, only Joshua the son of Nun and Caleb the son of Jephunneh remained alive. Numbers 14:36-38 (ESV)
Joshua and Caleb determined they could advance under the leadership of Moses into very threatening territory. The others? They grumbled and died on the wrong side of promise. This same scenario is before us today. How will we respond? We need people who will spy out the land, who will view into our prosperous future with Donald Trump in leadership, and bring back a good, confident report. We need pioneers, apostles, warriors who will advance in the face of any enemy, without excuse, without fear.
Now, before you accuse me of equating Donald Trump to Moses, please bear with me. We all know that Donald has some serious personal issues that must be dealt with, but we must also serve him in intercession and by refusing to speak evil of him. We must be his advocates.
That's my clear message of how we must respond to Donald Trump's Presidency. Now, at this point I must switch gears. Having an appropriate attitude towards Donald Trump is but the beginning. There are some very real issues to be discussed. There is an issue with the church that must be addressed.
You see, Moses and Joshua were not only focused on taking new territory. They also called for the consecration of the people. Success depended not only on the leader and on the support of the people but also the consecration and continual refining of the people. This is where we must now focus. Attention now shifts from Donald Trump to you and me—the church of America. Repentance and consecration must come. Our tomorrow depends on it.
Then Joshua said to the people, "Consecrate yourselves, for tomorrow the LORD will do wonders among you." Joshua 3:5 (ESV)
TROUBLING ISSUES THE CHURCH MUST DEAL WITH AFTER THE ELECTION OF DONALD TRUMP
The reason I was disturbed with the wholesale support of Donald Trump by many Spirit-filled Christians was not because I didn't believe God could eventually move through his Presidency. The trouble in my spirit, which is still there today, has to do with violations by the church that put our nation at risk regardless of who the President is. In fact, Donald Trump could have a Damascus Road encounter and become a revivalist in the White House overnight, but that wouldn't resolve the national issues that have been created by American Christians this election season. The enemy is not those who didn't support Donald Trump. The enemy is a segment of the American church that dipped into corruption in its efforts to elect the President of their choice.
SHRUGGING OFF IMMORALITY
I wish it was possible for me to express to you my thoughts and emotions every time I witnessed Christians shrugging off immoral behavior by Donald Trump. While I didn't engage with as many Hillary Clinton supporters, the same confusion would have resulted had I heard people defend her indefensible immorality.
The immediate, almost scripted and prepared statement I heard time and again from legitimate, God-loving, Spirit-driven Christians was, "That was in the past," or "It was only locker room talk," or other similar verbal and written shrugs of the shoulders. Others often argued that nobody is perfect and therefore we couldn't hold them to any standards whatsoever. I was stunned!
Further, it was determined that anybody who didn't sin greater than King David was approved for leadership. This extreme biblical illiteracy is shocking. When a corrupt, indecent politician writes some psalms revealing the cry of their heart for intimacy with God, I'll listen to you.
Many were defending Donald Trump by reminding us that he's a baby Christian and that he needs time to grow. The problem? Nobody actually knows if he's truly converted or not. At the time of the election, the fruit hadn't started to show. My argument is not that Donald is not saved. It's that we don't know if he will or will not continue in the extreme immoral behavior that he has exhibited his whole life. It's an immature, desperate person who will ignore warning signs in the hope that all is well. We simply cannot minimize immoral behavior. I don't believe politicians must be Christians, but I do believe they must adhere to a moral code.
Remember, I'm not talking about our new President now. I'm talking about the failures of the church to support righteousness.
When the righteous are in authority, the people rejoice; But when a wicked man rules, the people groan. Proverbs 29:2 (NKJV)
I was legitimately concerned that we were risking four years of national groaning by closing our eyes to indiscretions. But, cries for righteousness in our leadership fell on many deaf ears. That is an indictment on the church, not on Donald Trump.
For the life of me I couldn't find many who would honestly acknowledge how serious the violations and accusations of racism, hatred, sexual indiscretion and other behaviors were. I'll admit, it was strange. The reaction felt like a well rehearsed political script. The church's extreme support of a man has, in my opinion, resulted in opening the door to conditional morality and an increase in sexual deviance in our nation. I'm not saying we can't fight against that tide, but it's a situation we should not have initiated. If those who supported Donald Trump would have at least admitted the controversy exists, and that they are grieved about his demeanor and behavior, whether its past or present, righteousness could have prevailed.
In 1988 I was at the epicenter of a global, spiritual moral crisis in Baton Rouge, Louisiana. I was near the front of the auditorium at Family Worship Center as I, along with countless news reporters and thousands of other people, watched Jimmy Swaggart famously repent for his sexual sin. The world lost trust in Christianity, and especially in popular evangelists and ministers, that day. The moral code was violated and it should not have been shrugged off. It was devastating.
Years later I had the privilege of leading regional prayer meetings with Ted Haggard in Colorado Springs. Ted also preached in my church twice and, like Jimmy Swaggart, I experienced his tangible, powerful anointing. Like Jimmy, Ted was a true general in the faith. I also felt the impact of failure when Ted gave in to sexual sin. Again, people were shocked, in tears and grieved. They had a right to be.
I also had the opportunity to meet personally with Todd Bentley in Lakeland, Florida during the outpouring. I experienced the power of God on his life too. Then, his failure became known and it rocked many. The outpouring was suddenly over as people lost trust in Todd.
Years and decades later there are many Christians who refuse to support these men of God or even watch them on television. Many of these same Christians were lining up to vote for a man who probably violated the moral code exponentially more than Jimmy, Ted and Todd combined.
Please remember, I'm not talking about whether Donald is forgiven or not. I'm not pointing my finger at him. This segment of the article is aimed at the church.
I'm calling out a permissive, passive church that was so afraid of one leader in Hillary Clinton that they were willing to sell their birthright for another.
No, Donald Trump isn't a pastor or a spiritual leader. I've heard that excuse too. It seemed that people were looking for any loophole to excuse immorality. The argument has resulted in a new standard: give us what we want and we will overlook crimes, lies, sexual deviancy, hatred and anything else necessary.
I've asked the question more than once, "What must a candidate do in terms of morality that would make him or her impossible to vote for?" Believe it or not, I never received an answer! What if both candidates in the next election are pro-abortion, but one would limit it to the first trimester while the other supports partial-birth termination? Would situational ethics give us license to vote for a pro-abortion candidate if they were the lesser of the two evils? Truthfully, I believe many Christians would actually cast a vote for a murderer—the lesser of two murderers.
This is what happens when biblical truth and core values are placed on a sliding scale. Those values have been constantly moving in this election and we must repent and react to the new immorality that was introduced as nothing more than locker room talk this year.
PROPHETIC ASSAULTS
Haughty eyes and a proud heart, the lamp of the wicked, are sin. Proverbs 21:4 (ESV)
Pride and arrogance reared their ugly heads during the election season, and much of it in the name of prophecy. "God said to vote for Donald Trump so I'll assault you until you see it my way."
Do not speak evil against one another, brothers… James 4:11 (ESV)
I value prophecy highly. I teach on it and one of my signature teachings is on living a prophetic life. We need more prophecy, more people activated in the prophetic, not less. I also value many of today's prophetic leaders who live in the prayer closet and do their best to communicate the heart of God.
That being said, I'm almost embarrassed to call myself a prophetic Believer today. The rate at which mature Christians are dismissing biblical truth in favor of the apparent word of God of the hour is appalling. We must have a reformation in the prophetic culture of the church if we hope to give true leadership in the trying days to come. The Bible must return to center stage. Logos must be given priority over Rhema. It must again become the plumb line.
I'll tell you this. The Bible demands that we love one another, but I experienced such nasty behavior from mature Believers just because their candidate was opposed. Shaming, accusations, arrogance and a ridiculous presumption that they were hearing God perfectly, and others were missing God completely filled social media. Friends were lost. Pride drove many of those who were supposedly promoting God's prophetic word about Donald Trump.
If I speak in the tongues of men and of angels, but have not love, I am a noisy gong or a clanging cymbal. And if I have prophetic powers, and understand all mysteries and all knowledge, and if I have all faith, so as to remove mountains, but have not love, I am nothing. 1 Corinthians 13:1-2 (ESV)
We must honor those who didn't hear God the way we did. We must also promote the Scriptures ahead of prophetic revelation, and value people who are doing their best to rightly divide the Word.
During this election season it was non-negotiable that I give my energy to hearing God through the Word, which also resulted in supporting Rhema revelation. What I mean by that is I believe it's important, actually critical, that we start with the Bible when making key decisions and then allow the prophetic to bring clarity and to highlight specifics. Instead, many, many people that I talked to were relying solely on dreams, the revelation of other prophetic people, inner senses and other insight instead of hearing what the Word says about the matter. Biblical truth was regularly discounted by many or ignored at any point their prophetic revelation was threatened.
Righteousness exalts a nation, but sin is a reproach to any people. Proverbs 14:34 (ESV)
This verse was commonly ignored almost every time I shared it. Ears were shut and eyes were closed out of fear that something in the Word would create a conflict in their support of their favorite candidate. My passion is to see righteousness reign in the church even if that means a less desirable leader is in office. Time and again the response I heard was simply that "God said Donald Trump is his man. He's a Cyrus. God will deal with his heart later." I'm trusting that God will do that too. But, again, I'm not dealing with Donald in this portion of the article. I'm talking about the many Christian's exuberance in dismissing clear, biblical truth in favor of pipe dreams in the name of prophecy.
Please understand, I'm not saying that God can't use Donald as a Cyrus. He absolutely can. Those prophecies may prove to be true. What I am saying is that we were too quick to ignore the Bible in favor of prophecy.
Prophecy is conditional. We see in part. The Bible is unconditional. We absolutely must move in great humility, admitting that we may not be hearing clearly and ensuring we remain teachable and flexible, ready to admit we were wrong at any time.
In a recent Charisma Magazine article I expressed the need for a pastor as President now more than ever. I wrote that when many were using yet another excuse for immorality by saying that we weren't electing a pastor. Many Christians were laughing at that idea, declaring that we are electing a secular business man, a leader, and not someone who has righteousness as a mandate. Again, I was grieved. Apparently the prophecies trumped (yeah, a pun) the biblical call for righteousness.
Stands for holiness and calls for righteousness actually resulted in attack after attack by Christians who were guarding their prophetic revelation. Prophetic assaults were constant. I've heard from many who can attest to this fact.
Add to the unloving, prophetic assaults the increasingly bizarre "prophecies" that people are putting God's name on, not only in the election but in the Charismatic experience in general, and you have a very strange, contentious situation indeed. Too many in the prophetic community are reaching for little more than coincidences and slapping God's name on them. This is truly quite dangerous. It's taking God's name in vain.
I'd encourage you to read my article titled: Stop the Madness! A Prophetic Reformation is Needed. We must simply put an end to the strange prophecy that isn't from God, but from the soul. The witchcraft that's behind that is stronger than we may understand.
PUTTING TOO MUCH TRUST IN MAN
I value leadership and I acknowledge that we want the right leaders in position, whether they are pastors, bosses or politicians.
What we experienced in this election season, however, is trust in man going way too far.
It is better to take refuge in the LORD than to trust in man. It is better to take refuge in the LORD than to trust in princes. Psalm 118:8-9 (ESV)
As I write this, protests and riots are taking place all over America simply because Donald Trump was elected. People were crying, angry, fearful and vengeful after he was voted in. Others were euphoric, rejoicing and overly celebratory. Both sides are putting way too much trust in a mere human being.
When those who lost are attacking and hateful toward those who won, that is evidence that God does not have the supreme place in their lives. The same is true on the other side. Too much relief, happiness and an elevated sense of victory can be evidence that they are putting too much trust in a human being. I've seen this result in a nose up attitude that creates division. Pride and arrogance seem to be leading the way for many.
Further, I'm still disturbed at those who were so angry and abrasive toward people who decided they couldn't support either candidate.
I'm hoping Americans will truly respect the freedom to vote next election by honoring those who search their hearts, pray and decide to vote third party. There has been so much ungodly shaming, attacks and disrespect this election season toward those who exercised their right to vote for whoever they felt God instructed them to. That couldn't be more un-American or un-Christian.
My wife posted this on Facebook:
I certainly agree that we must be obedient to the Lord when deciding for whom to vote, which is the reason I felt I couldn't vote for Trump. I have been called selfish, proud, rebellious. I've been told I don't care about my country, that I can't hear God simply because I felt I needed to stand for righteousness in this matter according to the Word. My liberal friends have treated me better than some of my evangelical friends and that is truly sad. I voted, but not for Trump, Hillary, Johnson or Stein. I shouldn't have gotten flack from Christians for trying to vote as the Bible would prompt me.

I understand why some felt they had no choice (but to vote for Trump). Many times, I almost decided to vote for Trump for the reasons (many have) stated, but in the end it just didn't feel right to me. I was told I was sinning for following my conscious. How did that even make sense?
God fearing Christians were actually more afraid of Hillary being in office. The judgments and criticism was at historic levels, and towards true Christians who were doing all they could to vote according to biblical values.
IT'S TIME FOR REPENTANCE
This election brought out the worst in the church. Is it possible the prophetic revelation that Donald is a Cyrus, that he was God's choice, is true? It absolutely is possible. However, this message isn't focusing on that. I'm bringing attention the the ugliness that the church exhibited for all the world to see. From immature prophetic people assaulting anyone who departs from their point of view to minimizing immorality to nearly idolizing a human leader, the church should be licking it wounds. It definitely should be repenting.
We must have a prophetic reformation. We need a movement of holiness. We have to trust God like never before.
With that in mind, let's join together to display the love of Jesus, pray for God's established leader of America and contend for reformation in a spirit of repentance.
Our nation's future depends on it.
First of all, then, I urge that supplications, prayers, intercessions, and thanksgivings be made for all people, for kings and all who are in high positions, that we may lead a peaceful and quiet life, godly and dignified in every way. 1 Timothy 2:1-2 (ESV)
The spirit of the age is overwhelming the church in ways we may not have considered.
As is necessary when addressing an ultra-sensitive issue, I will make some qualifications on the front end:
God is without question, and I will declare without apology, passionately interested in blessing his children. It is fully appropriate to give a measure of attention to the wondrous process of discovery of God's abundant life, overwhelming benefits and blessings.
That being said, I now must move on to offering some analysis on a hidden crises.
THE SPIRIT OF ABORTION…IN THE CHURCH?
As a prophetic messenger, a primary driving force of my daily life is to reveal and help destroy any barriers to Kingdom advance and the revelation of the cross and resurrection of Christ. In fact, we all must have our eyes wide open to this disturbing movement that is overtaking the church and stand in unity against its advance.
Now, of course, the thought of the spirit of abortion in the church is potentially offensive and certainly provocative. It's a bold statement to say the least.
It's important at this point to understand our discussion isn't about all of those other Christians or all of those other churches that just don't get it. We must look inward. Yes, we have to boldly and humbly ask ourselves the question, "God, are the same spirits that drive the abortion movement also driving me?"
Check out this quote which highlights the issue quite well. Notice how this person affirms killing a threat to other "good" endeavors:
Abortion is not the lesser of two evils. Abortion is profamily, prolife, moral, and good. For many millions of women, abortion has meant getting on with their lives and continuing to meet their responsibilities to themselves, their families, and society. PATRICIA W. LUNNEBORG, Abortion: A Positive Decision
Is it possible that we in the church are also more focused on getting on with our lives at the expense of God, the church, our mission, the Word and other people?
It's shocking to me how Little League, school, family vacations and rest and relaxation are not looked at as threats to our personal freedoms, but a call to the prayer room is.
With that in mind, here's another qualifying statement: The demonic abortion strategy is multi-faceted. It includes spirits of murder, violence, hatred and many others. While we as Christians may not be driven by those spirits, there is one spirit that has a foundational, comprehensive assignment. This spirit is what has infiltrated the church, and it's, in my opinion, a key reason why we haven't had the authority to eradicate it from its assignment of murdering babies.
This spirit has one key focus, one goal as it ministers to the minds and hearts of people:
PERSONAL EXPERIENCE
People are focused primarily on their personal experience.
You could also call it selfish ambition.
Check out this passage of scripture:
James 3:13-16 (ESV) 13 Who is wise and understanding among you? By his good conduct let him show his works in the meekness of wisdom. 14 But if you have bitter jealousy and selfish ambition in your hearts, do not boast and be false to the truth. 15 This is not the wisdom that comes down from above, but is earthly, unspiritual, demonic. 16 For where jealousy and selfish ambition exist, there will be disorder and every vile practice.
Selfish ambition is demonic. Jealousy, which results when we focus on our own personal experience, is also vile, earthly and demonic.
When a woman is carrying an unwanted baby, her focus immediately shifts to her own personal experience. Her ambition. Her dreams.
The call to lay down her life for another, to make a great sacrifice, to change her priorities, to embrace a life of struggle and inconvenience for another person all fall on deaf ears. After all, it's her body and she can do what she wants with it, right?
One method of destroying a concept is by diluting its meaning. Observe that by ascribing rights to the unborn, i.e., the nonliving, the anti-abortionists obliterate the rights of the living. AYN RAND, The Ayn Rand Lexicon
The unwilling mother has rights! It's her life. It's her time. It's her dreams. It's her decision, and in the case of abortion, she makes the decision for self instead of for another. Her personal experience was instrumental in her decision.
Philippians 2:3-4 (NIV) 3 Do nothing out of selfish ambition or vain conceit, but in humility consider others better than yourselves. 4 Each of you should look not only to your own interests, but also to the interests of others.
WHAT'S IN IT FOR ME?
So, how does this affect the church? This issue is impacting the church and Christians in very deep, disturbing ways. It's not a minor issue that's affecting a few. It's a major problem that's a primary driver in the very fabric of Western Christianity.
We have to understand that so much of preaching today has been fashioned to appease people looking for a positive personal experience. This must end.
2 Timothy 4:3-4 (ESV) 3 For the time is coming when people will not endure sound teaching, but having itching ears they will accumulate for themselves teachers to suit their own passions, 4 and will turn away from listening to the truth and wander off into myths.
Do you know how difficult it is to find churches that preach the cross? Cost? Death? Surrender? The personal experience must be positive and without much cost if we hope to fill the pews. The same thing happened at the cross. The place Jesus died was empty except for those killing him and those closest to him. Where were the crowds who were looking for a message to satisfy their itching ears? They left when the message included death. When you preach the cross the masses will run and you will be left with those who are the closest to you and those who are out to kill you.
"If Jesus had preached the same message that ministers preach today, He would never have been crucified." ~Leonard Ravenhill

"The early church was married to poverty, prisons and persecutions. Today, the church is married to prosperity, personality, and popularity." ~Leonard Ravenhill

"I believe that there are too many accommodating preachers, and too many practitioners in the church who are not believers. Jesus Christ did not say, 'Go into all the world and tell the world that it is quite right.' The gospel is something completely different. In fact, it is directly opposed to the world." ~C. S. Lewis
What should send us to our knees is that it's the very gospel of Jesus that is being rejected for the sake of the pursuit of personal blessing and benefit! There are preachers in churches with crosses on their steeples who refuse to call people to the cross at the altars! A minimized cross results in Christians that are only artificially vibrant as they pursue blessing, but dead and dying inside—and this has eternal implications!
It's time for us to respond positively to what many have called negative messages; these piercing, demanding, shocking negative messages of death at the cross were born through God himself and delivered to us in the form of the Jesus.
"I doubt that more than two percent of professing Christians in the United States are truly born again." ~Leonard Ravenhill
Just like the woman who wants to remove the threat of a baby for the sake of her own personal experience, we in the church are all too often looking for relief and blessing instead of carrying a heavy cross for the sake of others! The refusal to sacrifice time, money, energy and our very lives on a daily basis results in a prayerless, self-centered, quasi-Christian that's driven by the question, "What's in it for me?"
Have you noticed that the biggest offerings tend to come when the emphasis is on what we can expect in return? The biggest conferences tend to be those that highlight personal breakthrough. The most appreciated sermons are those that reveal the blessings we can expect as Christians. I often wonder what would happen if we held a conference titled, "Come and die."
We live in a day when we unwittingly embrace a deadly, self-centered spirit of religion.
Religion is: Man's attempt to use God to get what he wants.
When we don't get what we want out of God our the church, we have an opportunity to accuse, to get angry, to place demands and to flee. When Jesus was here, the spirit of religion killed him because they didn't get out of Jesus what they wanted.
The crowds were crying out, "Hosanna!" during the Triumphal Entry, which literally means, "Save us now!"
Jesus had of course decided to do just that—but not in a way they wanted.
In the next passage Jesus goes into the temple to overturn the moneychangers tables. Why? Because they were using the church for personal gain! The spirit of religion was in the temple! We are to enter the church with the expectation of leaving with LESS than we entered with, not more! We aren't to use the church, but we are to bring an offering and to be a living sacrifice for the sake of others!
Then, that spirit of religion ended up killing Jesus. Jesus didn't give them what they wanted in the way they wanted it. So, that spirit of abortion, of murder, took care of business.
Theocentric simply means we exist for God rather than He for us. Egocentric praying is our attempt at managing and directing God to accomplish our will instead of His. If "covetousness is idolatry" then attempting to harness the power of God to the priorities of self-centeredness is SIN! ~Harold Vaughn
The emphasis today seems to be on God alleviating our struggles instead of joining in on the great end-time struggle!
"If a Christian is not having tribulation in the world, there's something wrong!" ~Leonard Ravenhill
Again, God loves to bless his children, but we must discuss the approach:
I absolutely love to give my kids presents. I come alive! My son Jet's birthday was yesterday and I had so much fun watching his face beam as we opened presents, and as Chuck-E-Cheese led out in singing happy birthday. I also couldn't wait to get him home, after he thought all of the presents had already been given, and see his face as he opened the shed to ride his bike…only to see his brand new bike sitting there! What a moment! Later that night we were laying on the hammock under the stars together, and he very casually and thoughtfully said, "Yep, this was about the best birthday ever…the best Chuck-E-Cheese birthday ever."
Now, compare that to other days when I take the kids for a routine shopping trip to Walmart. From the moment they hit the door their sad, frustrated faces reveal what's coming next. "Dad, please, can I have…"
No. No. NO! Over and over again. The tears come. The sadness increases. Their carnal nature is showing in radiant brilliance! Their consideration is not for mom and dad, our focus on saving money or anything else. It's on self! You see, I often bring my kids with me when I go out just because I want to be with them, and to their credit, my wonderful children often want to be with me too! We love being together. But, something happens when the focus turns to self. What's in it for me?
TROUBLED
When threats to your dreams or your time or your personal endeavors come, how do you react? When preaching cuts instead of satisfies, how do you respond? The answer to these questions can go a long way in revealing what spirit you are driven by.
When the threats came to Jesus, he didn't resist—he died. He surrendered for the sake of the world.
However, when the threat of a new King being born was discovered by Herod, he was troubled. The threat to his own personal experience, his reign as king, resulted in the spirit of abortion entering him.
Matthew 2:13 (ESV) 13 Now when they had departed, behold, an angel of the Lord appeared to Joseph in a dream and said, "Rise, take the child and his mother, and flee to Egypt, and remain there until I tell you, for Herod is about to search for the child, to destroy him."

Matthew 2:16 (ESV) 16 Then Herod, when he saw that he had been tricked by the wise men, became furious, and he sent and killed all the male children in Bethlehem and in all that region who were two years old or under, according to the time that he had ascertained from the wise men.
We see this pattern repeating itself throughout history. Massive resistance comes when a threat to personal experience arrives. It emerged, for example, when the African-Americans threatened a segment of society's idea of racial purity. That resulted in the Ku Klux Klan and the horrific murders of many innocent people.
We saw it during the holocaust as Hitler was threatened by the Jews and other groups. Again, millions of innocent people died for the sake of one demented person's overzealous aim to ensure his personal life experience was protected.
Today, terrorism is on the rise and murder is the strategy of choice for many who refuse to allow their life experiences to be threatened by other cultures.
This demonic spirit is incredibly crafty. The call of Christianity is to die for others and the call of this demonic spirit is for others to die for us.
ANGRY PEOPLE
Of course, the act of murder isn't the strategy of choice for those who are threatened in the church—or is it?
Matthew 5:21-22 (ESV) 21 "You have heard that it was said to those of old, 'You shall not murder; and whoever murders will be liable to judgment.' 22 But I say to you that everyone who is angry with his brother will be liable to judgment; whoever insults his brother will be liable to the council; and whoever says, 'You fool!' will be liable to the hell of fire.
Jesus equates anger to murder. In the church the manifestation of anger usually results in gossip, which is a deeply destructive spirit. Gossip results in dark hearts manifesting outwardly against those who threaten them. The same accusation that the abortionists hurl are used by the uncrucified, angry Christians—"You are threatening my freedom and my rights!"
No woman can call herself free who does not own and control her body. No woman can call herself free until she can choose consciously whether she will or will not be a mother. MARGARET SANGER, Woman and the New Race
When we become Christians we gain freedom but we lose our freedoms.
Proverbs 6:16-19 (ESV) 16 There are six things that the LORD hates, seven that are an abomination to him: 17 haughty eyes, a lying tongue, and hands that shed innocent blood, 18 a heart that devises wicked plans, feet that make haste to run to evil, 19 a false witness who breathes out lies, and one who sows discord among brothers.
It's also possible to take on the offense of others. We have to be very careful! If we allow others who have had their own personal experiences threatened to lure us into a inappropriately merciful, sympathetic position, we are at great risk of taking on their offense and embracing anger against the threatening person. We saw Absalom do this as he took on the offense of others who didn't get what they wanted out of King David.
Again, we are to expect a sharp sword, a high bar, a challenging life and a call to die to everything, including our own opinions, for the sake of others.
The spirit of abortion fights for personal rights no matter what the cost to others is. It resists the preaching of the cross with a vengeance. The cross threatens our very life!
REPENTANCE
Repentance must hit our churches. We have to return to the cross and refuse to buy into the demand for messages that tickle our ears. It's time to once again be OK with deep inspection of the Lord into our hearts.
It's this type of life that is a manifestation of deep, selfless love. This love will result in a great authority against the mission of murder against the millions of precious babies.
If we embrace the same self-centered spirit that drives the abortionists while at the same time crying out against them, we will be powerless. But, if die to self we will have the authority to defeat the spirit of abortion, murder and death that has overrun our nation.
Men tell us in these days that sin is what you think it is. Well, it is not. Sin is what God thinks it is. You may think according to your own conscience. God thinks according to His. –John G. Lake

People do not drift toward Holiness. Apart from grace-driven effort, people do not gravitate toward godliness, prayer, obedience to Scripture, faith, and delight in the Lord. We drift toward compromise and call it tolerance; we drift toward disobedience and call it freedom; we drift toward superstition and call it faith. We cherish the indiscipline of lost self-control and call it relaxation; we slouch toward prayerlessness and delude ourselves into thinking we have escaped legalism; we slide toward godlessness and convince ourselves we have been liberated. –D.A. Carson

It is perilously easy to have amazing sympathy with God's truth and remain in sin.– Oswald Chambers