God Gets a Lap Dance on Saturday Night Live — Where are the Tears?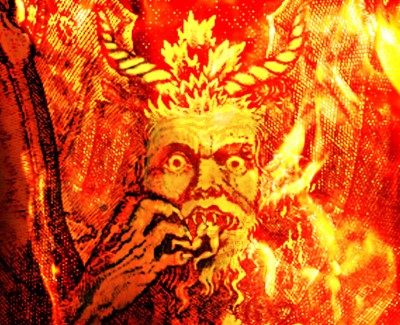 Political agendas instead of brokenness over souls have overtaken the American church.
"People are freaking out about your new video, where you ride down a stripper pole to Hell then twerk on the devil. Why are they upset?" (an actor portraying Brittany) Spears asks.
"Would you be able to give a lap dance to God, just to even things out?" Spears asks, before welcoming on a man with long white hair and tan robes. (An actor portraying) Lil Nas X leaps up and begins twerking in front of him for several seconds to the cheers of the audience.
This ET.com story has also been reported by most of the major news sources, and Christians are enraged. 
"God" gets a lap dance on the eve of the most holy day of the year, Easter Sunday. Resurrection Day. The day when Jesus destroyed the shackles of sin and death, just three days after the most loving act in the history of mankind. Brutal torture and slaughter were what the mob wanted for the man who famously said, "Father, forgive them, they know not what they do."
THE RAGE OF CHRISTIANS
This article isn't really about yet another heinous Saturday Night Live skit, this one about new shoes introduced by Lil Nas X that are literally anointed with a drop of human blood. It's not about the blasphemy of SNL or Lil Nas X. Christian friends, it's about you and me.
Hatred, division, rage, finger pointing and shaming have been the calling cards for many Christians over the past year. Whether it's blood boiling over due to a supposed stolen election or unbridled agitation resulting from masks, lockdowns, vaccines and, as some would argue, violations of Constitutional rights, followers of Jesus are up in arms.
Sure, watching defiling wickedness overtake our nation should provoke a strong response from us. The last thing we need is comatose, apathetic Christians who presume lukewarm passivity to be equal to love and kindness. I agree that we need men and women of God to speak boldly on political and cultural issues that are destroying our nation. To remain silent from behind the pulpit on the far-left agendas that are killing America is enough to disqualify anyone from ministry. We need holy, anointed freedom fighters to emerge. However, it's critical to understand just what freedom we are fighting for. Yes, there's a battle for our nation, but too many have lost focus by identifying as American patriots ahead of Kingdom ambassadors. This war is a spiritual war.
If pastors would have vigilantly prepared the church for the end times, Christians would not have panicked when a virus emerged, churches were shuttered, persecution arrived, the election didn't go the way they wanted and government tyranny deprived them of the life they were used to.
Instead we have naturally minded, reactionary people scrambling to fight the oppression, demonize their enemies and blame all who have threatened their elusive American dream. 
It's telling when American Christians presume God has promised freedom in our nation while forgetting freedom in Christ can be found in prisons, in Communist nations and anywhere other people remove natural freedoms from us.
The Bible guarantees perpetual national freedom literally nowhere from Genesis to Revelation. In fact, an argument for the opposite could more easily be made. 
You might presume this famous verse about God's promise to prosper a nation would support an argument for perpetual national freedom:
"For I know the plans I have for you, declares the LORD, plans for welfare and not for evil, to give you a future and a hope." (Jeremiah 29:11, ESV)
However, you should back up one verse. National freedom won't come for seventy years:
""For thus says the LORD: When seventy years are completed for Babylon, I will visit you, and I will fulfill to you my promise and bring you back to this place." (Jeremiah 29:10, ESV)
And these verses drive home the point:
"Then you will call upon me and come and pray to me, and I will hear you. You will seek me and find me, when you seek me with all your heart. I will be found by you, declares the LORD, and I will restore your fortunes and gather you from all the nations and all the places where I have driven you, declares the LORD, and I will bring you back to the place from which I sent you into exile." (Jeremiah 29:12–14, ESV)
I might argue that America is closer to being sent into exile than it is stepping into promise. 
Our response should be a hardcore turning to God, national repentance and a heart-wrenching cry for revival.
WHERE ARE THE TEARS?
@LilNasX
Mar 27
i spent my entire teenage years hating myself because of the s**t y'all preached would happen to me because i was gay. so i hope u are mad, stay mad, feel the same anger you teach us to have towards ourselves.
Lil Nas X sells out of 666 pairs of Satanic shoes, each containing a drop of human blood, and he reveals the reason for his provocative business venture: Christians. 
Where are the tears? Where is the compassion? Where is the cry, "Father, forgive him, he knows not what he does?"
Where is the brokenness over lost souls and devastated hearts that have been seduced by the enemy of humankind? Do we understand both saved and lost share the same enemy? Those who don't know Christ are not our enemies, and we aren't theirs. It would be hard to believe that in today's volatile American culture however. 
Instead, we are witnesses, many of us participants, in the war against any and all who oppose our "righteous" ideologies.
It's rare to find people crying out with passion for God to move on the hearts of people like Lil Nas X, President Joe Biden, Nancy Pelosi, Alexandria Ocasio-Cortez, Bill Maher, Whoopi Goldberg and others who are commonly in the sights of our holy sniper rifles. 
Instead, we do in fact snipe. We pull the trigger time and again with our "righteous" banter in an attempt to out them, shame them, accuse them and bring correction to them. How our gossip could ever reap positive results is beyond me.
INTERCESSORS ARISE
When I call intercessors to arise, I'm speaking to every blood-bought Christian reading this. Intercessors aren't a special brand of Believer. We are all called to pray with fiery zeal for those who are targeted for eternal destruction by Satan. 
The last year has revealed yet another angle of the ugly side of Christianity. It wrecks my heart that so few are exhibiting love for the lost. It's rare to find those who will put aside differences and truly fight the horde of hell for people God so deeply loves.
How can we expect those who have not had a genuine encounter with the Holy Spirit to ever buy into our brand of morality and values? It makes no sense, yet Christians are still enraged when people don't see things the way we do.
An intellectual or emotional affirmation of the truth of the Bible will never transform a human heart. Yes, they may engage positively at a logical or emotional level. Yes, they may try to understand our point of view. Most, however, will partially or fully reject a biblical worldview unless a supernatural, unmistakable, life-altering, soul-shocking invasion of God's glory floods into their being. 
This is why I so passionately preach the need to live, walk, pray and move in the Spirit. We exist in an invisible world that only those with spiritual eyes can experience. We need the blind eyes of the lost and deceived opened to the abundant life of Jesus. Contend for this in determined prayer. Push back the enemy. Battle for souls. Love deeply. Weep for the wandering. Stand in the gap for those who mock God. Preach with anointing. Pursue a spirit of revival to overtake Hollywood, Washington, and, oh yeah, the church. Some good old fashioned repentance at an simple, holy altar, Christian, would be a good first step.
Photo Credit: "Satan (after Botticelli)" by Maxwell Hamilton is licensed under CC BY 2.0

Origionally published by The Stream.