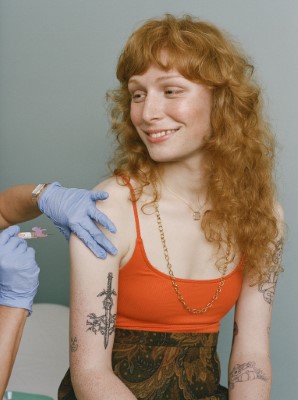 Christians lose credibility and influence when they promote conspiracy theories in these dire times.
The last year of human history has proven to be one of the most bizarre thanks to the strange political divide that has widened over masks, vaccinations, Donald Trump and cultural troubles.
Speaking in generalities, those on the right are pro-Trump, anti-mask and anti-vaccine. The left despises Donald Trump, wear masks as a badge and are dumbfounded that anybody could oppose a virus-ending medicine.
Certainly, there are others who analyze the sharp contrast and are stunned at where the arguments have landed. Can a conservative not don a mask without the fear of being called out? Are there any liberals who are admittedly nervous about the vaccine? Is it at all possible for the left to appreciate anything our former President did for our nation? Can those on the right do the same with the current administration? Or is it all black and white? Well, I personally haven't seen the gloriously mundane shade of gray much at all since the crisis has begun. 
THE RISE OF THE CONSPIRACY THEORISTS
We are living in a day when the world is in desperate need of balanced, biblically invested and prayerful Christians. The days are complex and confusing to most and fearful to many. This end-time season should have been a testing ground for the church, a time for us to grow in our faith, to learn how to love and to truly discern how to respond.
For many Believers, this in fact did happen, yet many others have instead adopted right-wing conspiracy theories as their go to reaction. This is deeply compromising the mission of the church and it is wounding our nation.
Sometimes I sit back and shake my head as I read the social media rants promoting ridiculous theories. Honestly, it's an embarrassment to the church, while also being an indictment on the church. Where are the biblically grounded pastors and leaders who are speaking into the lives of these rogue propagandists? 
As an example, many believe receiving the vaccine results in taking the Mark of the Beast. This is impossible. The level of biblical illiteracy is stunning. Others actually are saying the vaccine changes your DNA, deeming you an unhuman hybrid. I'm not making this up. You are now unredeemable. With altered genetics, it's impossible for you to ever become a child of God, or if you already were one, impossible to remain in God's family. A visit to the drugstore to get vaccinated apparently transforms you into a Nephilim of sorts, resulting in a sentence of eternal torment in Hell. Others are saying the virus is entirely a media-driven myth. Nonsense. Any intellectually honest person will admit that COVID kills.
TRIGGERED CHRISTIANS
I believe we all need to err on the side of civility and endorse people's right to make their own medical decisions for themselves and their families. No shaming is ever appropriate for Christians. 
Instead the mere suggestion of vaccinations triggers many who hold to an opposing scientific view. This is where the dividing line is drawn and the shaming begins. Again, I personally find it both suspicious and strange that a vaccination is where so many have chosen to divide. For those who believe the risk of the vaccine is greater than the reward, it's appropriate and good that they share their concern with others. But, good-hearted concern isn't mostly what we are seeing today. There's an underlying rage at play, anger that spikes when warnings about the vaccine go unheeded. There is an unholy spirit at work and we need to do a much better job discerning just what it is. Of course, you'll find rage on the other side too from those who are disgusted that some would defy national efforts to increase the vaccination rate. Everybody is triggered.
A RIGHT RESPONSE
It's important to admit that nobody has the full revelation on anything in this season. Both pro and anti-maskers and vaxers simply can't presume to be the resident experts on the topics. Too many are listening exclusively to their own echo chamber by finding supposed medical experts that are promoting their views. Statistics do suggest that vaccinations are extremely effective and are saving lives. Still, some are legitimately concerned about health risks. These concerns are valid, yet nobody can definitively say that all should be vaccinated or all should not. It is not black and white, which is why we must not respond with unfounded conspiracies or misguided fear-mongering. 
The right response includes operating in a spirit of honor towards those who disagree with us. If someone does or does not want to get the vaccine, their decision can't be expected to include us (unless they are in our immediate family). Honor their right to autonomy.
Responding correctly also means we must go deep in intercession, in the Word of God and listening intently to the Holy Spirit. As someone who endorses true prophetic ministry, I must say that we need clarity regarding God's heart in this time. We can't presume anyone who experiences a flickering of their spiritual antennas to possess valuable and accurate revelation. Too many are spiritually immature or undisciplined to hear God clearly. 
Does this mean we are to pull back and remain silent? No. We are free to communicate our beliefs on the subject if we admit we aren't privy to the full picture. If our concerns are severe originating from an authentic warning from God, shout it from the rooftops. However, that shouting must be from a tender, humble heart. Arrogance, presumption and know-it-all-ism isn't behavior becoming of a Believer in Jesus.
Lastly, abandon the conspiracy theories. Yes, even conspiracy theorists will be right every now and then, but the hour we are in demands sobriety and accuracy. We can't afford to provoke unnecessary scorn from the mockers. May God raise up true end-time people who are led by love, who reveal the heart of God and who refuse to be triggered by simple differences.
Photo credit: "Woman with tattoos receiving vaccine" by SELF Magazine is licensed under CC BY 2.0