Posts Tagged 'bill maher'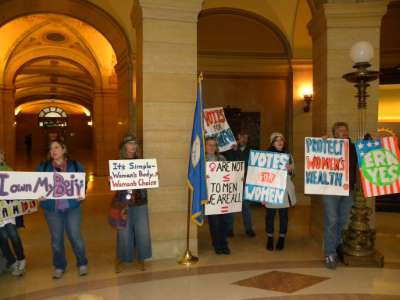 A new religion has been born and the liberal left is crafting its unholy bible.
I shouldn't be shocked at what I see coming from the left anymore. Outraged, disturbed, saddened and often embarrassed for our nation, yes. But shocked? No. I've come to believe that a delusion is settling over much of the nation, a spiritual confusion that results in people legitimately thinking wrong is right and evil is good. The twisting of reality and truth has reached levels possibly never seen before on the earth. It's as if a large and influential segment of society has been seduced and drugged by some demonic, supernatural concoction. Can you believe
The U.S. Sun
, among many other publications is actually reporting this comment by Congresswoman Cori Bush?
"Trans people give birth. Gender non-conforming people give birth. I identify as a mother, but not every person who gives birth identifies as one."
"Everything I do is rooted in love, a love that means that everyone's identity is respected, welcomed, and celebrated," she added.
The controversy? Instead of celebrating mothers on Mother's Day, Cori promoted the idea of "birthing people." Delusion. Not only is it delusional, it's unbelievably offensive to women. They are being dehumanized, erased and cancelled.
Greta Van Susteren writes
,
"To all those who reject the term "Mother's Day" in favor of "birthing persons' day" you have just slighted all the incredible mothers who adopted children."
The left can't even define what a woman is today. They are confused over the most basic and obvious scientific facts such as what defines a male and a female. Many are abandoning the term "breastfeeding" in favor of "chestfeeding." Our nation is going mad and those who are actually sane and in their right minds are being demonized.
La Leche League Canada states
,
"We proudly support every breastfeeding and chestfeeding family under the rainbow."
Even my spellcheck believes chestfeeding to be an error. I wrote long ago that future generations will look back on America in the early 2000's and laugh, mock and wince due to the embarrassment they are feeling for us. In a matter of a few short years, mankind has truly highlighted what it looks like to live without God, and quite often radically opposed to him.
A NEW RELIGION
Make no mistake, the left is forming a new religion. As we watch it play out it's clear they are etching out their own version of commandments in their worship of the god of woke. Thou shalt be inclusive. If not, though shalt be cancelled. They are attempting to create a new morality. We've seen the attempt to redefine love (all while most of the church refused to push back). Cori Bush said, "Everything I do is rooted in love…" Unfortunately, it's impossible to truly love without a vibrant, surrendered devotion to Jesus. God is love. Just as Lucifer's jealously and pride resulted in his attempt to become a god himself, the god of woke (just another manifestation of Lucifer) is endeavoring to be worshiped as the god of true, redefined love. Of course he'll never fully succeed, but he's doing a heck of a job gathering his disciples and forming his religion. Wokeness as a religion campaigns as a ministry of love, but the moment you fail their morality test, the serpent's fangs come out and strike with a vengeance. There is no forgiveness in the religion of woke. No second chances. No tenderness. No kindness. No humility. And no love. The church of woke promotes people worship by affirming anything and everything that someone believes in if it feels good and doesn't "hurt" others. Well, anything and everything except that which contradicts their standards and values. A quick
study
of the Church of Satan makes you wonder if the church of woke may be borrowing from their creed: "…we can offer love to those who deserve it and deliver our wrath (within reasonable limits) upon those who seek to cause us—or that which we cherish—harm." The system of punishment for the church of woke includes destruction of people, their families, their livelihoods, their reputations and all they hold dear. This extermination, or "cancelling" has infiltrated our culture as the spirit of fear and destruction, not love and forgiveness, is unleashed on all who dare cross them. Attempts to destroy Supreme Court justices
Brett Kavanaugh
and
Amy Coney Barrett
were unlike anything our nation has ever seen, simply because they held to a belief system that threatened the liberal left.
Actress Gina Carano
was fired by Disney for likening censorship of conservatives to Nazi Germany. President's Lincoln and Washington's names have been attempted to be erased from American history. The police have been demonized, defunded and decried, and crime is soaring. Comedians are afraid to be funny.
"I think it is a scary time to be a comedian because there are so many crazy people in the world,"
comedian
Nicky Paris said
.
One wrong joke or tweet, and funny could get you fired.
"I have a brother with special needs and I've watched somebody struggle their entire life to just do every day things that anybody else would be able to do. He loves when I make fun of him. I have so many jokes about him and a lot of ways, it's healing. I'm a firm believer that if you can talk about something and make a joke about it you can get through it. It makes you stronger than whatever you're going through," Paris said.
Nope, we can't make lighthearted fun of people anymore. Comedy has been cancelled. Ironically, liberal
Bill Maher said
:
"I don't want to live in a world where liberals are the uptight ones," he said. "Once upon a time, the right were the ones offended by everything. They were the party of speech codes and blacklists and moral panics and demanding some TV show had to go.
"Well, now that's us," a disgusted Maher said. "We're the fun-suckers now.
THIS IS A SPIRITUAL SITUATION
"…they refused to love the truth and so be saved. Therefore God sends them a strong delusion, so that they may believe what is false," (2 Thessalonians 2:10–11, ESV) "And since they did not see fit to acknowledge God, God gave them up to a debased mind to do what ought not to be done." (Romans 1:28, ESV)
For blood-bought Christians it should be obvious: we aren't fighting against flesh and blood. The war is against principalities, powers, rulers of the darkness of this world and spiritual wickedness in high places (Ephesians 6:12). A failure to understand this elementary truth is a key reason why the spirit of the age is raging and the wicked principles of the left are having impact. The spiritual principles of the church of woke must be confronted with the Spirit of truth. Spiritual warfare must be waged as the battle exists in the invisible realm. What is birthed and nurtured in the spirit will ultimately manifest naturally. This is true both positively and negatively. If we live and walk and pray in the Spirit, and live holy lives as the Spirit of God empowers us, our natural lives will be testimonies of God's miraculous power and
grace
. And, those who live in darkness will see their alliance with wicked supernatural beings manifest in their daily lives. On a larger scale, this is what we are seeing with the bizarre happenings in the world today. Pro-science people (as liberals often refer to themselves as) being confused over the simplicity of gender, mothers, breastfeeding and many other seemingly easy to understand topics is evidence of this. For people who stand firm on the altar of science to do an about-face and refute the most basic and clear scientific truths settles it. A delusion has visited our nation. This is why we must have movements of fiery, fervent intercession arise in our nation. Revival is truly our only answer. A massive outpouring of God that will remove blinders, send demons fleeing and return people to their right minds is our only hope. Understand, we are to love our enemies. While we can and should bring attention to destructive paradigms like the woke left promotes, we aren't fighting against them. We pray for them and reveal what true love actually looks like. We war for their souls. We weep and rend our hearts over their eternities. We need a holy army to arise, not to prove the left wrong but to set the captives free. Photo credit:
"Minnesotans Unite Against the War on Women in the capitol building"
by Fibonacci Blue
is licensed under
CC BY 2.0
Originally published by The Stream.
The phenomenon of social abuse is destroying America in the name of progress.
Canceled. Shamed. Bullied. Rejected. Outed. Hated. Destroyed. The reports of cancelled, socially abused people are nearly non-stop in the news day after day. Educators suspended, athletes humiliated, actors fired, television shows cancelled, statues toppled, history rewritten. This is the fruit of today's wicked, unrelenting cancel culture. Shaming, bullying and abusing those who aren't promoting certain promoted narratives is a primary offensive weapon of ruthless outrage mobs.
President Obama
, speaking on the socially abusive cancel culture said, "…the way of me making change is to be as judgmental as possible about other people… You see how woke I was, I called you out. That's not activism. That's not bringing about change." When your ideologies, questions and even your silence are threatening to those who are vigorously advancing their cause, whatever it may be, social abuse becomes an option. The penance they demand is determined not by an absolving priest but by a self-appointed jury seeking your destruction. The outrage mob rises up en force against the detractors and nothing short of renunciation of their values or destruction of their character will do. In America's cancel culture, blood-lust drives self-appointed moral revolutionaries to strip you of your dignity and parade you naked across social media.
22 And Ham, the father of Canaan, saw the nakedness of his father and told his two brothers outside. Genesis 9:22 (ESV)
A curse was the result of this shaming of Noah (which pales in comparison to today's hateful exposing). We have a choice as a nation. Cover in love and be blessed or report another's nakedness to the world and be cursed.
23 Then Shem and Japheth took a garment, laid it on both their shoulders, and walked backward and covered the nakedness of their father. Their faces were turned backward, and they did not see their father's nakedness. Genesis 9:23 (ESV)
Hateful uncovering and blacklisting is an ironic tactic people utilize against those they believe to be, well, hateful. It's the white-collar equivalent of the outrage mobs in the streets, rioters who are destroying businesses and lives with firebombs and violence in the name of eventual peace. They are attempting to drive out hate with hate, and not only will that never work, but it exposes their hypocrisy.
THE FUTILITY OF TAKING A KNEE
The socially abusive cancel culture has stricken another victim, future Hall of Famer, NFL quarterback Drew Brees. Drew heroically maintained his stand (a stand that millions of Americans applaud) that kneeling during the National Anthem was profoundly inappropriate. Call in the outrage mob. Skip Bayless
tweeted
, "Drew's comments represented an elite, white insensitivity where you just live in your own world. It goes back to the question of whether he can do enough to be accepted as reformed." So, one of the NFL's most authentic and truly good guys now has to be reformed because of a single, non-controversial statement that the majority of Americans hold to? After receiving death threats and hateful retorts, his wife Brittany relented and confessed,"We are the problem." Skip Bayless also attacked actor Mark Wahlberg and
said
, "These racial incidents have been hiding in plain sight on Mark Wahlberg's Wikipedia page since Wikipedia was born. Shannon (Sharpe) has always taught me that once you're a racist, you're a racist, and I'll never quite trust you again." Skip, I implore you to examine the absolute love and forgiveness of Jesus. A haunting past is the fuel for the social abuse movement in our nation. If our past seals our future, there is no hope, and Skip, you yourself are doomed. You have to ask (at risk of being socially abused) just what is the purpose of kneeling during the National Anthem? People defend the action by saying it has nothing to do with the flag. That's interesting, because the exact moment they chose to protest was when we are standing up for the flag. Not at halftime, not at the coin toss, not during player announcements (of course not), not when the game has finished (as praying Christian players do at the 50-yard-line). The protest is during our National Anthem. The protest is about our flag. They say it's to bring attention to racism and police brutality. I don't believe there's a single solitary soul in America that isn't aware of that endeavor. It's said that it's to promote change. I'd argue there are very few who would oppose the annihilation of racism and violence. Yes, it's true that change must come, and it's a rare few who would not agree with that statement. Thankfully,
Los Angeles Chargers
running back
Justin Jackson
said
, "players might not kneel if they believe they are listened to when they speak about use of force by police and a variety of other social issues…" Players, we hear you. We really do. Divisive actions such as kneeling and shaming actually do great damage to the cause, and it crushes the spirit of our nation. It should be obvious that we can highly value our black brothers and sisters and the change we are all pursuing and also highly honor our veterans and the flag of our great nation. It's not either/or, it's both/and.
SOCIAL ABUSE AND CANCEL CULTURE IS RAMPING UP
The cancel culture protagonists are relentlessly attacking any and all who don't rally around narratives that have been determined by a few to be absolute truth. The classic television show COPS was
cancelled
. Elmer Fudd turned in his
gun
. Gone With The Wind was
removed
by HBO Max. Children's show
Paw Patrol
apparently spews pro-police propaganda. (Not propaganda, folks. It's pure, overt pro-police appreciation. Nearly every single one of America's police officers are heroes.) Wichita State University President Jay Golden
cancelled
an Ivanka Trump speech after a squeaky-wheeled outrage mob of 500 demanded she not be allowed to speak. Ben Shapiro has regularly experienced the same discrimination at college campuses. Gonzaga University has
cancelled
his appearance twice.
Grand Canyon University
cancelled Ben too as have
Cal State Los Angeles
and
Middlebury College
. Gordon Klein, a professor at UCLA was suspended from his job for a shocking violation: he required his students to take their finals. A demand that is shockingly similar to segregation of old was forced upon him. Due to the crisis surrounding the murder of George Floyd, an outrage mob called for black students alone to be exempt from the test. I can't believe I just wrote that sentence. I can't believe I'm going to write this next one. UCLA suspended Gordon Klein for three weeks because of this.
The New York Post reports
, "Klein — whom students slammed as "racist" and "dismissive" — was also placed under police protection at his Malibu home after receiving threats from critics…" The Flash actor Hartley Sawyer was fired after some of his old tweets were discovered. While he apologized, that wasn't enough for today's hyper-sensitive and hypocritical outrage mob (who doesn't have some sort of a past?). Fired. Terminated. Destroyed. Success.
GRACE TO GROW
If Skip Bayless has his way, no racist will ever be able to repent, apologize and change. They might as well just remain diseased by hatred for the rest of their lives. It would seem that others are equally hopeless, never able to learn from mistakes, always paying for their deeds and tweets and philosophies. It doesn't matter if they were naive children or if years of lessons leading to maturity have passed. No forgiveness, no
grace
to grow. A punitive response is the only response the outrage mob has to offer. Hartley Sawyer offered this heartfelt apology, "My words, irrelevant of being meant with an intent of humor, were hurtful, and unacceptable. I am ashamed I was capable of these really horrible attempts to get attention at that time. I regret them deeply. I am incredibly sorry, ashamed and disappointed in myself for my ignorance back then. I want to be very clear: this is not reflective of what I think or who I am now." Not enough it seems. Let the outrage continue. Vigilante justice reigns supreme. FOX News political commentator Lisa Boothe
tweeted
, "I feel like we are all one tweet away from getting fired these days." That's the terror cancel culture wants us all to carry. The cancel culture elite make the rules and we must tremble in fear at their great power.
THANKFULLY WE HAVE SOME COMPETING VOICES
The Federalist publisher Ben Domenech on Wednesday
addressed
the issue of the so-called
cancel culture
hitting the media. "Within the industry, they're able to weaponize social media to essentially create these rage mobs and drive talented people from their positions." Comedian Kevin Hart has had enough of the
nonsense
too. "We can't be so persistent with the search to find and destroy. Although some things are warranted and I understand, it's just us as people have got to be smart enough to go … you know what, whatever has happened, has happened, but people deserve a chance to move on," he said. "Life isn't over because people say it is, and that's what's been happening as of late. It's like people determine when your end button is pushed, but that's not how it
works
. We need to lose that attitude and feeling and let people grow." In an
interview with Megyn Kelly
, Bill Maher said the irony of cancel culture is "that the people who hate bullying are always bullying." "All they care about is getting a scalp on the wall," he continued. "They don't care if you're really a racist, which you're not. They don't care about a million things. That's what they care about, and they always want to find the worst version of what any person is." And
finally
, Demi Lovato, who admits to being cancelled many times, said that she would like to switch out cancel culture for something called "forgiveness culture." This, she said, would involve a person apologizing for what they might have done so they can be a good role model for others. I agree. Maybe agree to disagree culture would be healthy too.
First published by
The Stream
.