The phenomenon of social abuse is destroying America in the name of progress.
Canceled. Shamed. Bullied. Rejected. Outed. Hated. Destroyed. The reports of cancelled, socially abused people are nearly non-stop in the news day after day. Educators suspended, athletes humiliated, actors fired, television shows cancelled, statues toppled, history rewritten. This is the fruit of today's wicked, unrelenting cancel culture. Shaming, bullying and abusing those who aren't promoting certain promoted narratives is a primary offensive weapon of ruthless outrage mobs.
President Obama
, speaking on the socially abusive cancel culture said, "…the way of me making change is to be as judgmental as possible about other people… You see how woke I was, I called you out. That's not activism. That's not bringing about change." When your ideologies, questions and even your silence are threatening to those who are vigorously advancing their cause, whatever it may be, social abuse becomes an option. The penance they demand is determined not by an absolving priest but by a self-appointed jury seeking your destruction. The outrage mob rises up en force against the detractors and nothing short of renunciation of their values or destruction of their character will do. In America's cancel culture, blood-lust drives self-appointed moral revolutionaries to strip you of your dignity and parade you naked across social media.
22 And Ham, the father of Canaan, saw the nakedness of his father and told his two brothers outside. Genesis 9:22 (ESV)
A curse was the result of this shaming of Noah (which pales in comparison to today's hateful exposing). We have a choice as a nation. Cover in love and be blessed or report another's nakedness to the world and be cursed.
23 Then Shem and Japheth took a garment, laid it on both their shoulders, and walked backward and covered the nakedness of their father. Their faces were turned backward, and they did not see their father's nakedness. Genesis 9:23 (ESV)
Hateful uncovering and blacklisting is an ironic tactic people utilize against those they believe to be, well, hateful. It's the white-collar equivalent of the outrage mobs in the streets, rioters who are destroying businesses and lives with firebombs and violence in the name of eventual peace. They are attempting to drive out hate with hate, and not only will that never work, but it exposes their hypocrisy.
THE FUTILITY OF TAKING A KNEE
The socially abusive cancel culture has stricken another victim, future Hall of Famer, NFL quarterback Drew Brees. Drew heroically maintained his stand (a stand that millions of Americans applaud) that kneeling during the National Anthem was profoundly inappropriate. Call in the outrage mob. Skip Bayless
tweeted
, "Drew's comments represented an elite, white insensitivity where you just live in your own world. It goes back to the question of whether he can do enough to be accepted as reformed." So, one of the NFL's most authentic and truly good guys now has to be reformed because of a single, non-controversial statement that the majority of Americans hold to? After receiving death threats and hateful retorts, his wife Brittany relented and confessed,"We are the problem." Skip Bayless also attacked actor Mark Wahlberg and
said
, "These racial incidents have been hiding in plain sight on Mark Wahlberg's Wikipedia page since Wikipedia was born. Shannon (Sharpe) has always taught me that once you're a racist, you're a racist, and I'll never quite trust you again." Skip, I implore you to examine the absolute love and forgiveness of Jesus. A haunting past is the fuel for the social abuse movement in our nation. If our past seals our future, there is no hope, and Skip, you yourself are doomed. You have to ask (at risk of being socially abused) just what is the purpose of kneeling during the National Anthem? People defend the action by saying it has nothing to do with the flag. That's interesting, because the exact moment they chose to protest was when we are standing up for the flag. Not at halftime, not at the coin toss, not during player announcements (of course not), not when the game has finished (as praying Christian players do at the 50-yard-line). The protest is during our National Anthem. The protest is about our flag. They say it's to bring attention to racism and police brutality. I don't believe there's a single solitary soul in America that isn't aware of that endeavor. It's said that it's to promote change. I'd argue there are very few who would oppose the annihilation of racism and violence. Yes, it's true that change must come, and it's a rare few who would not agree with that statement. Thankfully,
Los Angeles Chargers
running back
Justin Jackson
said
, "players might not kneel if they believe they are listened to when they speak about use of force by police and a variety of other social issues…" Players, we hear you. We really do. Divisive actions such as kneeling and shaming actually do great damage to the cause, and it crushes the spirit of our nation. It should be obvious that we can highly value our black brothers and sisters and the change we are all pursuing and also highly honor our veterans and the flag of our great nation. It's not either/or, it's both/and.
SOCIAL ABUSE AND CANCEL CULTURE IS RAMPING UP
The cancel culture protagonists are relentlessly attacking any and all who don't rally around narratives that have been determined by a few to be absolute truth. The classic television show COPS was
cancelled
. Elmer Fudd turned in his
gun
. Gone With The Wind was
removed
by HBO Max. Children's show
Paw Patrol
apparently spews pro-police propaganda. (Not propaganda, folks. It's pure, overt pro-police appreciation. Nearly every single one of America's police officers are heroes.) Wichita State University President Jay Golden
cancelled
an Ivanka Trump speech after a squeaky-wheeled outrage mob of 500 demanded she not be allowed to speak. Ben Shapiro has regularly experienced the same discrimination at college campuses. Gonzaga University has
cancelled
his appearance twice.
Grand Canyon University
cancelled Ben too as have
Cal State Los Angeles
and
Middlebury College
. Gordon Klein, a professor at UCLA was suspended from his job for a shocking violation: he required his students to take their finals. A demand that is shockingly similar to segregation of old was forced upon him. Due to the crisis surrounding the murder of George Floyd, an outrage mob called for black students alone to be exempt from the test. I can't believe I just wrote that sentence. I can't believe I'm going to write this next one. UCLA suspended Gordon Klein for three weeks because of this.
The New York Post reports
, "Klein — whom students slammed as "racist" and "dismissive" — was also placed under police protection at his Malibu home after receiving threats from critics…" The Flash actor Hartley Sawyer was fired after some of his old tweets were discovered. While he apologized, that wasn't enough for today's hyper-sensitive and hypocritical outrage mob (who doesn't have some sort of a past?). Fired. Terminated. Destroyed. Success.
GRACE TO GROW
If Skip Bayless has his way, no racist will ever be able to repent, apologize and change. They might as well just remain diseased by hatred for the rest of their lives. It would seem that others are equally hopeless, never able to learn from mistakes, always paying for their deeds and tweets and philosophies. It doesn't matter if they were naive children or if years of lessons leading to maturity have passed. No forgiveness, no
grace
to grow. A punitive response is the only response the outrage mob has to offer. Hartley Sawyer offered this heartfelt apology, "My words, irrelevant of being meant with an intent of humor, were hurtful, and unacceptable. I am ashamed I was capable of these really horrible attempts to get attention at that time. I regret them deeply. I am incredibly sorry, ashamed and disappointed in myself for my ignorance back then. I want to be very clear: this is not reflective of what I think or who I am now." Not enough it seems. Let the outrage continue. Vigilante justice reigns supreme. FOX News political commentator Lisa Boothe
tweeted
, "I feel like we are all one tweet away from getting fired these days." That's the terror cancel culture wants us all to carry. The cancel culture elite make the rules and we must tremble in fear at their great power.
THANKFULLY WE HAVE SOME COMPETING VOICES
The Federalist publisher Ben Domenech on Wednesday
addressed
the issue of the so-called
cancel culture
hitting the media. "Within the industry, they're able to weaponize social media to essentially create these rage mobs and drive talented people from their positions." Comedian Kevin Hart has had enough of the
nonsense
too. "We can't be so persistent with the search to find and destroy. Although some things are warranted and I understand, it's just us as people have got to be smart enough to go … you know what, whatever has happened, has happened, but people deserve a chance to move on," he said. "Life isn't over because people say it is, and that's what's been happening as of late. It's like people determine when your end button is pushed, but that's not how it
works
. We need to lose that attitude and feeling and let people grow." In an
interview with Megyn Kelly
, Bill Maher said the irony of cancel culture is "that the people who hate bullying are always bullying." "All they care about is getting a scalp on the wall," he continued. "They don't care if you're really a racist, which you're not. They don't care about a million things. That's what they care about, and they always want to find the worst version of what any person is." And
finally
, Demi Lovato, who admits to being cancelled many times, said that she would like to switch out cancel culture for something called "forgiveness culture." This, she said, would involve a person apologizing for what they might have done so they can be a good role model for others. I agree. Maybe agree to disagree culture would be healthy too.
First published by
The Stream
.
Everywhere I turn I hear someone angrily calling out controlling pastors, and it has to stop.
I often hear people use the term 'spiritual abuse' when sharing about challenges in their church. It seems to lend a clearly valid reason to leave a church, right? Not necessarily. I do understand that there are some horrible, selfish, mean spirited, controlling pastors—and congregants—out there. My heart is broken over situations like that. However, actual abuse is quite rare. I recently had a conversation with someone regarding spiritual abuse, and here's my response when it was argued that spiritual abuse is rampant in the church:
I think it's tragic when rejection causes people to flee the church when it was rejection that caused Jesus to die for the church. Jesus was abused, hated, physically destroyed… yet he served the church. He forgave. We have people today who are leaving churches because of the most ridiculous reasons. When they don't get what they want, they accuse the pastor of control. Whenever accusation is in the mix we know someone has embraced a demonic anointing. He is the accuser of the brethren… and we should not be. I also believe that abuse of people towards leaders is extremely rare. My wife and I have been in ministry 21 years… and we've experienced some very difficult things. Very cruel people… gossip, division, mistreatment, etc. But we've never been close to being abused. I used to work for a 10/40 Window ministry. I've met Christian leaders in those nations who have been imprisoned in horrific conditions… stories of abuse like having a shotgun put in someone's mouth because they didn't renounce Christ… they pulled the trigger and she lived. I could go on and on… pastors murdered in front of their congregation… another stripped naked and abused as he preached. I've seen piles of burning Christian bodies that were killed and torched by terrorists. So, no, I haven't seen abuse much at all. I've seen bad stuff. Tough stuff. Inconvenient stuff. Emotionally difficult stuff. Unfair stuff. My heart goes out to those who have been treated poorly by pastors. And my heart goes out to pastors who have been treated poorly by people. But, I won't call it abuse if it's simply a very bad trial.
As I said, I understand what it is to endure extremely unfair actions by leadership that were emotionally painful and that resulted in trauma and hardship in our family. Going through these seasons are so painful, however as I look back I see just how important they were in our development, in our training, in our pursuit of love and humility. It's easy to love everybody when you are celebrated. The real test comes when you are are treated wrongly. I believe this is a test that God will allow us all to take. Unfortunately, too many people take on a victim mentality and run away from their church assignment hurling accusations and screaming about abuse. Test failed. False-expectations can easily lead to offense. As part of the church, too many presume it's the
pastor
's job to coddle them and to jump through their hoops. In fact, it's our job as the congregation to serve the mission of the church. It's not the job of the
pastor
to serve ours. It will do all of us a world of good if we lay down our expectations and simply minister to God with passion!
SPIRITUAL ABUSE
I'll never forget a powerful moment when I was ministering in Connecticut several years ago. I was speaking at conference. After one of the final sessions, one that I was not speaking in, I was approached by a lady who presumed I was a pastor at the church. I told her I was simply visiting as a guest minister, and apparently that was okay with her. I was someone she could talk with. What she told me shook me to the core, and my definition of spiritual abuse changed forever. She told me her discussion with me was the final step in a process of healing for her. I didn't understand, but I continued to listen. Several years ago she attended a church in the area. She went on to describe her experiences with Satanic Ritual Abuse (SRA). I won't describe the grotesque abuses in this article, but simply know it's enough to make you cry uncontrollably…and vomit. The fact that this lady regularly was abused in this manner in a church, by a supposed pastor, was beyond what the human mind could understand. After years of being emotionally incapacitated, God met her. He gave her an assignment of forgiveness and healing. She set out to do everything God prescribed her to do, and she was not at her final step. She drove to the city where the abuse took place, the city where I was ministering, a place that she never returned to. She avoided it like the plague (to her it was) for years. So, there she was, standing before an unsuspecting visiting minister releasing forgiveness to her abusers, decreeing her own freedom and finding healing. It was a spine-tingling, absolutely remarkable moment. This lady was abused. I hope you can now see how most accusations of abuse will never even come close.
SPIRITUAL TESTS ARE DIFFERENT THAN SPIRITUAL ABUSE
Am I unsympathetic toward those who are treated poorly? No. I'm really not. But, I must admit, I actually expect God to put people in those situations. So, I don't immediately rush to judgment of the pastor and I don't immediately attempt to rescue them from their pit. It's there where character is built.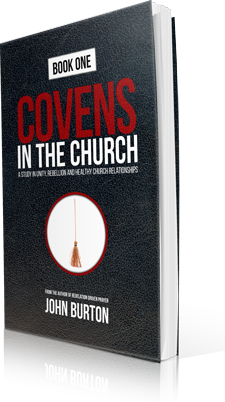 Joseph was wrongly thrown into a pit, sold into slavery, cast into prison…and ultimately made the second most powerful person in the nation. Why was Joseph welcomed into the palace? Because he passed the test of the pit and the prison. He forgave and loved his brothers, the very ones who tried to destroy him. I wonder how many people who are leaving churches, hurling accusations against their pastors, realize they are doing great damage to their lives. The palace that God has for them a couple decades down the road (Joseph waited over 20 years between being thrown into the pit and seeing his brothers again) may never be enjoyed. A failure to bless those who curse will result in a failure to fulfill your life calling. I've met many people who are so disillusioned by the church that they are attempting to form
doctrine
that neuters leaders of their authority. They don't believe in any measure of rank or hierarchy and are quick to assault those who do. Many are leaving the institutional church and forming house churches. They cite 1 Corinthians 14:26 as evidence that leadership is unnecessary and even unbiblical while ignoring Hebrews 13:17. I've heard people say that pastors and leaders should not be designated, they should not be preaching, they should not even be there at all as everybody is at the same level and everybody can bring ministry equally. This is not true, friend.
What then, brothers? When you come together, each one has a hymn, a lesson, a revelation, a tongue, or an interpretation. Let all things be done for building up. 1 Corinthians 14:26 (ESV) Obey your leaders and submit to them, for they are keeping watch over your souls, as those who will have to give an account. Let them do this with joy and not with groaning, for that would be of no advantage to you. Hebrews 13:17 (ESV)
Many house churches are fully biblical and ordained of God, but many are movements of rebellion, full of wounded and disillusioned people who are rejecting leaders who have failed them instead of welcoming them to the table as Joseph did with his brothers. I write more about this in my book Covens in the Church. I'd encourage you read that, especially if you have been tempted to leave a church.
GOD'S GRACE
The truth is that God will supernaturally impart
grace
to endure seasons of testing. There will be many tears and many questions…and you can absolutely ask those questions! But, do so with a humble heart. Don't attempt to figure out who is right and who is wrong? Why? Your leadership may most certainly be wrong, but that's not the point of focus—your response is. Will you respond in love and humility, or will you become an Absalom, demanding attention is given to your particular problem or point of view? God is well able to give you supernatural strength to endure the pit, the test. The focus is not on who was wrong, but on how we respond when wronged. Is there ever a time to leave a church? Yes, but it's much less often than you'd think. If God leads you to leave a church, it's not a decision you make alone. Your pastor must play a part, and significant process must take place before you move on… with a blessing.
---
You can order Covens in the Church and other resources at www.burton.tv/resources.
Watch the video: Join Eva and me as I share 5 reasons NOT to leave a church…
People are leaving or changing churches at a record pace—when should we NOT leave a church?
Unity around the mission of the church is something Satan cannot risk. The moment people lock arms, take their positions and unify with the Great Commission in front of them, it's over. He's done.
Unity is so powerful that Satan used it as his primary weapon to build his kingdom on the Earth:
Genesis 11:4-8 (ESV) 4 Then they said, "Come, let us build ourselves a city and a tower with its top in the heavens, and let us make a name for ourselves, lest we be dispersed over the face of the whole earth." 5 And the LORD came down to see the city and the tower, which the children of man had built. 6 And the LORD said, "Behold, they are one people, and they have all one language, and this is only the beginning of what they will do. And nothing that they propose to do will now be impossible for them. 7 Come, let us go down and there confuse their language, so that they may not understand one another's speech." 8 So the LORD dispersed them from there over the face of all the earth, and they left off building the city.
The unity driven plan, as impossible as it seemed, was on track to succeed—so God dealt a blow to what? Unity. It worked. The people scattered.
Now, in an attempt to turn the tables on God as he is building his Kingdom through unified people, Satan is attempting to scatter the church. It's working. The church is at risk.
A spirit of independence is convincing Christians that it's time to take control of their lives and forsake the call to gather under leaders within the structure of the church. We must repent, and we must return to position and get ready to move as the alarm sounds.
While there are (rare) times to move from one church to another, I want to share five reasons NOT to leave.
5 REASONS NOT TO LEAVE A CHURCH
ONE.
When you don't fit in. My three sons and one daughter would never leave the Burton family if they struggled to fit in, if they were misunderstood or if they were having a bad season of life. My wife wouldn't either, nor would I. If we see the church as a part of the service industry like McDonald's or Wal-Mart we will end up leaving if we don't feel welcomed or served. However, God plants us in a covenant family, not a shopping center.
What most people really mean when they say, "I don't fit in at this church," is that they aren't enjoying themselves. Possibly, they feel rejected. I find it disturbing when rejection causes people to leave a church when rejection is what propelled Jesus to die and launch the church. Remember, the church isn't to be there for us as much as we are to be there for the church. The mission of the church is demanding and not always enjoyable and we must be in position ready to work. I guarantee anybody who approaches leadership and offers to serve in the nursery or by cleaning the church would absolutely fit in. Their serving heart makes a place for them.
Acts 4:11 (ESV) 11 This Jesus is the stone that was rejected by you, the builders, which has become the cornerstone.

Luke 17:25 (ESV) 25 But first he must suffer many things and be rejected by this generation.
TWO.
When its easier for you to connect with God elsewhere. I know this may be a shock, but the primary purpose of the church isn't to make it easy for you to connect with God. If we understand this, a million arguments against staying at your church will instantly disappear. It's our job, individually, to develop intimacy with Jesus. If we are dependent on a pastor, worship leader or others to nurture our relationship with Jesus, we're in big trouble.
We should never arrive at church empty. We should be full of God and ready to pour out. If its easier for us to encounter God in our home or with a small group of friends, then great! That's the way it should be! Then, take fire that you've cultivated to the critical corporate gathering and burn hot. Serve well. Get into position, lock arms, serve the leaders and advance the mission.
If we focus on personal edification and connecting with God as the primary purpose of the church, we can quickly forget the many additional needs that we have: Discipleship, challenge, discipline, accountability, maturing, giving, serving, and on and on.
Remember, you are not the church. You can't leave the corporate gathering and be a part of the church. The church only exists when we gather under the call of leadership. Read this article: You are NOT the church
Acts 14:21-22 (ESV) 21 When they had preached the gospel to that city and had made many disciples, they returned to Lystra and to Iconium and to Antioch, 22 strengthening the souls of the disciples, encouraging them to continue in the faith, and saying that through many tribulations we must enter the kingdom of God.
THREE.
The leaders aren't doing things the way most people think they should. Many people believe leaders should make it easy for people to follow them. I disagree. Church leaders are mandated to lead people into some of the most challenging, risky and costly missions the world has ever known. People should actually make it easy for church leaders to lead them.
People made it hard for Moses to lead them into the Promised Land and they died. They made it easy for Joshua to do the same, and they dominated.
The demand of the people can be so strong sometimes that pastors and leaders forsake their mission. They end up pleasing the people instead of God.
Check this out. Jesus had just identified Peter as the church and made it clear that the gates of Hell would not prevail.
Matthew 16:18 (ESV) 18 And I tell you, you are Peter, and on this rock I will build my church, and the gates of hell shall not prevail against it.
Then immediately after this, Peter, the church, unwittingly renounced the cross. He removed the cost, the surrender, the sacrifice. Watch what Jesus did:
Matthew 16:21-23 (ESV) 21 From that time Jesus began to show his disciples that he must go to Jerusalem and suffer many things from the elders and chief priests and scribes, and be killed, and on the third day be raised. 22 And Peter took him aside and began to rebuke him, saying, "Far be it from you, Lord! This shall never happen to you." 23 But he turned and said to Peter, "Get behind me, Satan! You are a hindrance to me. For you are not setting your mind on the things of God, but on the things of man."
Peter (the church) was mindful of the things of man, not the things of God. Wow. The pressure of the people to steer the church in a certain direction can result in heeding their demands instead of the inconvenient and extreme mandate of the mission. Don't be one of those people.
Hebrews 13:17 (ESV) 17 Obey your leaders and submit to them, for they are keeping watch over your souls, as those who will have to give an account. Let them do this with joy and not with groaning, for that would be of no advantage to you.
FOUR.
When another church has better programs for you and your family. We should never choose a church based on what we can get out of it. We are actually assigned by God himself to serve and build it.
My definition of religion is: Man's attempt to use God to get what he wants.
When we expect to gain from the church ahead of sacrifice, we are embracing the same spirit that killed Jesus. The spirit of religion wanted to use Jesus for personal gain.
Consider the money changers. Right after the crowds were 'worshiping' Jesus by shouting Hosanna (which actually means, "save us now,") Jesus dealt with that spirit. The crowds wanted Jesus to save them, to focus on them, to give them what they demanded. Then, the money changers, driven by the same spirit of religion attempted to use the church for personal gain.
Matthew 21:12-13 (ESV) 12 And Jesus entered the temple and drove out all who sold and bought in the temple, and he overturned the tables of the money-changers and the seats of those who sold pigeons. 13 He said to them, "It is written, 'My house shall be called a house of prayer,' but you make it a den of robbers."
The sin of the money changers? They expected to leave the temple (the church) with more than they entered with. The used the temple for personal gain. We see this same spirit in churches around the world. The expectation is to leave the temple with less than we enter with. We bring a sacrifice. An offering. We serve. We give. We place no demands on the place of sacrifice, but instead honor God through the sacrifice of intercession for the nations. Prayer is the primary purpose of the church, and the church needs you to join in that mission.
FIVE.
When God tells you to. OK, I'm sure you are awake now! Have you ever played the God card? As a leader I've heard many times, usually through the grapevine, that, "God told so and so to move to another church." Really? That's odd. I was entrusted as their leader, which is a very serious position, and God just forgot to tell me about this? He left me out of the loop? Maybe Hebrews 13:17 isn't what we think it is? The church I'm leading isn't important enough for people to honor the mission?
I hope you are getting the point.
We are called to submit to authority—even ungodly authority like judges, elected officials and our bosses at work. Certainly it makes sense that God would include our godly authority in a decision making process as important as leaving one family and one mission for another.
The point is this—God wouldn't just tell you to leave without your leader being involved in the process. In fact, can I just be blunt? It's extremely disrespectful, presumptuous, rude and self-serving to abdicate your responsibility in your current church by leaving without honoring the authority in your life. Your pastor has every right to participate with you in your process.
1 Thessalonians 5:12-13 (ESV) 12 We ask you, brothers, to respect those who labor among you and are over you in the Lord and admonish you, 13 and to esteem them very highly in love because of their work. Be at peace among yourselves.