Posts Tagged 'forgiveness'
#metoo proponents need a fresh understanding of what love and forgiveness really look like.
And Jesus said, "Father, forgive them, for they know not what they do." And they cast lots to divide his garments. Luke 23:34 (ESV)
I'm a holiness preacher. I am feverish in my pursuit of revival that will be marked by purity in the church and mass, glorious repentance in the nation. As is true with many of today's prophetic messengers, there's an urgency in my spirit that can't be shaken. We must see a move of God that both initiates and is a response to tears and mourning over the state of the church and the debauchery of our nation.
The egregious moral condition of America and the entire world is sickening beyond description. Recent news reveals the grotesque and depraved state of our culture.
For example, an abortion doctor recently boasted about her method of murder that ensures baby's cries can't be heard:
On Sunday, Leah Torres, a Utah abortionist who is active on Twitter, responded with gruesome detail to someone criticizing her work.

When someone asked Torres if she hears the screams of the babies who she aborts, she replied:

You know fetuses can't scream, right? I transect the cord 1st so there's really no opportunity, if they're even far enough along to have a larynx.

I won't apologize for performing medicine. I'm also a "uterus ripper outer," if that's how you'd like to describe hysterectomy. https://t.co/lng0W3ta5J

— Leah Torres, MD (@LeahNTorres) March 11, 2018

(From lifenews.com: http://www.lifenews.com/2018/03/15/abortionist-i-cut-unborn-babies-throats-so-they-cant-scream/)
Just today, a suspected mail bomber in the Austin, Texas area died as one of his bombs detonated as police were closing in.
Of course, we have recent mass shootings and other heinous assaults that are becoming normal. Hollywood movies are becoming more vile. Pornography is rampant even in the church. The status of our nation is nothing less than depraved and desperate.
#metoo
Jesus Christ was delivered over to death for our sins and was raised to life for our justification. Romans 4:25
Jesus died so we might have life. He died so others might have life. He died so our very dark sins would not keep us from a relationship with him. He died so other people's sins, including the sins of murder, abuse and hatred, would not keep them from a relationship with him.
When I watch crime stories or hear news reports about the trials and convictions of murderers, rapists, abusers and others who have committed absolutely horrifying crimes against humanity, I find myself especially grieved when something specific happens. Time and again, I hear the family members and friends of those who were the target of the various crimes say, "I'll never forgive him." Those words wreck me. They are sealing their fate, a fate of darkness and despair that will never be escaped without true forgiveness.
For if you forgive others their trespasses, your heavenly Father will also forgive you, but if you do not forgive others their trespasses, neither will your Father forgive your trespasses. Matthew 6:14-15 (ESV)
Those who have been abused or who have been affected by the hateful crimes of others most certainly are scarred deeply, beyond what words could ever describe. I'm a father of five and the husband of a wonderful, beautiful wife. If anything ever happened to them at the hands of another, I would experience a range of emotions that would rock me. Anger, despair, fear and other responses would be expected. But, as a Christian, forgiveness and love for the perpetrator must follow. I must shift from accuser to intercessor so both he and I are free, forgiven and healed.
Forgive us the wrongs we have done, as we forgive the wrongs that others have done to us. (Matthew 6:12)
A common violation of truth occurs when we presume our sins worthy of forgiveness while the sins of others must result in punishment. The true condition of our heart is revealed as we accuse.
Forgiveness isn't easy, but it's mandatory. Even though forgiveness is potent, we can't always expect a perfect resolution to immediately follow. Restitution may not occur. Forgiveness isn't about us, it's about setting free those who have wounded us. Jesus could have screamed #metoo and demanded justice. Instead, he shouted #iforgive, as people continued to abuse and humiliate him by casting lots for his clothes. His forgiveness didn't move them, but it moved Heaven and rocked the planet.
And behold, the curtain of the temple was torn in two, from top to bottom. And the earth shook, and the rocks were split. Matthew 27:51 (ESV)
Forgiveness will set the abuser in place for freedom should they accept it. Forgiveness will set the abused up for healing. True love does just that. It heals and sets free.
I am so blessed by the courage and true love exhibited by a true victim–Rachael Denhollander, who, instead of shouting #metoo declared #iforgive:
A former gymnast is offering forgiveness for the unspeakable crimes Larry Nassar has been convicted of – and she's being recognized by the media for it.

"Should you ever reach the point of truly facing what you have done, the guilt will be crushing. And that is what makes the gospel of Christ so sweet. Because it extends grace and hope and mercy where none should be found. And it will be there for you. I pray you experience the soul-crushing weight of guilt so you may someday experience true repentance and true forgiveness from God, which you need far more than forgiveness from me — though I extend that to you as well." (From lifenews.com: http://www.lifenews.com/2018/01/26/pro-life-christian-gymnast-rachael-denhollander-powerfully-forgives-usa-gymnastics-doc-larry-nassar-for-sexual-abuse/)
Don't misunderstand me. We need the dark side of our culture exposed. The evil in Hollywood and throughout the fabric of our nation is so vile that most of us would be shocked if we saw it in fullness. Everything from sex trafficking to the porn industry to immorality in movies that fill our theaters to drugs, addiction, murder, abortion and so much more is destroying millions of people. That darkness must be exposed and those who are perpetuating it must be held accountable.
Take no part in the unfruitful works of darkness, but instead expose them. For it is shameful even to speak of the things that they do in secret. But when anything is exposed by the light, it becomes visible, for anything that becomes visible is light. Therefore it says, "Awake, O sleeper, and arise from the dead, and Christ will shine on you." Ephesians 5:11-14 (ESV)
Part of the response that the guilty must offer is legitimate repentance. If porn industry leaders, sex traffickers, Hollywood moguls who are abusing women (and men), drug traffickers and others would openly repent and surrender to Jesus, I think the earth would shift off its axis! This must be what drives our intercession, not retribution!
#iforgive
…bearing with one another, and forgiving one another, if anyone has a complaint against another; even as Christ forgave you, so you also must do. Colossians 3:13 (NKJV)
As we have been forgiven, we must forgive. We pay it forward. Our declaration must be #iforgive.
The heart of the #metoo movement is vengeance. It's not driven by a heart of love and forgiveness, but on the contrary, one of anger and hatred. The question is simple: Will you forgive those who have abused you? Will you love them? Will you truly decree #iforgive just as you, as a child of God, have been forgiven?
Can you imagine the shockwaves that would have resulted if Harvey Weinstein's victims looked him in the eyes and said, I forgive you. God loves you. I don't want you to be tormented because of what you did to me. I don't want you to experience shame. I want you to know the love of Jesus.
Wow! Imagine the Oscar speeches and news reports that would have followed! What if the #metoo movement truly was an #iforgive movement!
The spirit of vengeance and hatred that is rising up in our nation as a result of a very real darkness being uncovered is also deeply evil. Yes, we must stand firm for holiness. We absolutely must see corruption and crimes and assaults against innocent people exposed. Yes, for those who have committed crimes, there is a very real price to pay. Yes, those who are a danger to others must be apprehended. The darkness must be uncovered. There is no question about it.
What we must ask is, how will we respond to those who are exposed? Will we heap up hatred and vengeance upon them? Will we say, "I will never forgive you." Will we shame them? Or, will we do as Rachael Denhollander did and extend forgiveness?
Let all bitterness, wrath, anger, clamor, and evil speaking be put away from you, with all malice. And be kind to one another, tenderhearted, forgiving one another, just as God in Christ forgave you. Ephesians 4:31-32 (NKJV)
Isaiah 1
Isaiah reveals a powerful strategy:
When you spread out your hands, I will hide My eyes from you; Even though you make many prayers, I will not hear. Your hands are full of blood. "Wash yourselves, make yourselves clean; Put away the evil of your doings from before My eyes. Cease to do evil, Learn to do good; Seek justice, Rebuke the oppressor; Defend the fatherless, Plead for the widow. "Come now, and let us reason together," Says the LORD, "Though your sins are like scarlet, They shall be as white as snow; Though they are red like crimson, They shall be as wool. Isaiah 1:15-18 (NKJV)
God is ready to cleanse all who repent. For both those who abuse and those who refuse to forgive, God is revealing the blood on their hands. When we are clean, we most certainly can seek justice. We can trust God to expose the darkness and judge right versus wrong. We will rebuke oppressors and intercede for the weak, the fatherless, the widows—and I guarantee many of those who sexually abuse others are fatherless. The cry of our heart must be not only for our sins to be washed away, but for the sins of those who oppress us to be as white as snow. Our cry must not only be for justice but for mercy.
…In wrath remember mercy. Habakkuk 3:2 (NKJV)
Will we be #metoo accusers or #iforgive intercessors?
Our heart should follow the heart of God:
"Their sins and their lawless deeds I will remember no more." Hebrews 10:17 (NKJV)
For those who have been abused, my heart is broken for you. I am so sorry you had to endure that. My belief is your healing will rapidly come as you forgive. Forgiving doesn't mean you minimize the pain or what has occurred. It simply means you make a decision to set the abuser free. You learn to love them and desire for them to know Jesus intimately. You let them know Heaven won't be the same without them. You can't fathom the thought of them being tormented forever in Hell. You become their greatest intercessor.
You simply do what Jesus did. Instead of focusing on himself by saying #metoo he focused on those who were killing him. He loved them in the midst of the assault. He said, #iforgive.
"Father, forgive them, for they know not what they do." Luke 23:34 (ESV)
When we admit we are weak, then we will discover the Strength of the nations.
I will punish the world for its evil, the wicked for their sins. I will put an end to the arrogance of the haughty and will humble the pride of the ruthless. Isaiah 13:11 (NIV)
It's an indictment on our nation when we puff up our chest in the face of our enemies and make trite, inaccurate statements about our supposed strength. American pride is finally coming back to haunt us. Our haughty, arrogant spirit has opened the gates of our nation to our enemies.
#orlandstrong

#dallasstrong

#batonrougestrong
No, America, we are not strong, and we need to finally admit it. Without a radical devotion to Jesus, we have no hope.
A NEW AMERICAN REVOLUTION
We need our President to humble himself, to admit our extreme vulnerability without God and to lead the nation in cries of repentance. Pastors, do the same. Nothing less than a new American Revolution will stop our downward spiral as a nation.
Except, this time we aren't fighting for our independence. We must humbly repent of our pride, arrogance and self-sufficiency.
Instead of overthrowing the authority of the British monarchy, we must submit to the authority of the Kingdom of God.
If we understand the nature of God, realization of our weakness is very good news for us—if we repent, cry out to God as a nation and surrender to the King.
And what more shall I say? For time would fail me to tell of Gideon, Barak, Samson, Jephthah, of David and Samuel and the prophets— who through faith conquered kingdoms, enforced justice, obtained promises, stopped the mouths of lions, quenched the power of fire, escaped the edge of the sword, were made strong out of weakness, became mighty in war, put foreign armies to flight. Hebrews 11:32-34 (ESV)
American can become strong out of weakness and put ISIS, cop killers, terrorists and foreign armies to flight—if we turn to God.
But he said to me, "My grace is sufficient for you, for my power is made perfect in weakness." Therefore I will boast all the more gladly of my weaknesses, so that the power of Christ may rest upon me. 2 Corinthians 12:9 (ESV)
PROTESTS VS. REPENTANCE & FORGIVENESS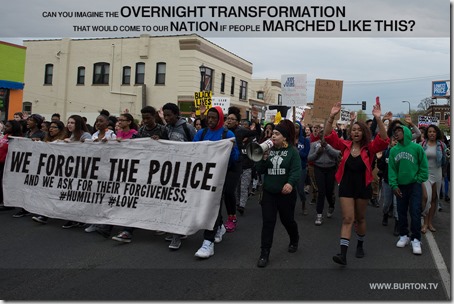 What if, instead of protests and attempting to force an agenda, we simply forgave?
What if we hit our knees and admitted how dark our own hearts can be?
The heart is deceitful above all things, and desperately sick; who can understand it? "I the LORD search the heart and test the mind, to give every man according to his ways, according to the fruit of his deeds." Jeremiah 17:9-10 (ESV)
God knows the depths of our heart and we are being tested as a nation.
Will we humble ourselves or rise up in anger and pride? The answer to that question will determine the direction of our nation.
"God opposes the proud, but gives grace to the humble." James 4:6 (ESV)
We have to embrace meekness as a people—if we want our nation to be safe and favored again.
PRAYER FOR OUR NATION IS NOT ENOUGH.
It's laughable when celebrities and politicians tweet and post about prayers being given during times of crisis. Are they really praying? To whom? Is the spirit of prayer really driving them, or is it something else?
Maybe if we didn't wait for tragedy to hit before a national movement of prayer launches, we would find the protection and prosperity we so desire.
When I shut up the heavens so that there is no rain, or command the locust to devour the land, or send pestilence among my people, if my people who are called by my name humble themselves, and pray and seek my face and turn from their wicked ways, then I will hear from heaven and will forgive their sin and heal their land. Now my eyes will be open and my ears attentive to the prayer that is made in this place. 2 Chronicles 7:13-15 (ESV)
Prayer isn't enough.
Per the above passage in 1 Chronicles 7, the prescription for national safety is more involved than simply tweeting a prayer. It will truly take a new American Revolution to see a response like this on a large scale level:
HUMILITY—We are nothing without God. This is why it's so critical to elect politicians who are meek. Proud, arrogant people give hope in the natural, but spiritually they are a serious liability.
PRAY—Prayer movements must erupt from coast to coast. Never ending, heart rending intercession must launch now.
SEEK—God is calling us into his presence! A holy people running after and encountering God as a lifestyle is a must.
TURN—The vile wickedness in our nation, and in so much of our church, is a stench in the nostrils of God. Repentance has to begin, and when it does, God will finally forgive our sin and hear our prayer!
Then, and only then, will God begin the process of healing America.
I'd say a revolution like this is well worth it.
Let's do this America. Let's see our great land become safe, free and prosperous again.
Prayer is much different than many of us understand it to be. A revolution of prayer is needed!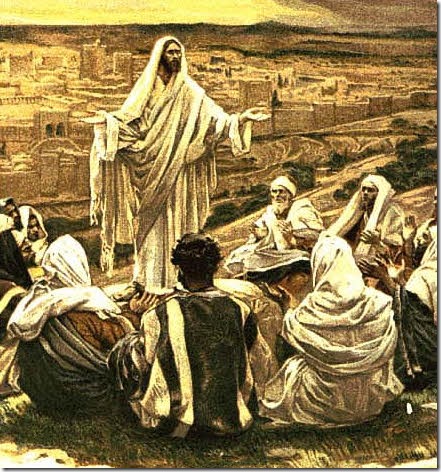 The concept of offering up requests in the hopes that an invisible God delivers what we desire is the primary model of prayer for many Christians today. Read the list of prayer requests and hope for the best!
I remember growing up as a young Catholic boy people reciting the Lord's Prayer over and over again as if I was fulfilling some religious duty. Those were not happy days as I lived in unhealthy fear presuming God's rejecting of me unless I fulfilled the quota.
Now, I do agree that even simple, faith filled recitation of God's living Word is healthy and extremely positive. However, too many presume reading the Lord's Prayer or other scriptures is the totality of their assignment in prayer. Read it, agree with it and move on. This is the error I want to talk about.
Prayer isn't a stale, tedious chore that, once accomplished, we earn favor with God as our desires (or demands) are met as requested. Prayer is the expression of the passion of our heart as we come into fervent, joyful agreement with God. That expression is explosive and it's actually laughable to presume it can be limited to the mouthing of words! True prayer is comprehensive and it overwhelms us into radical agreement with God and aggressive response to his directives.
Prayer Isn't Mostly About Us
Prayer is at its most powerful when the focus isn't on us.
5 "And when you pray, you must not be like the hypocrites. For they love to stand and pray in the synagogues and at the street corners, that they may be seen by others. Truly, I say to you, they have received their reward. Matthew 6:5 (ESV)
While we may not bring focus to us by religiously praying on the street corners, is it possible that the content of our prayer is at times narcissistic? Is it about bringing attention to us and our situation or to God and his?
6 But when you pray, go into your room and shut the door and pray to your Father who is in secret. And your Father who sees in secret will reward you. Matthew 6:6 (ESV)
Whatever I am passionate about is done as a part of my daily life, in public and in private. On a natural level, I don't only watch Chicago Cubs games in public to attempt to seek positive attention from others (which would have not been possible until this past season!) but I watch them in private when nobody else is home. Why? I have a certain measure of passion for my home team.
Of course, that's a sad example when compared to the glories of enjoying and encountering God! We should be praying continually, according to Scripture, because it just radiates in and out of us! It's not about others being impressed with our religious fervor, it's about being who we are—lovers of the Most High God!
Prayer Isn't About Coercing God
7 "And when you pray, do not heap up empty phrases as the Gentiles do, for they think that they will be heard for their many words. 8 Do not be like them, for your Father knows what you need before you ask him. 9 Pray then like this: "Our Father in heaven, hallowed be your name. Matthew 6:7-9 (ESV)
I was repeating the Lord's Prayer over and over again as a young child, convinced that my devoted work of speaking out loud would please God and result in a big thumbs up. If you think about that, it's kind of demented thinking! It reminds me of tribal religions where people sacrifice chickens and mark their bodies as an offering to their gods in the hopes that they are spared from drought, floods and other natural disasters.
Prayer for the Christian comes from the place of deep, abiding love and a wondrous relationship with Jesus.
4 Delight yourself in the LORD, and he will give you the desires of your heart. 5 Commit your way to the LORD; trust in him, and he will act. 6 He will bring forth your righteousness as the light, and your justice as the noonday. Psalm 37:4-6 (ESV)
Again, our prayer is simply an expression of our revelation of Jesus! We are ignited with passion as a result of knowing God intimately. We can't help but to declare the wonders of our God!
Imagine what would erupt out of you after having an experience like is described in Revelation 19. That outburst, that response, is prayer!
11 Then I saw heaven opened, and behold, a white horse! The one sitting on it is called Faithful and True, and in righteousness he judges and makes war. 12 His eyes are like a flame of fire, and on his head are many diadems, and he has a name written that no one knows but himself. 13 He is clothed in a robe dipped in blood, and the name by which he is called is The Word of God. 14 And the armies of heaven, arrayed in fine linen, white and pure, were following him on white horses. 15 From his mouth comes a sharp sword with which to strike down the nations, and he will rule them with a rod of iron. He will tread the winepress of the fury of the wrath of God the Almighty. 16 On his robe and on his thigh he has a name written, King of kings and Lord of lords. Revelation 19:11-16 (ESV)
The Prayer of the Lord
The Lord's Prayer is just that—the passions of Jesus. It is truly the prayer of the Lord!
We aren't to be limited to a simple recitation of words on paper. There is a fervent passion that should be sizzling in our veins as we declare this potent, culture rocking prayer!
16 …The prayer of a righteous person has great power as it is working. James 5:16 (ESV)
The Lord's Prayer is an intense declaration of our lifestyles that are shaking and shocking our culture. It is an expression of agreement with the plan of God for the nations of the earth!
HOLY ARE YOU!
9 Pray then like this: "Our Father in heaven, hallowed be your name. Matthew 6:9 (ESV)
This verse shouldn't be easy to be casually read aloud! The call is for us to have a visitation of God and his holiness! A revelation that causes us to collapse to our knees with our faces buried in our hands as we tremble and cry, "Holy!"
Can you imagine what it will be like to gaze upon perfect purity in our beautiful God's countenance second after second forever? Oh Lord Jesus come! What an eternity that will be! Day and night never ceasing to declare, "Holy is the Lord God Almighty!"
6 and before the throne there was as it were a sea of glass, like crystal. And around the throne, on each side of the throne, are four living creatures, full of eyes in front and behind: 7 the first living creature like a lion, the second living creature like an ox, the third living creature with the face of a man, and the fourth living creature like an eagle in flight. 8 And the four living creatures, each of them with six wings, are full of eyes all around and within, and day and night they never cease to say, "Holy, holy, holy, is the Lord God Almighty, who was and is and is to come!" Revelation 4:6-8 (ESV)
YOUR KINGDOM COME
10 Your kingdom come, your will be done, on earth as it is in heaven. Matthew 6:10 (ESV)
The conflict of flesh versus spirit should be causing veins to bulge in our necks as we cry out to God, "I despise the limitations of the flesh! I reject my own natural wisdom and I declare with boldness that your wisdom, your government, your Kingdom is superior!"
This prayer can't be limited to a one sentence, three second read. As we draw closer and closer to Jesus we develop a never-ending yearning for God and his leadership. Everything else will appear as foolishness in comparison with the government of Jesus.
OUR DAILY BREAD
11 Give us this day our daily bread, Matthew 6:11 (ESV)
Related to the previous point we are declaring our joyful dependence on God. Instead of our Santa Clause style requests flying heavenward in hopes of having our desires gift wrapped and delivered by God, we tell him, "Get me whatever you want."
How powerful is it to move beyond asking God for the obvious and allowing him to surprise us! Talk about an addicting prayer life! Sometimes the best prayer is not to pray at all. What I mean is, if we have faith that he will supply all of our needs, why would we beg him for our needs to be met?
We can certainly have honest discussions with God about what we are struggling with, but we should do so without worry or frustration. We simply rejoice as we trust God to give us our bread every single day, and I think it's best if he chooses just what that bread is!
4 Rejoice in the Lord always; again I will say, rejoice. 5 Let your reasonableness be known to everyone. The Lord is at hand; 6 do not be anxious about anything, but in everything by prayer and supplication with thanksgiving let your requests be made known to God. 7 And the peace of God, which surpasses all understanding, will guard your hearts and your minds in Christ Jesus. Philippians 4:4-7 (ESV)
31 Therefore do not be anxious, saying, 'What shall we eat?' or 'What shall we drink?' or 'What shall we wear?' 32 For the Gentiles seek after all these things, and your heavenly Father knows that you need them all. 33 But seek first the kingdom of God and his righteousness, and all these things will be added to you. Matthew 6:31-33 (ESV)
FORGIVENESS
12 and forgive us our debts, as we also have forgiven our debtors. Matthew 6:12 (ESV)
Again, this cry of our heart should be automatic. The Lord's Prayer is a passionate decree of the reality of our lives in Christ. Sin should cause us to weep and grieve as we again draw near to God with confession on our lips. Unholy decisions should so disrupt our flow in the Holy Spirit that we are nearly crushed under the weight—only to find God himself running to us to forgive us and give us new life!
The seriousness and destructiveness of sin should also cause us to quickly, instantly forgive others who have wronged us. That declaration of freedom for others bellows out of us as we unlock prison cell after prison cell allowing the guilty to go free!
In fact, this point in the prayer is so critical, that it is revisited again at the end:
14 For if ye forgive men their trespasses, your heavenly Father will also forgive you: 15 But if ye forgive not men their trespasses, neither will your Father forgive your trespasses. Matthew 6:14-15 (KJV)
A lifestyle of setting people free should mark every one of us. It's what God does and it's what we do!
DELIVER US FROM EVIL
13 And lead us not into temptation, but deliver us from evil. Matthew 6:13 (ESV)
As inhabitants of a fallen world, we are keenly aware of the power of evil and the enticement of the enemy. This passionate plea should be forever on our lips, or until we eternity at least.
The thought of anything compromising our energizing, fiery, zealous relationship with the Lover of our souls should result in sobriety and locked-in demeanor. We must understand the power of sin and we have no option but to continually be aware of it's devastating force.
10 …so that we would not be outwitted by Satan; for we are not ignorant of his designs. 2 Corinthians 2:10-11 (ESV)
IT'S ALL ABOUT GOD!
13 …For thine is the kingdom, and the power, and the glory, for ever. Amen. Matthew 6:13 (KJV)
Can you imagine declaring those words, …for thine is the kingdom, and the power, and the glory, for ever. Amen… in eternity! Imagine how engulfed we will be in him and him alone!
This is true worship!
I want to exhort you to allow the Prayer of the Lord to become your own. Let it be an expression of your overflowing, all in lifestyle of worship and surrender to Jesus.
It's not just a good group of words to read before bed. Prayer, especially prayer like this, is a testament to who we really are and what we really believe. It's agreement with God and an unstoppable decree of our agreement with and position in him!