Barbara Yoder says this about The Coming Church by John Burton, "Read with care. This is the future."

I had an encounter that left me shaken and shocked.
What I saw was clearly a picture of the church…clearly in my spirit, that is, because my intellect was confounded. It didn't make sense.
In my encounter, the vision I saw was shocking and quite mysterious. I have had many visions of the Church, of reformation, but this one was markedly different. It sure didn't look like a vision of the Church, but it immediately felt like one.
I was standing in an apocalyptic looking environment. It was dark and weighty. In front of me was an absolutely massive, burning crater. God immediately revealed to me that I was looking at the soon coming Church.
We must absolutely REFUSE to tone down the activity of the Holy Spirit out of respect of those less hungry! God is a CONSUMING FIRE, and he is about to consume what is unholy and compromised.

When man moves, it's naturally familiar. When God moves, it's SUPERNATURALLY SHOCKING.
~The Coming Church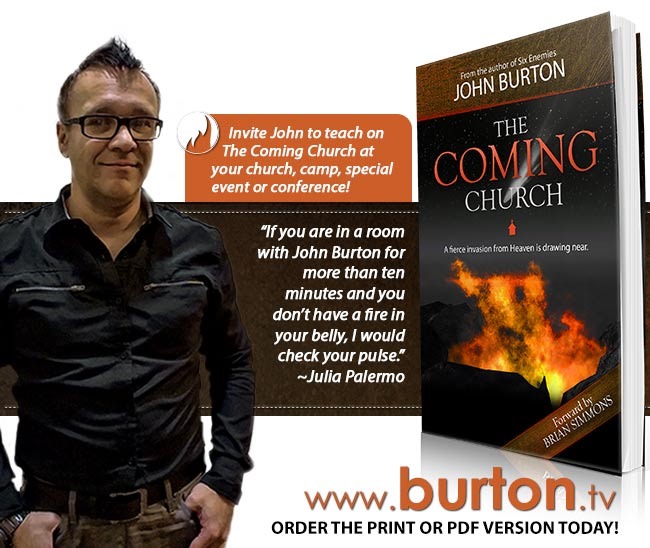 ORDER THE COMING CHURCH TODAY! Choose either the 300+ page printed version or a PDF e-book that can be downloaded immediately!
---
Endorsements
This book will rock your boat! John Burton isn't an ordinary church leader. He is one of the emerging, cutting edge and at times raw (cuts to the chase) ministries who are changing the face of the church. Some will be upset with this book. Those lovers of God, radical revelatory types will jump up and down. John's book will set them on fire. Read with care. This is the future.
Barbara J Yoder
Want to grow your church? Increase your success and influence in the community? Don't read this book! John Burton isn't going to give you the latest Church growth strategies or messages that will make your life easier. This book is a clarion call to the Church to quit selling her birthright and to accomplish all God has for her.
Anyone can criticize the church, John tears down while building up and calling forth the Coming Glorious Church!
Chris Ferguson
The Coming Church is a must read for every Christian. This is a timely word and challenge to seriously get aligned with the Kingdom for such a time as this. It will ignite an urgency and fire in any reader who is willing to wrestle and respond.
Amy Smith
The spirit of God has rested upon John Burton; the Lord has placed fire in his hands. That translates in the intercession-driven ministry that pours out of him.
The power & revelation the Lord has released into John Burton is a breath of fresh air. It is so fresh that I have not seen the uniqueness he bears elsewhere.
This book carries fire on every page. That fire leaps out bringing awakening to the deep places within you as the Holy Spirit moves through the revelation of the coming church and our part in it. There's no denying it, and there's no hiding it as the revelatory words are laid out on the table. This book screams 'Ready or not, here I (the church) come!' Are we ready to receive the revelation? Better yet, are we willing to receive it?
Jill Janco
---
Chapters:
Forward: Brian Simmons
One: The Encounter
Two: Celestial Elements
Three: A Troubling Shift
Four: Fierce Religious Resistance
Five: Their Freedom Is Your Mission
Six: The Great Love Deception
Seven: Hell, Holiness and the Fear of Man
Eight: A Civil War In The Church
Nine: A Call for Reformation
Ten: Carry Like Mary
Eleven: The Salvation Equation
Twelve: Regional Impact
Thirteen: The Scattering Movement
Fourteen: False Human Rights
Fifteen: The Spirit of Abortion
Sixteen: A Remnant Movement
Seventeen: Wake Up! Strengthen What Remains!
Conclusion: A Joshua Company
---
John Burton is available to minister in your church or at your conference or event. John has been developing and leading ministries for over 25 years and is a sought out teacher, prophetic messenger and revivalist. John has authored ten books, is a regular contributor to Charisma Magazine, has appeared on Christian television and radio and directed one of the primary internships at the International House of Prayer (IHOP) in Kansas City. Additionally, he has planted two churches, has initiated two city prayer movements and a school of ministry.
---
Recommendations
John Burton has a long history of planting churches, pastoring, authorship and much more. However, knowing him personally, all of his credentials are outweighed by his passion for revival and the supernatural fire of God. I have no doubt that he has and would lay down everything for that cause. His radical faith mixed with undying pursuit has led him to encounter the Lord in miraculous ways including dreams, visions and fresh revelation. The bottom line is, John Burton has a message that the body of Christ needs to hear.
Dr. Andy Sanders
5 Fold Media
John Burton is a man with unquenchable passion for God. His life is a living Epistle of the truth that the Kingdom of God is not just in word, but in power. He lights fires wherever he goes leaving behind the unmistakable fragrance of the life of Christ. I highly recommend his ministry to you.
Glenn Bleakney
President of Awake Nations
OH MY WORD!! Talk about an on time message from John Burton last night @ God Invasion!! I can truly say it was so refreshing to hear & experience!! Haven't heard this caliber of teaching in over 30 years! He is a TRUE revivalist & while we think REVIVAL is one thing, it's soooo much more!! Get ready folks for GOD'S version of Revival!! It's gonna rock your world!!
Cindy Hicks Nobles
John carries a real passion and anointing for revival, breakthrough and transformation. He carries and releases the tangible fire of God and brings people into encounters with God's presence. He is a strong equipper in the areas of prayer and evangelism and mobilizes people to carry God's word and presence outside the four walls of the church building. John is also a great preacher of the word. He has had many years of ministry experience both as a pastor and evangelist. His understanding of local church ministry makes his ministry well rounded and unique. He pastors, oversees a school of ministry and travels releasing the fire of God and igniting hearts with a passion for Jesus. I believe he would be a great blessing to your church.
Matt Sorger
John Burton is a man who has continued to allow himself to be thrust into the middle of what God is doing. He not only hears from Heaven, but is willing to boldly shout it from the rooftops. If John is stirred about something, I would recommend that you listen.
JD King
International Director
World Revival Network of Ministries
I'm thankful for men like John Burton who hear a sound coming out of heaven, a trumpet sound, calling this generation to something more than good meetings and life as usual. We need men and women who are more than echoes of the past, but voices who prophesy what is to come. I believe those men and women are being prepared to arise and take their place in human history.
Dr. Brian Simmons
The Passion Translation
---
Visit www.burton.tv now to order The Coming Church or one of John's other powerful books!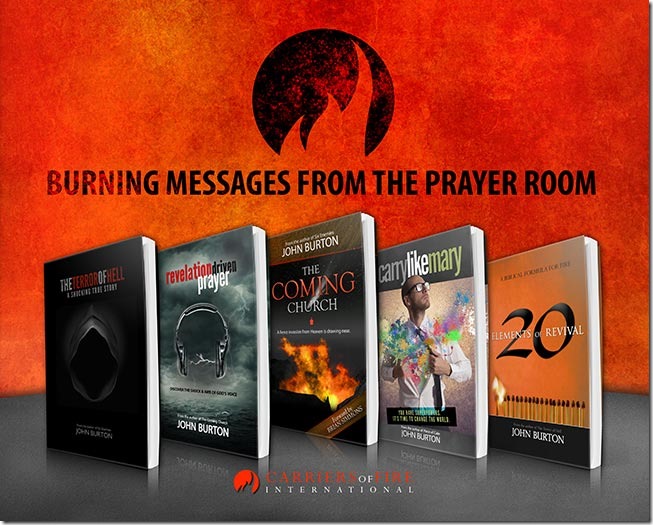 THE CHURCH IS BREECH
If you have been following the ministry recently you know that I'm zeroed in on a critical issue—an issue, in my opinion, that can result in the further fracture of the church, or in a powerful reformation that will shock the world.
Sunday at our Revival Church staff meeting, there was a strong prophetic word that must be given attention.
The message was that the church is in a time of massive transition, much like you'd find in a delivery room. When the mother is transitioning into the process of birth the room is filled with chaos and even confusion for the untrained, nervous or unprepared.
We are seeing this same chaos and confusion in the church today. People are scattering, searching for traction, for fresh new life that they sense is near.
Then, the person who gave the message declared, "The church is breech! The church is breech!"
Of course, a breech delivery is a cause for serious concern. The chance of death to the coming baby is much greater than in a normal, head first birth.
Immediately, God revealed to me what the word meant. What the meaning of a breech church was.
The confusion, frustration and wounding that's impacting so many Christians is resulting in an intentional divorce from pastors and leaders. It's a movement that either greatly minimizes or even renounces governmental church leadership.
It's a feet first movement. The church is breech.
A common cause for a breech delivery is prematurity. Premature babies tend to deliver breech, and we need to consider this for the church. We can't allow our dissatisfaction and impatience to cause us to move out ahead of leadership.
Many believe this chaotic transition, this reformation in the church is the answer to their frustrations and pains that they experienced in the organized church. They feel it's a transition out of body life and away from human leaders.
That is a devastating and terribly incorrect analysis.
The coming reformation will in fact highlight God's established apostolic leaders and will call the church to rally around them in radical unity and advance into the darkness of the world.
Further, there's an incorrect mindset that every Believer is identical. That we all have equal giftings and equal authority in every situation. Usually this idea is embraced as a defense measure after feeling slighted by Christian leaders. I understand the pain that this can bring, but the answer isn't to artificially level the playing field. God loves us all passionately, but he does flow through us differently. Our abilities and responsibilities vary.
Those with a gift of healing have a greater grace to heal people. People with the gift of helps can function in that role much more easily and efficiently than others. If someone has an ordination from God into a prophetic office, he or she will be receiving information that most others won't. Apostles have breakthrough ability that's unique to that office.
As we embrace true biblical order, and understand that we can't cut off the heads (small 'h' vs. the capitol 'H' reserved for God alone—God is the Head and he establishes heads of ministries) of God's ordained leaders simply because they have disappointed us.
Man will always disappoint, but it's God's wisdom that has resulted in the establishment of significant responsibilities, anointings and missions through them. It's always been this way, cover to cover in Scripture. God raises up men and women to lead. We can't avoid it.
So, it's time to gather together in love, passion and mission as God readies a massive advance of God's government that lies just on the other side of our current birthing room season of transition.
Having each faced personal loss, a group of strangers gathers at a cemetery for support. The bestowment of several miraculous gifts brings resolution, and a mysterious inscription holds the ultimate key to healing.
Amy's newest book, The Inscription, is AVAILABLE TO ORDER!
Visit www.theinscription.com for more info.
This is Amy's first work of fiction, and it's sure to impact you powerfully.
---
From the book:
I smiled as the breathless beauty of my surroundings pierced my heart and, for just a second, pushed aside some of the heaviness. I sighed as the temporary reprieve ended and once again, my soul floundered against an onslaught of hopelessness.

After careful maneuvering, I finally reached my destination. I turned off the van's engine and gingerly plucked a colorful package from the passenger's seat. I sat silently, fingering the velvety ribbon that encircled the wrapped box. A tear slipped down my cheek, then another; before long, I was weeping.
---
"Amy writes a beautiful story of grief and, more importantly,
of the hope found through sharing the journey."
Kerry Mand, Former President of Pikes Peak Share
"The Inscription is a heartfelt and poignant story about the unbreakable bonds of friendship formed during times of sorrow. 
A must read for any grieving soul!"
Angie Winton, Group Facilitator of Detroit Metro Share
---
ABOUT THE AUTHOR
AMY BURTON and her husband, John, are accomplished authors and public speakers. Amy serves as an instructor at a pregnancy center in Detroit. She and John founded Revolution House of Prayer in 2001 and currently lead Revival Church. They live in Grosse Pointe Park, Michigan with their three boys.
ORDER TODAY at www.theinscription.com.