Bethel Church has an opportunity to correct a seriously flawed post regarding LGBTQ+. They are on the clock.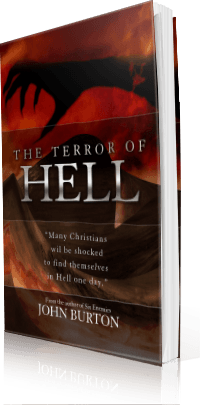 (I'd like to offer to you my most potent and critical book,
The Terror of Hell
, for FREE. More info below.) It was a day, not unlike every other day, doing what most every person on the planet does: flicking through posts on Facebook. Then, something caught my attention. I did a double-take and read it again. And again. I was shocked. At the time of this writing, the post in question had over 2.5 thousand comments, and it seems that a large number of them voiced grief and great concern. Also at the time of this writing, clarification has not been given and the post has not been taken down nor reworded. CHANGED, a ministry of Bethel Church in Redding, California, wrote the post and included the following statement in it:
God loves all people, LGBTQ+ and straight. The message of CHANGED has never been "All Must Change." We share these stories specifically for Christians who are unfulfilled in identifying as LGBTQ+. For those of you who feel fulfilled and happy as you are, we love you!
Of course, this was immediately troubling to me as it seemed as if Bethel Church was moving closer to the
false-grace
, hyper-love philosophy that is bewitching so much of the church today. However, I wanted to give them the benefit of the doubt. I don't believe it's appropriate to launch into attack mode, as many of today's "protectors of truth" tend to do. It's important to honor even when questions and controversies arise. I am believing that Bethel Church will bring clarity to a murky and concerning situation. Listen to the podcast on this topic… Here's my response to their post:
Oh no. Please, Bethel Church, PLEASE rethink this. Reconsider your wording. The following that you wrote is NOT GOOD. Did you possibly word it incorrectly? "We share these stories specifically for Christians who are unfulfilled in identifying as LGBTQ+. For those of you who feel fulfilled and happy as you are, we love you!"
Since then, there's been quite a stir among many who are equally troubled about their apparent stance. Some Christian news sites are picking up the story as well.
Bethel Church bashed on social media for being 'weak' on LGBTQ+ stance ~Premier Christian Magazine
Today, I received a response from Bethel Church to my request for clarification:
We believe you can fully love someone who you disagree with, Jesus modeled this for us well.
That's it. Of course we must love those we disagree with. This is such an obvious concept that it makes one wonder if they are attempting to toe the line or to completely cover something up. What do they really believe? Right now, nobody knows. I replied:
We still don't know if: 1. You simply worded your original post wrongly. 2. You actually believe Christians can identify as LGBTQ+ and for those who are fulfilled and happy, there is no further action necessary.
I'm curious about what would happen if they were addressing another issue in their ministry, and posted the following:
"We share these stories specifically for Christians who are unfulfilled in viewing pornography. For those of you who feel fulfilled and happy as you are, we love you!"
You can switch out the key word with any. What if they are unfulfilled in child abuse? Pornography? Fornication? Hatred? It's clear that Bethel Church must clarify their statement. The confusion can be catastrophic for those who are convinced that respected, well-known Christian leaders are affirming their lifestyles. Yet, they are available to talk if they should ever want to change, if they stop enjoying their lifestyle. I honestly don't think their position could be any weaker, more confusing or more dangerous.
ALL MUST CHANGE
Contrary to the message that Bethel Church is communicating, very directly and boldly I might add, radical, wholesale change is absolutely required for those who desire to follow Jesus. A revelation of our debauchery and hopelessness is the critical starting point when sharing the Gospel with someone. We cannot cover up this reality out of fear that someone will get defensive, offended or resistant to the message. Do we even understand anymore in our hyper-modern age that God is holy? If we modify the message of truth in hopes of ensuring a longer, more "successful" audience with a sinner, we are in serious violation. Simply revealing the love of God to someone is NOT evangelism. In fact, it can have devastating results. It takes much more than a love revelation to draw someone into a legitimate relationship with Jesus. As was done with the Rich Young Ruler, you must make it hard, not easy, to follow Jesus. You aren't a salesman, you are a representative of a holy God. Address
sin
, hell, the fear of the Lord, surrender, the cost of following Jesus and the personal loss that will result. They will lose friends, leave immorality and selfishness behind, surrender all and sign up as a martyr should God call t
hem to that.
If they eagerly repent after you share all that, you'll know they are starting their Christian journey the right way. If you only share God's love with them, they are at great risk of living their entire lives convinced all is well while actually following Jesus in an unsaved condition.
STOP minimizing the cost of following Jesus and hiding offensive truth in the hopes that people will get saved. If they don't like God as he is or if they get offended when faced with their own wickedness, let them walk. They have zero bargaining power as they are mere moments away from entering Hell. That sounds harsh, but it's truth. God is who he is, and we can't attempt to make him more attractive. He truly is a loving and fearful God. Of course, their decision to walk should rip at our hearts, launching us into tears and intercession for them. True love looks just like this. Refusal to confront with truth is damaging beyond measure, and Hell is growing larger because of it.
GAY CHRISTIANITY?
The idea that Bethel Church is propagating (even if they erred in communication) that you can identify as both a Christian and as LGBTQ+ is extremely dangerous, not to mention fully and completely wrong. Can you be a Christian pornographer? A Christian adulterer? A Christian serial killer? A Christian witch? It's lunacy. Until Bethel Church refutes this idea and corrects their error, this is what people will be led to believe. Today many are arguing that all
sin
is the same, and that Christians are in fact themselves sinners, and that
homosexuality
is no different than lying. I'd encourage you to read an article that I wrote titled, "
No, Not All Sin Is The Same—Here's Proof
." First, it's untrue that all sin is the same. That idea is fully unbiblical, and the article I linked to above will bring clarity on the matter. Second, Christians are not sinners. We absolutely should not be living a life of sin as the world does. If we do, we are in trouble for sure. We are living in a time when the high majority of evangelical young people are having sex outside of marriage. A huge percentage of Christians, including pastors, are regularly viewing pornography. The Bible clearly reveals that continuing in sin as Christians has dire, eternal consequences. Many Christians will be shocked to find themselves in Hell one day.
For if we go on sinning deliberately after receiving the knowledge of the truth, there no longer remains a sacrifice for sins, but a fearful expectation of judgment, and a fury of fire that will consume the adversaries. Hebrews 10:26-27
I'd like to offer the ebook version of my book
The Terror of Hell
to you for free. It's a short read but a troubling and revealing—and life-altering—account of an encounter I had with the forces of Hell. God placed a disturbance in my spirit that has lasted nearly 30 years, right up to this very moment. He said, "John, many Christians will be shocked to find themselves in Hell one day." My life was forever changed. My life message was given to me. You can download the book here:
https://burton.tv/the-terror-of-hell
This is why I'm so disturbed by messages like the one that Bethel Church is communicating. I believe they, if not more careful, can lead millions to the slaughter. Hell can absolutely be the result of faulty
theology
. Now, all of this being said, I am absolutely holding out hope that Bethel Church will bring better clarification than what they offered me in the comments of the Facebook post. They are tackling a very important issue in our generation, and I pray they are able to do it with utmost biblical integrity instead of sociological, philosophical, psychological strategies.