Arguments against the invitation to go deep in God are increasing…and it's Christians who are leading the resistance.
re·li·gion /rəˈlijən/ Man's attempt to use God to get what he wants.
Slap the label "religious" on anything that threatens your theology or impacts your definition of freedom. It feels spiritual. It is spiritual. The demonic spirit realm is filled with unholy wisdom, and very often this is the source of such a defense. Today's rallying cry seems to be fueled by the desire to be free from anything that places restraints, expectations or requirements upon someone. All of that, to them, is religious.
Many of the arguments are coming from those who have been duped into believing an unbiblical doctrine of grace. This false-grace ideology presumes that all has been completed by Jesus, and that nothing remains for us to do in order to be in relationship with him. Simply, his actions on the cross and at the tomb were sufficient. The result, if we only understood, they would argue, is that absolutely nothing can be done by us to increase our nearness to him, and, from the other direction, nothing can be done to decrease his nearness to us.
They argue that our sin is impotent. Our effort is both futile and unnecessary, and actually an offense to the finished work of Jesus. Their proposition is that we simply need a revelation of this supposed truth. When they discovered it themselves, burdens and weights were lifted and they began enjoying God as a good, good Father. They would say they do nothing, except believe and receive and live in that revelation.
The truth is that eliminating every burden (God's burden is light, not non-existent) just may cost us our lives. If you are carrying a backpack on your three-day hike into the mountains, it's going to get heavy. If you decided to take it off and leave it behind, it will feel like freedom! You are suddenly relieved of that irritating, uncomfortable burden. However, you will also be without food, water, a sleeping bag and shelter. The elements of the world will overtake you and you may very possibly succumb.
I celebrate with zeal every time someone I know encounters legitimate freedom and the immeasurable love of the Father! However, our experience in God cannot stop there. Those who do stop short need to be awakened to the deeper call of God on their lives.
You see, religion isn't that which produces a barrier to freedom, it's the attempt to use God in order to have the most pleasurable experience possible, no matter how selfish that pursuit may be.
Those who wanted Jesus to be their king one day, turned on him and demanded his death the next. Why? They were not set on worshiping Jesus but rather on using him. When he didn't deliver what they wanted, they decided to eliminate him for a better option. This is religion in action.
9 And the crowds that went before him and that followed him were shouting, "Hosanna to the Son of David! Blessed is he who comes in the name of the Lord! Hosanna in the highest!" Matthew 21:9 (ESV)

12 And Pilate again said to them, "Then what shall I do with the man you call the King of the Jews?" 13 And they cried out again, "Crucify him." 14 And Pilate said to them, "Why, what evil has he done?" But they shouted all the more, "Crucify him." 15 So Pilate, wishing to satisfy the crowd, released for them Barabbas, and having scourged Jesus, he delivered him to be crucified. Mark 15:12-15 (ESV)
A SIMPLE YET PROFOUND CALL
God is calling us into the deep.
The only way there is through radical surrender, fervent intercession, living in the Spirit and unapologetic holiness.
We must die daily. We must be living sacrifices.
I'm writing this from my hotel room during a ministry trip to Albany, New York, and I'm watching The International House of Prayer's prayer room live on YouTube. I was on staff at IHOPKC for a couple of years and it was easy to see one specific reality: Most of these people were devoted to God at a level rarely seen in this nation. They weren't perfect people, but they were hungry people with a level of consecration rarely seen in the church. I've known many people who are offended at this. They actually despise IHOPKC and ministries like them. Why? Because their own level of passion for Jesus and depth in God are exposed as lacking. The thought that much is required of disciples of Jesus is contrary to their personal pursuits of undisciplined freedom.
Understand, I know these words I'm writing are provocative. I also believe they must be written so I can most effectively make my point. As obvious as it seems, a growing number of people in this generation don't get it: we can only experience the deep things of God if we are fervent, radical, surrendered and dying daily to the things of the flesh. There is no other way. There are no shortcuts.
At IHOPKC and other similar ministries all around the world, people are praying 2-4 hours a day or more. They are allowing the groans of the Spirit to erupt out of them. They are devouring the Word of God as they allow the presence of God to permeate them in the prayer room. The Holy Spirit is speaking to them with clarity. The prophetic atmosphere around them is electric. Dreams, visions and a powerful anointing become regular. The chambers of their heart are opened to the searching of the Spirit of God. These people are undone, hungry, desperate and relentless.
Yet, those who subscribe to the unbiblical "freedom theologies" that I addressed above somehow believe that they are as close to God as those who are giving themselves in a more deliberate manner, even if they make no effort in drawing close to him.
7 Submit yourselves therefore to God. Resist the devil, and he will flee from you. 8 Draw near to God, and he will draw near to you. Cleanse your hands, you sinners, and purify your hearts, you double-minded. 9 Be wretched and mourn and weep. Let your laughter be turned to mourning and your joy to gloom. 10 Humble yourselves before the Lord, and he will exalt you. James 4:7-10 (ESV)
A POWERFUL ANOINTING
I'll never forget the time I had a regional prayer meeting in my church. A well known mega-church leader was in the prayer meeting along with several of his friends. I was praying with my eyes closed when I felt this intense wave of the glory of God wash over me. I opened my eyes and this man of God had just walked by me. I waited for him to make another lap, and as he passed by again, the wave hit me a second time. This happened several times.
I knew this man knew God. There was a depth that was uncommon. He was living in such a way that resulted in a very powerful anointing swirling around him. I yearned to do whatever it took to carry that type of glory on my own life.
I've experienced similar manifestations several times, and each time leaves me crying out for a deeper hunger and a more resolute life.
Pastor John Kilpatrick was preaching at a Bay of the Holy Spirit remote event in Detroit. I was on the front row during this morning session enjoying the wisdom that John was releasing to us. Suddenly, in the middle of a point, he stopped. He simply said, "He's here."
As he gazed toward the rear of the auditorium, I turned my head and looked myself. You could see a wave of God's glory moving from the back to the front, row by row. Then it hit me. If I had an unlimited vocabulary at my disposal, I would still not be able to describe that experience. Simply, God arrived.
There is no way that manifests except via a radically devoted life, a life that John Kilpatrick exemplifies. There are precious few who live this way.
1 In the year that King Uzziah died I saw the Lord sitting upon a throne, high and lifted up; and the train of his robe filled the temple. 2 Above him stood the seraphim. Each had six wings: with two he covered his face, and with two he covered his feet, and with two he flew. 3 And one called to another and said: "Holy, holy, holy is the LORD of hosts; the whole earth is full of his glory!" 4 And the foundations of the thresholds shook at the voice of him who called, and the house was filled with smoke. 5 And I said: "Woe is me! For I am lost; for I am a man of unclean lips, and I dwell in the midst of a people of unclean lips; for my eyes have seen the King, the LORD of hosts!" 6 Then one of the seraphim flew to me, having in his hand a burning coal that he had taken with tongs from the altar. 7 And he touched my mouth and said: "Behold, this has touched your lips; your guilt is taken away, and your sin atoned for." Isaiah 6:1-7 (ESV)
As we life consecrated lives, encounters are revelations will increase. The truth found in Scripture will explode off the pages. We will be undone. As with Isaiah, the revelations will result in a declaration of God's holiness and our weakness and struggle. If there is sin in our lives, it will be instantly evident. Then, the fire will sear us and our redemption and deliverance will be made clear.
We will live with a never-ending burning in our spirits and a tremble that marks us forever.
If we want to experience the wonders of God, radical consecration is the only option.
5 Then Joshua said to the people, "Consecrate yourselves, for tomorrow the LORD will do wonders among you." Joshua 3:5 (ESV)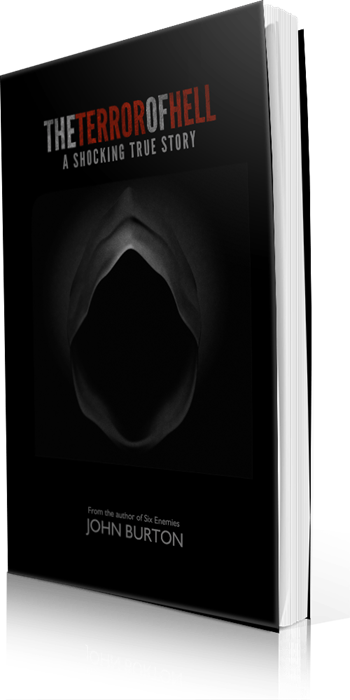 Not only will we live tepid, powerless lives that are focused mostly on our own personal experience instead of laying our lives down for Jesus, but those who refuse to consecrate and devote in the place of intense prayer and surrender are at risk of eternal separation from God. There is a terror of Hell that the enemy is making ready for them to experience.
My book The Terror of Hell is a sobering message of how intimacy with Jesus and salvation in Jesus are related. In the encounter, I was dragged toward Hell. The terror I experienced was horrifying and fully indescribable. God spoke to me after the encounter and said, "John, many Christians will be shocked to find themselves in Hell one day."
It's possible that a Christian may be in a good place today, but in the future they may grow apathetic or they may lose their first love. Here's a portion of an article based on my book:
A backslider is focused on his own condition, on his own comfort zone while a good man is in tune with the heart of God. His pleasure comes from intimacy with Father God. His pleasure comes from going where God is going, doing what he is doing and feeling what he is feeling. There is no sense of ease in the storm, but there is satisfaction and joy in the presence of God and by being in active agreement with him. This message is a wake-up call for every one of us. Many wonderful people will be terribly shocked to find themselves separated from God forever.

Matthew 7:21-23 "Not everyone who says to Me, 'Lord, Lord,' shall enter the kingdom of heaven, but he who does the will of My Father in heaven. "Many will say to Me in that day, 'Lord, Lord, have we not prophesied in Your name, cast out demons in Your name, and done many wonders in Your name?' "And then I will declare to them, 'I never knew you; depart from Me, you who practice lawlessness!'

This scripture is in reference to those who would call themselves Born Again Christians. People who have understood and actually flowed in the power of the Holy Spirit. They understood their heavenly position and earthly authority as they overcame demons. These were your miracle workers.

We need a wakeup call, church. We can't presume to be in a place of safety simply because we said a prayer, go to church, give offerings and talk about Jesus. An intense pursuit of holiness and intimacy is required.

This is a message that must be shouted from the rooftops.

I can't imagine multiplied millions of people who are current following Jesus in an unsaved condition crying out in terror one day, "I'm going to Hell? That's impossible!"

"And to the angel of the church in Sardis write: 'The words of him who has the seven spirits of God and the seven stars. "'I know your works. You have the reputation of being alive, but you are dead. Wake up, and strengthen what remains and is about to die, for I have not found your works complete in the sight of my God. Remember, then, what you received and heard. Keep it, and repent. If you will not wake up, I will come like a thief, and you will not know at what hour I will come against you. Revelation 3:1-3 (ESV)
WE MUST DIVE INTO THE DEEP
1 "And to the angel of the church in Sardis write: 'The words of him who has the seven spirits of God and the seven stars. "'I know your works. You have the reputation of being alive, but you are dead. 2 Wake up, and strengthen what remains and is about to die, for I have not found your works complete in the sight of my God. Revelation 3:1-2 (ESV)
Unbiblical "freedom theologies" reject the call to the deep. I've had people actually tell me that going deep is unnecessary. Others have called people out of the prayer rooms! They argue it's an unnecessary practice if we truly understand that there is nothing left to be done. They say we just need to rest in our fully resolved position in Christ. Still others reject prayer movements like IHOPKC because their devotion to intercession is a devotion to unnecessary works.
I'll be honest with you, I never thought I'd see entire movements of supposed Spirit-filled Christians standing in opposition to prayer!
Someone connected with me on Facebook recently and shared her desperation to see a prayer movement emerge in her region. She actually said she's been involved in a church that's all about revival, but they haven't had a prayer meeting in ten years! I simply responded by confirming her suspicions: you can't be a revival church without a fervent, consistent and supernatural culture of prayer. It's impossible.
THE SUBMARINE DREAM
My wife and I were in a military grade nuclear submarine following behind a second submarine that contained my Father and Mother-in-law.
I was analyzing the situation, trying to gain understanding on what exactly were were doing while my wife was playfully looking through the periscope. Both submarines were staying at the surface of the water, and they were being used as tour vessels. The atmosphere was playful and carefree.
After a short time everybody was done playing and we decided to park the submarines alongside a long pier. We climbed out and walked down the pier and onto an ocean side boardwalk. There were people everywhere enjoying a beautiful sunny day. The restaurants and shops were full of activity.
We walked onto the sandy beach which was about one hundred yards from the submarines.
As we gazed out over the water, both submarines suddenly began leaving. They headed out toward deeper water.
My in-laws immediately started running into the water giving chase to the submarines. As they did, I was thinking that it was impossible for them to get anywhere near to the fast moving vessels and I didn't understand why they had tried.
Then, my wife ran into the water as well.
What I saw next can't easily be described in a way that is true to the emotion I felt. The water immediately began erupting as if a powerful hurricane was upon us. I was terrorized as I frantically tried to devise a plan to help. What I saw next drained every bit of hope from my being. A whirlpool opened up underneath my in-laws and sucked them under. Then, a second whirlpool took my wife.
I was screaming for help. A few people gathered around but could offer no help whatsoever. I called 911 and all I heard was this recording, "We can't send help for an hour. We can't send help for an hour."
It looped over and over. I knew that THIS was the hour. I couldn't wait! The emergency was upon us.
As I stood on the beach, hopeless, the scene changed.
Only a few days had passed yet it was now bitterly cold and the water had frozen over. There was at least ten feet of snow on top of the ice.
I started moving slowly, though as quickly as I could, through the snow in the direction of where the whirlpools were.
I started digging ferociously and what I saw next will forever be seared in my memory.
It was my wife, frozen. She was gone.
I ran back to the boardwalk and into a restaurant. I saw someone who had tried to help previously behind the counter of a sports bar. He was a volunteer firefighter in addition to working at the restaurant. I yelled, "Help! Help! I found her! I found her! Come quickly!"
He just casually said, "Sorry man, I'm working."
What? I couldn't believe what I heard. I said, "No, you don't understand! I found my wife! I need help!"
He just said, "Sorry." and then looked at a customer and said, "How can I help you?"
I ran back to the snow where my wife was buried. I thought that maybe, just maybe, since she was frozen that there was a chance she could be revived. I've heard of people freezing and their heart beat is slowed to almost nothing before being brought back.
As I was thinking about this I looked down at her, and there was a piece of paper right next to her frozen face.
I picked it up. All it said was, "Wake up and strengthen what remains and is about to die."
Then I woke up.
Interpretation
When I woke up I was shaken to my core.
As I started to pray and analyze the dream, the following is what was highlighted to me:
The submarines: Vehicles represent ministry, and I believe the submarines represented the church. The church is not meant for casual play at the surface of the water. It's a military weapon of war designed to move into the deep as it advances toward enemy targets. When the submarines left on their own, that represented the truth that the church will most certainly advance on its mission with or without us. We can be left behind as we continue our focus on entertainment and leisure if we so choose.
My family: Of course, this was a hard core part of the dream. The first reaction is to do everything I can to ensure those close to me are doing well and burning hot for Jesus. Beyond that, symbolically I feel they represented familiarity and presumption. It's very easy to presume those who are close to us are most certainly doing well in their relationship with Jesus—and then to model our lives after theirs. What happens so often is that we can adopt their pace and their level of passion instead of staying locked in, on alert and advancing in the fire of God. The pressure of maintaining civilities and false-unity can result in a marginalized, lukewarm, casual disposition.

This verse best represents what I am communicating:

…I know your deeds; you have a reputation of being alive, but you are dead. Revelation 3:1

We must be careful not to presume that we are alive and that others are alive simply because of the preceding reputations. There are many people with both a spiritual legacy and a name for being zealous who are doing little more than playing—and it's possible that those people may be some of our closest friends, family, pastors and other personal heroes. Don't measure your life by their grid. We must calibrate to the truth in scripture that will bring light to every issue of our heart.

Then, we can be true awakeners. If we think people who are are asleep are already awake, then we will have no need to step into our roles as end-time prophetic messengers.

911: I was sounding the alarm in a variety of ways including by calling 911. I also ran into the sports bar looking for help. Both rejected the alarm. It's clear that the hour is now for awakening though even those trained as emergency responders won't see it. What was the alarm? Those that have a reputation of being alive are dead! Wake up!
The storm: It was sudden, violent and really out of place. It didn't make sense, but it wasn't obligated to explain itself. If we would have been in the submarines AND in the deep, the storm would not have touched us.

"No one knows about that day or hour, not even the angels in heaven, nor the Son, but only the Father. As it was in the days of Noah, so it will be at the coming of the Son of Man. For in the days before the flood, people were eating and drinking, marrying and giving in marriage, up to the day Noah entered the ark; Matthew 24:36-38
THE CALL
So, what's the call?
It's simple, and it's directed to the church, to those who are to be in the deep:
Wake up! Strengthen what remains and is about to die, for I have not found your deeds complete in the sight of my God. Revelation 3:2
Yet you have a few people in Sardis who have not soiled their clothes. They will walk with me, dressed in white, for they are worthy. He who overcomes will, like them, be dressed in white. I will never blot out his name from the book of life, but will acknowledge his name before my Father and his angels. He who has an ear, let him hear what the Spirit says to the churches. Revelation 3:4-6
God instructed me to wrestle with Revelation 3:1. I've been burning hot for Jesus for over 20 years, yet, is it possible that my devotion is not as deep as I might think? Yes, it is possible.
God didn't accuse me of being dead. He didn't reveal that my passion was false. He simply wanted me to always consider the possibility that my reputation will always be at risk of being more intense than my reality.
…I know your deeds; you have a reputation of being alive, but you are dead. Revelation 3:1
It's time to go deep, to be awake and alert and then to awaken the sleepers…many who may have a reputation of being very much alive…but are not.
It's time for revival, not the promotion of selfish "freedom theologies." This is the hour.