Posts Tagged 'press release'
Author John Burton launches dramatic book, The Coming Church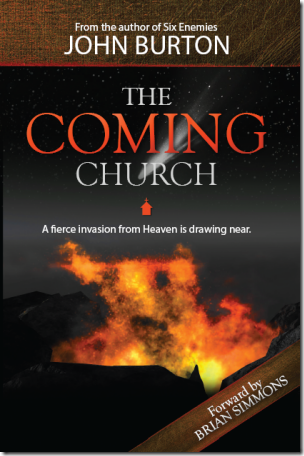 FOR IMMEDIATE RELEASE
CONTACT: John Burton, 719.231.6000
Email: [email protected]
http://www.thecomingchurch.com
DETROIT AREA AUTHOR, CHURCH LEADER AND CONFERENCE SPEAKER LAUNCHES THE COMING CHURCH
"I had an encounter that left me shaken and shocked.
What I saw was clearly a picture of the church…clearly in my spirit, that is, because my intellect was confounded. It didn't make sense.
In my encounter, the vision I saw was shocking and quite mysterious. I have had many visions of the Church, of reformation, but this one was markedly different. It sure didn't look like a vision of the Church, but it immediately felt like one.
I was standing in an apocalyptic looking environment. It was dark and weighty. In front of me was an absolutely massive, burning crater. God immediately revealed to me that I was looking at the soon coming Church."
WASHINGTON, MICHIGAN, Oct. 30, 2013— Church planter and author John Burton of Washington, Michigan, will debut his latest prophetic manuscript "The Coming Church" Oct. 30, 2013. This book is the result of two years of study and teaching on the content in the context of local churches.
Burton, the founder of Revolution House of Prayer in Manitou Springs, Colorado and Revival Church in Warren, Michigan, has been invested in the analysis of the condition of the church, and this book is the result of his study. In addition, he is the founder of theLab University, an ministry school based in the Detroit area. This school is currently expanding to an online version to meet the desires of students worldwide.
The Coming Church is based on a striking vision of a cataclysmic event impacting the planet. The resulting crisis will be felt around the world as fire and smoke engulfs the Earth.
Respected international apostolic leader Barbara Yoder says, "This book will rock your boat! John Burton isn't an ordinary church leader. He is one of the emerging, cutting edge and at times raw (cuts to the chase) ministries who are changing the face of the church. Some will be upset with this book. Those lovers of God, radical revelatory types will jump up and down. John's book will set them on fire. Read with care. This is the future."
Brian Simmons, a renowned author and Bible translator says, "I'm thankful for men like John Burton who hear a sound coming out of heaven, a trumpet sound, calling this generation to something more than good meetings and life as usual. We need men and women who are more than echoes of the past, but voices who prophesy what is to come. I believe those men and women are being prepared to arise and take their place in human history. A message of The Coming Church is needed more than ever! The Holy Spirit has anointed this message, and it will roll on throughout the nations. The call of God is gripping hearts of awakeners to leave the predictability of the church and move into the reality of the ever-fresh kingdom of God!"
John Burton is available for interviews and appearances. For booking presentations, media appearances, interviews, and/or book-signings visit www.johnburton.net/booking and contact [email protected].
FOR IMMEDIATE RELEASE:
John Burton Ministries starts Revival Church in St. Clair Shores, MI, welcomes Jeff Garvin
St. Clair Shores, MI – November 14, 2009
The world is watching Detroit, waiting on the report of its complete demise or of a miraculous restoration.
John Burton launched Revival Church with that in mind.
"After traveling to the Detroit area to minister several times over the past year, it became obvious that a permanent move was in order.  Our house sold in the Kansas City area in under a week, and we have since moved in and are ready to see a dramatic reformation in Detroit.  My heart is to see a legitimate outpouring of God here that will bring order to chaos, life to hurting people and vibrancy to a desperate society."
John Burton has been in ministry since 1991 and has written five books including 20 Elements of Revival, Revelation Driven Prayer and Six Enemies of Fulfilled Destiny.  He was recently featured on the Miracle Channel (www.miraclechannel.ca) as he discussed the thrill and importance of living a prophetic life.
John also planted Revolution Church in Manitou Springs, Colorado, directed an internship at the International House of Prayer in Kansas City, Missouri and gave leadership to a city-wide prayer initiative in Colorado Springs, Colorado.
After several pre-launch meetings in their home, John and Amy Burton, along with their three boys, would like to invite you to advance toward revival in their new location.  Revival Church meets every Sunday evening at 6pm at First United Methodist Church at 24036 Greater Mack, St. Clair Shores, MI 48080.
Prophetic prayer starts at 5pm and children can be checked in for their ministry at 5:45pm.
They also host a weekly prayer and strategic revival radio show online every Monday at 8pm.  You can listen at www.detroitrevivalchurch.com/radio.
Internationally known prophetic revivalist Jeff Garvin, who was a significant part of the recent Lakeland, Florida Outpouring, will be ministering at Revival Church in December.  He will be at a sister ministry, International House of Prayer East Detroit, on Friday, December 4th at 7pm, and at Revival Church on Saturday, December 5th at 7pm and Sunday, December 6th at 6pm.
Contact:
John Burton
[email protected]
www.detroitrevivalchurch.com
Ph: 313-799-3473