We have radically misunderstood the purpose of the church—and the Gideon principle is the shock it needs.
Pastors, quit getting excited when your church grows in number.
Quit getting depressed when it declines in number.
Quit selling your soul to compel people to join you on Sunday mornings.
Numeric church growth is not the goal—mission completion is—and the people you are wooing just may be your downfall.
CHURCH AS WE KNOW IT
As one who has planted two churches and spent many years in church leadership, both as a staff pastor and senior leader, I have had a front row seat to the American church reality. There's much that has been absolutely amazing and much that is radically disappointing.
Church as we know it, however, doesn't take years of leadership experience to analyze. It's simple: we gather together once or twice a week and worship a little and pray a little (usually very little) and listen to teaching. After saying hi to friends and small talking with others we head out into our world until next week.
Pastors are heroes, in my opinion. Superheroes in fact. However, even mighty men and women of God must step back at times and truly analyze their motives and ministries. I suggest part of that analysis must include reckoning with an unhealthy desire to see the church grow numerically. Pastors tend to get weighted down when the seats are empty, and then, miraculously, they perk up and have an extra jump in their step when the roar of the crowd is louder. It's human nature. Unfortunately, it's human nature that is threatening the church and the lives of people it's called to impact. We need to adopt supernatural wisdom as we move into the next generation of the church.
THE DEEP, THE SHALLOWS AND THE SAND
I shared a prophetic word at a city pastor's gathering in Detroit several years ago. I don't believe it was received well as most remained silent after I shared it and then they moved on to other business. I do believe it was the Lord, however. It was a word of warning and a strategic call.
I saw an ocean beach on a sunny day. There were many people on the sand, a good number splashing in the shallows and a handful of people swimming in deeper waters.
Those who were on the sand were mostly happy building sand castles, tanning and enjoying the afternoon sun as the cool mist from the crashing waves blew over them. Some were curious about the water and even took off their sandals and walked where the waves met the sand. Others would slowly venture out and start splashing in the shallows, but most were satisfied just where they were.
The people in the shallows were having a good time. They were together, jumping, splashing and swimming. They were in waist high water and were able to stand on the sandy bottom. They were also satisfied.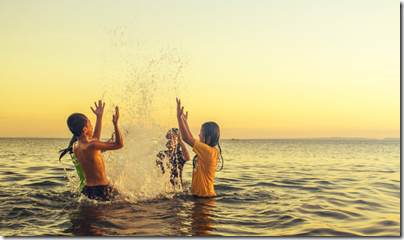 I then looked out at the small number of people who were in the deep. They couldn't stand as the water was well over their heads. They were so hungry to explore the wide-open seas. It made no sense to them why anybody would be satisfied experiencing so little. However, these people had nobody to lead them into the deeper waters. You see, the people on the sand, in the shallows and in the deep all represented a single local church.
What I saw next brought clear, obvious revelation to the situation.
I saw a man, the pastor, in khaki pants, a dress shirt and a tie. His shoes were off and his pant legs were rolled up. He had one foot in the water and the other on the sand. He was not dressed for the deep. In fact, he wasn't dressed for the shallows or the sand either. He determined to remain anchored between the sand and the shallows where the majority of the people were, yet unable to really reach any of them.
The pastor was under great stress as he would look upon those on the sand, then those in the shallows and he'd then squint as he saw those who were drifting out to sea. His eyes continually darted between the three groups, attempting to maintain some sort of control over the spiritually diverse congregation. However, he couldn't. Those in the deep became a nuisance. He found it easier to allow them to go and to focus on the sand and the shallows. He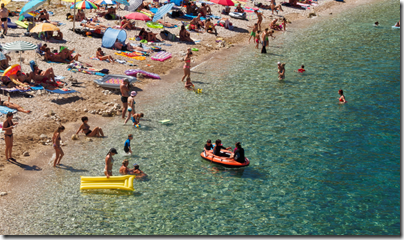 knew those in the low water would not go deeper and those on the sand were safe, and maybe, some day, they would jump in and splash around with the others.
3 Going on eastward with a measuring line in his hand, the man measured a thousand cubits, and then led me through the water, and it was ankle-deep. 4 Again he measured a thousand, and led me through the water, and it was knee-deep. Again he measured a thousand, and led me through the water, and it was waist-deep. 5 Again he measured a thousand, and it was a river that I could not pass through, for the water had risen. It was deep enough to swim in, a river that could not be passed through. 6 And he said to me, "Son of man, have you seen this?" Then he led me back to the bank of the river. Ezekiel 47:3-6 (ESV)

9 And wherever the river goes, every living creature that swarms will live, and there will be very many fish. For this water goes there, that the waters of the sea may become fresh; so everything will live where the river goes. Ezekiel 47:9 (ESV)

26 And everyone who hears these words of mine and does not do them will be like a foolish man who built his house on the sand. 27 And the rain fell, and the floods came, and the winds blew and beat against that house, and it fell, and great was the fall of it." Matthew 7:26-27 (ESV)
THE CALL TO THE DEEP
I believe the strategy of the church must radically change. The pastor, the leader, must be in the deep ahead of the people. The priests are called to step into the waters and to lead people into miraculous situations.
14 So when the people set out from their tents to pass over the Jordan with the priests bearing the ark of the covenant before the people, 15 and as soon as those bearing the ark had come as far as the Jordan, and the feet of the priests bearing the ark were dipped in the brink of the water (now the Jordan overflows all its banks throughout the time of harvest), 16 the waters coming down from above stood and rose up in a heap very far away, at Adam, the city that is beside Zarethan, and those flowing down toward the Sea of the Arabah, the Salt Sea, were completely cut off. And the people passed over opposite Jericho. Joshua 3:14-16 (ESV)
The evangelists are called to minister to those on the sand. Prophets can call them into the waters. The local church's apostolic leaders must focus on the deep, calling people to advance into impossible waters as they seek to encounter the wonders of God and to take new ground. They announce the need to live consecrated lives as they prepare for God to move in power.
5 Then Joshua said to the people, "Consecrate yourselves, for tomorrow the LORD will do wonders among you." Joshua 3:5 (ESV)
Seeker churches are well known for focusing on the people on the sand. The beach goers have been affirmed in their position by this regrettable church movement. Further, the poison of seeker ministries has soaked into the soil of the greater American church foundation. Today, most churches may not identify as seeker sensitive, but seeker principles are adopted and adapted to fit their local expression in hopes of attracting the very same sand dwellers and shallow splashers. Those yearning for the deep are minimized and ignored—often because of the pastor's own lack of depth—and commonly because of the pastor's devotion to growing a larger church.
THE GIDEON CHURCH GROWTH PRINCIPLE
Churches have too many people, or at least they have the wrong people. Church missions have been compromised.
Please understand, I do believe in numeric church growth. We see in Scripture how thousands were added. I believe we'll see stadiums filled with Christians interceding and contending for revival. The harvest will come in. There absolutely are and will continue to be anointed, surrendered leaders who have been graced to lead large numbers without compromise. There are "churches of the deep" that are diving into unseen realms and growing mighty disciples. In fact, if given a choice, I'd rather attend a large church like this than a small group of unified zealots—though I do value both.
With that in mind, most churches and pastors will benefit from applying the Gideon principle, though it will be scary, painful and humbling. Death to self, rejection of selfish ambition and mighty faith are required. I believe God is about to invite leaders into divine wrestling matches as they renounce their fabricated and confused identities and adopt their divine callings and discover their identities in Christ instead of success.
12 And the angel of the LORD appeared to him and said to him, "The LORD is with you, O mighty man of valor." 13 And Gideon said to him, "Please, sir, if the LORD is with us, why then has all this happened to us? And where are all his wonderful deeds that our fathers recounted to us, saying, 'Did not the LORD bring us up from Egypt?' But now the LORD has forsaken us and given us into the hand of Midian." Judges 6:12-13 (ESV)
God also believes his pastors and leaders are heroes. He addressed Gideon, a leader who had yet to step into that identity, as a mighty man of valor. It would do us well to honor God's men and women in the same way. While many will reject the call of God to shift, some will hit their spiritual rock bottom and cry out from their caves of desperation. God is raising up warriors like this, and we should celebrate the process.
Whenever we are out of sync with God a common complaint will be, "God, where were you? Why have you forsaken us?"
Today pastors are gazing up into the heavens wondering why God isn't bringing growth. Where is he? Why is his presence so rare in their local church? What is going on?
This is a good prayer as long as we are ready for God's reply.
14 And the LORD turned to him and said, "Go in this might of yours and save Israel from the hand of Midian; do not I send you?" Judges 6:14 (ESV)
Go in might. I have sent you. That's God's reply.
15 And he said to him, "Please, Lord, how can I save Israel? Behold, my clan is the weakest in Manasseh, and I am the least in my father's house." 16 And the LORD said to him, "But I will be with you, and you shall strike the Midianites as one man." Judges 6:15-16 (ESV)
If we allow God to truly search our hearts, this is where the divine wrestling match begins. We may honestly feel unworthy, unprepared, weak and the least of all. What a contrast to God's identifying decree: You are a mighty man of valor, I will be with you and you will be victorious—but the victory depends on radical surrender and wild faith. Pastor, will you allow this Gideon principle to take over your church and your life?
The process included Gideon seeking God, looking for confirmation, hearing his voice, discovering his new identity and emerging as a true leader. It would do us well to cry out for a similar process to initiate in our own lives.
EMERGING JERUBBAAL LEADERS: DESTROYING ALTARS AND ADVANCING IN VICTORY
25 That night the LORD said to him, "Take your father's bull, and the second bull seven years old, and pull down the altar of Baal that your father has, and cut down the Asherah that is beside it 26 and build an altar to the LORD your God on the top of the stronghold here…Judges 6:25-26 (ESV)
The next step is critical. We must destroy altars of old. We must differentiate between God-given mantles and God-opposed altars. God absolutely will grace us with the water from the wells that our fathers and their fathers dug years ago. There are mantles and rich, godly traditions that have eternal value. However, there are unholy altars that have become normal in the church today that must be torn down. Traditions of man, selfish ambition, the pursuit of notoriety, becoming drunk on money and pride must be crushed. Annihilated.
28 When the men of the town rose early in the morning, behold, the altar of Baal was broken down, and the Asherah beside it was cut down, and the second bull was offered on the altar that had been built. 29 And they said to one another, "Who has done this thing?" And after they had searched and inquired, they said, "Gideon the son of Joash has done this thing." 30 Then the men of the town said to Joash, "Bring out your son, that he may die, for he has broken down the altar of Baal and cut down the Asherah beside it." 31 But Joash said to all who stood against him, "Will you contend for Baal? Or will you save him? Whoever contends for him shall be put to death by morning. If he is a god, let him contend for himself, because his altar has been broken down." 32 Therefore on that day Gideon was called Jerubbaal, that is to say, "Let Baal contend against him," because he broke down his altar. Judges 6:28-32 (ESV)
Are you ready to be renamed? Are you an emerging Jerubbaal? When we tear down ungodly altars, we step into a promotion in the spirit. We will be known as one who has stared evil in the eye and is unafraid at the threat of demonic backlash.
When we have proven ourselves to possess the obedience and fearlessness necessary to stand against the prevailing religious culture of the day by tearing down altars that so many hold so dear, we will be ready to advance in the mission—by allowing most people to leave.
THE PEOPLE IN YOUR CHURCH MAY BE HINDERING YOUR MISSION
Remember, we are called to leave the sand, to leave the shallows and to lead into the deep. Most people will not remain when you allow God to shift your church into a "deeper water" ministry. Your mission requires the right laborers be with you and those who are resistant to be let go. It doesn't mean we don't love them. It means we understand those who leave will pale in comparison with those will be set free through our obedience.
2 The LORD said to Gideon, "The people with you are too many for me to give the Midianites into their hand, lest Israel boast over me, saying, 'My own hand has saved me.' 3 Now therefore proclaim in the ears of the people, saying, 'Whoever is fearful and trembling, let him return home and hurry away from Mount Gilead.'" Then 22,000 of the people returned, and 10,000 remained. Judges 7:2-3 (ESV)
Pastor, when you cast this renewed vision of going into the deep, most in your church will, most likely, be afraid of such a venture. It will not be what they signed up for. They wanted you to occasionally wave at them as they soaked up the sun on their beach blankets. They wanted you to splash with them if they ever decided to test the shallows. This new, awakened leader will be an irritant to them. Most will leave. That's okay. The mission is for all who are fearless and surrendered to Jesus. The choice is theirs. If Gideon would have refused this filtering process, the entire camp would have been decimated. The enemy is ready to decimate our churches too. We need Jerubbaal to emerge and lead with the mysterious, illogical wisdom of the Holy Spirit.
4 And the LORD said to Gideon, "The people are still too many. Take them down to the water, and I will test them for you there, and anyone of whom I say to you, 'This one shall go with you,' shall go with you, and anyone of whom I say to you, 'This one shall not go with you,' shall not go." Judges 7:4 (ESV)

6 And the number of those who lapped, putting their hands to their mouths, was 300 men, but all the rest of the people knelt down to drink water. 7 And the LORD said to Gideon, "With the 300 men who lapped I will save you and give the Midianites into your hand, and let all the others go every man to his home." Judges 7:6-7 (ESV)
God knew who was needed to get the job done. 300 out of 32,000, less than one percent, were called as the church, the Ekklesia, a governmental people with determined unity and a fearless disposition, to rout the enemy.
AN UNCONVENTIONAL CALL
The result of applying the Gideon principle for church growth will most probably result in an extreme decrease in numbers but a supernatural increase in power.
An unconventional man, Gideon, was called.
An unconventional army, only 300 in number, was gathered.
An unconventional method, banging jars and shouting, was used.
The result was glorious victory.
20 Then the three companies blew the trumpets and broke the jars. They held in their left hands the torches, and in their right hands the trumpets to blow. And they cried out, "A sword for the LORD and for Gideon!" 21 Every man stood in his place around the camp, and all the army ran. They cried out and fled. 22 When they blew the 300 trumpets, the LORD set every man's sword against his comrade and against all the army. And the army fled as far as Beth-shittah toward Zererah, as far as the border of Abel-meholah, by Tabbath. Judges 7:20-22 (ESV)
ACCUSATION WILL COME
I'll conclude this article with a key point that could easily have been ignored.
1 Then the men of Ephraim said to him, "What is this that you have done to us, not to call us when you went to fight against Midian?" And they accused him fiercely. Judges 8:1 (ESV)
When God calls you to destroy religious altars, and to advance mostly alone in your region, you will absolutely be accused by other pastors and leaders. Who are you, after all, to presume you know what should be done in the city? Your answer? You are Jerubbaal.
While I appreciate it when pastors in a city meet together and attempt to unify and support one another, it's rare for them to truly promote revival in a region. The reason? They presume their efforts to affirm one another and support one another are the goal. It's satisfying. Somehow, unifying around this low level commitment feels spiritual. It's nice, but it can be threatening to the greater mission. When God calls you to tear down altars they have built, or that their fathers have built, then what? When God calls you to advance in the city without them (due to their own choice), with a small army of radicals, how will they respond? Many will accuse.
This doesn't mean, by any means, that we go rogue and function in an independent, rebellious spirit. God will crush that fast. He resists the proud. God will, however, awaken key people to do what few others will, and what most will flatly reject. This Jerubbaal leader will threaten religious structures. Their humble surrender and bold resolve to obey their God at every turn will threaten those who have their religious culture carefully defined.
Who are you? What is your identity? You are a mighty man of valor. God is inviting you as a Jerubbaal. He will rally an army around you to assault the enemy and to advance the Kingdom of God. Those who leave, and those leaders who aren't consulted, will most certainly accuse you.
That's okay. Go in this spirit of Jerubbaal and see God move in some of the most remarkable signs, wonders and miracles the world has ever known. You are invited, mighty man of valor, to be an instrument in God's hands in a dark and desperate world. This hour is yours.
Is it possible your church is risking revival by adopting Seeker strategies?
All these new methods of how to build the church has left me confused. ~David Wilkerson
It's easy to fall into the trap of believing revival is defined by an influx of new Believers into the church. After all, we see this happening in the great revival chapter of the Bible, Acts 2:
And day by day, attending the temple together and breaking bread in their homes, they received their food with glad and generous hearts, praising God and having favor with all the people. And the Lord added to their number day by day those who were being saved. Acts 2:46-47 (ESV)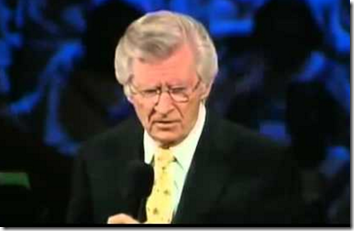 The ultra-simple protocol seems clear: Provide opportunities for the lost to get saved and as a result the church will grow. Ultimately, it is presumed, with enough such impact, that revival will land.
Unfortunately, many pastors are adopting this paradigm, and, due to the necessity it creates, they are also adopting many of the strategies that Seeker Sensitive churches are known for. Most of these pastors would be shocked and horrified at such an accusation. Yet, the truth remains that many pastors who are passionately pursuing revival are compromising that pursuit due to a misunderstanding of just how revival will come.
Friend, the ultimate goal of revival is not a church full of new Christians. It's a church full of the presence of the Holy Spirit and an army of fully surrendered burning men and women of God. You'll know revival has hit when the church is full of people who can't stop praying on fire, which is a key evidence of legitimate salvation. The desire to be with God night and day consumes us!
The Seeker model results in some very tempting false positives. Keep the bar low, the atmosphere naturally familiar and the pace slow and you absolutely can gather a crowd of people who are interested in Jesus. Churches can become mega in size, leaders can gain a reputation of success and a lot of people can entertain an affinity for God as their busy lives allow.
I could buy a large building, fill it with comfortable leather couches and serve the best coffee in the city for half the price of everybody's favorite chain. Add in some connection opportunities, possibly some live entertainment and some ten-minute sermonettes and I would have a large group of people almost overnight.
Or, I could call a prayer meeting and wait for the remnant to show up.
5 SEEKER STRATEGIES THAT THREATEN REVIVAL
1. A Non-Threatening Environment
The purpose of the church, including the Sunday service, is not, nor has it ever been, to draw in visitors. It is not to be an evangelistic tool.
The purpose of the church is clear in Scripture. It is to be a Believer's intercession meeting with a focus on the nations.
And he was teaching them and saying to them, "Is it not written, 'My house shall be called a house of prayer for all the nations'? But you have made it a den of robbers." Mark 11:17 (ESV)
When I was pastoring several years ago, I became increasingly frustrated with our pre-service prayer. I have always held raging, explosive intercession for one hour before the start of every service. I started this as a youth pastor and continued as a senior leader.
I wasn't frustrated with participation because people filled up that room every week. It was often my favorite part of the day. I wasn't frustrated with the level of passion or focus. The roof regularly came off that prayer room.
My frustration hit after a simple revelation. If the church is a house of prayer for all nations, why was prayer intentionally scheduled to end when the church service began?
I have always been aggressively given to prayer. I've taught on it, written a book and innumerable articles and based a school of ministry on it—yet I was embarrassed by my error.
The obvious reason why a fiery prayer meeting would end prior to the start of the service was because many people who would be uncomfortable in such an atmosphere would feel out of place. It seemed right. It felt appropriate that we would be sensitive to the seekers who might not enjoy such a supernatural environment. Oh how that human wisdom grieves me today!
My job as a leader is not to create an atmosphere that is naturally familiar! It's to invite everybody into a shocking, burning atmosphere of Holy Spirit activity that will cause the flesh to cringe and spirits to explode!
The most important shift I ever made in church ministry was to extend the hour of pre-service prayer right into the first half of the service! When the service began, the firebrands were already on their face, pacing the room, praying in tongues, dancing and shouting and declaring the Word of the Lord with boldness. The previous hour of fire would launch the beginning of the service like a rocket. Not only did we start the service with raging intercession, we also moved musical worship down a notch. It would come in later, after prayer set the foundation for the rest of the service. The service was finally a prayer meeting; the church, a house of prayer.
My promise to those under my leadership has always been clear: I refuse to tone down the activity of the Holy Spirit out of respect of those less hungry. This means we must promote an extremely threatening, costly, uncomfortable church atmosphere that results in only the hungry and surrendered locking in.
You see, the church wasn't "added to daily" through natural means. Don't forget how it all started:
When the day of Pentecost arrived, they were all together in one place. And suddenly there came from heaven a sound like a mighty rushing wind, and it filled the entire house where they were sitting. And divided tongues as of fire appeared to them and rested on each one of them. And they were all filled with the Holy Spirit and began to speak in other tongues as the Spirit gave them utterance. Acts 2:1-4 (ESV)
2. Overemphasis on Connecting People
So often today, churches are marketing themselves as the perfect place for YOU. YOU matter. Come as YOU are. We have saved a place for YOU. I have to wonder if it's a club or a church, a place for natural man or our magnificent God.
Again, the primary goal of the church is to nurture a habitation for the Spirit of God to dwell and for the people to pray for the nations.
I cringe at church marketing strategies that emphasize just how well I would fit in if I attended their church. Pastor, it's not about me! Tell me how much Jesus is glorified and how massive your vision is for prayer, revival and Kingdom advance and then I'll get excited. The moment I hear about how special I am and just how I can fit in is the moment I realize filling seats is a little too important.
My favorite church growth strategy actually results in an empty church building, not a full one:
As soon as Solomon finished his prayer, fire came down from heaven and consumed the burnt offering and the sacrifices, and the glory of the LORD filled the temple. And the priests could not enter the house of the LORD, because the glory of the LORD filled the LORD's house. When all the people of Israel saw the fire come down and the glory of the LORD on the temple, they bowed down with their faces to the ground on the pavement and worshiped and gave thanks to the LORD, saying, "For he is good, for his steadfast love endures forever." 2 Chronicles 7:1-3 (ESV)
The church doesn't need seats filled with people who receive a gold star for showing up. We need pavement people! Those who will hit their face on the pavement and declare God's goodness! We need an army to stand in position, ready to train and do battle against the enemy! Warriors are needed to assume the position on their knees in intense, Holy Spirit-driven prayer!
I don't know how many times I would get excited when a small group of prophetic, prayer-fueled warriors showed up for a church service because I knew we were actually going to get something done!
And, yes, a function of the church does include ministering to orphans and widows. Without question that must happen, but not as a foundational goal. First comes a culture of raging, burning prayer, and then we can invite the orphans and widows into that blaze!
I propose eliminating most strategies and programs that focus on connecting people and drawing them in, and starting giving much more energy to prayer and training the remnant, which brings me to my next point:
3. Underemphasis on Training People
And Jesus went throughout all the cities and villages, teaching in their synagogues and proclaiming the gospel of the kingdom and healing every disease and every affliction. When he saw the crowds, he had compassion for them, because they were harassed and helpless, like sheep without a shepherd. Then he said to his disciples, "The harvest is plentiful, but the laborers are few; therefore pray earnestly to the Lord of the harvest to send out laborers into his harvest." Matthew 9:35-38 (ESV)
Jesus had compassion on those who were ready to become part of the remnant church. Trained laborers are needed to fan the flames that revival ignites in people's lives.
The plan is simple. Train laborers in fervent prayer, the prophetic, revival, the Kingdom and other key disciplines while simultaneously praying in the Spirit together several hours every week. Then, invite the harvest into those prayer and training sessions and watch them get set ablaze!
When I was leading Revival Church in Detroit, we had a powerful, prayer based ministry school called theLab. It was an intense, three-month training program that was required for anybody who wanted to serve in any capacity in the church. We strongly encouraged every member to enroll in the school. It was in this furnace of intercession and discipleship where the vision was caught and the passion for Jesus consumed them.
I believe we need intensives like that one at the foundational level of every church. It will quickly identify those who are merely socially or naturally interested while revealing your remnant warriors, those who can take their place on the wall of intercession in the house of prayer.
4. Being Naturally Familiar
The church is a strange, other-worldly entity. It is meant to be unusual, supernatural and confounding to human intellect.
And all were amazed and perplexed, saying to one another, "What does this mean?" But others mocking said, "They are filled with new wine." Acts 2:12-13 (ESV)

But Peter, standing with the eleven, lifted up his voice and addressed them: "Men of Judea and all who dwell in Jerusalem, let this be known to you, and give ear to my words. For these people are not drunk, as you suppose, since it is only the third hour of the day. But this is what was uttered through the prophet Joel: "'And in the last days it shall be, God declares, that I will pour out my Spirit on all flesh, and your sons and your daughters shall prophesy, and your young men shall see visions, and your old men shall dream dreams; even on my male servants and female servants in those days I will pour out my Spirit, and they shall prophesy. Acts 2:14-18 (ESV)
I believe there is a day coming when worship will be mostly sung in the Spirit. Groans of intercessory worship will radiate out of the people. Screens with words that assist with karaoke sing-alongs in today's church experience will go dark as remnant intercessors are erupting with spiritual songs.
Prayer will follow the same pattern as English (or the language of the culture) gives way to tongues of fire! Prayer lists will no longer be needed as people prophetically cry out and decree the prayer on God's heart in perfect sync.
In this atmosphere, the desperate and unsaved will yearn for God as they cry out in repentance and hit the floor in tears under the weight of an invisible Savior. We are a peculiar, supernatural people!
…But ye are a chosen generation, a royal priesthood, an holy nation, a peculiar people; that ye should shew forth the praises of him who hath called you out of darkness into his marvellous light: 1 Peter 2:8-9 (KJV)
Such a spiritual Sunday morning experience is rare even in churches that would laugh if you suggested they have adopted seeker strategies.
The simple litmus test is this: Are we doing anything to make visitors comfortable that would be different if everybody was a part of the on fire remnant?
Are the teachings deep or shallow?
Is prayer low key or moved to a different part of the day or week?
Is the atmosphere intentionally not "scary" or strange to ensure visitors are welcomed?
5. Lack of Fiery Preaching
I'm not about to put up a silly skit and preach a 15-minute message on 'how to cope' to a multitude of people who are dying and going to hell. I tremble at the thought. ~David Wilkerson
Those who are zealous for Jesus and who are part of the remnant absolutely crave in your face, challenging, convicting sermons.
It's time we stop apologizing for preaching hard truth and deliver what is necessary to refine and prepare the people.
The remnant church is quickly becoming bored with all of the teachings that are directed at the seekers and marginally interested. It's time for bold, prophetic preaching to erupt from our pulpits again!
We are so easily offended today. I say, let the truth offend and clear the pews of the pretenders! They are a risk to revival and are costing the hungry the meal they so desire.
If our preaching doesn't often result in some running out into the parking lot with cursing, at the same time others run to the altar in tears, something is wrong.
I'll never forget the time I was a guest speaker at a church and was preaching with an extremely sharp edge on the reality of Hell. I made clear that Christians are at risk of an eternity there if we aren't sober and alert.
Suddenly someone in the back started shouting and cursing me. They ran into the foyer and then out the door screaming into the parking lot.
When anointed preaching lands, there is a spiritual reaction that can't be denied.
Pastor, when you preach truth it will be controversial. It will trouble. It will cause some of your best tithers to leave the church. It will result in a continual disturbance in your ministry.
Do you know what Finney did? Finney preached sometimes, and the whole congregation got up and walked out on him. That's a good meeting! He sent them out horrified! I only preach for two reasons these days: either to send people out that door blazing mad at me or blazing with the peace of the Holy Ghost! That's all! ~Leonard Ravenhill
There are many other seeker strategies that put revival at risk. These are but a few. I want to challenge you to let our holy God grip you. Burn with fire so hot that flesh can't stand in your presence. Preach with a tremble in your voice. Shock and shake a dead religious culture with truth. Love people deeply but build the ministry around God. Minister to him first and watch the nations report about the strange and wonderful things that are happening in your region!
Are we ready for an Acts 2 style outpouring of the Holy Spirit in our churches?
There's an ongoing discussion on my Facebook wall about this issue. I felt it would be   good to broaden the discussion and see what some of you might bring to the table.
I'll paste some of the comments first, and then present my thoughts:
Original post- Have you noticed how focus on the Holy Spirit, speaking tongues, ,etc. has been minimized in the church today?

Yep, noticed it! The enemy doesn't want us uttering the mysteries of God!
Yes sir. It's easier to have a "seeker" driven service, than to Preach a Prophetic message under the Power of the Holy Spirit. That takes time in the prayer closet-the former can happen with a slick marketing team (sometimes hired as the "pastoral" staff).
There definitely has been a move away from experiencing the Holy Spirit. On the other hand, the use of tongues in the 80 got so beyond what scripture says. It was pretty abused.
That may be true, but we are entering a Decade where there will be a parting of the waters. Those who have been trained AND utilize the weapons of the Spirit will thrive; others will suffer much pain.
I just heard a George Barna stat about this recently less than 2% of the churches will hear their pastor preach a message on the Holy Spirit this year. Its alarming.
A couple of years ago I heard leaders from a main line denomination speak at a Rocky Mountain regional meeting for that denomination. The leaders saw that the denomination that they led was becoming Spirit Filled in name only. They felt the need to see 500,000 people receive the Baptism of the Holy Spirit. Yet the churches in this region still take the approach of the Holy Spirit isn't for Sunday morning approach. Its scary.
Interesting, the Holy Spirit in benched on Sundays…until we need a big play, then he get's play time like Michael Vick…what a sad way to treat my Best Friend.
The Holy Spirit misses His church. He's going to get it back though.
Many pastors have been reduced to a role as MC and the show must go on, on schedule, or peeps won't come back.
Absolutely.. If people knew the incredible power that is released in you when you pray in the Spirit, they would never stop lol. I encourage it in those I teach. God bless.
My thoughts:
There are some realities that we need to consider:
From what I've discovered, a significant percentage of Christians, pastors and leaders included, don't easily hear God, encounter him. This makes it difficult to even consider embracing a Holy Spirit driven environment. Prayerlessness is a key reason for this problem. The average pastor prays 6 minutes a day. Leonard Ravenhill said, "Pastors who don't pray two hours a day aren't worth a dime a dozen." It's a difficult but important point that would be well worth considering.
In an environment driven by the Holy Spirit, these people who don't easily hear God can get quite frustrated. They will tend to find another place to go to church. So, the natural church preservation strategy is to minimize the invisible/supernatural and maximize the logical/tangible.
There has been a huge misunderstanding of the primary purpose of the church. Many feel it's to be a socially focused entry point for the lost. The church actually isn't to be a house of evangelism or a house of relationships. It's a house of prayer first and foremost. It's a believer's ministry. We have lost faith that God, in his wisdom, set it up this way. If we truly have a church of people who are releasing the 'groans that can't be uttered', who intercede for the nations, who pray in the Spirit, then we will have the 'expected outcomes' of mass salvations, a huge harvest, life-giving small groups, etc.
There can be a knee-jerk reaction to the problem of people who abuse freedom in such an atmosphere. Trust me, I understand the issue of people who just want to be seen and heard, who are manipulative, who are emotionally unstable or who operate in charismatic witchcraft. But, the answer is not to shut down a prophetic, Holy Spirit driven environment.
The focus on teaching. I'm a teacher, I love to teach and I value greatly the ministry of teaching. However, I think a valid question is, "Why are most church services teaching-centric?" If the Holy Spirit breaks out, if there's deliverance going on in the room, of a spirit of intercession erupts, would people be OK with forgoing the sermon? The Holy Spirit (the Teacher) can impart more biblical truth in two seconds than we ever could in two hours.
What do you think?