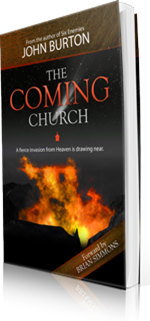 Are you among the remnant people who will embrace the firestorm from Heaven that will bring revolution to the church?
We need a reformation in the church of the Western culture—and fast. I'm not talking about a tweak or adjustment, but rather a costly, troubling, invasive, offensive and radical change to what we know as the church. A firestorm from Heaven is coming, and only those who are ignited in that fire will embrace the coming shift. Religious traditionalists and those who are resistant to the deeper call will sadly reject this transition. This is why we must prepare the people under our care now! The Holy Spirit wants his church to be ready!
This great end-time verse has universal application:
Let us rejoice and exult and give him the glory, for the marriage of the Lamb has come, and his Bride has made herself ready; Revelation 19:7 (ESV)
Sunday go to meeting church was great for previous generations, but it's gotten us as far as can go. A revolution must come. That revolution will come from within the local church, however, not in spite of it.
I can't imagine not attending a local church with a faithful, passionate pastor leading the way. I am an unapologetic, determined supporter of the church in its current form, and I am excited about seeing reform emerge from my view in the pew on the inside. Sadly, too many are disconnecting from their local church, presuming an advance into culture without its restraints is somehow more spiritual. They are hurting, not helping, the cause of revival.
I was talking with my pastor and good friend today about this issue. He affirmed the importance of being a champion of the local church, and I fully agree. More than ever I want to go above and beyond in my communication to ensure everybody understands my heart regarding the local church. Talk of reformation can easily give fuel to the anti-church crowd, and we must avoid that at all costs. Without the local church, we will have little hope of seeing the revival that we so desire last more than a year or two—if it even sparks at all.
Often, my quick, 140 character, social media quips may give the impression that I'm anti-church. Please forgive me if I have done this! That grieves me deeply! That couldn't be more opposite of my actual belief system and heart! I am contending for powerful local church explosion and the strength and honor of pastors here in Branson, Missouri and in every city around the world! The anti-local church/anti-pastor crowd is doing great damage to the Kingdom and I can't afford to be counted among them.
So, to clearly communicate my position so there is no misunderstanding whatsoever:
I fully embrace and support the local church, and I endeavor to honor pastors and leaders unreservedly. From that place, with a healthy and pure heart, I also embrace reform.
As we prepare for the coming revolution, we all must be connected in a local church that's led by anointed, Spirit-driven leaders. That's non-negotiable. The coming reformation requires we are zealously submitted and devoted as the shift draws near.
That being said, I need to write a raw, unrehearsed message about the growing threat that the current local church wine skin can be to revival. Instead of being a strategic support to city-wide revival, it's at risk of hindering the cause. As we proceed toward a reformed model and a new wine skin that can hold the new move of the Holy Spirit, the resulting shock will be a catalyst for an immeasurable move of God that has yet to be imagined.
What I'm going to share will certainly require a full blown reformation in the church if we are going to see revival come. Church as we know it must come to an end. God isn't planning on enhancing the church systems that are already in place—he's planning on eradicating many of them for the sake of something so otherworldly that few will even recognize it as the church—and many will resist with religious fervor.
The cost will be great and most will reject it, yet God is raising up a hidden remnant that will be a clear and present danger to the religious systems that refuse to bend.
From my book The Coming Church:
We soon won't be able to define going to church the way we do now. God is coming to reform, to crush structures of old for what is to be introduced very soon. Our call isn't to stand strong until the shift comes, it's to prophetically sound the alarm and awaken those at risk! God is coming!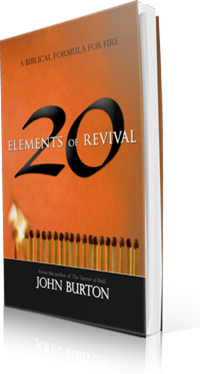 From my book 20 Elements of Revival:
There are over 19,000 cities in America, and not one of them is experiencing revival. Some have pockets of Holy Spirit activity, and certainly there are true moves of God dotted all across the land—but there are no cities that are fully engulfed in revival. No cities have been taken—yet.
In order for us to experience revival in the church, we have to understand that it's going to occur at the city level, not the local level. Why? The church is Scripture is identified by the city, not by the street corner. For example, we have the church at Ephesus, the church at Corinth, etc.
Instead of hundreds of churches in a city, John identified a total of seven church in all of Asia at the time. They were designated by cities. Certainly there were many local expressions within the city, but they weren't entities unto themselves. They were a part of a greater whole.
John to the seven churches that are in Asia: Grace to you and peace from him who is and who was and who is to come… Revelation 1:4 (ESV)
This is why reports of revival that are limited to a single local church must be viewed as a single piece of a much greater movement. Unfortunately, local church moves of God, as wonderful as they are, rarely impact the city, much less the world, and ultimately they die out.
The local church cannot be an end in itself. The local expression isn't to be the primary experience for Christians. It's one gear inside of a massive machine. It's one leg of a table. It's one organ in the body.
For most Christians, the Sunday service is the epitome of their church experience. It's the greatest experience of the week. This must change! The church culture they are participating in must evolve from local only to local/regional. The coming fire of God will most likely ignite outside of their local, Sunday experience, and they will need to be right in the middle of it when it happens. This means they must be connected regionally and not only locally.
If fact, when I was giving leadership to Revival Church, I communicated regularly in our services that the spark of revival would most likely not occur in our church. Statistically, it wasn't probable. Others in the city were contending for fire to fall in their churches too. Why would we presume our church, instead of any of the other hundreds in the city, to be the landing point God would choose for the region? A regional outpouring would gather people together from many churches. That means they'd move out of their local church and into another location with their pastor and others in their congregation to join with the rest of the city church.
When the fire fell in Brownsville, the other churches of the city should have cancelled most of their services so they could have joined others around the fire. The same is true for Lakeland, Florida and Toronto and other places where God moved in a single location.
While we were contending for revival to erupt, we were doing so with the city in mind, not our local expression. The goal wasn't a move of God in our church. That would be too limiting and even self-serving. I was going after an entire city. The God of the city was on the move, not the God of Revival Church alone.
I explained that, when that spark of revival lit in another church or ministry somewhere in the city, we'd have no option but to excitedly lock arms with that church and serve the work of fanning the flames. At that time, the instruction would be to cancel as many of our services as necessary to join with the movement in the city. If we and other churches didn't do that, the flame would die out.
To give you a better understanding of why the local church is in such a critical place of either being a hindrance or catalyst to revival, I need to spend a little time explaining what the reformation may look like.
THE COMING CHURCH
What is coming to the Church is not an enhancement or an adjustment. The destruction (or we could use the word deconstruction) will be so comprehensive and total that it will not only remove current structures, but also the faulty foundations (anything other than the foundation of Christ) they were built on. The coming Church will look nothing like the Church we now know.
Disgruntled people are leaving churches by the thousands, frustrated with their experience. These people must not leave the church. They must surrender their desires and lay down their lives for the church! If today's disappointed Christian can't withstand this current low level, marginally supernatural structure, what will they do when the fireball from Heaven crushes them fully? What will their response be when they are called into the humbling ministry of nameless, faceless night and day prayer? How will they react to an atmosphere of groans and cries of deep repentance and Holy Spirit intercession that cuts to the heart? What will happen when they are called to lay down their lives for the very system they despise?
In my book The Coming Church, I detail several key changes that are coming to the local church in the reformation. Here's one:
Local churches will be regionally focused. The level of impact that the rock from Heaven will bring will not be confined to local churches. Pastors and leaders will stop focusing mainly on developing their own local ministry and will instead shelve much of what they did in the old church model and focus on serving the regional mission. The local will give way to the regional as leaders lead the people into encounter, into regional mission and into the greater vision of revival and reformation. The spirit of Pharaoh that focuses on personal goals and keeping people locally focused will give way to the spirit of reformation and Kingdom advance that was manifested through Moses and Joshua. (Read more about this in my book Pharaoh in the Church.)

In the coming Church, we will be entirely focused on God showing up and visitors being troubled, not the other way around. The only way we can impact the people of the world is if we jealously guard the ark, God's presence. The coming Church will result in a ferocious invasion of God's presence into the Church, and this will result in a mass exodus of the naturally minded and lukewarm.
The remaining remnant will automatically have a regional, city focus. They will zealously submit to local church leadership while simultaneously advancing with others under apostolic and prophetic leadership on a city level. There won't be any conflict or competition. The local will serve the regional and the goal of revival will be common among all.
On the other side of the reformation I believe we will see clear, anointed, governmental and biblical leadership on a city level. Pastors will be submitted to apostles in the city, not only those in their denominational headquarters. The church will run with great precision as everybody is on the same page, often in the same place and functioning according to their specific role in a clearly communicated grand design.
AN EXAMPLE OF HOW THE CITY CHURCH MIGHT FUNCTION
SUNDAY MORNINGS
As an example, people will be in their local churches on Sunday mornings, as their local pastor leads in fervent prayer and worship and trains for battle after receiving key instructions from city apostles. These wouldn't be seeker focused events, but rather furnaces of Holy Spirit activity that would result in a tremble in the people!
SUNDAY EVENINGS
Sunday evenings the local church pastors and those in their congregations would join with the other Christians in the region in a large venue such as a convention center or possibly the largest church building in the city where the apostles of the city cast vision, instruct and keep everybody on the same page.
MONDAYS
Mondays would be devoted to several hours of prayer in the larger venue as the apostles, prophets, pastors, teachers and evangelists publicly lead people into intercession for the region.
TUESDAYS
Tuesdays could be devoted to teaching specific to what God was revealing the previous two nights. Teachers in different parts of the city would gather people together for a few hours of small group instruction.
WEDNESDAYS
Fellowship and personal ministry would fit great mid-week. People could gather together in small groups and simply have fun, pray for one another and encourage each other in the battle. This would most easily function under the leadership of the individual local churches.
THURSDAYS
Outreach and various ministries could be the focus of Thursdays. Some teams would hit the streets to witness while others would minister deliverance while still others could hold events for children and youth.
FRIDAYS
Prophetic training and impartation would be an important part of the week. God will reveal key regional strategies to prophets and apostles, and as they communicate that and train people in the prophetic, the city church will grow stronger, more powerful, precise and activated.
FRIDAY NIGHTS
All night prayer, from 10pm until 6am, would be attended by all, either in the large venue or spread out in homes and local churches throughout the city.
SATURDAYS
Rest!
Of course, days and actual focuses are interchangeable, but you get the idea.
With this model, pastors of local churches don't have to fulfill every need for the people under their leadership as they release and lead them into other venues for growth and training. They literally only have to lead one or two events per week. The rest of the time they are getting filled, serving in other capacities and supporting the greater regional vision.
Similarly, teachers will have a constant outlet to teach, and they will do so under the leadership of the apostolic leaders of the city. They will train people according to what is timely in the city. The same is true for the regions prophets and evangelists.
This also means most Christians will be involved in regional ministry, in several different venues, under different unified leaders, six days a week. The church will be strong, alert and at the ready.
Additionally, apostles and leaders in the region will have the flexibility to call special meetings, solemn assemblies and other events with the confidence in knowing every Christian in the region will respond.
15 Blow the trumpet in Zion; consecrate a fast; call a solemn assembly; 16 gather the people. Consecrate the congregation; assemble the elders; gather the children, even nursing infants. Let the bridegroom leave his room, and the bride her chamber. 17 Between the vestibule and the altar let the priests, the ministers of the LORD, weep and say, "Spare your people, O LORD, and make not your heritage a reproach, a byword among the nations. Why should they say among the peoples, 'Where is their God?'" Joel 2:15-17 (ESV)
Wow! Everybody had to respond to the regional call to pray. Even those who were nursing infants or getting married had to cancel their plans and gather together for the sake of their nation. No excuses allowed!
We need instant, regional response again today.
SEVEN WAYS THE LOCAL CHURCH CAN BE A CATALYST FOR REVIVAL
ONE: MINIMIZE BUSYNESS
There are a lot of tired pastors and people in churches today because of overstuffed, inflexible schedules. It's common to fill church schedules with all sorts of programs and ministries, special events and other activities. It's true that a lot of wonderful ministry occurs at the local church level, and it's easy to expend a lot of time and energy on those activities.
The problem comes when a call for the church of the city (which is how the church is defined biblically) needs the participation of Christians in the region to support a greater cause.
I propose, with few exceptions, local church schedules should be flexible enough to cancel in a moment's notice so the people can be released to attend to regional church focuses.
15 Look carefully then how you walk, not as unwise but as wise, 16 making the best use of the time, because the days are evil. 17 Therefore do not be foolish, but understand what the will of the Lord is. Ephesians 5:15-17 (ESV)
TWO: UNDERSTANDING REGIONAL PRIORITY
I was part of a large, city-wide event that was to be held at the Palace of Auburn HIlls in the Detroit area. Unfortunately, the event had to be cancelled because pastors wouldn't release the people under their care from their Wednesday night church responsibilities to attend.
Not only should the pastor have released his people, he should have led the charge!
How unfortunate that a lesser, local church weekly service kept people away from the more important regional event.
When regional prayer events, revival meetings or other key, strategic meetings are called, it's critical that the local focus yields.
We must see a time come when every pastor and every Christian in the city shows up at the city events. Solemn assemblies are nearly non-existent today due to misplaced ministry priorities.
 Consecrate a fast; call a solemn assembly. Gather the elders and all the inhabitants of the land to the house of the LORD your God, and cry out to the LORD. Joel 1:14 (ESV)
THREE: REJECTING A FOCUS ON SURVIVAL AND LOCAL CHURCH GROWTH
Instead of focusing on the success of the regional church and the advance toward revival at that level, local churches are often focused mostly on growing or surviving themselves.
If we were honest, we'd admit primary reasons we as pastors and leaders might not want people under our care involved in other ministries and churches is because they might leave and take their money with them. I believe this insecurity is a serious violation of the trust God has given us as leaders. We must have open hands and encourage people to move in and out of our local churches easily so they can fulfill their vision, and the city vision, instead of our own.
FOUR: RELEASING RESOURCES
Regional events and ministries often need the people who are part of the various local churches in the city to serve. People, finances, time and energy are often guarded by local churches which leaves regional assignments under-resourced. They often fail.
Several years ago, I knew it was critical to cancel my own church plans for a month so people could be free to serve at a regional revival event about 40 minutes away. It would have been inappropriate for me to keep them focused on our own local church ministries when the fire was lit elsewhere. The regional event needed intercessors to support that move of God, so I eagerly released those precious resources, amazing prayer warriors, along with any finances they wanted to give there, to undergird that regional event.
And having sent into Macedonia two of his helpers, Timothy and Erastus, he himself stayed in Asia for a while. Acts 19:22 (ESV)
FIVE: REFUSE TO GIVE IN TO JEALOUSLY, OVERPROTECTIVENESS AND RESISTANCE
As I stated above, the revival in your region most probably will ignite in a church other than your own. We must avoid the temptation to be jealous if that happens. We also can't be so nervous about other people, visiting evangelists or other leaders that we resist or avoid what is happening through their ministry.
I've been involved in true moves of God that died out simply because leaders were taking a wait and see approach to it. They were nervous about what was happening there—for no reason. They held back and pressured people in their church to stay put. I've shared about my experience in Detroit before. God was moving. Pastors were resisting. I'm still grieved about that. Jealousy will kill a move of God, and it will bring judgment speedily.
8 And Saul was very angry, and this saying displeased him. He said, "They have ascribed to David ten thousands, and to me they have ascribed thousands, and what more can he have but the kingdom?" 9 And Saul eyed David from that day on. 1 Samuel 18:8-9 (ESV)

The next day a harmful spirit from God rushed upon Saul.. 1 Samuel 18:10 (ESV)
SIX: SUPPORT GREATER GROWTH
If people are limited to connecting at a local church level, their growth can't help but to be stunted. Today, few are ready for revival because local churches are, by design, only focusing on a limited set of tools they are equipping their people with.
I can't imagine, as a leader, only sitting under one pastor and being limited in my growth to their awesome yet limited strengths. While we are called to radically support and serve a local pastor and body, we can't stop there. I believe it's important to connect in various churches and ministries in a region on a regular basis. Not only can we grow much faster, we can connect local churches together and experience greater strength on that regional level as well.
SEVEN: UNDERSTAND LEVELS OF AUTHORITY
Senior pastors of a local church are not the senior authority in the region. It will take quite a reformation for us to step into city-church government, but we can start now by acknowledging that leaders on a regional level must have the support and participation of the more localized leaders.
Apostles are the gatekeepers of a city, and it's critical to know who they are if we are to advance toward revival.
Peter Wagner says:
…recognizing and affirming apostles of the city might well be the most vital missing link for seeing our cities truly transformed.
Several years ago I worked as a supervisor at a T-Mobile call center in Colorado Springs. There were over 1500 employees, and it required at least 50 supervisors to manage that many people. I was the local leader, if you will, of my group of 25 employees. It was quite obvious that I was not the senior leader of T-Mobile. I had certain liberties to lead according to my style and local vision for developing my team, however, there were both limits to that freedom and serious expectations. I reported to one of a handful of managers, who in turn reported to the Associate Directors. That small team reported to the Director of the call center. That wasn't the end of the org chart, but you get the idea.
My job was important, and I had limited authority, and a lot of responsibility. However, I could only function in that authority as I submitted to the greater authorities. The Director of the call center was, in effect, the gatekeeper of the call center. It was an important position.
The authority structure wasn't there to stroke egos or to build individual departments of the call center. It was there to most successfully impact the world with cell phones!
The same is true for the church, but the mission is much more serious and important.
Today, pastors are often only submitted to denominational leaders that aren't even based in their city. They leapfrog city authorities, and, in turn, ignore the call for them to lead the people into regional assignments.
I agree that such a reformation that I touched on in this article will be extreme. It won't happen overnight, or even in a handful of years.
What can happen immediately, however, is that we embrace the shift and come into agreement to serve the city church and to advance toward revival at that level.
A local church move of God will be wonderful, but it won't last. We must see a foundation built regionally that will support a massive move of God.
Maybe your region will be the first of 19,000 that will see the church of that city set ablaze in revival!