Posts Tagged 'oprah winfrey'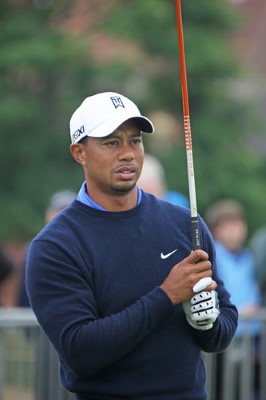 Pray fiery prayers for Tiger Woods
Los Angeles County Sheriff Alex Villanueva said Woods is "lucky to be alive."
My heart goes out for Tiger Woods who was involved in a tragic car accident today. With the gut-wrenching death of Kobe Bryant not far behind us, news like this hits the raw, exposed nerves of our rattled nation. Of course, as so many are communicating, we must pray for Tiger right now. Yet, I'm suggesting our intercession go far beyond a petition for his physical healing.
Fight @tigerwoods like the champion you are for your kids and the world. Love and prayers

— Mike Tyson (@MikeTyson) February 23, 2021
Prayers up for @TigerWoods — Baker Mayfield (@bakermayfield) February 23, 2021
Praying for @TigerWoods My thoughts are with you champ!

— Sugar Ray Leonard (@SugarRayLeonard) February 23, 2021
Fox Sports reports
, "The sports community was rattled on Tuesday shortly after news broke that
golf
legend
Tiger Woods
was involved in a serious
car wreck
. Woods, 45, suffered "multiple leg injuries" after being involved in a "single-vehicle roll-over" collision on the border of Rolling Hills Estates and Rancho Palos Verdes at around 7:12 a.m. local time, according to the Los Angeles County Sheriff's Department and his agent Mark Steinberg."
IT'S TIME FOR AWAKENING TO COME TO OUR NATION'S CELEBRITIES AND INFLUENCERS
I'm grieved in my spirit any time I hear reports like this. Just the other day I was watching a video of a celebrity dropping an F-bomb from her hospital room, clearly shaken as she was about go undergo major surgery. After a very short recovery period, she entered eternity. She was gone. Today she is very much alive and alert in her eternal home. I'm grieved at just where that may be. I wish I could express how deeply such news impacts me. News of Tiger's accident today should make it vividly clear that we are all mere inches and moments away from our spirit leaving our body and either entering into God's glorious presence — or into the maddening torments of hell. I don't know where Tiger is spiritually, but if he isn't zealously in love with Jesus and wildly surrendered to him, it must happen immediately. Tiger, if you are reading this, I implore you to grab hold of God's hand as he draws you into his heart. His passion for you is immeasurable. Yes, prayer for physical healing is absolutely appropriate, and as Christians we know that God has quite a track record for stunning, miraculous, divine healings. He's been delivering the shock and awe of his healing power for thousands of years. Yet, as incredible as a physical healing is, it lasts for but a time. We need to shift our focus from the temporal to the eternal. Every one of us will be living forever somewhere. One hundred years from now we will all be alive and alert either with God or with Satan. A million years later and we will be in the very same place. It's a message that fewer and fewer preachers are sharing today, yet it's critical truth that can't be denied. Either heaven or hell awaits.
REVIVAL IS OUR ONLY HOPE
This is the church's greatest hour, an opportunity to rise up in fervent intercession and supernatural faith for a massive move of God in our nation. Literally and without any exaggeration, revival is America's only hope. It's time that we see heart-wrenching repentance overwhelm all of us. There's no way we can expect our nation's celebrities to hit their knees and surrender all to Jesus if the church doesn't push back the enemy and go to battle for their souls. We have been called to live pure and holy lives, to embrace radical consecration, to go deep in God and to pave the way for culture-shocking, earth-shaking revival. I yearn for the day when we see celebrities overcome with emotion as they lift their hands in undone worship. I long to see Michael Jordan, Charlie Sheen, Tom Cruise, Oprah Winfrey, Nancy Pelosi, David Letterman, Adam Sandler, Tiger Woods and so many other influencers lifting their hands in passionate worship of Jesus as tears stream down their cheeks. I so deeply desire to see them free, alive and transformed by the overwhelming love of Jesus. Holy Spirit, move on them and bring an awakening to their souls!
A REVELATION OF JESUS
When Jesus manifests in a person's life, everything changes. Of course, after experiencing the glory of God in my own desperate life it troubles and saddens me beyond words when others reject such a great
salvation
. There is nothing that compares to knowing God. Nothing. Fame, fortune, power and the lusts of life are pathetically devoid of what only God can give. Encountering such a holy, omnipotent, supernatural entity that fills his days with thoughts of love for me results in rivers of tears and oceans of gratitude that no human words could ever express. If it hasn't happened already, I so desire for Tiger Woods to know the lover of his soul, Jesus, like this. I want God to visit him, to transform him, to wash away the pain, to heal his body, to touch his heart and to overwhelm him with love. I pray the forgiveness of his heavenly Father will flood his soul as he gladfully surrenders all. A revelation of Jesus (not just knowledge about Jesus) will result in a never-ending tremble within. Something in the neighborhood of billions of pounds of despair, heartache,
sin
, fear and everything else that troubles mankind will dissipate in a split second at the moment we lift our hands, hit our knees and release control of our very short lives to God. This is what I pray happens for Tiger, Michael, Oprah and the rest. One second in the presence of God is all they need. The first second in the fires of hell, however, will result in nothing short of regret, hopelessness and terror. The thought of people saying no to Jesus rips at my soul. It's time to be an outspoken, fiery, zealous and undignified worshiper of Jesus. Church, we must rise up in intercession. There are terrible accidents planned well in advance by the enemy. He wants to rip us to shreds. He's bent on death and destruction. We can't play games anymore. People are inches and moments from eternity. Let's go to battle for their souls and see a mighty outpouring of the Holy Spirit hit Hollywood, the sports world, Nashville, Washington D.C. and our entire nation.
Photo credit: "Tiger Woods driver" by TourProGolfClubs is licensed under CC BY 2.0
Originally posted by The Stream.