Listen to the latest in what may be the most important series I've ever taught: Threat to Revival #7—Fear
FIRST: You DON'T want to miss our fourth annual Revival Church Christmas Dinner & White Elephant Gift Exchange!!!
Join us this Thursday, December 13th at 7pm for a night of Christmas family fun. Bring a main course and either a side OR dessert to share. Also, bring a wrapped gift valued under $10, one for each member in your family, for the white elephant gift exchange. It all happens at Revival Church, which meets at CENTRAL CHURCH, 1529 E. 12 Mile Rd, Madison Heights, MI 48071. Invite all of your friends and family!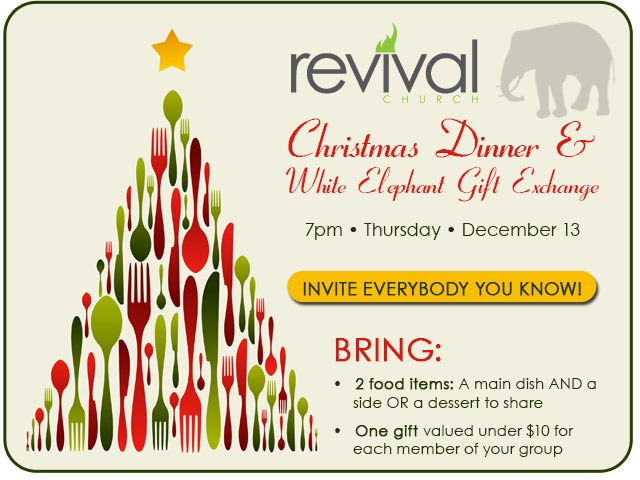 TEN THREATS TO REVIVAL: THREAT #7, FEAR
You can listen to last night's incredibly freeing message on the spirit of fear here: http://media.johnburton.net/5753783
Follow along with the notes here:
Threat 7. Fear of Loss
1. The greater our fear of God which comes through intimacy with him, the less our fear that's initiated by the enemy will be.
1. We won't fear loss… we will understand that loss is a part of the process. Don't protect what God may want to touch in your life.
2. Isaiah 8:11-13 (ESV) 11 For the LORD spoke thus to me with his strong hand upon me, and warned me not to walk in the way of this people, saying: 12 "Do not call conspiracy all that this people calls conspiracy, and do not fear what they fear, nor be in dread. 13 But the LORD of hosts, him you shall honor as holy. Let him be your fear, and let him be your dread.
3. The catch is this: If we fear God, the result is boldness and intimacy and power and confidence.
4. If we have a spirit of fear, the result is timidity, reclusion, weakness and insecurity.
1. Proverbs 19:23 (ESV) 23 The fear of the LORD leads to life, and whoever has it rests satisfied; he will not be visited by harm.
1. You could call the spirit of fear, slave fear and the fear of the Lord, son fear.
2. The fear of a slave is to cower; slaves want to run away from their masters. But "son fear" is something different; it motivates us to seek and please God.
3. "Slave fear" that drives us away from God is wrong; "son fear" that drives us toward God is right and proper.
2. In this next passage, God is saying not to have slave fear.
3. Exodus 20:18-20 (ESV) 18 Now when all the people saw the thunder and the flashes of lightning and the sound of the trumpet and the mountain smoking, the people were afraid and trembled, and they stood far off 19 and said to Moses, "You speak to us, and we will listen; but do not let God speak to us, lest we die." 20 Moses said to the people, "Do not fear, for God has come to test you, that the fear of him may be before you, that you may not sin."
2. Revelation 1:17-18 (ESV) 17 When I saw him, I fell at his feet as though dead. But he laid his right hand on me, saying, "Fear not, I am the first and the last, 18 and the living one. I died, and behold I am alive forevermore, and I have the keys of Death and Hades.
3. Nenien C. McPherson, Jr., says that the fear of falling and the fear of loud noises are the only fears that are natural to us. There are only two, he says, and all the rest are learned.
1. Satan coaches us into every other fear! He's our fear coach. He's our fear leader!
2. In generations past the fear for the Christian was the loss of life, today the fear is a loss of comfort.
4. Fear haunts people and hijacks their zeal and their focus on mission.
1. When we fear loss, our natural reaction is to shut everything else out and go into protect mode.
2. Fear is a disqualifier. It sends people home… their focus is on how to survive their own lives at home instead of being in the midst of the mission… the very reason they were born!
3. Judges 7:2-3 (ESV) 2 The LORD said to Gideon, "The people with you are too many for me to give the Midianites into their hand, lest Israel boast over me, saying, 'My own hand has saved me.' 3 Now therefore proclaim in the ears of the people, saying, 'Whoever is fearful and trembling, let him return home and hurry away from Mount Gilead.'" Then 22,000 of the people returned, and 10,000 remained.
1. When the call to run with a vision is presented, don't be surprised when people turn their focus to their own survival.
2. The song goes, I surrender all!!! If all is surrendered, we can't be gripped by fear of loss!
1. Our family is surrendered, our money is surrendered, our comfort is surrendered, our physical life is surrendered!
3. Manitou Springs-I was disturbed at the number of Christians that were afraid to even drive past that city! I was mad!
4. I needed the warriors to show up, to be bold, to lock arms with us and take a city—and they didn't even begin in the battle! Fear kept them away, and the flow to Hell kept streaming.
1. As a visionary, one issue that I constantly wrestle with is the job of selling the vision.
2. So much energy is used attempting to convince the church of the region that it's a good move to invest in revival. It's a benefit to them to participate. There's blessing if they run the race with us.
3. Come on! Where are the people who have matured beyond this? Where are those who need no reason to invest in revival other than the fact that people are going to Hell?
4. Where are those who fear not? Who simply show up to fight against the Kingdom of darkness? No fear of loss at all! People with fire in their eyes who know why they were born!
1. We cannot expect to win if we forfeit.
2. The church isn't primarily plagued with defeat, it's plagued with FORFEIT!
3. The Hebrews forfeited the Promised Land!!!! Fear!!!
4. Numbers 13:25-28 (ESV) 25 At the end of forty days they returned from spying out the land. 26 And they came to Moses and Aaron and to all the congregation of the people of Israel in the wilderness of Paran, at Kadesh. They brought back word to them and to all the congregation, and showed them the fruit of the land. 27 And they told him, "We came to the land to which you sent us. It flows with milk and honey, and this is its fruit. 28 However, the people who dwell in the land are strong, and the cities are fortified and very large.
5. Then what happens is that the true visionaries reject fear and call everybody to go, and there's division in the camp! The mission ends!
6. Numbers 13:30-33 (ESV) 30 But Caleb quieted the people before Moses and said, "Let us go up at once and occupy it, for we are well able to overcome it." 31 Then the men who had gone up with him said, "We are not able to go up against the people, for they are stronger than we are." 32 So they brought to the people of Israel a bad report of the land that they had spied out, saying, "The land, through which we have gone to spy it out, is a land that devours its inhabitants, and all the people that we saw in it are of great height. 33 And there we saw the Nephilim (the sons of Anak, who come from the Nephilim), and we seemed to ourselves like grasshoppers, and so we seemed to them."
7. They wanted to stone those who were responding to God's call to advance!
8. Numbers 14:23-24 (ESV) 23 … And none of those who despised me shall see it. 24 But my servant Caleb, because he has a different spirit and has followed me fully, I will bring into the land into which he went, and his descendants shall possess it.
5. The issue of fear is a HUGE one!
1. If we don't deal with fear now, when the threat to our lives increases, we will run home!
2. Mark 14:61-65 (ESV) 61 But he remained silent and made no answer. Again the high priest asked him, "Are you the Christ, the Son of the Blessed?" 62 And Jesus said, "I am, and you will see the Son of Man seated at the right hand of Power, and coming with the clouds of heaven." 63 And the high priest tore his garments and said, "What further witnesses do we need? 64 You have heard his blasphemy. What is your decision?" And they all condemned him as deserving death. 65 And some began to spit on him and to cover his face and to strike him, saying to him, "Prophesy!" And the guards received him with blows.
3. Mark 14:66-72 (ESV) 66 And as Peter was below in the courtyard, one of the servant girls of the high priest came, 67 and seeing Peter warming himself, she looked at him and said, "You also were with the Nazarene, Jesus." 68 But he denied it, saying, "I neither know nor understand what you mean." And he went out into the gateway and the rooster crowed. 69 And the servant girl saw him and began again to say to the bystanders, "This man is one of them." 70 But again he denied it. And after a little while the bystanders again said to Peter, "Certainly you are one of them, for you are a Galilean." 71 But he began to invoke a curse on himself and to swear, "I do not know this man of whom you speak." 72 And immediately the rooster crowed a second time. And Peter remembered how Jesus had said to him, "Before the rooster crows twice, you will deny me three times." And he broke down and wept.
4. There's been so much emphasis in the church on blessing and gain, that the spirit of fear has been able to settle into position, ready to pounce when the possibility of personal loss presents itself.
1. Attempting to minimize risk is not the answer!!!!
6. The church must again be a place of power that calls people to the edge as it plunders the kingdom of darkness!!!
1. A key reason pastors don't advance their churches into the experiential realm of encounter with God is that the risk of losing people, money and their reputation is high.
2. It's clear that a instituting a marginalized church culture is a much less risky option to develop a growing church in America. However, it's also clear that such a culture is void of power and miracles.
1. Revival will only come through a Biblical church that is costly, raging hot on fire and radically uncomfortable to our flesh.
3. The world isn't looking for another man-made system to join. In fact, the world does a much better job of building humanistic kingdoms than the church does.
4. We'll only see revival when we have the guts to call people into the wilderness of extreme encounter where the Fire and the Cloud leads them into a supercharged adventure.
1. Fear of loss must be replaced by an expectation of loss!
2. I surrender all! It's not, "I hope I don't have to surrender all!"
3. I die daily! It's not, "I hope I can avoid the death part of the program!"
4. I take up my cross! It's not, "I take up my blessing!"
7. The comforter
1. We were robbed
1. The enemy will actually cause blessing at times!
2. Promise of new computers
3. Story of getting robbed
4. Fear
5. At IHOP
6. The enemy wants to masquerade as the Holy Spirit… he's a false comforter.
7. He wants us to use him, to use fear as a means of protection.
8. This revelation was so powerful.
9. We were initially terrified to stay in the house, but that night I let God comfort me like never before… and I slept with overwhelming peace.