Posts Tagged 'charlie sheen'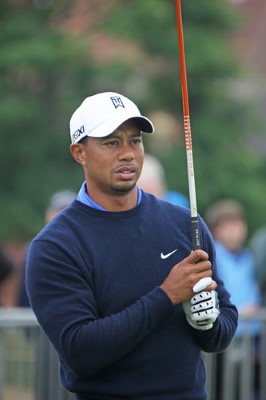 Pray fiery prayers for Tiger Woods
Los Angeles County Sheriff Alex Villanueva said Woods is "lucky to be alive."
My heart goes out for Tiger Woods who was involved in a tragic car accident today. With the gut-wrenching death of Kobe Bryant not far behind us, news like this hits the raw, exposed nerves of our rattled nation. Of course, as so many are communicating, we must pray for Tiger right now. Yet, I'm suggesting our intercession go far beyond a petition for his physical healing.
Fight @tigerwoods like the champion you are for your kids and the world. Love and prayers

— Mike Tyson (@MikeTyson) February 23, 2021
Prayers up for @TigerWoods — Baker Mayfield (@bakermayfield) February 23, 2021
Praying for @TigerWoods My thoughts are with you champ!

— Sugar Ray Leonard (@SugarRayLeonard) February 23, 2021
Fox Sports reports
, "The sports community was rattled on Tuesday shortly after news broke that
golf
legend
Tiger Woods
was involved in a serious
car wreck
. Woods, 45, suffered "multiple leg injuries" after being involved in a "single-vehicle roll-over" collision on the border of Rolling Hills Estates and Rancho Palos Verdes at around 7:12 a.m. local time, according to the Los Angeles County Sheriff's Department and his agent Mark Steinberg."
IT'S TIME FOR AWAKENING TO COME TO OUR NATION'S CELEBRITIES AND INFLUENCERS
I'm grieved in my spirit any time I hear reports like this. Just the other day I was watching a video of a celebrity dropping an F-bomb from her hospital room, clearly shaken as she was about go undergo major surgery. After a very short recovery period, she entered eternity. She was gone. Today she is very much alive and alert in her eternal home. I'm grieved at just where that may be. I wish I could express how deeply such news impacts me. News of Tiger's accident today should make it vividly clear that we are all mere inches and moments away from our spirit leaving our body and either entering into God's glorious presence — or into the maddening torments of hell. I don't know where Tiger is spiritually, but if he isn't zealously in love with Jesus and wildly surrendered to him, it must happen immediately. Tiger, if you are reading this, I implore you to grab hold of God's hand as he draws you into his heart. His passion for you is immeasurable. Yes, prayer for physical healing is absolutely appropriate, and as Christians we know that God has quite a track record for stunning, miraculous, divine healings. He's been delivering the shock and awe of his healing power for thousands of years. Yet, as incredible as a physical healing is, it lasts for but a time. We need to shift our focus from the temporal to the eternal. Every one of us will be living forever somewhere. One hundred years from now we will all be alive and alert either with God or with Satan. A million years later and we will be in the very same place. It's a message that fewer and fewer preachers are sharing today, yet it's critical truth that can't be denied. Either heaven or hell awaits.
REVIVAL IS OUR ONLY HOPE
This is the church's greatest hour, an opportunity to rise up in fervent intercession and supernatural faith for a massive move of God in our nation. Literally and without any exaggeration, revival is America's only hope. It's time that we see heart-wrenching repentance overwhelm all of us. There's no way we can expect our nation's celebrities to hit their knees and surrender all to Jesus if the church doesn't push back the enemy and go to battle for their souls. We have been called to live pure and holy lives, to embrace radical consecration, to go deep in God and to pave the way for culture-shocking, earth-shaking revival. I yearn for the day when we see celebrities overcome with emotion as they lift their hands in undone worship. I long to see Michael Jordan, Charlie Sheen, Tom Cruise, Oprah Winfrey, Nancy Pelosi, David Letterman, Adam Sandler, Tiger Woods and so many other influencers lifting their hands in passionate worship of Jesus as tears stream down their cheeks. I so deeply desire to see them free, alive and transformed by the overwhelming love of Jesus. Holy Spirit, move on them and bring an awakening to their souls!
A REVELATION OF JESUS
When Jesus manifests in a person's life, everything changes. Of course, after experiencing the glory of God in my own desperate life it troubles and saddens me beyond words when others reject such a great
salvation
. There is nothing that compares to knowing God. Nothing. Fame, fortune, power and the lusts of life are pathetically devoid of what only God can give. Encountering such a holy, omnipotent, supernatural entity that fills his days with thoughts of love for me results in rivers of tears and oceans of gratitude that no human words could ever express. If it hasn't happened already, I so desire for Tiger Woods to know the lover of his soul, Jesus, like this. I want God to visit him, to transform him, to wash away the pain, to heal his body, to touch his heart and to overwhelm him with love. I pray the forgiveness of his heavenly Father will flood his soul as he gladfully surrenders all. A revelation of Jesus (not just knowledge about Jesus) will result in a never-ending tremble within. Something in the neighborhood of billions of pounds of despair, heartache,
sin
, fear and everything else that troubles mankind will dissipate in a split second at the moment we lift our hands, hit our knees and release control of our very short lives to God. This is what I pray happens for Tiger, Michael, Oprah and the rest. One second in the presence of God is all they need. The first second in the fires of hell, however, will result in nothing short of regret, hopelessness and terror. The thought of people saying no to Jesus rips at my soul. It's time to be an outspoken, fiery, zealous and undignified worshiper of Jesus. Church, we must rise up in intercession. There are terrible accidents planned well in advance by the enemy. He wants to rip us to shreds. He's bent on death and destruction. We can't play games anymore. People are inches and moments from eternity. Let's go to battle for their souls and see a mighty outpouring of the Holy Spirit hit Hollywood, the sports world, Nashville, Washington D.C. and our entire nation.
Photo credit: "Tiger Woods driver" by TourProGolfClubs is licensed under CC BY 2.0
Originally posted by The Stream.
What is Prince doing right now in eternity?
It's late and I'm awake, wrestling, grieved, angry.
I often write for Charisma Media and I do hope this raw, unedited article is published there. It's much different than the type of article I usually write.  It also needs to land in Rolling Stone, on Fox News and everywhere else the eyes of the world are looking.
Prince is dead.
Like so many others who have been deceived by a cunning serpent, a drug overdose was suspected as was reported by TMZ:
Multiple sources in Moline tell us, Prince was rushed to a hospital and doctors gave him a "save shot" … typically administered to counteract the effects of an opiate.

Read more: http://www.tmz.com/2016/04/21/prince-treated-drug-overdose-dead/#ixzz46ZSRFU00
David Bowie, Whitney Houston, Amy Winehouse, Michael Jackson, Heath Ledger, Chris Farley, Kurt Cobain, River Phoenix, John Belushi, Elvis Presley, Marilyn Monroe and the list goes on and on and on. They surrendered their souls to a murderous spirit in the form of drugs, alcohol and suicide.
Earlier today the man people around the world are calling "Legend" was alive, just as he had been for the last 57 years. Now, like the other celebrities who have gone before him, Prince is awake, alert and living in an entirely new place—a place he was probably not that concerned about—until today.
Yesterday Prince's Wikipedia page was quite different. It highlighted his legend status, his great accomplishments and his worldwide fan base. He had no idea today it was report this:
Prince Rogers Nelson (June 7, 1958 – April 21, 2016)

On April 15, 2016, while on tour, his private plane made an emergency landing in Illinois. He was later admitted to a hospital with flu-like symptoms. On April 21, 2016, Prince died at his Paisley Park recording studio and home in Chanhassen, Minnesota.
Tributes to Prince are spontaneously appearing all over the world. Chicago turned their night skyline Prince's signature purple. The New Orleans Superdome was also shrouded in purple as was Madison Square Garden in New York City and City Hall in San Francisco. People in Prince's home town of Minneapolis were dancing in an all night vigil to him.
I am so disturbed by the insanity of our culture that I refuse to hold back. I know I'll be accused of being insensitive. People will say, "It's too soon to talk about this." Others will be enraged that I would presume someone to be in Hell. I'm sure I'll be accused of being prideful and arrogant. Others might say I'm hateful.
Revealing that people are in Hell isn't an indicator of hatred any more than reporting that an individual is in the state penitentiary. If I enjoyed the fact that they were there, however, I would indeed be deranged. I'm sick that they are there. I want to vomit. I can't handle the fact that so many are in indescribable torment there right now. They will never find relief. I honestly feel helpless.
In the past, when other people have died, I've felt similar grief, but this time I had to react. I suppose respond would be a more appropriate word than react, but that's not what I'm feeling. I don't feel like I'm simply responding to a difficult situation. There is a raging reaction to the evil that is so vigorously celebrated today coursing through my veins. It's unbridled. It's uncensored. It's real, pure, undeniable anger at a society that repeatedly rejects God as if he were some sort of killjoy, a monster. Satan is brilliantly playing the puppet master to a generation that absolutely adores him. When he says dance, they dance.
Barring a last minute decision to fall in love with and surrender to a God he has soundly rejected for decades, Prince is currently experiencing the darkest, most maddening, horrific evil imaginable. In fact, it's far beyond one's ability to understand. Five seconds in Hell is more than enough to send a person into complete lunacy. As of the writing of this sentence, Prince has been there 13 hours and 40 minutes. Even more horrifying is that over the same amount of time, approximately 85,000 other people have died. Based on what the Bible teaches, the high majority of those people are confused, disoriented and terrorized in Hell—right now. Since you started reading this article, around 100 more people have died. For many of them it was unexpected. Just over 60 seconds ago, all was well as it had been for years. Now many of them are in the clenches of unrelenting darkness. The grip is too tight to struggle free from. It will never loosen.
People of planet Earth, I have a question for you. Why do you hate God with such fervor? I'm not talking about a manmade invention of some god that you might have an affinity for. I'm talking about Jesus Christ. What has he ever done to cause you to reject him so soundly? Why are you turning to evil instead of to someone who actually loves you with immeasurable passion? Hey superstars, celebrities, why are you so enamored by sex, drugs, fame, money? Get over it! Stop! It's ridiculous! You are entertaining destruction! Everybody else, why do you look up to them, call them legend, dream to be like them? How have you become so bewitched?
Jesus is real. Jesus is alive. Jesus thinks about you continually. Jesus burns with a selfless love that would change you for eternity if you just experienced it for a moment.
I opened by saying that I'm angry. Sure, I'm angry at Satan. Whatever. That's the obvious spiritual answer. My immediate emotions however are not exclusive to that invisible enemy. I'm furious at flesh and blood people who continue to fall for such darkness and rebellion and who propagate a godless, selfish lifestyle that's radically debased—and extremely contagious.
Musicians, actors, athletes, politicians and everybody else who is influencing society—stop your nonsense! Get over yourself! You are not a god! Stop living a life that mocks Jesus and is fueled by self-indulgent filth. It's killing you. It's killing our generation. You aren't heroes. You aren't untouchable. The hand of death will grab you at some point and won't let go. What will your first five seconds in eternity be like?
Jesus allowed himself to be hated, mocked, spit on, mutilated, put to shame and murdered as he hung naked in front of a blood thirsty crowd—and he forgave them all. He did this for me. My life will never be the same again. I'm weak and broken—and transformed. I'm free. I'm alive. I don't deserve it, but I will have the opportunity to be with that man, Christ Jesus, for trillions and trillions of years, forever actually. Why? The answer is obvious—who could not fall in love with a God like that? I couldn't resist.
God is passionately calling you, drawing you. Just take the dive already! Do it! Do you seriously think sex or drugs or fame is better? Really? Just what type of god are you imagining?
I think of people like Johnny Manziel who are spiraling out of control. I'm scared for Johnny. He doesn't need rehab. He doesn't need to make better choices. He needs to stop the madness and finally surrender his heart to Jesus. It's that simple.
Johnny's still alive. He has time. He could spend forever with Jesus, experiencing freedom, power, peace, strength and love that would wonderfully wreck him for eternity. He has that option.
What would happen if we suddenly had a rush of celebrities completely rejecting their previous lives by becoming fully surrendered to Jesus? I believe that can happen. It must happen.
I envision fiery, rowdy, Holy Spirit driven prayer meetings with people like Oprah, Charlie Sheen, Johnny Manziel, Harrison Ford, Miley Cyrus, Taylor Swift, Kim Kardashian, Ellen Degeneres, Beyonce, Katy Perry, Rihanna and others leading the way. Imagine what it would be like if they were all on their knee at an altar, adoring Jesus, waiting their turn to take the mic and lead the room in intercession for revival!
Alright, my rant is over. My emotions are shifting from anger to sadness, and again to determined intercession. We can see change come if we stop idolizing these people and truly pray in tears for them.
For Prince, tragically, it's too late. Nothing can be done to alter his eternity.
But God is targeting those who remain on the earth. Celebrity or not, they are precious, precious people who have an amazing destiny ahead of them—if they only, finally, say yes to someone who loves them deeply. My friend, Jesus.
Immorality is diving to new horrifying lows in our nation, and the church must respond with great resolve.
Amelia Bonow, cofounder of #ShoutYourAbortion, wanted to give women a voice to unashamedly tell their abortion stories.
The purpose is to awaken sympathy for those who went through the procedure and to remove the stigma associated with abortion. In light of the transgressions that have been revealed publicly regarding Planned Parenthood through a series of undercover videos, Ameila felt it was necessary to combat that with a movement of her own.
Should we as Christians have sympathy for those who made what many feel is the unconscionable decision to eliminate their child? Absolutely. Of course.
9  …Jesus was left alone with the woman standing before him. 10  Jesus stood up and said to her, "Woman, where are they? Has no one condemned you?" 11  She said, "No one, Lord." And Jesus said, "Neither do I condemn you; go, and from now on sin no more." John 8:9-11 (ESV)
Her sins of adultery were forgiven. Jesus had compassion on this women when so many others were ready to administer the horrifying punishment of stoning her to death.
We absolutely should respond the same way toward women who have ended their pregnancy prematurely. 
 But, as with Jesus, the response cannot end there.
…go, and from now on sin no more.
Our response to people who are grieved regarding their sin and repentant as the conviction of God hits them is to be driven with love and compassion. 
Our response to those who are trumpeting their sin is an entirely different matter. Do we still love them? Definitely. Can we feel the pain that resulted in their decision? Yes. Can we stand by idly and affirm their action? No way. Such an immoral influence can do much to eternally damage unsuspecting, vulnerable people who find themselves in the same position. Something must be said, with urgency and firm resolve.
WHAT ABOUT CHARLIE SHEEN AND MILEY CYRUS?
I can't imagine the lows that Charlie has experienced since the positive HIV test came back. Even though he put himself in harm's way quite unapologetically, and others were put at great risk, there is an appropriate measure of compassion that we must have for him and his situation. It's heartbreaking. He needs to experience the love and forgiveness of Jesus.
The truth remains, however, that he is unapologetic about his lifestyle of non-stop immorality. People like Charlie, Miley Cyrus, Amelia Bonow and others in our increasingly Godless culture are not merely expressing themselves, they are arrogantly promoting the darkest depravity most of us have seen in our lifetimes. Just as Ameila is attempting to remove the stigma from abortion and murder, others are attempting to remove the stigma from pornography, adultery, fornication, drug use, homosexuality and other eternally deadly practices.
In a widely reported yet unconfirmed report, Miley Cyrus appears to be planning an entirely nude concert — including the audience — yet so few have responded in outrage.
How can the reaction to the news of a nude concert simply be, "That's just Miley being Miley?"
Just when did brutal murder become something to shout and celebrate?
When did it become acceptable to brag about sleeping with thousands of women — when God has set the standard at one, exclusively within the bounds of marriage?
CHARLIE, MILEY AND AMELIA WERE BOUGHT WITH A PRICE
18  Flee from sexual immorality. Every other sin a person commits is outside the body, but the sexually immoral person sins against his own body. 19  Or do you not know that your body is a temple of the Holy Spirit within you, whom you have from God? You are not your own, 20  for you were bought with a price. So glorify God in your body. 1 Corinthians 6:18-20 (ESV)
We must do a couple of things. First, believe in the power of prayer and pray with passion for Charlie Sheen, Miley Cyrus and Amelia Bonow to discover the immeasurable love and power of Jesus. Heaven won't be the same without them. They were bought with a great price and are all precious to God. Second, we as the church must stand with boldness against the spirit of the age, the god of this world. If we don't, Hell will continue to expand and God cherished people like Charlie Sheen, Miley Cyrus and Amelia Bonow will be lost forever.
4  In their case the god of this world has blinded the minds of the unbelievers, to keep them from seeing the light of the gospel of the glory of Christ, who is the image of God. 2 Corinthians 4:4 (ESV)
The messages that are being sent by these three and so many others in our pornographic, narcissistic world are resulting in innumerable people being eternally separated from God who so passionately loves them. Hell is growing larger as the church remains silent.
8  But as for the cowardly, the faithless, the detestable, as for murderers, the sexually immoral, sorcerers, idolaters, and all liars, their portion will be in the lake that burns with fire and sulfur, which is the second death." Revelation 21:8 (ESV)

18  Whoever believes in him is not condemned, but whoever does not believe is condemned already, because he has not believed in the name of the only Son of God. 19  And this is the judgment: the light has come into the world, and people loved the darkness rather than the light because their works were evil. John 3:18-19 (ESV)
Satan is assaulting people in these end-times with ferocity. His plan is to shred and destroy every human on earth — and the blood-bought church is the only hope.
Don't be surprised that we have a President that seems to reject most of everything that Christians value. Don't be shocked when evil is growing at a tragic rate. The church has been prayerless and asleep for the last few decades.
I'm sorry Charlie. I'm sorry Miley. I'm sorry Ameila. We as Christians should have been a thousand times more fervent in our prayer, more empowered by the Holy Spirit and more devoted to our mission. We have failed.
WHAT COMES NEXT?
#shoutyouradultry
#shoutyourperversion
#shoutyourmurder
#shoutyourhatred
#shoutyour_______
20  Woe to those who call evil good and good evil, who put darkness for light and light for darkness, who put bitter for sweet and sweet for bitter! Isaiah 5:20 (ESV)
The days of murdering children outside of the womb for the sake of convenience is nearing our nation.
There is no difference between murdering a toddler who is negatively affecting our lives and a baby in the womb who is threatening our lifestyle. Zero.
This is why it makes no sense for a Christian to vote for a pro-abortion politician. It's insanity. If we can overlook the murder of an unborn baby we also must agree that the murder of children who have already been born are fair targets as well.
Sex outside of marriage is already acceptable even in much of the church. Do we even understand that that sin will result in an eternity in Hell? It is that serious!
Pornography will increase, adultery on demand as is the case with those who subscribe to Ashley Madison will only grow more acceptable.
Darkness is clearly increasing and the hour of the church is here.
#SHOUTYOURFAITH
Will you boldly #shoutyourfaith in the face of such arrogant, obscene evil in the land? Eternity for millions hinges on whether we do or not.
We are living in lawless times. Love is growing cold. The end is drawing near. People are rejecting God with passion. Satan is winning many battles.
12  And because lawlessness will be increased, the love of many will grow cold. 13  But the one who endures to the end will be saved. 14  And this gospel of the kingdom will be proclaimed throughout the whole world as a testimony to all nations, and then the end will come. Matthew 24:12-14 (ESV)
It's time to shout, church!
Shout truth. Shout love. Shout with passion. It's time to confront our culture and finally take a stand.
27  What I tell you now in the darkness, shout abroad when daybreak comes. What I whisper in your ear, shout from the housetops for all to hear! Matthew 10:27 (NLT)