Idolizing people has forever been the norm in the world. Sadly, the church is catching up, and fast.
9 The heart is deceitful above all things, and desperately sick; who can understand it? Jeremiah 17:9 (ESV)
For as long as any of us can remember, adoration of celebrities, athletes and others in the public eye has been rampant in our society. Kids and adults alike are endeavoring to become Instagram and YouTube famous. The red carpet, paparazzi life is the dream for many. Others are satisfied being awestruck and starstruck. Yes, this article is about people worship, but it's not really about the run-of-the-mill movie star fantasy. I'm going to take it a level deeper.
BOTH THE WORLD AND THE CHURCH ARE GUILTY
The hearts of the children of man are full of evil, and madness is in their hearts while they live, and after that they go to the dead. Ecclesiastes 9:3 (ESV)
Looking beyond the glitz and glamour we will discover a wicked and brilliant strategy of the enemy to exalt mankind, and, in process, destroy all who are seduced. Our current generation, both the lost and the redeemed, has elevated mere humans into a status just south of deity. Tolerance has been the mantra of our secular society for the last decade. This demonic game plan has been wildly successful as what was once clearly an abomination has been established as normal and protected. People who embrace deviant ideologies are not only guarded but promoted. The argument is that people are supreme and their lifestyles, no matter what the Word of God has to say on the matter, are valid. In the church we see the same mindset manifesting in a different way. For many, evangelism has shifted in recent years from calling people out of
sin
to communicating how wonderful they are. Again, the focus is on their supposed value as opposed to their hopelessness and depraved state. The message is simply, "God loves you and has a wonderful plan for your life." The Gospel message, however, is much more comprehensive—and confrontational—than that. Would Jesus have died for a single person? I believe he would have. I believe his desire is to be in relationship with us and it grieves him deeply when people reject that invitation. That being said, we have to understand that it's not about our value. It's God's value that should be driving the conversation.
OUR GAZE MUST SHIFT
17 For you say, I am rich, I have prospered, and I need nothing, not realizing that you are wretched, pitiable, poor, blind, and naked. Revelation 3:17 (ESV)
It's time we shift our gaze from the mirror to the throne. Or, at least clearly see just what the mirror is revealing when we are self-focused instead of gazing upon the glory of God. Nakedness. Blindness. Wretchedness. The world doesn't know God, so it makes sense, as sad and maddening as it is, that they are given to self-worship and to idolizing people. We as the church should know better. Have you noticed how worship songs have changed in recent years? Instead of mostly being about the greatness of God, so many are choruses to the wonder of mankind. The beautiful music can turn ugly quite fast when hands are lifted and eyes are closed as the congregation sings boldly about how great they are instead of how great God is. The identity crisis in the church has resulted in a musical pep talk in an attempt to raise the spirits of people who don't know who they are. I would suggest instead that we become okay with the truth of our human condition and then, with all eyes keenly focused on Jesus, we discover our identity in him. "Amazing
grace
, how sweet the sound, that saved a wretch like me…" We aren't wonderful people who would benefit from discovering just how much God adores us. We are wretches, people who are fully hopeless, given to wickedness and children of the devil who will end up in Hell one day unless we repent. How glorious is it that God's love explodes through us the moment we surrender! The intimate, other-worldly relationship that follows such a radical and zealous decision to renounce the darkness and to give up our selfish pursuits is phenomenal! I propose we can't get from point A (wretchedness, wickedness, hopelessness) to point B (repentance, surrender and life in Jesus) unless we honestly come to terms with who we are and what we've done. We aren't to be worshiped. We aren't to be adored. We are evil and our
sin
is an abomination. God's wrath remains on us. We deserve death.
18 For the wrath of God is revealed from heaven against all ungodliness and unrighteousness of men, who by their unrighteousness suppress the truth. Romans 1:18 (ESV) 1 And you were dead in the trespasses and sins 2 in which you once walked, following the course of this world, following the prince of the power of the air, the spirit that is now at work in the sons of disobedience— 3 among whom we all once lived in the passions of our flesh, carrying out the desires of the body and the mind, and were by nature children of wrath, like the rest of mankind. Ephesians 2:1-3 (ESV)
If we have to convince people to "get saved" by revealing how giddy God is about them, I would suggest many of those salvations are illegitimate. Invalid. It never happened. When we truly follow Jesus, everything changes. We die daily and we discover our identity in Jesus. We are seated in heavenly places with Jesus. We are the head and not the tail, above and not beneath. These realities are not evidences of how great we are, but how great God is. The world has been seduced by the enemy as it worships and protects people in most any identity they adopt, unless that identity is in Jesus. We need broken, humble and surrendered Believers who are no longer identified as sinners, but as saints. People who die every day, who exalt Jesus and not self, who stand for truth and righteousness no matter the cost. When we pull down strongholds and expose the wicked altars in our culture we will be mercilessly assaulted. When we refuse to worship or even acknowledge the evil, self-centered identities that society places great value on, we will be targeted. That's okay. It's not about us. It's about Jesus. It's time we stop worshiping people. The song isn't, "I exalt me." It's…
For Thou, O Lord, art high above all the earth Thou art exalted far above all gods For Thou, O Lord, art high above all the earth Thou art exalted far above all gods

I exalt Thee, I exalt Thee I exalt Thee, O Lord I exalt Thee, I exalt Thee I exalt Thee, O Lord
Are Christians more afraid than those in the world? Look out! It's motorcycles, guns and diet soda!
Peace I leave with you; my peace I give to you. Not as the world gives do I give to you. Let not your hearts be troubled, neither let them be afraid. John 14:27 (ESV)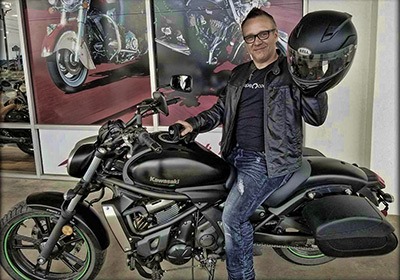 Surely I'm not the only one who has noticed that Christians tend to be an easily frightened bunch. Spirits of fear are in high demand in churches from coast to coast. Why is this? People take on these demonic spirits of fear because they very successfully masquerade as spirits of wisdom. The more afraid we are of anything that presents a threat, the more careful we will be, and the safer we will be, or so goes the logic.
In this article I want to offer a completely different method of confronting threats. Believe me, taking on a devilish anointing is not part of the plan. We can absolutely can live every moment of our lives without a troubled or afraid heart. The Bible tells me so!
Too many simply reject biblical truth as unrealistic, and fear is an all too familiar friend that can help with overcoming faith falters.
In fact, the carnal, unsaved people of the earth seem to exhibit more bold fearlessness than we see among those who have the most powerful, attentive and loving person that has ever lived on their side (Jesus!).
The "No Fear" mantra that took off years ago still emblazons T-shirts and bumper stickers across the land. Fearlessness is understood by those who don't know God. But what about those who carry the immeasurable force of the universe within? What's up with Christians who live in fear and worry every day of their lives?
MOTORCYCLES, GUNS, DIET SODA AND OTHER SCARY STUFF
"Worry shows God you are paying attention." ~Frankie Heck, The Middle
God bless all of you who love me! I mean that with all sincerity. Being in church settings my entire life has provided me a never ending stream of suggestions and concerns delivered through some of the most wonderful people in the world. The more people love me, the more they worry. This is true for anybody. Frankie Heck (played by Patricia Heaton) revealed the wisdom, in humorous fashion, that many loved ones employ. They worry, hoping it will suffice as intercession. The truth is that worry is atheism. Worry decrees that there is no God. It's evidence that we doubt any supernatural covering, provision or help is truly reliable.
One of the riskiest things any Christian can do is drink a diet soda in the foyer of the church when the resident essential oil/practitioner of health/organic foods promoter might be lurking. In fact, many years ago someone in the church I was leading jabbed me with a quick comment as I was drinking a diet soda. He said, "I hope you enjoy your brain cancer."
I gave him a sharp, loving rebuke. I rejected his curse and made it quite clear that he may never say that again. He apologized and all was well. You see, I didn't fear soda then, and I don't fear soda now.
Today we are experiencing an increase in evil in America as mass shootings are becoming bigger and more devastating. Just as with the attacks on 9/11, the goal of the enemy is to instill fear. Of course, he's out to steal, kill and destroy, but an even more effective strategy is to cause people to fear that he will steal, kill and destroy. That paralyzes us so he can finish the job.
So, the cry of many is to eliminate guns. Many Christians are saying the same thing. Instead of dealing directly with the spirit of fear while standing in our authority, we presume that dealing with the natural threat is the prime answer. It is not. If guns were done away with, fear would visit us in even more horrifying ways. The enemy would be sure of that.
Let's see, so far I've dealt with diet sodas and guns. Oh yeah, we can't forget the motorcycles.
Many years ago as a teenager I owned a motorcycle and I had a blast riding through the hills of Arkansas and Missouri. I'm 48 years old now, and I've wanted to buy another bike ever since my early years.
My wife, as many wives would understandably, was nervous about the idea, and we had many discussions. I was not winning any of our friendly arguments.
On a Saturday God spoke very clearly to me. He said, "Tomorrow morning at church, I'm going to speak to your wife through the message. You will own a motorcycle on Monday."
I was unable to be at church that day. My wife went and God did speak to her quite remarkably.
She told me the message was breaking off a spirit of fear and entrusting your life and the lives of others into God's hands. The time of our death or their death is up to him and we can rest in that.
I was stunned! The next day we drove to a motorcycle dealer in Ozark, Missouri and I bought a 2015 Kawasaki Vulcan S ABS. Now, admittedly, my wife is still not in love with the idea of me on a bike, but we both agree to trust God with the lives of our family members and others we love.
Many other people have reacted to my purchase in love, but also in fear. Now, if you are one who shared your concern, you are off the hook. I appreciate your love! But, I just couldn't hold back in dealing with an issue of fear that is devastating the church and keeping people both in bondage and with a very dangerous false sense of safety.
While there are natural cautions that we can take when dealing with risky endeavors, fear cannot be a part of that strategy. Fear does not protect, it exposes us for attack.
Of course, if you own a gun, keep it locked up. If you drink diet cola, don't over do it. If you own a motorcycle, wear a helmet, a riding jacket, gloves, boots and riding pants every single trip. Take a safety course. Don't speed. If you drive a car, wear a seatbelt. Don't drink and drive. If you go boating, wear a life vest. You get the idea. But don't be afraid! Don't allow yourself to be possessed by a demonic spirit of fear! It will feel good for a while as the enemy deceives you into a false sense of security, but worry and anxiety will certainly overtake your life. The Holy Spirit will not have access and the Prince of Peace will not be felt. God has truly called us to be at peace always.
Remember, the enemy wants to masquerade as a spirit of wisdom. He wants us to be so concerned about life that tragedy is a certainty unless we cower and lock ourselves into our homes as we nervously nibble on our fingernails.
THE RIGHT RESPONSE
I will give you the keys of the kingdom of heaven, and whatever you bind on earth shall be bound in heaven, and whatever you loose on earth shall be loosed in heaven." Matthew 16:19 (ESV)
Instead of predicting a crash, instead of sharing horror stories of other motorcyclists who have died, instead of decreeing that I'm going to develop brain cancer because I drink diet sodas, instead of projecting spirits of fear on everyone who takes risk, a right Christian response would be to decree life! We have the keys of the kingdom of heaven! We bind! We loose! We have authority! We decree protection and believe that it will come!
Someone in a motorcycle video I watched mentioned people ask him how in the world he could ride a bike if he wants to live. His response (as a non-Christian, mind you) was, "I want to LIVE which is why I ride my bike!"
I've met a lot of Spirit-filled Christians who won't go on missions trips to dangerous or third-world nations because of fear. Others fear death right here in America. Fear has imprisoned millions of Christians, people who have a good, good Father! Everybody, fear must go! The right response is to stare fear in the face and to decree that we will not be stopped!
An overcautious life is not the answer. The Bible is filled with truth that we should apply instead of holding to demonic wisdom of self-protection.
You will not fear the terror of the night, nor the arrow that flies by day, Psalm 91:5 (ESV)
Instead of decreeing devastation out of fear, we should command life! We are blood-bought Believers! We have supernatural power burning within! As we intercede and declare protection as friends and family are living every day in a risky world, we will celebrate with them and rejoice that they have nothing to fear!
Strengthen the weak hands, and make firm the feeble knees. Say to those who have an anxious heart, "Be strong; fear not! Behold, your God will come with vengeance, with the recompense of God. He will come and save you." Isaiah 35:3-4 (ESV)
We must wholeheartedly reject any reaction that is tainted by fear. If we consider the tragic possibilities, and that information drives our emotions, we can know that fear has gripped us.
Instead of fear, we must stand in authority! We command safety! We intercede! We exhibit the power and confidence and great faith that God has called us to function in!
Behold, I have given you authority to tread on serpents and scorpions, and over all the power of the enemy, and nothing shall hurt you. Luke 10:19 (ESV)
I propose powerfully declaring Psalm 91 as a powerful method of encouragement and intercession for us and those we love:
For he will command his angels concerning you to guard you in all your ways. On their hands they will bear you up, lest you strike your foot against a stone. You will tread on the lion and the adder; the young lion and the serpent you will trample underfoot. "Because he holds fast to me in love, I will deliver him; I will protect him, because he knows my name. When he calls to me, I will answer him; I will be with him in trouble; I will rescue him and honor him. With long life I will satisfy him and show him my salvation." Psalm 91:11-16 (ESV)
No fear. Long life. That, friend, is our decree.