Functioning primarily out of our soul results in division, fear, recklessness and arrogance.
Riots.
Violence.
Pandemic.
Lockdowns.
National Election.
Social media has been distressing to my spirit this year. Really, all media has been, including the few sources that might be considered trustworthy. I'll be the first to admit it's easy to dive into debates at a soul level, arguing logic that seems so obvious while being legitimately confused at how anybody else just cannot see it the same way.
Everything from masks to President Trump to racism has polarized our nation. The damage left in the wake of the raging debates has been devastating. More concerning, the church has been caught up in the exact same soul-level social battles.
When our soul leads the way in our debates and decisions, the results can be quite toxic. We've seen fear and division overcome the people of the "home of the brave." Arrogance has been masquerading as authority and recklessness as freedom.
The soul is the center of emotions and logic, and without the anointing of the Holy Spirit, arguments initiated from that level are not to be trusted. Powerful emotions with the help of seemingly obvious logic will convince people they are functioning from a place of wisdom when in truth they are reacting in fear. Faith is eliminated from the equation. Wisdom (fear) trumps faith when we don't live, breathe, pray and walk in the Spirit.
25 Since we live by the Spirit, let us keep in step with the Spirit. 26 Let us not become conceited, provoking and envying each other. Galatians 5:25-26 (NIV)
DIVISION IS NOT ALWAYS NEGATIVE
34 "Do not suppose that I have come to bring peace to the earth. I did not come to bring peace, but a sword. 35 For I have come to turn "'a man against his father, a daughter against her mother, a daughter-in-law against her mother-in-law– 36 a man's enemies will be the members of his own household.' Matthew 10:34-36 (NIV)
The true church will always introduce division simply because of the topics we are promoting. There is an agenda. Jesus made it clear that ecumenical unity wasn't his goal. World peace wasn't the focus.
We can expect division when the Gospel is preached. When revival hits, people will be split like the Red Sea with many running to the altar and many running out the back door.
Many pastors today are attempting to avoid the very necessary schisms that clearly define the remnant and the pretenders. Truth rightly presented demands decisions. In the end the Final Judgment will bring the greatest division of all, separating the sheep and the goats for all humanity to see.
Many Christians have attempted to apply this principle of biblical division to their own humanistic stubborn opinions. They celebrate as their pet positions cause others to get riled up and split off. They feel spiritual, but this is soul-level activity and it is grieving to the Lord.
30 And do not grieve the Holy Spirit of God, with whom you were sealed for the day of redemption. 31 Get rid of all bitterness, rage and anger, brawling and slander, along with every form of malice. 32 Be kind and compassionate to one another… Ephesians 4:30-32 (NIV)
Preach the Word of God and, often times, you can expect division.
Preach masks, politics, the Constitution and on the racial issues of the day? We as Spirit-filled, blood-bought children of the King should speak with great love and grace. Is there ever a time to strike against wicked arguments with force and precision? Absolutely. But, not from our soul. This type of engagement must be led fully by the Spirit.
WHAT IS GOD SAYING?
Church, it's time to come up higher. In this toxic season of politics, sickness, murder and distress, we need to resist the urge to function from our soul. It's time to minister from our spirits.
We've heard all of the arguments about masks, both pro and con. We know all of the reasons people are going to vote for Trump or Biden. People are dogmatic about taking a knee or not. The memes and GIFS and posts and rants about all of these volatile issues and others have become predictable — and nauseating.
Where are those who have emerged from their closets of intercession, those who have a clear word from the Lord? Where is the tangible anointing that pierces through arguments? In this critical, historic hour, where are the true prophets?
Understand, this doesn't mean we can't discuss issues at a logical level. I'm not even saying the soul (emotions and logic) should be minimized. God gave us a soul and he will certainly cause us to speak intelligently and even passionately on secular matters, with wisdom, love and clarity. Debates and discussions can be beneficial. The critical call, however, for every Christian, is to do so with the mind of Christ.
The greater the activity of the Holy Spirit in our lives, the more impacting our words will be. I would challenge you to disengage from the madness that has bewitched so much of the world and the church. Pull back. Stop functioning mostly from your soul. Don't get so excited about your logic. Be teachable. Die to your own opinions. Speak truth under the anointing of the Holy Spirit and people will be absolutely confounded.
When the truth you speak causes both people and demons to react, you know you've moved from soul-level arguments to spirit-driven, authoritative declarations:
22 The people were amazed at his teaching, because he taught them as one who had authority, not as the teachers of the law. 23 Just then a man in their synagogue who was possessed by an evil spirit cried out, 24 "What do you want with us, Jesus of Nazareth? Have you come to destroy us? I know who you are–the Holy One of God!" 25 "Be quiet!" said Jesus sternly. "Come out of him!" 26 The evil spirit shook the man violently and came out of him with a shriek. 27 The people were all so amazed that they asked each other, "What is this? A new teaching–and with authority! He even gives orders to evil spirits and they obey him." 28 News about him spread quickly over the whole region of Galilee. Mark 1:22-28 (NIV)
TAKE A BREAK
As I said above, it's easy to get sucked into the soul-level debates of the day. And, as I said, not all of these debates are unhealthy. However, a whole bunch of them are.
They can distract those who are supposed to be functioning in the realm of the Spirit and cause us to fight in the flesh. If your revelations on the matters of the day aren't burning with anointing, take a break. If you aren't having dreams and visions about how to address the madness of this hour, take a break.
Seriously. Resist the urge and stop posting to Facebook. I'm not talking about the infamous month-long breaks from social media that people regularly announce. Those folks are back and active usually in less than 24-hours.
I'm talking about going deeper in God than you ever have. See the futility of your arguments. Humble yourself. Finally understand that nobody needs to hear what your soul has to say. Find your prayer closet and discover what God is yearning to reveal to our nation.
The whole world will want to hear what you have to say then.
Should Christians wear masks or would that be an indicator of a lack of faith?
My most recent article titled "Offended by Faith: The Pandemic has Exposed an Unbelieving Church" has created quite a stir among the pro and anti-maskers. Interestingly, the article really wasn't about masks at all. It was about faith.
In fact, I made it quite clear that we should use both wisdom and faith in these treacherous times:
Wash your hands. Wear a mask if called for. Go to the doctor if needed. Do your due diligence. But don't put your faith in such things.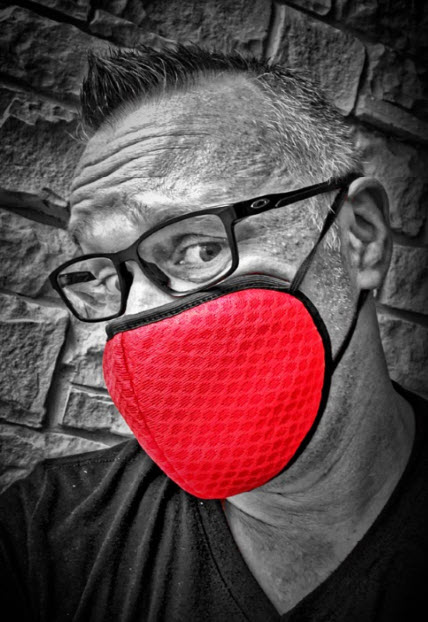 It never ceases to amaze me how triggered people zero in on the narrative they want to attack, all while blowing past qualifiers and clarifiers that would address their concerns if they only took time to read them.
I can't tell you how often people become unglued just by the title of one of my articles. They arrive at conclusions that are unfounded because they didn't read past the first sentence.
Spoiler alert: I wear a mask if the situation demands it. Here's a pic to prove it. I'm not a card-carrying anti-masker. I'm definitely not a pro-masker either.
I'm watching the carnage pile up all over social media as a result of verbal assaults, judgments on morality and ethics, crazy conspiracy theories (and some possible true ones) and accusations that pro-maskers are killing America and anti-maskers are killing grandma.
It's ridiculous to point nasty, crooked fingers at the uncovered calling them selfish, unloving and reckless. Not only is that statement generally untrue and the motive fairly disingenuous, the logic behind it simply doesn't work. It's equally ridiculous to presume those who wear masks are fearful by default and surrendering to the anti-Christ. No, these aren't masks of the beast and no, America isn't going to become communist because we wear them.
I would encourage you to read an article I wrote on the spiritual reality surrounding the 2020 crisis. Yes, I do believe witchcraft is behind it, but wearing a mask doesn't mean we are surrendering to that spirit.
This bizarre conversation between pro and anti-maskers that has overtaken our culture must be refocused onto what is most important.
UNBELIEF HAS BEEN EXPOSED
I don't think anybody can deny that the entire world has been shaken by the virus. The purpose of my recent articles on the subject is to awaken the shaken to the supreme opportunity to shine our lights into a desperate and dark situation.
Be honest. Christians are worrying, nervous, fearful and scrambling to do whatever they can to be safe from this invisible threat. This isn't true of all Believers, of course. It's true of a whole lot of them though. I don't know how often I hear blood-bought Believers urgently warning people to wear masks, to socially distance and to lock down while rarely hearing them proclaim the power of the blood that bought them. I'm dumbfounded.
The lack of a faith-driven spiritual response is a problem. If our joy, peace and confidence in Jesus has been impacted, we must respond in repentance. In the midst of a threat, abundant life is still ours. Joy unspeakable and full of glory. Peace that passes all understanding. We are more than conquerors, the head and not the tail, above and not beneath. We trample on serpents and scorpions. We have authority over all the power of the enemy. That will preach.
The sad reality is that a lot of Christians simply don't believe that Jesus heals or protects today. Some believe that he can, but they doubt that he will. Miracles are rare. Wonders of old can be taught in Sunday School but they really don't occur today. They boldly defend the power of the enemy by confessing that nobody is safe, Christian or non-Christian.
What many Christians call faith is little more than hope. Hope is posturing ourselves by sitting back and waiting for God to do something we'd like him to do. Faith is altogether different. It's active. There's an attitude driving it. It's demanding. It's expectant. It's militant.
Vibrant faith results in people speaking to mountains, shouting from rooftops, casting out demons, decreeing the Word of God and refusing to allow common sense, human wisdom or anything else to stop them.
Faith crushes fear. Faith destroys worry. Faith demands results. Faith pleases God.
Instead, too many default to hope (or hopelessness) and live pretty much the same way as the unredeemed do. Truths of Scripture are somehow dismissed as unreliable:
17 And these signs will accompany those who believe: in my name they will cast out demons; they will speak in new tongues; 18 they will pick up serpents with their hands; and if they drink any deadly poison, it will not hurt them; they will lay their hands on the sick, and they will recover." Mark 16:17-18 (ESV)
The sick may recover would be a better translation according to the belief system of many Christians.
In fact, they tend to get quite mad at those who stand in faith on the Word of God, especially regarding healing. Accusations of "holier than thou" and "spiritual pride" are hurled at those who simply state they believe Jesus paid the price for sickness.
There are many reasons people are not healed. This article isn't the place to dive into a deep discussion on the topic. Suffice it to say the reasons include one or more of the following: unbelief, fear, sin, lukewarmness, receiving communion in an unworthy manner, not understanding our authority, curses, lies we've adopted, ignorance of the Word, misunderstanding timing, lack of fervency, trusting in doctors more than God, etc.
Another reason is what I call the treasure map. Healing is a hidden treasure that often must be sought after. The Holy Spirit will lead us as we discover truths, repent of wrong thinking and work to grow in faith. The treasure map is the unknown. It's the journey. There may be no sin, no doubt and no clear reason why sickness remains. So, we seek, pray and stand as God progressively brings revelation to our situation. Those who are sick should not live in condemnation, but they should be earnestly seeking the treasure of healing with joy and great expectation.
If someone is not healed, it doesn't necessarily mean they are less spiritual. It simply means they are somewhere in the middle of their journey on their personal treasure map.
That being said, please hear me. Faith demands that we stare sickness in the eye and fight. We can't allow the "chances" of healing or our own failed experiences with sickness to cause us to doubt, to stand down or to divert to other more natural remedies. No! We decree truth! We stand as warriors! We declare that Jesus took all of our sickness on the cross. We proclaim that healing is ours! It's this type of boldness the world needs to see!
THE CALL TO ALL
If you don't remember anything else in this article, please remember the following. This is what is burning in my spirit. This is the real purpose of my writing.
Declare the goodness and power of God! Stop declaring the deadly power of a virus!
The church should be commandeering the media, social and otherwise, with faith-filled messages to those who are haunted by fears of sickness and death!
18 "The Spirit of the Lord is upon me, because he has anointed me to proclaim good news to the poor. He has sent me to proclaim liberty to the captives and recovering of sight to the blind, to set at liberty those who are oppressed, 19 to proclaim the year of the Lord's favor." Luke 4:18-19 (ESV)
We are anointed to proclaim good news, liberty and healing! Are you doing that every day on Facebook and Twitter? You must! Especially during this opportunistic season!
The world should be witnessing a supernatural explosion as we radiate the power of the Holy Spirit and decree with passion that peace, freedom and healing can be theirs!
Christians, stop with the faithless drivel about the power of masks or the threat of COVID. Ok, sure, make your point and be safe, but please stop giving the enemy more power than he already has. Speak life!
If the world wants scientific data on whether masks are beneficial or not, they can do their own research. What they need from you and me, however, is powerfully anointed, deeply profound and supernaturally charged revelation! Preach, preacher!
The call to all is to rise up in fearless faith, with smiles on our faces and fire in our eyes as we proclaim to a worried and dying world that Jesus has conquered death, hell and the grave! There is a love that eliminates all fear!
This is the message. This is the cry of my heart. We should be preaching Jesus!
Where are the social warriors who will share verses that ignite faith? Where are the Believers who truly embrace the healing power of Jesus? Where are those who refuse to be shaken by the enemy? Where are the firebrands who will push back the darkness and laugh at the threats?
This is your mandate, Christian. This is your call. It's time you stop repeating all of the news stories and reports that spread fear. It's time to burn hot with the truth of the Word and show the world just what it is to be a sign and a wonder in the earth!
Originally published by The Stream.
There is a supernatural force behind the lockdowns and a prophetic people must expose it.
3  And Ahab called Obadiah, who was over the household. (Now Obadiah feared the LORD greatly, 4  and when Jezebel cut off the prophets of the LORD, Obadiah took a hundred prophets and hid them by fifties in a cave and fed them with bread and water.) 1 Kings 18:3-4 (ESV)
While some may argue the merits of a lockdown as a natural, physical defense against the spread of a virus, I propose there is a very deliberate, strategic demonic strategy to shut down the churches and to shut up a prophetic generation. If the enemy can cause us to flee into our caves, and focus on natural survival, he wins.
This lockdown spirit (no, Lockdown isn't its name, it's simply descriptive of the spiritual assignment that very real, intelligent and wicked evil spirits are implementing) has convinced blood-bought Christians to cower, to willingly hide and to embrace restrictions as evidenced by the prophets in the caves living as prisoners on bread and water.
DISCERNING A SPIRITUAL ATTACK
The Bible tells us that spiritual things must be discerned spiritually (1 Corinthians 2:14) and that natural man cannot receive revelation at this level. It's not possible. Dealing with this or any crisis requires we elevate above the obvious. It doesn't require prophetic revelation to respond naturally. King Asa chose to seek after doctors instead of the Lord (2 Chronicles 16:12), and that natural response resulted in his death. Supernatural attacks require supernatural resolutions. Yes, wash your hands and listen to what the doctors say, but understand your solution will come from a much higher source.
There is a weighty, suffocating blanket that has rested upon this nation, and the resolve to keep advancing, working, producing and dreaming as visionaries of God is surrendering to this overwhelming spiritual pressure. Instead, people are shrinking back, laying down their assignments and "sheltering in place" as the enemy turns his slow prowl into a full-on, ravaging pounce on those who presumed themselves to be safe. They are not safe. A church that's not on the offensive has no defensive solution to what Satan brings. A shield alone is insufficient. We also need the sword. A prophetic voice is mandatory as we stand in great, unmoving, Elijah-level faith.
A hiding, relaxing, cowering church that is taking a wait-and-see approach clearly reveals an alliance with a soothing, seducing spirit that has offered a numbing sedative and a promise of protection. A refusal to struggle only makes the spider's mission to drain you of your sustenance that much easier as you rest in its web.
THE NATIONS SHOULD KNOW OUR NAMES
10  As the LORD your God lives, there is no nation or kingdom where my lord has not sent to seek you. And when they would say, 'He is not here,' he would take an oath of the kingdom or nation, that they had not found you. 1 Kings 18:10 (ESV)
The false prophetic systems of our day should be keenly aware of God's people, and we will know this is true when they resolve to seek and destroy not only our churches and our message, but our very lives. Elijah was a heavily sought after man, an enemy with a prize on his head. The kingdoms and nations all knew of Elijah's threat and they sought to neutralize him.
In fact, Elijah not only threatened nations and kingdoms, he threatened the people of God who were hiding in the caves. I find it interesting that the Bible reveals that they were limited to groups of fifty. We see this very strategy being implemented in today's crisis as church meetings, depending on the locality, are often limited to 10, 25 or 50 (or zero). I also find it interesting that most churches are absolutely okay with this spiritual lockdown, just as Obadiah and the prophets were in Elijah's day.
When anointed men and women of God raise their voice and refuse to be locked down, silenced or limited by the fearful taunts of governments, the religious, the media, plagues, demons and other false-prophetic voices, Christianity as a whole will be targeted.
Obadiah and the prophets of God were terrorized, terrified and in hiding. Obadiah himself was so timid that he resisted the instructions of God's messenger, Elijah. His fear of death was real and his strategy of hiding in caves seemed to be the safest and most obvious solution.
ALL EYES ON ELIJAH
30  Then Elijah said to all the people, "Come near to me." And all the people came near to him. And he repaired the altar of the LORD that had been thrown down. 1 Kings 18:30 (ESV)
Instead of Obadiah's plan to hide away, Elijah came from the opposite direction. Instead of eyes not being able to see timid prophets cowering in caves, Elijah said, "Come near to me."
He refused to allow Ahab and Jezebel to usurp the authority of God and to allow for one moment more the assaults against God's prophets. All eyes were on Elijah as he restored the altar and called down fire. The result was a declaration that the Lord is God, the destruction of the false prophetic system and the end of the drought. Refreshing rains came to all.
38  Then the fire of the LORD fell and consumed the burnt offering and the wood and the stones and the dust, and licked up the water that was in the trench. 39  And when all the people saw it, they fell on their faces and said, "The LORD, he is God; the LORD, he is God." 40  And Elijah said to them, "Seize the prophets of Baal; let not one of them escape." And they seized them. And Elijah brought them down to the brook Kishon and slaughtered them there. 1 Kings 18:38-40 (ESV)
COME OUT OF HIDING
We need every Believer in Jesus to come out of the caves, to renounce a slumbering and fearful spirit, to break off the lockdown spirit and to arise in the face of the prophetic wickedness that threatens God's people night and day.
It's time for Spirit-filled people to move in great authority and to command plagues, viruses, politicians and the spirit of the age to bow at the feet of Jesus! We will be silenced no longer! The spirit of Elijah will shame the spirit of lockdowns and timidity and restore the altar of the Lord in our nation!
When this happens, after ravings and violence, the enemy will finally shut up. The politicians and media will go silent. They will have nothing to say as their cries fall on deaf ears as their gods abandon them. Only people who operate in the spirit of Elijah can cause this to happen! Are you ready? Mighty voice of God, it's your time!
27  And at noon Elijah mocked them, saying, "Cry aloud, for he is a god. Either he is musing, or he is relieving himself, or he is on a journey, or perhaps he is asleep and must be awakened." 28  And they cried aloud and cut themselves after their custom with swords and lances, until the blood gushed out upon them. 29  And as midday passed, they raved on until the time of the offering of the oblation, but there was no voice. No one answered; no one paid attention. 1 Kings 18:27-29 (ESV)