Pastors are refusing to confront culture, sound alarms or to address today's political crisis—and it may be time for them to step down.
17 When Ahab saw Elijah, Ahab said to him, "Is it you, you troubler of Israel?" 18 And he answered, "I have not troubled Israel, but you have, and your father's house, because you have abandoned the commandments of the LORD and followed the Baals. 1 Kings 18:17-18 (ESV)
God is raising up a new generation of bold, prophetic messengers who are fearless, broken and undone by the weight of what's happening in our world. They couldn't care less if people leave churches they minister in. They aren't looking for accolades or book deals. They are criers in the wilderness, a new breed of burning ones who aren't into building churches, but they are very much into confronting culture and shocking the nations with prophetic unction.
We need bold, confrontational leaders formed after the spirit of Elijah, people who are commissioned and unafraid to expose the wickedness in the land. Sadly, it's rare to find men and women of God like this today.
You can listen to a podcast on this topic here:
Though I'm going to share seven reasons pastors are refusing to confront culture or to dive into politics from the pulpit, the honest truth is that I am so disturbed that I even have to write about this. How can supposed men and women of God just go on teaching generic Sunday School style messages every Sunday morning when the escalating crisis in the world demands an immediate and Spirit-led response?
Pastors, it's time to repent for your silence—or step aside!
Repent from your tired, unimpressive and self-centered attempts to grow your church. Repent from being a wordsmith instead of a prophet. Repent from being careful when you are called to risk everything. Repent from keeping people happy and controversy at bay. You have lost your voice!
Pastors, if you don't have a prophetic voice, you don't have a ministry.
We live in a day where babies are being butchered and many people are campaigning for the slaughter to be extended to those who survive the womb. Homosexual activism has muzzled so much of the church as they force their vile beliefs on us. Pornography and human trafficking are destroying millions. Where is your response?
"If Thou canst do something with us and through us, then please, God, do something without us! Bypass us and take up a people who now know Thee not!"― Leonard Ravenhill, Why Revival Tarries: A Classic on Revival
7 REASONS PASTORS ARE SILENT IN A WICKED CULTURE
ONE. Fear of man
5 We destroy arguments and every lofty opinion raised against the knowledge of God, and take every thought captive to obey Christ, 2 Corinthians 10:5 (ESV)
Fear of man is possibly the most obvious reason, though I don't believe it's the greatest reason in most cases. However, it's true that many pastors do fear confrontation. They lack confidence in their ability to tear down arguments and to advance with boldness. It's the Holy Spirit that enables this boldness, and, sadly, it's true that many pastors are not filled to overflowing with the activity of the Holy Spirit in their lives.
It's also true that many pastors are muzzled by their boards, elders and others who exhibit control in the church. It can be easy to succumb to the demands and expectations of those and others who have the ability to make life difficult if the pastor doesn't move in the direction they expect.
The opposite of the fear of man just very well may be the fear of the Lord. Where is the tremble in our pulpits today? Where is the troubling, weighty terror of God in our churches? What will it take for the fear of man to be displaced by fear of the Lord? It's embarrassing that there is so much fear of man, that pastors today are working overtime to keep the peace, instead of calling people into a place of urgent response to a threatening, deadly spirit of the age.
The sword will divide, and those who are bound by fear of man will keep that sword in their sheath, if they possess one at all.
"A man who is intimate with God is not intimidated by man."― Leonard Ravenhill
TWO. Fear of loss
24 So when Pilate saw that he was gaining nothing, but rather that a riot was beginning, he took water and washed his hands before the crowd, saying, "I am innocent of this man's blood; see to it yourselves." Matthew 27:24 (ESV)
I believe the fear of loss is an even greater motivator for pastors to keep their mouths shut than the fear of man is. Today we have pastors who are wordsmiths instead of prophets, people who are experts at framing their words in such a way that no possibility of offense or disagreement is there. They are keenly focused on being balanced, avoiding controversy and developing a happy, encouraging atmosphere in the church that helps ensure there is no loss. People remain in their seats, money keeps coming in and everybody is happy.
Pilate would have given different leadership if the threat of riots and of losing his position and influence weren't there. He surrendered because he feared loss. While it might be quite offensive to compare a pastor to the man who turned Jesus over for death, we have to honestly consider the scenario. Instead of doing the right thing, Pilate caved. Pastors are turning on Jesus all too often today by rejecting his directives as they would prove to be too costly. Great loss would certainly come.
Pastors are right. The moment they actually have a strong opinion and take a strong position on a controversial topic, they absolutely will experience pruning.
While there are some absolutely amazing churches out there, in most churches you won't hear messages that cause any problems with your theology, cause offense or provoke you in any way. When is the last time you heard a message about abortion, homosexuality, pornography or other cultural issues? When is the last time your pastor has pierced the atmosphere with prophetic unction in response to something happening in our society? In some churches it happens. In most it does not. Why? Fear of loss. Pastors can't afford to lose people, money or their dream of a happy, growing church.
THREE. They have no prayer life/prophetic unction
Pastors who don't pray two hours a day aren't worth a dime a dozen. ~Leonard Ravenhill
This one is obvious and easy. If pastors are not spending time in the fires of intercession, they simply will not be alerted to much of anything in the spirit. On the contrary, it's absolutely impossible to live in the prayer room and not hear God's voice and to discern the crisis in the land.
Spending hours in that place of prayer will result in a burning and an inner tremble that will result in a cry and a shout and a decree from the pulpit on Sunday morning. There will be a fierce spirit that won't be silenced. The fear of man becomes laughable. Fear of loss is a willing price to pay. Their passion is no longer building their own dream but rather becomes all about being a voice in the wilderness, tearing down strongholds and refusing to be muzzled!
Peter went from a man driven by fear to a fearless wonder, coming out of ten days in the prayer room and carrying a Pentecost fire that would not be ignored.
22 "Men of Israel, hear these words: Jesus of Nazareth, a man attested to you by God with mighty works and wonders and signs that God did through him in your midst, as you yourselves know— 23 this Jesus, delivered up according to the definite plan and foreknowledge of God, you crucified and killed by the hands of lawless men. 24 God raised him up, loosing the pangs of death, because it was not possible for him to be held by it. Acts 2:22-24 (ESV)
FOUR. They misunderstand the governmental purpose of the church
Ekklesia: A governmental gathering under apostolic leadership
I have long been frustrated at the misunderstanding of the purpose of the church that is epidemic today. The key, foundational purpose of the church is to be a house of prayer for all nations. Further, the ekklesia is a governmental gathering. Under apostolic leadership, the church is called to be a governing force in a city.
Sadly, many pastors and people presume the church to be little else than a place to meet together, to sing and learn and to involve themselves in various ministries, programs and projects. Of course, there are many supplemental ministries and projects that are absolutely appropriate and valuable, but they can never supersede the primary call—to pray and govern.
Pastors should absolutely be responding to the crisis in the land as they are the ones who have been commissioned to do so! They have been authorized, ordained, anointed and given a mandate to invade the darkness and command in the spirit!

FIVE. They want to stay out of politics
28 …"We strictly charged you not to teach in this name, yet here you have filled Jerusalem with your teaching, and you intend to bring this man's blood upon us." 29 But Peter and the apostles answered, "We must obey God rather than men. Acts 5:28-29 (ESV)
Many pastors reveal they intentionally stay out of politics. Often they communicate this as if they are operating in some form of wisdom or caution, when in reality they are abdicating their responsibilities.
We are called to legislate. We are called to govern. If the church is a governmental agency, as I shared in the previous point, it makes absolutely no sense that pastors would not address political issues in the nation. Often a desire to avoid politics has to do with fear of man and fear of loss. They understand the moment they get political is the moment they draw a line in the sand. We need leaders, not managers. We need people who will boldly draw that line and make it very clear that they won't be stopped as they deal with the crisis at hand.
We wouldn't be as concerned about finding the right candidate for office, whether it's mayor of the city or President of the United States, if our church leaders had some guts and gave political leadership themselves.
Peter responded to politics just as we must. We must obey God rather than men.

SIX. They just want to preach the bible
22 But be doers of the word, and not hearers only, deceiving yourselves. James 1:22 (ESV)
It sure sounds spiritual to say they just want to focus on the Bible, but it's not possible to only do that. You can't simply preach the Bible and ignore what's going on in culture. What do you do with all the accounts of the apostles and others who confronted culture, wickedness and the spirit of the age?
If they are preaching and teaching the Bible then they must model their lives and ministries after the people they are studying. We need pastors with the spirit of Elijah. Where are those who lead like Gideon and tear down ungodly cultural altars?
We must, without question, not only be hearers but also doers. If these heroes of the faith confronted culture, than we must as well.

SEVEN. Wrong theologies and a culture of positivity
"One of these days some simple soul will pick up the book of God, read it, and believe it. Then the rest of us will be embarrassed."― Leonard Ravenhill
There are streams today that only focus on what is positive and encouraging. They presume to find strength there and it gives license to ignore the negative and troubling issues of the day.
These are false-grace tainted doctrines and they are a threat to the call for the church to go on the offensive against wickedness in the world.
We need prophetic leaders who will speak with unction and with fire in their guts, people who will aggressively assault the kingdom of darkness and deal directly with the great evil that's increasing in power.
PROPHETIC VOICES RISE UP
The days of carefully guarding our churches, salaries, security and reputations are over. It's time to let churches die if necessary. We need prophetic voices behind the pulpits, people who will scare away the pretenders and provoke the sleepers and confront the wickedness that is among us.
The demonic hoard that has been released upon the world have been mostly uncontested. Their threats have gone unmet. We need governmental leaders in churches to finally stand firm for truth and to tear down arguments and altars with no thought of their own safety or well being.
Assisted Suicide—This powerful dream was first shared in my book The Coming Church.
I recently had a dream that really shines the light on the coming battle in the Church. As I've said, the Church is to be a House of Prayer. Any other dominant defining attributes than intercession dilute and compromise the Church's mission.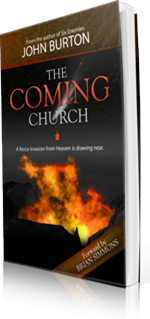 The Church isn't to be a house of teaching, a house of friendships or a house of evangelism. It's a House of Prayer, a place that facilitates a lifestyle of night and day intercession. We are all called to pray at that level, not just some mystical, elite group of prayer warriors. The coming Church will be a Church on fire. No longer will we gather around a fire to warm our flesh, but rather we'll lay across it as burning ones who allow the Consuming Fire to do just that—consume us.
As we pray and live on fire, much trouble will come. We will threaten those who don't choose to pray, those who don't see the need. There are already strategies and theologies that are opposing and assaulting the prayer movement, and my dream brings clarity to that reality.
And he was teaching them and saying to them, "Is it not written, 'My house shall be called a house of prayer for all the nations'? But you have made it a den of robbers." Mark 11:17
Assisted Suicide—The Dream
In the dream, I was walking up a dirt hill where my dad was. In the dream, my dad represented the prayer movement. In the Branson, Missouri area he gave leadership to a significant regional prayer effort called the Uninterrupted Prayer Team (the UP Team).
My dad was on the top of that dry, dirty hill for a very specific reason. He was going to be executed. It was a public execution. I was shocked at how passive my dad was. He was on a bed, like a hospital bed, and he was submitted to the demand that he die.
I sensed that the forces were too strong for me to fight against them. He was to be executed, and there seemed to be nothing I could do about it.
I asked my dad what in the world was going on. He was pleasant in his demeanor, and in fact, most of the people around him who were helping facilitate the public execution were casually going about their day, and they were good friends of my dad. They were "good Christians" who were focused on having a great day and did what they could to eradicate anything that would threaten that.
My dad said, "John, this is going to be an assisted suicide."
I couldn't believe it! The pressure of the Church as it opposes the prayer movement will be so great, that many will be overwhelmed and will lose hope that their mandate to pray will have impact. The prayer movement is at risk of agreeing with its own death!
The Church today is threatened by the prayer movement, and it will do much to embrace the spirit of the age and execute the spirit of intercession.
As the dream continued, I then left his side and walked down the dirt road in deep, troubling thought. I looked down and saw a lighter, that looked like it was broken. I picked it up and I understood that if I could only get it to light, the execution would be called off.
If we pray, the fire of God will burn, and the opposing spirits will lose their strength.
Believe me, this is a very real situation. Someone actually contacted me online recently and arrogantly told me that they and others in a local church were actually praying for a local house of prayer to close down—and it did close down.
It's absolutely stunning that supposed Christians can oppose prayer with such zeal that they actually pray against the prayer movement!
We can't even call people to prayer today due to the fear that they will leave our churches! My God! How can we presume revival is near?
I met with a House of Prayer network leader the other day who said that people leave churches when leaders shift time, energy and attention from them to God. I've watched that happen myself, and it rips me up!
The coming Church will be marked by constant prayer, and there will be a divide along this line. If we don't pray, I do believe it's a serious issue with eternity hanging in the balance. If we truly know God, we will understand the desire and need to connect with him in prayer.
A CHURCH ON FIRE
Where are the ones who aren't looking first for human friends, personal affirmation or a sense of belonging but who are seeking after every available minute to minister to God in prayer? The prayer rooms must be full—and the main prayer room in the American Church is the Sunday morning sanctuary!
And don't you even think of using the excuse that you need to create a non-threatening environment for the new believer! Every person, young or old, immature or seasoned must be in the prayer room—and it must be their primary focus! What if the Upper Room were toned down in the hopes of drawing a bigger crowd and interested seekers?
We must absolutely refuse to tone down the activity of the Holy Spirit out of respect of those less hungry! God is a consuming fire, and he is about to consume what is unholy and compromised. Who are we to presume we know better how to facilitate a service? Is inviting the Holy Spirit to step aside as we give preference to human wisdom the way to go? I've heard it said that the main Sunday service should be a toned-down meeting so as not to freak out visitors and seekers. Apparently the meeting where the Holy Spirit has liberty to move in freedom should be reserved for a night when there's little risk of the unconverted showing up.
This is humanistic religion at its best! Did those in the Upper Room tone down the Holy Spirit so as not to confuse and trouble the seekers in the city? Absolutely not! In fact, the power was so extreme and so unusual that the people were provoked to wonder and proclaim, "they must be drunk!" What was happening was off of their grid.
When man moves, it's naturally familiar. When God moves, it's supernaturally shocking. Keep in mind, there's always a spirit giving leadership in a service—the spirit of man, a demonic spirit or the Holy Spirit.
I told God one day many years ago that if I responded to his extreme call to facilitate a white hot environment of prayer in our church I would lose my reputation. People would sever relationship with me and hurl accusations my way.
God said, "Good. My Son was of no reputation, why should you be?" I was rocked. It was that day, many years ago, that I stopped trying to look good and build a ministry and make people happy about running with me. Selfish ambition died that day. The moment we make decisions based mostly on attracting people, keeping people or raising money is the moment we have failed as leaders.
…but emptied himself, by taking the form of a servant, being born in the likeness of men. And being found in human form, he humbled himself by becoming obedient to the point of death, even death on a cross. Philippians 2:7-8
I'm not trying to build a ministry—I'm devoted to obeying God and delivering the messages he has given me. I know these messages will directly hit theologies and ideals that so many hold dear. That's the point. I crave people's freedom from those harmful ideals! I desire the truth of Jesus to invade everybody's life!
"Do not think that I have come to bring peace to the earth. I have not come to bring peace, but a sword. Matthew 10:34
One reason I'm OK with this divisive strategy (that Jesus affirmed above) is that it clearly reveals who's for and who's opposed. I'd rather make the message clear and know who I'm running with than to tone it down and have those who are opposed to it in our camp. So, we love and serve everybody in the camp, but we can't get sidetracked from our mission for the sake of their comfort.
Trust me, the resulting remnant of burning ones will rejoice at such an atmosphere of clarity and fire! Those who are lukewarm today just may awaken and burn tomorrow—if we have the courage to preach the very difficult, costly truth and call every person to the fire of continual prayer!
I'm sure there are some who translate boldness and refusal to soft step issues as arrogance—but I do not apologize. Yeah, I know that sounds arrogant! The reason I don't apologize is because I wrestle with the call to humility continually, and I check my heart non-stop. The possibility of pride and arrogance is there, without question, and I take that very seriously. I check my heart to ensure I'm humble and full of love. It's wisdom to receive insight from your critics, at least to a point!
People that are close to me do know my heart—and they know I'm broken before the Lord. My call is to aggressively sound alarms, gather people around the mission of revival and provoke people to pray night and day. It can't be a soft spoken suggestion if we hope to awaken a great end-time army!
Several years ago in Colorado, the Lord directed me very urgently to learn how to walk in extreme humility and extreme boldness at the same time. It was a full year of intense prayer and discovery—a personal school of the Holy Spirit. In that school, I learned much, including this—I was not to attempt to appear humble, I was to be humble. Why was this important? Because the Elijah-level boldness that is required to impact a region would often look like anything but humility. It would appear as arrogance and selfish ambition.
We are not in a season where we need to gather around a table and water down the message in the hopes of finding common ground that results in handshakes and smiles. The message of the hour will overturn that table with violence.
I endeavor to love every person deeply, but I refuse to affirm systems, methodologies, theologies and lifestyles that are an offense to the Word of God. I will, in humility and boldness, be relentless in provoking the sleepers to awaken and those given to a lukewarm life to be shaken. Prophetic threats against human systems and unholy altars results in accusation, gossip and resistance.
When the men of the town rose early in the morning, behold, the altar of Baal was broken down, and the Asherah beside it was cut down, and the second bull was offered on the altar that had been built. And they said to one another, "Who has done this thing?" And after they had searched and inquired, they said, "Gideon the son of Joash has done this thing."
Then the men of the town said to Joash, "Bring out your son, that he may die, for he has broken down the altar of Baal and cut down the Asherah beside it." But Joash said to all who stood against him, "Will you contend for Baal? Or will you save him? Whoever contends for him shall be put to death by morning. If he is a god, let him contend for himself, because his altar has been broken down." Judges 6:28-31
I know the accusations will continue, but you need to know that, if you are bold, you will provoke. You must be OK with that! Love people deeply, hate the enemy powerfully and know there will be a crisis in the middle as God, people and demons step into the ring. Don't wrestle against flesh and blood! Be innocent! But don't presume a passive spirit is the same thing as a humble spirit.
The assault against the prayer movement is extreme and we must advance against the spirit of the age with fire in our veins and tears in our eyes.