Dennis Reanier will be at Revival Church Sunday AND Fire in February begins TONIGHT in Dearborn Heights!
I've heard from several people over the last week share that extreme expectancy has hit over the last several days—and I believe this weekend will be a powerful catalyst into encounter in Detroit!
DENNIS REANIER SUNDAY
This Sunday night at Revival Church, Dennis Reanier will be ministering after a passionate session of intercession driven worship!
Dennis Reanier is an apostolic leader with a prophetic voice to inspire this generation in the purposes of God. As the founder of the Apostolic Resource Center, Revival Cry Ministries, and LOFT, Dennis is known for equipping high impact leaders. He is the co-founder of "Be A Hero, USA" a non-profit organization for helping children at risk around the world. He continues to activate countless people nationally and internationally with gifts of evangelism, prophecy, and healing to stir revival, reformation, and revolution for the emerging agenda of the end time harvest. He is the author of the popular book "Shaking Heaven and Earth." Dennis has appeared on several Christian radio and television broadcasts including TBN and XP Media with Patricia King. He received a B.A. in Sociology from Seattle Pacific University and a M.A. in Theology at Fuller Theological Seminary. Dennis and his wife, Tammi reside in Bozeman, Montana with their four daughters Jordan, Raegan, Naomi, and Josie.
FIRE IN FEBRUARY TONIGHT
What is Fire In February?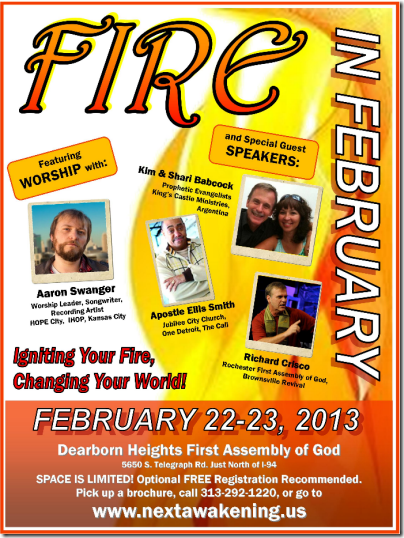 What is Fire In February? It is a release of freedom and fire of the Holy Spirit in the midst of the cold Michigan winter. A unique anointing has accompanied this annual event, almost without regard to who the special guest ministers may be. A coalition of anywhere from four or more revival-seeking churches come together to worship passionately and hear a prophetic word from our speakers. One of the goals is to bring different streams of revival together to release a flood of the Spirit into the Detroit metro area! With the location in the Dearborn area, it has become a witness of dynamic spiritual life in an environment of dead religion and an opportunity for the kingdom workers and believers there to get reignited. Fire In February begins on Friday afternoon with a "Prayer Rumble" in Dearborn and runs through Saturday. The evening services are marked by passionate worship where people are encouraged and welcomed to get out of their seats, dance, jump, wave banners, kneel, etc… as they go after God. "Where the Spirit of the Lord is, there is liberty" (the scripture on the Spirit of Detroit statue at City Hall)! Usually a 15-20 minute "prayer rumble" erupts where we pray for the strategic Dearborn and Detroit area accompanied by prophetic music. Multiple pastors give leadership to the services. Then our speakers are released to bring a Word of the Lord to the people and the region, and personal prayer ministry and/or more powerful prophetic intercession follows. There are Saturday workshops on various relevant topics. There is also a key strategic service on Saturday morning and a Saturday women's luncheon (not for women only!) at noon Fire In February is scheduled for February 22-23. This year's line-up of guests is one of the most powerful yet! Mark your calendars and stay tuned! Get a video taste of last year's Fire In February at http://youtu.be/AOelngZjObo
The Fire In February Pastoral Leadership Team
Joe Sazyc – Lead Pastor, Dearborn Heights First Assembly of God, Next Great Awakening Ministries – Conference Director
Bret Abdullah – Associate Pastor, Dearborn Heights Assembly of God
Ashley Bibeau – Associate Pastor, Dearborn Heights First Assembly of God
Bill and Clara Bolin – Lead Pastors, Floodgate Renewal Fellowship – Brighton
John Burton – Lead Pastor, Revival Church – Madison Heights
Datron Davis – Lead Pastor, ReGENeration Church – Detroit
Quran Karriem – Associate Pastor, Faith Christian Assembly – Melvindale
Randy and Deborah O'Dell – Lead Pastors, The Crossing Church – Farmington
David Okai – Lead Pastor, Resurrection and Life Assembly of God – Berkely
SCHEDULE
All meetings will take place at Dearborn Heights First Assembly of God unless otherwise stated
Friday, February 22, 3 – 5 p.m. – Dearborn Prayer Rumble with Ed Watts speaking – @ The Dearborn Justice House of Prayer / Springwells Fellowship, 14900 Michigan Ave., Dearborn (see map below).
Friday, February 22, 7:30 p.m. – Opening Rally – Kim and Shari Babcock, Ed Watts, Aaron Swanger
Saturday, February 23, 10 a.m. – Revival in Michigan Rally – Richard Crisco, Rick Warzywak, Aaron Swanger
Saturday, February 23, noon – Women's Luncheon – Shari Babcock
Saturday, February 23, 2 – 4 p.m. – Workshops – (stay tuned for more details!)
"More Than Money Matters" – Brent Hanson
"Wholeness: Soul, Mind and Body" – Jill Janiec
"The Dangers of Chrislam" – Adam Simnowitz
"Michigan: Lampstand to the World" – Rick Warzywak
Saturday, February 23, 6 p.m. – Closing Rally – Ellis Smith, Aaron Swanger
The Friday afternoon Dearborn Prayer Rumble ONLY will be held at the Dearborn Justice House of Prayer site, 14900 Michigan Ave., Dearborn, 3 – 5 p.m.