Posts Tagged 'a spirit of insignificance'
Pro-church/Pro-leader Cohesion Event
In addition to my thrill ride as the senior leader at Revival Church in the Detroit region, an equally thrilling mission of mine is to bring a message of revival and unity to churches around the world.
It would be an honor to talk with you (or your Senior Pastor) about bringing a Cohesion Event to your church. See my bio, recommendations, teaching videos, TV interviews, articles, books I've written and more at www.johnburton.net/booking.
We would have a lot of fun and your local mission would experience a serious surge of strength and life as I minister messages including:
Covens in the Church (The body's responsibility to submit to authority for the same of mission advance)
Carry Like Mary (A message of awakening and positioning)
Becoming Unoffendable (My most popular teaching)
A Spirit of Insignificance (Freedom from rejection and insignificance)
And more!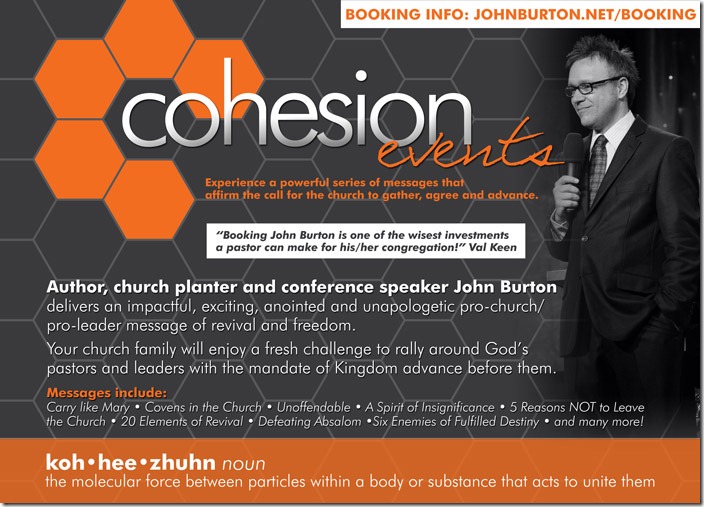 RECOMMENDATIONS
"John is dangerously prophetic, provoking passion in those in pursuit of revival. In just a few short years, I have witnessed the impact of his obedience to Christ in a region bound by division & religion. His mandate is one of radical devotion, raising up burning ones and releasing them into new levels in their kingdom assignment."
Marcellis Smith, Lead Pastor
Jubilee City
Detroit, MI 
---
"John Burton is a modern day revivalist that sees and wants the heart of God rise up in this present generation! I highly recommend him for any ministry you may be considering. In my opinion, he is like a modern day John the Baptist going ahead preparing people for the Lord! We had him in our church and we were not disappointed and neither will you!"
Pastor Tim Martin
---
"John Burton is a man who has continued to allow himself to be thrust into the middle of what God is doing. He not only hears from Heaven, but is willing to boldly shout it from the rooftops. If John is stirred about something, I would recommend that you listen."
J.D. King, International Director World Revival Network of Ministries
---
John Burton is a man with unquenchable passion for God. His life is a living Epistle of the truth that the Kingdom of God is not just in word, but in power. He lights fires wherever he goes leaving behind the unmistakable fragrance of the life of Christ. I highly recommend his ministry to you.
Glenn Bleakney
---
I highly recommend John's ministry! Can't wait to do some meetings together with him!
Pastor Brian Simmons
---
"If you are in a room with John Burton for more than 10 minutes and you don't have a fire in your belly, I would check your pulse. This man is a fire starter and it's catchy! John is a revivalist who burns with a passion to see cities and nations set ablaze with love for Jesus! He is a gifted writer, preacher and prophetic minister. He has clear vision and strategy for city wide breakthrough of revival. I highly encourage you to invite his team at TheLab to your church if you are in need of corporate breakthrough!"
Julia Palermo
Discover extreme freedom as a spirit of insignificance is broken off of your life at theLab!
Tomorrow (Saturday) morning from 10am-2pm you can audit this powerful teaching at theLab Internship.
The cost is only $15 and you can pay online prior to arriving at www.revivallab.com/payment or pay tomorrow by check, cash or credit card.
The day will be intermixed with powerful prayer, prophetic revelation and teaching on this topic that has resulted in countless people being launched into wild freedom and fulfilled destinies!
The class is held at The Tabernacle : 14205 12 Mile Road, Warren, MI 48088
See you there!