I knew there was a risk of losing everything when the call to the deep was announced.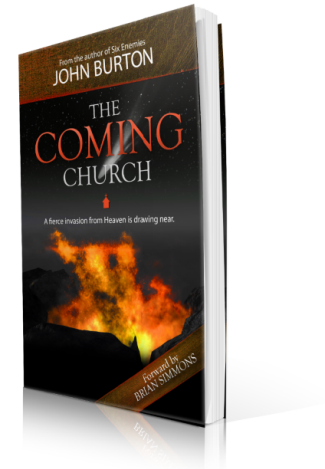 The coming church will be a model of normal Christianity, and it will be so costly, offensive, exclusive and challenging that only the remnant will remain—and this is most certainly the plan of God.
We've become such a passive church society that the abrasion that's coming will be wholeheartedly rejected by mainstream Christianity. False-humility and superficial pleasantries are masquerading as spirituality while truth is moderated to ensure it doesn't disturb anybody.
The result is a Christian culture that celebrates the shallows and merely acknowledges the depths as optional for those who may want to venture in.
Going on eastward with a measuring line in his hand, the man measured a thousand cubits, and then led me through the water, and it was ankle-deep. Again he measured a thousand, and led me through the water, and it was knee-deep. Again he measured a thousand, and led me through the water, and it was waist-deep. Again he measured a thousand, and it was a river that I could not pass through, for the water had risen. It was deep enough to swim in, a river that could not be passed through. And he said to me, "Son of man, have you seen this?" Then he led me back to the bank of the river. Ezekiel 47:3-6
The time is coming when the deep is no longer presented as an option for the Christian, but rather, it's the only hope for those who desire to truly follow Jesus. Prophetic awakeners will be boldly moving into deep waters and calling out those who are splashing like children in the shallow waters while presuming themselves to be normal, biblical Christians. These awakeners will be shocking an apathetic people like madmen!
Are they servants of Christ? I am a better one—I am talking like a madman—with far greater labors, far more imprisonments, with countless beatings, and often near death. 2 Corinthians 11:23
We have fallen for the deception that we are all equal in our Christianity and any type of distinction based on maturity, passion or discipline is quickly hushed out of fear that the less committed will feel alienated. This fear is going to cease as prophetic voices will be calling all who are willing into the deep—and those who choose to splash and play will do so of their own volition.
But I, brothers, could not address you as spiritual people, but as people of the flesh, as infants in Christ. 1 Corinthians 3:1

And he gave the apostles, the prophets, the evangelists, the shepherds and teachers, to equip the saints for the work of ministry, for building up the body of Christ, until we all attain to the unity of the faith and of the knowledge of the Son of God, to mature manhood, to the measure of the stature of the fullness of Christ, so that we may no longer be children, tossed to and fro by the waves and carried about by every wind of doctrine, by human cunning, by craftiness in deceitful schemes. Ephesians 4:11-14

About this we have much to say, and it is hard to explain, since you have become dull of hearing. For though by this time you ought to be teachers, you need someone to teach you again the basic principles of the oracles of God. You need milk, not solid food, Hebrews 5:11-12

When I was a child, I spoke like a child, I thought like a child, I reasoned like a child. When I became a man, I gave up childish ways. 1 Corinthians 13:11
Grow up and get into position! That's the call of the hour. It's time to count the cost, get into position and run with passion as the Church worthy of the name of Jesus Christ!
Don't think for a minute that you can't do it. That would be an insult to the grace of Christ!
But he said to me, "My grace is sufficient for you, for my power is made perfect in weakness." Therefore I will boast all the more gladly of my weaknesses, so that the power of Christ may rest upon me. For the sake of Christ, then, I am content with weaknesses, insults, hardships, persecutions, and calamities. For when I am weak, then I am strong. 2 Corinthians 12:9-10
Paul refused to shrink back. He moved in great grace and turned the world upside down! He ran. He fought. He knew his sole purpose on the Earth was to advance the Kingdom and that mission burned in him night and day.
Do you not know that in a race all the runners run, but only one receives the prize? So run that you may obtain it. 1 Corinthians 9:24
Paul said to the people, "Follow me as I follow Christ," and not to Jesus, "Hey, wait up, let's move at the pace of the people." God sets the pace, not us.
The fear is that others will presume we are arrogant or haughty when we call them higher—after all, if we are calling them higher, we must think we are higher already.
First, the closer we get to Jesus, the deeper we go, the more humble and broken we become—our own depravity, weaknesses and struggles are clarified as the holiness and majesty of Jesus are magnified. The deeper we go the deeper we have to keep going. The deep is truly the point of no return.
Second, what would the suggestion be? That we lessen our intimacy with Jesus and encourage people in their apathy so as not to offend any or invite division within the camp? No way.
And blessed is the one who is not offended by me." Matthew 11:6
"Do not think that I have come to bring peace to the earth. I have not come to bring peace, but a sword. For I have come to set a man against his father, and a daughter against her mother, and a daughter-in-law against her mother-in-law. And a person's enemies will be those of his own household. Whoever loves father or mother more than me is not worthy of me, and whoever loves son or daughter more than me is not worthy of me. And whoever does not take his cross and follow me is not worthy of me. Whoever finds his life will lose it, and whoever loses his life for my sake will find it. Matthew 10:34-39
Extreme Church?
When I called the church into the deep in Colorado several years ago, I knew that I would lose many people, a lot of money and even my reputation. Many would be angered that we were picking up the pace and raising the bar—beyond where they were willing to go. I fully understood there was a risk of killing Revolution Church when we did this—and it literally almost happened. Many truly thought I was a madman—and they were right! The remnant came alive to the call and ran with passion, but, sadly, those who were given to this costly, fiery, normal Christianity were very few and far between. I decided early on that I'd rather have a small church on fire with Christians who were ready to invest their very lives than a church of two or three hundred people who gathered around a space heater—and I knew I could have either. A church of 200 would provide a good salary and stability for my family. Good programs and honey-dipped messages would draw the socialites who would invest just enough to provide a cozy, Laodicean environment for all of us. I get sick even thinking of that option—and so does God.
So, because you are lukewarm, and neither hot nor cold, I will spit you out of my mouth. Revelation 3:16
In a world where lukewarm is normal, the common response to an extreme church environment is that it's not the appropriate church experience, that it's not for a typical Christian, even though some would agree such a ministry has some value, for some people. An extreme church culture to many is more like a para-church ministry than a legitimate church. It doesn't fit within their definition of what a church is suppose to be and do. The accusation is that such an extreme focus is only for a small minority of Christians—and then, most probably just for a short season.
I've spent years and tears attempting to address this fallacy. Normal church today is that of mildly committed followers of Jesus who put limits on their passion and devotion—it's children splashing in the shallows. This is not the Christianity of the Bible.
"But to what shall I compare this generation? It is like children sitting in the marketplaces and calling to their playmates, "'We played the flute for you, and you did not dance; we sang a dirge, and you did not mourn.' Matthew 11:16-17
Revival Church is not an extreme environment, not even close. However, compared to the user friendly, bread and breakfast version of the church that dominates the landscape of our nation, it does feel like a para-church, over the edge, specialized ministry for the minority instead of the majority. This grieves me—not because I want more people to stuff themselves into our church building, but because the thought of extreme passion feels specialized and uncommon, unwanted and unnecessary.
The church experience in our nation has become more about living a wonderful life instead of dying a remarkable death—and pastors know very well that a focus on surrender versus benefit will result in empty pews and offering plates.
While I would never presume to have a perfect understanding of the function of the church, I am confident on several points—and when I employed these critical elements into our ministry I fully believed that the result would be a sound, vibrant and biblical church. We are para-church in no way. I want to alleviate the fear pastors may have of being accused of not being a legitimate church—when you gather together to pray on fire and release the messages of the Lord, you are modeling the coming church. This is what the church will look like when the reformation is complete! That being said, the accusations will fly, but don't relent. Stay the course, gather the people and pray.
Blow the trumpet in Zion; consecrate a fast; call a solemn assembly; gather the people. Consecrate the congregation; assemble the elders; gather the children, even nursing infants. Let the bridegroom leave his room, and the bride her chamber. Between the vestibule and the altar let the priests, the ministers of the LORD, weep and say, "Spare your people, O LORD, and make not your heritage a reproach, a byword among the nations. Why should they say among the peoples, 'Where is their God?'" Joel 2:15-17
The call is for every person who has made the radical and costly decision to follow the living God to dive into the fire together. No matter how long we've known Jesus, our pace should be the same—intense and fiery.
Have you ever met someone who was recently radically saved? They can't run fast enough or burn hot enough! Yet, we've fallen for the deception that new Christians need to take baby steps! No way, no more!
Extreme church is the only option in today's end-time climate. The formula is simple—too simple for most—pray with fervent passion together with others several times a week, read the Bible, believe it and respond to God's mandates with faith and obedience. Pray continually. Live in the spirit. Die daily. Surrender all. Be holy.
This is normal church. It's a culture of uncommon holiness and passion for intercession where we refuse to be amused by darkness and endeavor to slow the flow to Hell with prayer and action. This is why were are on the Earth.
I believe we would be much closer to the true, biblical model of the church if we did little more than pray nonstop in tongues for two hours on a Sunday morning than what we see today.
The Coming Church
Please understand this point. Consider it. Pray on it.
We live in a day where Christians are boldly, unapologetically defending their measured religious devotion and are denouncing calls to extreme commitment. I hear it all the time—fervency is shunned in favor of the status quo. Can you believe this? Being extreme for Jesus is an unwelcome negative attitude, an invasive intrusion into the well guarded lives of American Christians.
If the thought of the church experience being made up mostly of praying in the Spirit with infusions of apostolic messages and reading of scripture feels incomplete or uncomfortable to you, you will find yourself frustrated and resistant in the coming church.
Change is coming. For example, many are looking for a church with an amazing worship experience where it's easy to sit back and bask in the atmosphere. In the coming church, in place of polished worship teams, we will see an environment where groans of intercession are echoing in the room—with or without instruments. Everybody will be on their face burning, groaning and crying out as acts of worship in place of today's Christian karaoke. Imagine gathering together multiple nights a week to hit our faces and groan in intercession together! Most everything else that we've come to know in today's church will be done away with as we all serve as worshiping intercessors in the house of prayer for all nations. We will worship in spirit. In truth.
But the hour is coming, and is now here, when the true worshipers will worship the Father in spirit and truth, for the Father is seeking such people to worship him. God is spirit, and those who worship him must worship in spirit and truth." John 4:23-24
This type of a church environment seems extreme, and demanding, and uncomfortable. Yes. Today it will feel like that, but when the reformation and revolution in the church is complete, it will feel normal, and God will call us to yet another level—a level today that we wouldn't even think is possible. It's a level, one beyond the level where we are going next, that will result in continual supernatural power. Keep that in mind. If the next level seems extreme, just compare it to what's coming beyond that!
Again, the coming church, the next level, will be white hot and perfect for every Christian at every maturity level. The prayer room is the only room for the new Believer and the apostolic leaders who are investing into them! This is my heart for Revival Church. I see this model being perfect for people of all levels as it calls everybody into the same place—death and destiny. Everybody gathers, prays, grows and is intentional in their discipleship. It's intense and life changing. And then, when the remnant does this together in unity, it will be world changing.
Our ministry school, theLab University, is an extreme experience of prayer and maturity—and my view is that the school is closer to a normal, biblical church than churches we see today.
The commitment level at theLab is high (by today's standards)—we meet together four days and nights a week. We have homework to complete and turn in on a weekly basis. There are prayer events that are required for us to attend somewhere in Detroit every Friday night. We are held accountable for our attendance and participation. Holiness is commanded. We are a family. We are locked in and ready to grow at a rapid rate together. This, my friend, is church. However, in America, it's para-church. It's extreme. It's not for the general Christian. This, again, deeply grieves me.
Do not be slothful in zeal, be fervent in spirit, serve the Lord. Romans 12:11
Zeal is not a personality trait! It's a command!
And he said, "Come with me, and see my zeal for the LORD." So he had him ride in his chariot. 2 Kings 10:16
I challenge you—live so boldly that others take notice, and call them to experience your zeal for the Lord! Call them higher! Call them out of the dead and dying manmade American church system that is headed for judgment!
"And to the angel of the church in Sardis write: 'The words of him who has the seven spirits of God and the seven stars. "'I know your works. You have the reputation of being alive, but you are dead. Revelation 3:1

…If you will not wake up, I will come like a thief, and you will not know at what hour I will come against you. Revelation 3:3
The coming church is what the scoffers and mockers and seekers and disillusioned are waiting for. They want to see a people who are serious about their God, radical in their devotion and done with the imitation religion of our day.
They are waiting for a people who won't renounce the sin of homosexuality one minute and enjoy an R rated movie the next.
They want to see a church that's finally devoid of hypocrites—people that won't be amused by unrighteousness in media that required the death of the one they say they love.
They are waiting for a church that will not only boldly expose the sins of the nation, but also pray night and day for it.
The world needs a church that burns with such love and anointing and holiness and that's single minded in it's purpose—to set the world ablaze.
No more programs, productions or promotions. It's time to pray as the church again. America is waiting.
Are you part of the cross-bearing company of fire-breathing awakeners that God is raising up? Listen to this heavily anointed event and respond!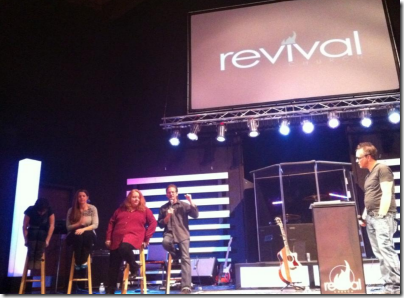 The past week in Manitou Springs, Colorado resulted in a shaking and weighty awakening for every person on our team. Listen as I share the encounters here: media.johnburton.net/6936545
Trust me, you WANT to listen to this…the last half of the audio includes an other-worldly prophetic session where the calling for revival was revealed AND clips from each of the three services, including our attack against witchcraft and the drunkenness I was rocked with. High entertainment value for sure!
We are gathering an army of carriers of fire who will travel with us to the cities of the Earth. The team that we took to Manitou flowed in such extreme authority and power that everybody was hit dramatically. We dealt with heavy witchcraft and strategic demonic attack at a high level, and watched as God then flooded that place. Humbled.
The three nights revealed a very clear strategy for all of us:
Night One: Personal breakthrough. We battled and experienced fire and joy and breakthrough on a personal level.
Night Two: Holy Spirit arrival. I was drunk most of the night as the Holy Spirit poured out. Many want to camp here, but we cannot.
Night Three: Militant attack. Full of the Holy Spirit, we experience an extreme level of witchcraft in the room, and we went after it with authority and power.
This is a pattern of advance for all of us. I break it down and share sound clips: media.johnburton.net/6936545
CARRIERS OF FIRE
Are you ready to invite our team to your city for an event that will bring deliverance, shock and awe? We are broken and humble people, emboldened by the fire of God and ready to serve you.
Visit www.johnburton.net/booking for more info. I'd love to talk with you directly.
You will have the opportunity to listen to four of our team members in the audio from last night here: media.johnburton.net/6936545
HOUSE OF PRAYER
The house of prayer must be launched NOW! NOW! NOW!
Julia Palermo prophesied with trembling urgency regarding the house of prayer in the Detroit region. It must be launched now!
Are you ready to help build a night and day center of strategic, revelation driven prayer? Contact us!
We need to add fresh intercessors, musicians and others. We need to raise at least $44,000 more. You can donate here: www.detroitrevivalchurch.com/donate
YOUR IMPENDING ADVENTURE
I also want to invite you to listen to a message that will provoke you to fulfill your ministry. It's titled Your Impending Adventure. It's a NOW word and will help you take very clear steps toward a completed calling. I'll include the notes below.
Listen here: media.johnburton.net/6936482
AUDIT THELAB CLASS "BECOMING UNOFFENDABLE" THIS THURSDAY
Offense will cause many to fall away and go to Hell. It's a big deal.
This is my most requested teaching, and you can audit the class THIS THURSDAY at 7pm!
Simply show up at 7pm this Thursday and pay $25 at the door.
Revival Church meets at CENTRAL CHURCH, 1529 E. 12 Mile Rd, Madison Heights, MI 48071.
Here's the notes for Your Impending Adventure
Your Impending Adventure
I. Adventure
a. Nobody was called into an average life.
i. Certainly not now! At the end of the age!
ii. Adventure
1. An undertaking or enterprise of a hazardous nature.
2. a risky undertaking of unknown outcome
3. An undertaking of a questionable nature, especially one involving intervention in another state's affairs.
4. "An adventure is only an inconvenience rightly considered. An inconvenience is only an adventure wrongly considered" [G.K. Chesterton All Things Considered]
iii. British Antarctic explorer Sir Ernest Shackleton (1874-1922) placed this advertisement in London newspapers in 1900 in preparation for the National Antarctic Expedition (which subsequently failed to reach the South Pole)."Men Wanted For Hazardous Journey. Small wages, bitter cold, long months of complete darkness, constant danger, safe return doubtful. Honor and recognition in case of success."Shackleton later said that "it seemed as though all the men in Great Britain were determined to accompany me, the response was so overwhelming."
1. Yes! The adventure is there for you!
b. All you have to do is sign up and pay the fee!
i. It costs your dreams, plans, comfort and safety!
ii. Your adventure will impact many!
II. Isaiah
a. Step one: Isaiah sees God (These steps come from Ungers Handbook)
i. Isaiah 6:1-4 (ESV) 1 In the year that King Uzziah died I saw the Lord sitting upon a throne, high and lifted up; and the train of his robe filled the temple. 2 Above him stood the seraphim. Each had six wings: with two he covered his face, and with two he covered his feet, and with two he flew. 3 And one called to another and said: "Holy, holy, holy is the LORD of hosts; the whole earth is full of his glory!" 4 And the foundations of the thresholds shook at the voice of him who called, and the house was filled with smoke.
1. Most people don't get to this point!
2. Your adventure begins by laying down everything so you can see God!
3. Go after him! Burn! Pray! Devote your every breath to knowing him deeply!
ii. Step two: Isaiah sees himself
1. Isaiah 6:5 (ESV) 5 And I said: "Woe is me! For I am lost; for I am a man of unclean lips, and I dwell in the midst of a people of unclean lips; for my eyes have seen the King, the LORD of hosts!"
2. You cannot see God without having a revelation of your own wretched condition!
3. Jeremiah 17:9-10 (ESV) 9 The heart is deceitful above all things, and desperately sick; who can understand it? 10 "I the LORD search the heart and test the mind, to give every man according to his ways, according to the fruit of his deeds."
4. Hebrews 3:12-13 (ESV) 12 Take care, brothers, lest there be in any of you an evil, unbelieving heart, leading you to fall away from the living God. 13 But exhort one another every day, as long as it is called "today," that none of you may be hardened by the deceitfulness of sin.
5. 1 John 1:6-7 (ESV) 6 If we say we have fellowship with him while we walk in darkness, we lie and do not practice the truth. 7 But if we walk in the light, as he is in the light, we have fellowship with one another, and the blood of Jesus his Son cleanses us from all sin.
6. The closer the look on our own condition, the greater the revelation of our fruit.
a. Matthew 7:17-20 (ESV) 17 So, every healthy tree bears good fruit, but the diseased tree bears bad fruit. 18 A healthy tree cannot bear bad fruit, nor can a diseased tree bear good fruit. 19 Every tree that does not bear good fruit is cut down and thrown into the fire. 20 Thus you will recognize them by their fruits.
b. We must repent, confess, let God search our hearts continually.
i. It's in the Lord's Prayer
ii. Matthew 6:12 (ESV) 12 and forgive us our debts, as we also have forgiven our debtors.
iii. Believes must live a life of confession and repentance.
iv. Matthew 3:6 (ESV) 6 and they were baptized by him in the river Jordan, confessing their sins.
c. Acts 19:18-20 (ESV) 18 Also many of those who were now believers came, confessing and divulging their practices. 19 And a number of those who had practiced magic arts brought their books together and burned them in the sight of all. And they counted the value of them and found it came to fifty thousand pieces of silver. 20 So the word of the Lord continued to increase and prevail mightily.
d. Luke 17:3-4 (ESV) 3 Pay attention to yourselves! If your brother sins, rebuke him, and if he repents, forgive him, 4 and if he sins against you seven times in the day, and turns to you seven times, saying, 'I repent,' you must forgive him."
e. Let God search your heart continually in the place of fervent prayer.
i. 1 Chronicles 28:9 (ESV) 9 "And you, Solomon my son, know the God of your father and serve him with a whole heart and with a willing mind, for the LORD searches all hearts and understands every plan and thought. If you seek him, he will be found by you, but if you forsake him, he will cast you off forever.
ii. Jeremiah 17:10 (ESV) 10 "I the LORD search the heart and test the mind, to give every man according to his ways, according to the fruit of his deeds."
f. Torrey's Prescription For Revival "I can give a prescription that will bring a revival to any church or community or any city on earth. "First, let a few Christians (they need not be many) get thoroughly right with God themselves. This is the prime essential. If this is not done, the rest that I am to say will come to nothing. "Second, let them bind themselves together in a prayer group to pray for a revival until God opens the heavens and comes down. "Third, let them put themselves at the disposal of God for Him to use as He sees fit in winning others to Christ. That is all! "This is sure to bring a revival to any church or community. I have given this prescription around the world. It has been taken by many churches and many communities, and in no instance has it ever failed; and it cannot fail!"
i. This is huge!
ii. We must get thoroughly right with God! Let God search us! Is there any impure thought? Do we ever lie? Do we ever gossip? Do we ever disobey God?
iii. Torrey said: This is the prime essential. If this is not done, the rest that I am to say will come to nothing.
iv. You may have heard a theology out there that says Jesus forgave our sins past, present and future. That's incomplete, and it leads people away from confession and repentance and dying daily.
1. Jesus did what he needed to do, but, unrepentant sin, ignored sin, cannot go unresolved! You can sin in the future and have it not be covered!
2. Spend hours in the prayer room and you will discover issue after issue… and it's glorious!
3. If we cover unrepentant sin with sugar and honey, it's still diseased on the inside. You can dip rotting meat that's full of maggots into chocolate, and attempt to hide the corruption… but the realty remains, the inside is spoiled.
4. I shared the following on Facebook: The false belief that we are exempt from penalties of future sins with no confession or repentance is dangerous beyond measure.
5. Someone responded: Who believes that way?
6. I said: Millions of Christians. It's a huge false movement.
7. He said: Guess I'd have to go to a church that preaches a false word to know…praise God for the Baptists.
iii. Step three: Isaiah is cleansed
1. It's good to let God reveal wickedness in us so we can be cleansed by fire!
2. Isaiah 6:6-7 (ESV) 6 Then one of the seraphim flew to me, having in his hand a burning coal that he had taken with tongs from the altar. 7 And he touched my mouth and said: "Behold, this has touched your lips; your guilt is taken away, and your sin atoned for."
3. 1 John 1:9 (ESV) 9 If we confess our sins, he is faithful and just to forgive us our sins and to cleanse us from all unrighteousness.
4. Hebrews 12:1 (ESV) 1 Therefore, since we are surrounded by so great a cloud of witnesses, let us also lay aside every weight, and sin which clings so closely, and let us run with endurance the race that is set before us,
5. Psalm 51:10-12 (ESV) 10 Create in me a clean heart, O God, and renew a right spirit within me. 11 Cast me not away from your presence, and take not your Holy Spirit from me. 12 Restore to me the joy of your salvation, and uphold me with a willing spirit.
a. The reason it's so good to let God search out the corruption in our hearts, is because we can be freed from it!
b. Amazing!
iv. Step four: Isaiah is commissioned
1. Prophetic messengers will have the boldness to proclaim the word of the Lord regardless of its tone!
2. Wiersbe Outlines: Now God can call Isaiah and use him to preach His Word. The prophet is no longer wrapped up in his own needs; he wants to do the will of God. He is no longer burdened by sin; he has been cleansed. He is no longer discouraged; he knows that God is on the throne. Now he is ready to go to work.
3. Isaiah 6:8-10 (ESV) 8 And I heard the voice of the Lord saying, "Whom shall I send, and who will go for us?" Then I said, "Here I am! Send me." 9 And he said, "Go, and say to this people: "'Keep on hearing, but do not understand; keep on seeing, but do not perceive.' 10 Make the heart of this people dull, and their ears heavy, and blind their eyes; lest they see with their eyes, and hear with their ears, and understand with their hearts, and turn and be healed."
4. This is God's cry! Whom shall I send? Who will go for us?
a. Matthew 9:35-38 (ESV) 35 And Jesus went throughout all the cities and villages, teaching in their synagogues and proclaiming the gospel of the kingdom and healing every disease and every affliction. 36 When he saw the crowds, he had compassion for them, because they were harassed and helpless, like sheep without a shepherd. 37 Then he said to his disciples, "The harvest is plentiful, but the laborers are few; 38 therefore pray earnestly to the Lord of the harvest to send out laborers into his harvest."
v. Step five: Isaiah is given the outcome of the commission
1. Isaiah 6:11-13 (ESV) 11 Then I said, "How long, O Lord?" And he said: "Until cities lie waste without inhabitant, and houses without people, and the land is a desolate waste, 12 and the LORD removes people far away, and the forsaken places are many in the midst of the land. 13 And though a tenth remain in it, it will be burned again, like a terebinth or an oak, whose stump remains when it is felled." The holy seed is its stump.
a. We see in Mt 13 that Jesus spoke in parables because of this very judgment!
b. Matthew 13:10-14 (ESV) 10 Then the disciples came and said to him, "Why do you speak to them in parables?" 11 And he answered them, "To you it has been given to know the secrets of the kingdom of heaven, but to them it has not been given. 12 For to the one who has, more will be given, and he will have an abundance, but from the one who has not, even what he has will be taken away. 13 This is why I speak to them in parables, because seeing they do not see, and hearing they do not hear, nor do they understand. 14 Indeed, in their case the prophecy of Isaiah is fulfilled that says: "'"You will indeed hear but never understand, and you will indeed see but never perceive."
c. And also in John:
i. John 12:37-41 (ESV) 37 Though he had done so many signs before them, they still did not believe in him, 38 so that the word spoken by the prophet Isaiah might be fulfilled: "Lord, who has believed what he heard from us, and to whom has the arm of the Lord been revealed?" 39 Therefore they could not believe. For again Isaiah said, 40 "He has blinded their eyes and hardened their heart, lest they see with their eyes, and understand with their heart, and turn, and I would heal them." 41 Isaiah said these things because he saw his glory and spoke of him.
d. And in Acts:
i. Acts 28:23-26 (ESV) 23 When they had appointed a day for him, they came to him at his lodging in greater numbers. From morning till evening he expounded to them, testifying to the kingdom of God and trying to convince them about Jesus both from the Law of Moses and from the Prophets. 24 And some were convinced by what he said, but others disbelieved. 25 And disagreeing among themselves, they departed after Paul had made one statement: "The Holy Spirit was right in saying to your fathers through Isaiah the prophet: 26 "'Go to this people, and say, "You will indeed hear but never understand, and you will indeed see but never perceive."
e. This is why we need prophetic messengers with a bold spirit of awakening on them!!!!!
2. Ungers: How long would this spiritual deterioration go on? To the complete blotting out of Israel's testimony to the one true God? No, came the divine answer. Only until the complete devastation of the land and the removal of its inhabitants to Babylon were accomplished. Thence a remnant would return to Palestine. Even this tenth part would be further reduced, yet a holy posterity would survive in whom the ultimate hope of Israel would rest and in whom the covenants and promises would be realized.
b. You have an impending adventure if you simply sign up! Be available!
i. Sometimes God will draw you into adventure to cause you to become addicted to adventure!
ii. Wildman story
1. Fearful situation
c. God is looking for a people who are ready to give up the tired, old dreams of man for an adventure that will change societies!
d. Go after it! Don't fear the risk! Don't fear failure!
e. A study made a number of years ago said the more education a man has, the less likely he is to be an inventor. Now the reason for that is quite simple. From the time the boy, or girl, starts in school he is examined three or four times a year and, of course, it is a very disastrous thing if he fails. An inventor fails all the time and it is a triumph if he succeeds once. Consequently, if education is an inhibition to invention, it is due entirely to the form by which we rate things and not because of any intellectual differential. —Charles Kettering