God causes it to rain on the just and the unjust. Be careful that you don't wrongly interpret its meaning.
I've been dashing in and out of stores today, running errands in the midst of an unrelenting downpour. The rain is soaking all who venture out into it, no matter if they are good or evil, just or unjust.
45

 

…He makes His sun rise on the evil and on the good, and sends rain on the just and on the unjust.

Matthew 5:45 (NKJV)
Listen to the podcast…
I've heard many frightened Christians shout this verse in support of their idea that God will visit pestilence equally on the lost and the saved (how that is comforting I'll never know). Their argument is that while we may have a measure of hope that God will ultimately heal or rescue us, we must expect the exact same "rain" to hit both Believers and unbelievers. The force of the assault, whether it's a demonic advance or judgment of God, can't be avoided. Of course, any true Christian would agree that they have an advocate in Jesus. So, the disposition becomes, "We can't avoid the plague but we can hope that God meets us in that place." Basically it's the passive, hands-off "whatever God's wills" belief system. This is the belief that can be exceedingly dangerous.
THE SUN AND THE RAIN
Let's read the verse in context.
43

 

"You have heard that it was said, 'You shall love your neighbor

and hate your enemy.'

44

 

But I say to you, love your enemies, bless those who curse you, do good to those who hate you, and pray for those who spitefully use you and persecute you,

45

 

that you may be sons of your Father in heaven; for He makes His sun rise on the evil and on the good, and sends rain on the just and on the unjust.

46

 

For if you love those who love you, what reward have you? Do not even the tax collectors do the same?

47

 

And if you greet your brethren

only, what do you do more than others? Do not even the tax collectors

do so?

48

 

Therefore you shall be perfect, just as your Father in heaven is perfect.

Matthew 5:43-48 (NKJV)
Spoiler alert: both the sun and the rain are good! Many are expecting to be plagued by coronavirus or other ailments and other demonic attacks because of a terrible misunderstanding of the meaning of this passage. The context of this truth is all about love. God loves both those who are evil and those who are good, the unjust and the just. His mandate is that we are to do the same. In farmer-speak, both sun and rain are very good.
1

 Ask the

LORD

for rain

In the time of the latter rain.

The LORD will make flashing clouds;

He will give them showers of rain,

Grass in the field for everyone.

Zechariah 10:1 (NKJV)

7

 For the earth which drinks in the rain that often comes upon it, and bears herbs useful for those by whom it is cultivated, receives blessing from God; Hebrews 6:7 (NKJV)
This truth about rain on the just and the unjust has absolutely nothing to do with expecting ills and ailments. The reason a wrong understanding of this passage is so deadly is because it causes us to come into agreement with a demonic strategy! We as Christians are absolutely not sitting ducks! If we stand in great faith, refuse the taunts of the enemy and resist leaning on our own understanding, we will rise up with great authority and command with fiery resolve that no plague shall come near us!
10

 No evil shall befall you,

Nor shall any plague come near your dwelling;

11

 For He shall give His angels charge over you, To keep you in all your ways. Psalm 91:10-11 (NKJV)
Waiving the white flag of surrender by accepting plagues and pestilences will bring death and destruction to the people of God. This is not our portion!
17

 …He did good, gave us rain from heaven and fruitful seasons, filling our hearts with food and gladness." Acts 14:17 (NKJV)
HOW TO STAND
Simple prayers of petition that are driven more by fear than faith may do more damage than good. We don't want unbelief to be the driver of our intercession. Rather, we must stand in our great authority and insist that what's in the Word of God manifests! We command the enemy to back down! We move the mountains! We heal the sick! We decree and declare the Word of God! But first, we have to ask ourselves if we truly believe the Word of God or not? If so, powerful faith will burn through our being! This rampant wrong understanding of the sun and the rain has caused many to expect the worst instead of contending for what the cross of Christ has provided for us. It's not possible to believe that plagues will visit both the just and the unjust while also believing the many scriptures that proclaim our protection!
3

 But the Lord is faithful, who will establish you and guard you from the evil one. 2 Thessalonians 3:3 (NKJV)

19

 Many are the afflictions of the righteous, But the

LORD

delivers him out of them all.

20

 He guards all his bones; Not one of them is broken. Psalm 34:19-20 (NKJV)
WHY DOES TROUBLE COME?
Of course, many would argue that Christians do have trouble visit them. Sickness does come. Poverty is a reality for many. It would take another article, or a book, to fully address this, but I wanted to at least encourage you to venture into the Word of God for your answers. It's true that Satan won't stop raging, but the secret to our success is in our response. Of course, a barrage of arrows hurled by the enemy will strike us if we allow them to. My wife once had a vision of someone standing confidently with a massive shield of faith protecting them. Then, strangely, when the arrows started flying they lost faith and dropped their shield. The shield of faith is the most important piece of armor we have!
16

 above all, taking the shield of faith with which you will be able to quench all the fiery darts of the wicked one. Ephesians 6:16 (NKJV)
If we stand in great faith, we will have great success. If we fight the enemy, go to battle, renew our mind, take thoughts captive, pray with power, stand in our authority and believe every single word of the Bible we will most certainly live in victory!
We are gathering & equipping a company of burning men and women of God at theLab Internship in Detroit.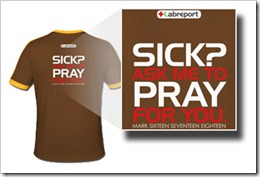 First, there have been rave reviews about the new Labreport line of clothing!
JOHN!!!! I love this shirt! How can I get one?~Brian
I just received my second shirt, and am ready to head out and heal the sick!
Head on over to www.revivallab.com/shop and order your favorite today!
---
SAVE $100! Pre-register for theLab Internship by THIS SUNDAY, July 17th!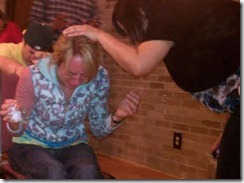 Something divine and special has landed at theLab.
People are sharing that they have grown more in the last 6 weeks of the current internship then they have in years. Yes, years!
The next session starts on September 3rd, and I want to STRONGLY exhort you to prayerfully consider jumping in with us.
The current tuition is $499, BUT, if you register by Sunday, we're taking $100 off! Future internships will most probably settle in at around $800, so don't wait!
Head on over to www.revivallab.com/internship and apply today!
---
All of my books are currently $2.99 on Kindle!
Head on over to www.johnburton.net/resources and get four books for the price of one printed version!
My newly revised book SIX ENEMIES is also ready…before the print version is out!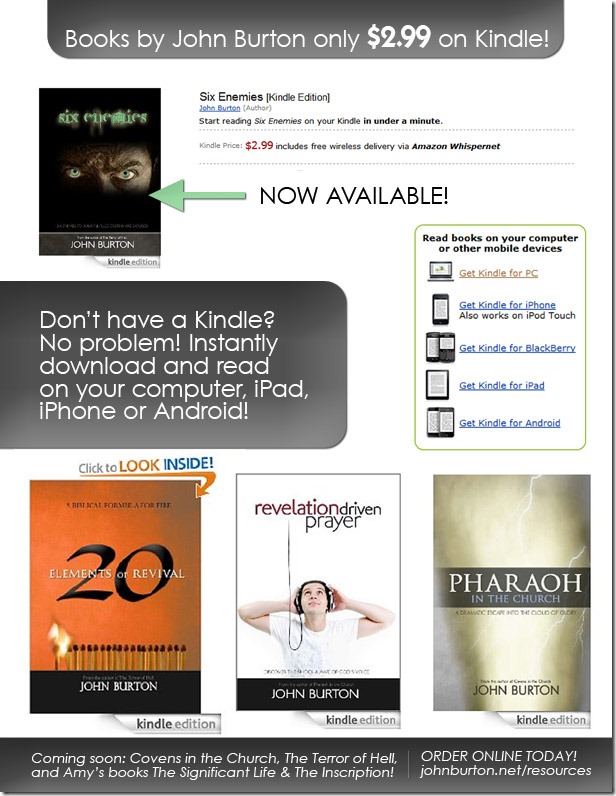 An article that will appear in the Grosse Pointe News:
One fateful day a long time ago I was walking around a large empty room in a church building in Dayton, Ohio. I had been watching people, very normal people, people who played video games and basketball, on their knees in tears crying out to God.
Their passion was undeniable and real. And, it appeared that their encounter with an invisible and holy Force was also very real indeed.
After all, as I stated, these were people that didn't have anything fake about them. They had no reason to masquerade or show off to anybody. They were simply desperate people who tapped into something that made me yearn.
In that large empty room I simply walked around and talked—to an invisible Jesus. As I considered the implications of diving into a life passion and surrender I boldly declared something to God:
"If you aren't real, if you aren't everything you're cracked up to be, if you aren't powerful, if you can't heal sick people, if you don't truly work wonders—I don't want anything to do with you. But, if you are… if really you are… I'll be willing to die for you."
At that crossroad of destiny, God dramatically invaded my life in power. I didn't discover an intellectual revelation or an emotional release. I found the Lover of my soul.
Since that day I have lived what I can only call a thrill ride. It's the thrill ride of knowing God and watching him do "God-type stuff."
Miracles and humbling favor have followed our family. Is life still difficult. Yes. At times, terribly so. But God has continually showed up—not figuratively, really.
After traveling to the Detroit area and preaching on the life and fire of the Holy Spirit five or six times in 2008 and 2009, God started to provoke me. I felt we were to move to Detroit and help bring an overpowering move of God to this region.
We owned our house in Grandview, Missouri (which Forbes Magazine called the eighth fastest dying city in America—see the article here) and the only way we could move was if our house sold—for full price. We really wanted to move back to Colorado Springs and work with our ministry there… but, in an attempt to find clarity, my amazing wife talked to God.
"God, if you want us to move to Detroit, we are going to put our house on the market tomorrow. If it's your will for us to move, sell the house for full price within the next seven days."
Six days later, in the midst of a national economic crisis, in the eighth fastest dying city in America, the house was sold—for full price. The next month we loaded up the truck and headed north.
We've since launched Revival Church and are waiting for the next waves of miracles and the phenomenal favor of Jesus as we position ourselves for an outpouring that will be felt around the world! Get ready Detroit—Jesus has a thrill ride on the agenda for you!
Technorati Tags:
detroit
,
revival church
,
grandview
,
forbes
,
magazine
,
missouri
,
miracles
,
heal
,
sick
,
Holy Spirit
,
Grosse Pointe News