Posts Tagged 'positivity'
Pastors are refusing to confront culture, sound alarms or to address today's political crisis—and it may be time for them to step down.
17 When Ahab saw Elijah, Ahab said to him, "Is it you, you troubler of Israel?" 18 And he answered, "I have not troubled Israel, but you have, and your father's house, because you have abandoned the commandments of the LORD and followed the Baals. 1 Kings 18:17-18 (ESV)
God is raising up a new generation of bold, prophetic messengers who are fearless, broken and undone by the weight of what's happening in our world. They couldn't care less if people leave churches they minister in. They aren't looking for accolades or book deals. They are criers in the wilderness, a new breed of burning ones who aren't into building churches, but they are very much into confronting culture and shocking the nations with prophetic unction.
We need bold, confrontational leaders formed after the spirit of Elijah, people who are commissioned and unafraid to expose the wickedness in the land. Sadly, it's rare to find men and women of God like this today.
You can listen to a podcast on this topic here:
Though I'm going to share seven reasons pastors are refusing to confront culture or to dive into politics from the pulpit, the honest truth is that I am so disturbed that I even have to write about this. How can supposed men and women of God just go on teaching generic Sunday School style messages every Sunday morning when the escalating crisis in the world demands an immediate and Spirit-led response?
Pastors, it's time to repent for your silence—or step aside!
Repent from your tired, unimpressive and self-centered attempts to grow your church. Repent from being a wordsmith instead of a prophet. Repent from being careful when you are called to risk everything. Repent from keeping people happy and controversy at bay. You have lost your voice!
Pastors, if you don't have a prophetic voice, you don't have a ministry.
We live in a day where babies are being butchered and many people are campaigning for the slaughter to be extended to those who survive the womb. Homosexual activism has muzzled so much of the church as they force their vile beliefs on us. Pornography and human trafficking are destroying millions. Where is your response?
"If Thou canst do something with us and through us, then please, God, do something without us! Bypass us and take up a people who now know Thee not!"― Leonard Ravenhill, Why Revival Tarries: A Classic on Revival
7 REASONS PASTORS ARE SILENT IN A WICKED CULTURE
ONE. Fear of man
5 We destroy arguments and every lofty opinion raised against the knowledge of God, and take every thought captive to obey Christ, 2 Corinthians 10:5 (ESV)
Fear of man is possibly the most obvious reason, though I don't believe it's the greatest reason in most cases. However, it's true that many pastors do fear confrontation. They lack confidence in their ability to tear down arguments and to advance with boldness. It's the Holy Spirit that enables this boldness, and, sadly, it's true that many pastors are not filled to overflowing with the activity of the Holy Spirit in their lives.
It's also true that many pastors are muzzled by their boards, elders and others who exhibit control in the church. It can be easy to succumb to the demands and expectations of those and others who have the ability to make life difficult if the pastor doesn't move in the direction they expect.
The opposite of the fear of man just very well may be the fear of the Lord. Where is the tremble in our pulpits today? Where is the troubling, weighty terror of God in our churches? What will it take for the fear of man to be displaced by fear of the Lord? It's embarrassing that there is so much fear of man, that pastors today are working overtime to keep the peace, instead of calling people into a place of urgent response to a threatening, deadly spirit of the age.
The sword will divide, and those who are bound by fear of man will keep that sword in their sheath, if they possess one at all.
"A man who is intimate with God is not intimidated by man."― Leonard Ravenhill
TWO. Fear of loss
24 So when Pilate saw that he was gaining nothing, but rather that a riot was beginning, he took water and washed his hands before the crowd, saying, "I am innocent of this man's blood; see to it yourselves." Matthew 27:24 (ESV)
I believe the fear of loss is an even greater motivator for pastors to keep their mouths shut than the fear of man is. Today we have pastors who are wordsmiths instead of prophets, people who are experts at framing their words in such a way that no possibility of offense or disagreement is there. They are keenly focused on being balanced, avoiding controversy and developing a happy, encouraging atmosphere in the church that helps ensure there is no loss. People remain in their seats, money keeps coming in and everybody is happy.
Pilate would have given different leadership if the threat of riots and of losing his position and influence weren't there. He surrendered because he feared loss. While it might be quite offensive to compare a pastor to the man who turned Jesus over for death, we have to honestly consider the scenario. Instead of doing the right thing, Pilate caved. Pastors are turning on Jesus all too often today by rejecting his directives as they would prove to be too costly. Great loss would certainly come.
Pastors are right. The moment they actually have a strong opinion and take a strong position on a controversial topic, they absolutely will experience pruning.
While there are some absolutely amazing churches out there, in most churches you won't hear messages that cause any problems with your theology, cause offense or provoke you in any way. When is the last time you heard a message about abortion, homosexuality, pornography or other cultural issues? When is the last time your pastor has pierced the atmosphere with prophetic unction in response to something happening in our society? In some churches it happens. In most it does not. Why? Fear of loss. Pastors can't afford to lose people, money or their dream of a happy, growing church.
THREE. They have no prayer life/prophetic unction
Pastors who don't pray two hours a day aren't worth a dime a dozen. ~Leonard Ravenhill
This one is obvious and easy. If pastors are not spending time in the fires of intercession, they simply will not be alerted to much of anything in the spirit. On the contrary, it's absolutely impossible to live in the prayer room and not hear God's voice and to discern the crisis in the land.
Spending hours in that place of prayer will result in a burning and an inner tremble that will result in a cry and a shout and a decree from the pulpit on Sunday morning. There will be a fierce spirit that won't be silenced. The fear of man becomes laughable. Fear of loss is a willing price to pay. Their passion is no longer building their own dream but rather becomes all about being a voice in the wilderness, tearing down strongholds and refusing to be muzzled!
Peter went from a man driven by fear to a fearless wonder, coming out of ten days in the prayer room and carrying a Pentecost fire that would not be ignored.
22 "Men of Israel, hear these words: Jesus of Nazareth, a man attested to you by God with mighty works and wonders and signs that God did through him in your midst, as you yourselves know— 23 this Jesus, delivered up according to the definite plan and foreknowledge of God, you crucified and killed by the hands of lawless men. 24 God raised him up, loosing the pangs of death, because it was not possible for him to be held by it. Acts 2:22-24 (ESV)

FOUR. They misunderstand the governmental purpose of the church
Ekklesia: A governmental gathering under apostolic leadership
I have long been frustrated at the misunderstanding of the purpose of the church that is epidemic today. The key, foundational purpose of the church is to be a house of prayer for all nations. Further, the ekklesia is a governmental gathering. Under apostolic leadership, the church is called to be a governing force in a city.
Sadly, many pastors and people presume the church to be little else than a place to meet together, to sing and learn and to involve themselves in various ministries, programs and projects. Of course, there are many supplemental ministries and projects that are absolutely appropriate and valuable, but they can never supersede the primary call—to pray and govern.
Pastors should absolutely be responding to the crisis in the land as they are the ones who have been commissioned to do so! They have been authorized, ordained, anointed and given a mandate to invade the darkness and command in the spirit!
FIVE. They want to stay out of politics
28 …"We strictly charged you not to teach in this name, yet here you have filled Jerusalem with your teaching, and you intend to bring this man's blood upon us." 29 But Peter and the apostles answered, "We must obey God rather than men. Acts 5:28-29 (ESV)
Many pastors reveal they intentionally stay out of politics. Often they communicate this as if they are operating in some form of wisdom or caution, when in reality they are abdicating their responsibilities.
We are called to legislate. We are called to govern. If the church is a governmental agency, as I shared in the previous point, it makes absolutely no sense that pastors would not address political issues in the nation. Often a desire to avoid politics has to do with fear of man and fear of loss. They understand the moment they get political is the moment they draw a line in the sand. We need leaders, not managers. We need people who will boldly draw that line and make it very clear that they won't be stopped as they deal with the crisis at hand.
We wouldn't be as concerned about finding the right candidate for office, whether it's mayor of the city or President of the United States, if our church leaders had some guts and gave political leadership themselves.
Peter responded to politics just as we must. We must obey God rather than men.
SIX. They just want to preach the bible
22 But be doers of the word, and not hearers only, deceiving yourselves. James 1:22 (ESV)
It sure sounds spiritual to say they just want to focus on the Bible, but it's not possible to only do that. You can't simply preach the Bible and ignore what's going on in culture. What do you do with all the accounts of the apostles and others who confronted culture, wickedness and the spirit of the age?
If they are preaching and teaching the Bible then they must model their lives and ministries after the people they are studying. We need pastors with the spirit of Elijah. Where are those who lead like Gideon and tear down ungodly cultural altars?
We must, without question, not only be hearers but also doers. If these heroes of the faith confronted culture, than we must as well.
SEVEN. Wrong theologies and a culture of positivity
"One of these days some simple soul will pick up the book of God, read it, and believe it. Then the rest of us will be embarrassed."― Leonard Ravenhill
There are streams today that only focus on what is positive and encouraging. They presume to find strength there and it gives license to ignore the negative and troubling issues of the day.
These are false-grace tainted doctrines and they are a threat to the call for the church to go on the offensive against wickedness in the world.
We need prophetic leaders who will speak with unction and with fire in their guts, people who will aggressively assault the kingdom of darkness and deal directly with the great evil that's increasing in power.
PROPHETIC VOICES RISE UP
The days of carefully guarding our churches, salaries, security and reputations are over. It's time to let churches die if necessary. We need prophetic voices behind the pulpits, people who will scare away the pretenders and provoke the sleepers and confront the wickedness that is among us.
The demonic hoard that has been released upon the world have been mostly uncontested. Their threats have gone unmet. We need governmental leaders in churches to finally stand firm for truth and to tear down arguments and altars with no thought of their own safety or well being.
It's past time to boldly and fearlessly stand against the spirit of the age.
Watch John teach this message titled Set Your Face:
SET YOUR FACE
A radical misunderstanding of how godly love truly manifests has led to a passive, affirming, tolerant response to one of history's most diabolical assaults.
We have borrowed an unbiblical, humanistic definition of what love truly is. The mantra of the age is love is tolerant, love is affirming, love accepts unconditionally. This has painted a picture of a benevolent, passive God who so values mankind that he is willing to allow them to choose any path they desire and he will tolerate and affirm the accompanying behaviors, beliefs and mindsets.
Such a belief system elevates man to idol status and minimizes God to a mystical, happy force that has few standards or expectations. The most important thing is that people are happy, and when they are, God is most satisfied.
This doctrine of demons has resulted in a fear to represent God as he truly is to a generation that's largely hedonistic. The prevailing thought is a humanistic one: We have to ensure only God's positive attributes are revealed while hiding or even disagreeing with his standards. This has deemed today's prophetic voices that adhere to that strategy as impotent at best and extremely dangerous at worst. The risk is that they veil God's holiness and the reality of eternity and, in turn, raise up disciples of a demonic counterfeit that wraps it's arms around a rebellious people—all in the name of love.
IT'S TIME TO WAGE WAR
The default position for all of us must be to reveal the true and immeasurable love of God to all. That goes without saying.
This however does not complete our job as end-time prophetic messengers and warriors of Christ. We have to understand that very few will in fact turn to Jesus in a legitimate way. While we need to contend for salvation for all, we have to understand that most will reject that call.
There are many clear enemies of God, and our mission of advancing light into the darkness much match that reality. Our expectations and strategies must match the situation.
James 4:4 (ESV) 4 You adulterous people! Do you not know that friendship with the world is enmity with God? Therefore whoever wishes to be a friend of the world makes himself an enemy of God.
The following is from a Glenn Beck article titled Past 10 Days Have Been A 'Slapping Of God's Face':
"…you don't have to be a genius to figure out what the problems are in the country," Beck said on his radio program. "It's because our society, our people, us, have become lovers of self, lovers of money, proud, arrogant, abusive, disobedient to our parents, ungrateful, unholy, inhuman. We're slanderers," Beck continued. "We're haters of good. We're treacherous, reckless, swollen with conceit, lovers of pleasure much more than lovers of God. [We're] holding the form of religion, but denying the power of it."
The time is now to wage war against the spirit of the age. While we don't wrestle against flesh and blood, we do wrestle against evil spirits.
Flesh and blood humans who embrace those evil spirits will absolutely feel the force of the warfare. We can't allow that troubling reality stop us from opening our mouths and declaring truth.
We must be strong, and fight:
Ephesians 6:10-11 (ESV) 10 Finally, be strong in the Lord and in the strength of his might. 11 Put on the whole armor of God, that you may be able to stand against the schemes of the devil.
What are we doing to stand against the evil schemes in America today? It's not enough to share the love of God to the lost through evangelism and other methods, as critical as that mandate is. There is more—much more. There is an invisible realm that is manifesting visibly in our nation. We must go to war as conquerors, as victors and as ambassadors of Christ.
Ephesians 6:12 (ESV) 12 For we do not wrestle against flesh and blood, but against the rulers, against the authorities, against the cosmic powers over this present darkness, against the spiritual forces of evil in the heavenly places.
Several keys are revealed in the totality of the Ephesians 6 passage including taking up our shield of faith, wearing the helmet of salvation, and praying in the Spirit. The final method of battle is revealed in verse 19 where Paul is asking for prayer:
Ephesians 6:19-20 (ESV) 19 and also for me, that words may be given to me in opening my mouth boldly to proclaim the mystery of the gospel, 20 for which I am an ambassador in chains, that I may declare it boldly, as I ought to speak.
In addition to all of the spiritual armor Paul is wearing, his prayer at the end of his instructions reveals he must also take on boldness to speak! This is where the American church is failing embarrassingly today. Very little of the messages coming from it require any boldness at all to speak.
The true gospel message will very often provoke and disturb the majority who are opposed to truth. If the message wouldn't cause problems for the enemies of God, and in turn for the messenger of God, why would boldness be necessary? There is a radical resistance to holiness and obedience to God in the land that is largely unmet by today's Christian voices. We must again pray for boldness to preach what will result in great persecution for the church.
As Paul was writing this letter to the Ephesians, he was being persecuted, currently imprisoned because of that very message. He didn't ask for the physical issues to be removed but rather that he would boldly confront the spirit of the age with the gospel. His plan was to continue preaching the very truth that was irritating the people of the region.
It's a contrary, offensive, demanding, in your face message, contrary to the sugary, passive message that many are calling the gospel today.
SET YOUR FACE AND PROPHESY AGAINST THEM
In Ezekiel 25 we see a key strategy emerge.
Up until this point, concerning Jerusalem and the land of Israel, people had been holding on to faint hope due to the encouragement of false prophets. Then, contrary to the words of the false prophets, Jerusalem was destroyed. We are hearing the same thing today from so many Christian prophets and preachers—that everything is okay, and even getting better and better, all while great evil is increasing exponentially, persecution is increasing and darkness is expanding. People are being lured into nationally sanctioned sodomy and perversion and Christians who oppose it are being ridiculed and fined. Soon, if things don't change, we will see Christians in prison in America just as they are in North Korea simply for preaching the Bible.
After Jerusalem was defeated, Ezekiel switched his prophetic focus to the surrounding nations. It would not be pretty. His message wasn't one of happy affirmation.
In fact, Jesus himself didn't always have the disposition of a gentle shepherd. Watch how he set his face against cities:
Luke 10:13-16 (ESV) 13 "Woe to you, Chorazin! Woe to you, Bethsaida! For if the mighty works done in you had been done in Tyre and Sidon, they would have repented long ago, sitting in sackcloth and ashes. 14 But it will be more bearable in the judgment for Tyre and Sidon than for you. 15 And you, Capernaum, will you be exalted to heaven? You shall be brought down to Hades. 16 "The one who hears you hears me, and the one who rejects you rejects me, and the one who rejects me rejects him who sent me."
J. Vernon McGee said:
We get a warped view of Him when all we hear is, "God is love, God is love." It is true that God is love, but don't lose sight of the fact that God is also holy. He is righteous and He will judge. You are not rushing into heaven on the little love boat today. If you reject His salvation, there will be nothing left but judgment.
Ezekiel 25:1 (ESV) 1 The word of the LORD came to me:
I often have to stop after seemingly unimportant verses like this one to consider the ramifications: "The word of the Lord came to me."
Is the word of the Lord coming to anybody out there today? Of course several true messengers of God are receiving the alarming, Rhema words of God in this hour, but they are few and far between. I appreciate people like John Kilpatrick who has the courage and discernment to declare that "America is now an apostate nation." Other like Steve Hill, Leonard Ravenhill, Isaiah Saldivar, Nathan Morris, Mike Bickle, Mario Murillo and Lou Engle are voicing or have voiced culture shaking truth.
When supposed messengers of God are expressing only happy, positive, affirming words they instantly lose credibility with me.
Jeremiah 23:16-17 (ESV) 16 Thus says the LORD of hosts: "Do not listen to the words of the prophets who prophesy to you, filling you with vain hopes. They speak visions of their own minds, not from the mouth of the LORD. 17 They say continually to those who despise the word of the LORD, 'It shall be well with you'; and to everyone who stubbornly follows his own heart, they say, 'No disaster shall come upon you.'"
Contrast the previous verses with what follows:
Jeremiah 23:18-20 (ESV) 18 For who among them has stood in the council of the LORD to see and to hear his word, or who has paid attention to his word and listened? 19 Behold, the storm of the LORD! Wrath has gone forth, a whirling tempest; it will burst upon the head of the wicked. 20 The anger of the LORD will not turn back until he has executed and accomplished the intents of his heart. In the latter days you will understand it clearly.
Just as in Jeremiah's time, today people are prophesying words that did not originate with God:
Jeremiah 23:21-22 (ESV) 21 "I did not send the prophets, yet they ran; I did not speak to them, yet they prophesied. 22 But if they had stood in my council, then they would have proclaimed my words to my people, and they would have turned them from their evil way, and from the evil of their deeds.
Thankfully, Ezekiel did receive the Word of the Lord. Now, what happens next is a spiritual mandate that is almost entirely forsaken in today's church.
Ezekiel 25:2 (ESV) 2 "Son of man, set your face toward the Ammonites and prophesy against them.
One of the most quoted scriptures in the Bible is John 3:16. It's a revelation of God's love. I believe we stop short of the greater message to the detriment of the mission.
Here's the famous verses:
John 3:16-17 (ESV) 16 "For God so loved the world, that he gave his only Son, that whoever believes in him should not perish but have eternal life. 17 For God did not send his Son into the world to condemn the world, but in order that the world might be saved through him.
And here's what's so often neglected though it is a part of the preceding passage:
John 3:18 (ESV) 18 Whoever believes in him is not condemned, but whoever does not believe is condemned already, because he has not believed in the name of the only Son of God.
We need to understand that the wrath of God remains on those who don't have eternal life in Christ. Reading further in chapter three of John reveals this:
John 3:36 (ESV) 36 Whoever believes in the Son has eternal life; whoever does not obey the Son shall not see life, but the wrath of God remains on him.
So, clearly there are enemies of God who are choosing to remain condemned, and we can't sit back hoping that they someday turn.
As we prophecy against the enemies of God we are simply bring revelation regarding their condition and their future should they not repent. This is an act of godly love that will be rejected as hatred in our humanistic culture!
In fact, even within the church we are called to some extreme measures for the sake of the rebellious person's soul—in the name of love!
1 Corinthians 5:1-5 (ESV) 1 It is actually reported that there is sexual immorality among you, and of a kind that is not tolerated even among pagans, for a man has his father's wife. 2 And you are arrogant! Ought you not rather to mourn? Let him who has done this be removed from among you. 3 For though absent in body, I am present in spirit; and as if present, I have already pronounced judgment on the one who did such a thing. 4 When you are assembled in the name of the Lord Jesus and my spirit is present, with the power of our Lord Jesus, 5 you are to deliver this man to Satan for the destruction of the flesh, so that his spirit may be saved in the day of the Lord.
We are to deliver unrepentant people in the church to Satan! This is a very powerful example of what Ezekiel was doing by prophesying against people. Again, this is an expression of love as we trust God's wisdom. Note that delivering someone to Satan would introduce them to a terrible season of life as their flesh is destroyed—so that their spirit might be saved.
As we prophesy against the spirit of the age, we are also agreeing in battle with God as he moves to protect his own. God is zealous for his Bride.
THE AMMONITES CELEBRATED AND EZEKIEL RESPONDED
Why was God against the Ammonites?
They celebrated when Israel was defeated.
There are many today who are applauding the defeat of godly marriage in our nation, defeats regarding abortion, prayer in school and many other losses. This is the rebellion in the land that must be confronted, in love, with boldness by today's preachers and prophets.
Ezekiel 25:3-4 (ESV) 3 Say to the Ammonites, Hear the word of the Lord GOD: Thus says the Lord GOD, Because you said, 'Aha!' over my sanctuary when it was profaned, and over the land of Israel when it was made desolate, and over the house of Judah when they went into exile, 4 therefore behold, I am handing you over to the people of the East for a possession, and they shall set their encampments among you and make their dwellings in your midst. They shall eat your fruit, and they shall drink your milk.
This is serious.
Is America at risk of being handed over to other nations who will ultimately defeat us? Yes. It's becoming easier to see a day when America will be no more. I know such a thought will cause the positive thinkers to react and accuse me of not standing in faith or professing doom and gloom. Those accusations don't move me. If I had no faith for America's spiritual revival I would never waste time sounding an alarm like I am in this article. A revelation of a possible, or even probable, troubling future is not an exercise in faithlessness, it's an act of love. Tornado alarms go off to help people prepare for trouble and react accordingly so they might be saved. Can you imagine getting angry at the alarm?
Just as I wrote that I heard very loud thunder exploding outside, and then I heard loud, distinctive tones booming out of my mobile phone. A message is currently displaying that says:
Emergency alert

Flash Flood Warning in this area until 9:00pm CDT. Avoid flood areas. Check local media. National Weather Service. Imminent severe alert.
Interesting timing, don't you think?
I just read a powerful prophecy of judgment and destruction coming to America by A.A. Allen in Charisma Magazine. In part, he says:
The next thing which I saw was a huge ball of fire. The only thing I have ever seen which resembled the thing I saw in my vision was the picture of the explosion of the H-bomb in the South Pacific. In my vision, it was so real I seemed to feel a searing heat from it.

As the vision spread before my eyes, and I viewed the widespread desolation brought about by the terrific explosions, I could not help thinking," While the defenders of our nation have quibbled over what means of defense to use, and neglected the only true means of defense, faith and dependence upon the true and living God, the thing which she greatly feared has come unto her!

How true it has proven that "Except the Lord keep The city, The watchman watches but in vain."
It's interesting that God's primary motivation is not making life better for everybody. He's not interested in affirming people in their sin or letting them know how much he loves them.
So, what is God's ultimate purpose? To prove himself!
Ezekiel 25:5 (ESV) 5 I will make Rabbah a pasture for camels and Ammon a fold for flocks. Then you will know that I am the LORD.
Ezekiel continues by addressing their celebration of wickedness. God makes it clear that rejoicing in immorality results in judgment:
Ezekiel 25:6-7 (ESV) 6 For thus says the Lord GOD: Because you have clapped your hands and stamped your feet and rejoiced with all the malice within your soul against the land of Israel, 7 therefore, behold, I have stretched out my hand against you, and will hand you over as plunder to the nations. And I will cut you off from the peoples and will make you perish out of the countries; I will destroy you. Then you will know that I am the LORD.
Again, this is so that everybody may know that he is Lord! This is a prime motivation!
Philippians 2:9-11 (ESV) 9 Therefore God has highly exalted him and bestowed on him the name that is above every name, 10 so that at the name of Jesus every knee should bow, in heaven and on earth and under the earth, 11 and every tongue confess that Jesus Christ is Lord, to the glory of God the Father.
The day homosexual marriage was legalized across the nation people filled the streets in cities from east to west in mass gatherings of celebration.
Time Magazine: Crowds of people filled the street outside the Stonewall Inn in New York City on Friday, celebrating the Supreme Court's landmark gay marriage ruling and marveling at how much has changed in the past 50 years.

nbcnewyork.com: Celebrations Erupt in New York City After Supreme Court Legalizes Same-Sex Marriage Nationwide. From pop-up parties to weddings, New Yorkers are celebrating the Supreme Court's ruling that same-sex couples have a right to marry anywhere in the United States. Within an hour of the ruling, rainbow flags were hanging outside City Hall. Mayor Bill de Blasio officiated at two same-sex weddings on the steps of City Hall on Friday afternoon as hundreds of spectators waving rainbow flags and holding signs looked on. Another couple renewed their vows.

acj.com: More than 1,000 people showed up in the rain Friday night to celebrate a milestone they never thought they would see. Gays and lesbians hugged and kissed in joy. They waved rainbow and American flags. Some were in drag, others in suits. Some brought their children. "This was a victory for us all. A victory for civil and human rights," said Felicia English, trying to feed her 14-month old daughter Samantha, whose adoption was finalized on March 3. "Our daughter had two mothers and I am so happy for her. That she will not have to face adversity and discrimination." "Today, love wins," de Blasio said Friday.
We must boldly set our face and prophesy against such unholy demonstrations and celebrations of the defeat of biblical morality regarding gay marriage.
Revival will come when the distinction between light and darkness is its sharpest. It's messengers of God who must bring definition to our current crisis.
The goal isn't the affirmation of the people but it's that they know that Jesus is Lord!
It's time to clearly decry the darkness and shout the message of light, boldly, no matter if we are imprisoned or not.
That, in fact, may be a not too distant future reality for true prophetic voices today.
A primary barrier to revival is the church's reluctance to honestly analyze the dark, negative condition of our culture.
It is necessary to awaken men to a sense of guilt and danger. ~Charles Finney
There is increasing pressure from the church in our nation to reject any negative analysis or any call to reformation that reveals that which is out of order yet still valued by the people.
I feel this pressure in our ministry often. The demand is for balance, or, in reality, an overdose on happy with a rare, occasional sprinkle of temporary sobriety. Focus on the good in the hopes that it will resolve the bad. Unfortunately, it just doesn't work that way.
I take the troubling, urgent, upsetting, all consuming messages of my heart to the Lord daily—often many times a day. The fear of the Lord is on me, and I don't want to communicate anything that's not driven by love and obedience. I can't imagine preaching something out of my soul that God would resist. I tremble at the thought.
I also feel God's fear from the other direction—I can't imagine staying silent or giving into demands for balance or positivity at the cost of souls. I know there will already be people in Hell forever because of my failure to speak the truth, and I cannot bear to let that tragedy continue.
Prophecy of the end-times by 90 year old woman in 1968: A lukewarmness without parallel will take hold of the Christians, a falling away from true, living Christianity. Christians will not be open for penetrating preaching. They will not, like in earlier times, want to hear of sin and grace, law and gospel, repentance and restoration. There will come a substitute instead: happiness Christianity. Churches and prayer houses will be emptier and emptier. Instead of the preaching we have been used to for generations -like, to take your cross up and follow Jesus, – entertainment, art and culture will invade the churches where there should have been gatherings for repentance and revival.
The true analysis of the church in our nation is exactly what this women prophesied. The sackcloth and ashes are nowhere to be found. The playful, careless attitudes have resulted in a measure of happiness but no revival.
The very need for revival reveals the true condition of the church.
It presupposes that the church is sunk down in a backslidden state, and a revival consists in the return of a church from her backslidings, and in the conversion of sinners. A revival always includes conviction of sin on the part of the church.~Charles Finney
Positivity has invaded the church and its strategies. Even evangelism today in many places is devoid of dealing with sin and repentance. The message is, "God loves you" without also communicating the dark, depravity of the human heart. Who wouldn't want to follow a happy God who likes us? The problem is that's not the entirety of the Gospel, and that message is resulting in disillusioned people following Jesus in an unsaved condition.
Church services are full of celebration but absent of grieving. This must change.
There is so little principle in the church, so little firmness and stability of purpose, that unless the religious feelings are awakened and kept excited, counter worldly feeling and excitement will prevail, and men will not obey God. They have so little knowledge, and their principles are so weak, that unless they are excited, they will go back from the path of duty, and do nothing to promote the glory of God. ~Charles Finney
I've said it many times before: we need to cancel most everything we do and gather together day after day and pray.
Many wonder why I keep beating a dead horse. It's simple. Because the horse is still dead.
Wake up, and strengthen what remains and is about to die, for I have not found your works complete in the sight of my God. Revelation 3:2
It's time to shut down our conferences, cancel our church services, eliminate everything that will distract us—and pray. Continually. Together. For months or years until revival breaks out.
 And while staying with them he ordered them not to depart from Jerusalem, but to wait for the promise of the Father, which, he said, "you heard from me; Acts 1:4
Revival in America?
Ok, of course there's hope for revival in America. So, what's the problem? The church is mostly sitting back on a casual, costless idea that revival can come without investing into the clear, non-negotiable process. Thus, our pursuit of revival has become little more than a mystical wish upon a star.
I want to make this as simple as I can. Until the church gathers together continually, prays fervently and repents in tears, revival is little more than a pipe dream.
 Consecrate a fast; call a solemn assembly. Gather the elders and all the inhabitants of the land to the house of the LORD your God, and cry out to the LORD. Alas for the day! For the day of the LORD is near, and as destruction from the Almighty it comes. Joel 1:14-15
How can we presume revival is near when people are not interested in doing now what they will be doing when revival breaks out? It's insanity.
Some people are terribly alarmed at all direct efforts to promote a revival, and they cry out, "You are trying to get up a revival in your own strength. Take care, you are interfering with the sovereignty of God. Better keep along in the usual course, and let God give a revival when he thinks it is best. God is a sovereign, and it is very wrong for you to attempt to get up a revival, just because you think a revival is needed." This is just such preaching as the devil wants. And men cannot do the devil's work more effectually than by preaching up the sovereignty of God, as a reason why we should not put forth efforts to produce a revival. ~Charles Finney
Revival isn't a mystical, ethereal experience that appears out of nowhere. There is cause and effect.
There has long been an idea prevalent that promoting religion has something very peculiar in it, not to be judged of by the ordinary rules of cause and effect; in short, that there is no connection of the means with the result, and no tendency in the means to produce the effect. No doctrine is more dangerous than this to the prosperity of the church, and nothing more absurd.

Suppose a man were to go and preach this doctrine among farmers, about their sowing grain. Let him tell them that God is a sovereign, and will give them a crop only when it pleases him, and that for them to plow and plant and labor as if they expected to raise a crop is very wrong, and taking the work out of the hands of God, that it interferes with his sovereignty, and is going on in their own strength: and that there is no connection between the means and the result on which they can depend. And now, suppose the farmers should believe such doctrine. Why, they would starve the world to death.

Just such results will follow from the church's being persuaded that promoting religion is somehow so mysteriously a subject of Divine sovereignty, that there is no natural connection between the means and the end. ~Charles Finney
When we do certain things, revival comes. When we don't, it doesn't.
Revival is not a miracle, or dependent on a miracle, in any sense. It is a purely philosophical result of the right use of the constituted means–as much so as any other effect produced by the application of means. The revivals in the apostles' days were connected with miracles, but they were not miracles. ~Charles Finney
Evan Roberts modeled the cause and effect reality of revival brilliantly. It is simple:
"Congregate the people who are willing to make a total surrender. Pray and wait. Believe God's promises. Hold daily meetings. "Evan Roberts
Why is revival not breaking out in any of the 19,000 cities in America? It's not hard to understand.
Congregate the people—Prayer meetings and solemn assemblies are becoming emptier and emptier.
Who are willing to make a total surrender—Cares of life, busyness and other personal endeavors have displaced the call to die daily.
Pray—It's rare today to find a Christian who pays the price of fervent intercession.
Wait—In our ADD society, endurance has been offered at the altar of instant gratification, even if that gratification isn't God.
Believe God's promises—Do we really believe the Bible? Do we stand immovably on the truths of Scripture? Not so much.
Hold daily meetings—This one is laughable. We just don't have the time, energy or desire.
As a nation, we are zero for six in response to Evan Roberts' prescription for revival.
Keep in mind, Evan was responding to a message from Frank Bartleman who was curious as to how to initiate revival in his region. Frank listened to Evan and the Asuza Street Revival changed the world.
We aren't waiting on God. He's waiting on us. Revival is up to us.
Many people have supposed God's sovereignty to be some thing very different from what it is. They have supposed it to be such an arbitrary disposal of events, and particularly of the gift of his Spirit, as precluded a rational employment of means for promoting a revival of religion. But there is no evidence from the Bible that God exercises any such sovereignty as that. There are no facts to prove it. But every thing goes to show that God has connected means with the end through all the departments of his government. ~Charles Finney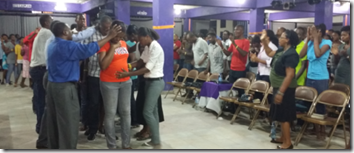 In this nation I have found it nearly impossible to pull of the strategy that Evan Roberts prescribed, though in Haiti it was easy!
Every night I was there, people walked up to two hours through very difficult terrain to come to church and pray with passion! Nobody drove, everybody walked, and everybody engaged. Nobody milled around, left to go to the bathroom or was disinterested. Two thousand people a night were in position, in prayer and ready for instructions! Then, they walked home two hours in the dark and usually in torrential downpours to their homes.
I felt the spirit of revival in Haiti—the first time I've felt it in years.
That statement may cause trouble for those who embrace positivity. The thought is that any acknowledgement of a negative reality puts hope at risk. That is absolutely absurd.
Would anybody run a business this way? Would board meetings include only positive, happy thoughts in the hopes that they in themselves would turn the business around? Of course not.
Any successful business is an honest business. They analyze trends. They aren't afraid to admit where they are failing. The don't put their heads in the sand. They don't presume a plastic smile is the answer.
Just as in business, revival will come as we honestly admit there is darkness in the land and trouble in the church.
A Warning Dream
I recently had a dream that was a personal warning to me, and it will help you understand better why the messages of repentance, reformation and revival can't stop being the primary alarms of my ministry every day.
These alarms have cost my family and me quite a bit. While there is much fruit and glorious reports that continue to result from the message in my heart, the resistance is non-stop. While many have appreciated the prophetic call this ministry has, many others have pulled back from us, stayed at arms length, unfriended us or publicly renounced our ministry. I don't say that to complain. Not at all. I say that to communicate how easy it would be to just stop ministering.
The temptation is there, ever so slightly, to pull back, chill out and become more balanced. More normal. More palatable.
I'm smart enough to know that I'd have a church of at least a couple hundred people, a healthy full time salary and a great reputation if I did so. I go to sleep with that thought every night.
Instead, the resistance is intense and it's rare to find those who will carry the burden with me. God once told me, "When you pray for the remnant, don't be surprised when the remnant shows up."
The masses will be drawn to happy celebration as during the Triumphal Entry but it's a very small remnant that will respond to the message of the cross.
The Dream
In my dream I traveled to a church I spent a lot of time in my early years in Dayton, Ohio. I absolutely love this church and have been back there to preach on multiple occasions since I moved away.
I was the guest speaker for the weekend, and I was excited to release a powerful word of the Lord.
When I arrived, there were hundreds of people flooding the property. It was a festive, exciting atmosphere with a lot of young people.
I immediately realized though that while people were happy to see me, nobody mentioned anything about me speaking. It was clear that I wouldn't be ministering at all.
The people were entirely focused on socializing and fun. There was a massive slide in the church, much like an enclosed waterslide that you'd ride at the water park. This one didn't have water, but you rode down on a cart. People stood in line for a long time to ride, and then they came back up to ride again.
The pressure was to have fun, be happy and enjoy life. So, I did. I waited in line and rode through the slide. It was amazing! It was massive and full of thrills!
I then went to the foyer of the church and suddenly realized I was barefoot. I lost my boots. It was extremely strange.
I opened the door and looked outside. It was the middle of summer, but the snow was falling. There was at least 8 inches of snow on the ground and it was still falling very heavily.
I walked out into the snow covered parking lot and then realized my kids were gone. I started to panic when I heard Eva's laugh. She was in her car seat, on the ground behind a parked car. She was covered with snow.
I then woke up.
The Interpretation
It's very simple. The church wants to play, and the pressure will be intense to join them. The message of the hour is not wanted. Happy church is the plan and the sheer numbers who are supporting it will attempt to drown out any contrary voice.
When I gave in, I lost my apostolic authority, represented by my boots.
I also lost my children. Eva was in her car seat, which was designed to be in the car. Vehicles represent ministry. The loss of my apostolic ministry resulted in my children, my inheritance, also being removed from their ministry. The next generation will be affected by the response of this generation.
The snow represented the coming revival, the refreshing. Very few even experienced it and I was not prepared to minister it.
The Strategy
I will admit, I question whether revival will come to America. I know it can, but will it?
I've been in Detroit for five years, and every year many have presumed that revival was imminent. I wanted it to be, but I knew it was not.
Again, it's because of a very simple analysis—the prayer meetings are sparse.
I've been to many prayer and revival meetings over the years, and most of them have been pretty good. However, most of them have been quite empty.
Until the church reprioritizes schedules and what's important, and prays night and day from a place of repentance and desperation, revival will most likely be held back.
But, if a remnant group will do this, revival can certainly come. Only God knows how many must respond to the call.
I say we don't risk it. Let every Spirit-filled Christian in the cities of the Earth move into a life of consecration and pray together non-stop until God moves in our nation.
I will leave you with a call to action that Charles Finney left those who heard his lecture on revival:
I have a proposal to make to you who are here present. I have not commenced this course of Lectures on Revivals to get up a curious theory of my own on the subject. I would not spend my time and strength merely to give you instructions, to gratify your curiosity, and furnish you something to talk about. I have no idea of preaching about revivals. It is not my design to preach so as to have you able to say at the close, "We understand all about revivals now," while you do nothing. But I wish to ask you a question. What do you hear lectures on revivals for? Do you mean that whenever you are convinced what your duty is in promoting a revival, you will go to work and practise it?

Will you follow the instructions I shall give you from the word of God, and put them in practise in your own lives? Will you bring them to bear upon your families, your acquaintance, neighbors, and through the city? Or will you spend the winter in learning about revivals, and do nothing for them? I want you, as fast as you learn any thing on the subject of revivals, to put it in practice, and go to work and see if you cannot promote a revival among sinners here. If you will not do this, I wish you to let me know at the beginning, so that I need not waste my strength. You ought to decide now whether you will do this or not. You know that we call sinners to decide on the spot whether they will obey the Gospel. And we have no more authority to let you take time to deliberate whether you will obey God, than we have to let sinners do so. We call on you to unite now in a solemn pledge to God, that you will do your duty as fast as you learn what it is, and to pray that He will pour out his Spirit upon this church and upon all the city this winter.