After four years of sharing a property, Revival Church and theLab are moving into our own building!
And, we are also announcing a BRAND NEW schedule, so read on and get all of the details!
YOUR HELP IS NEEDED
I will be following up on this email with a very special and important message in the next 24 hours.
Please be in prayer and allow yourself to get excited about helping us get setup as a house of prayer.
I will share specific needs with you and you will have the opportunity to donate toward a specific item (kind of like a gift registry!).
**You can now see the needs HERE! (Link will open in a new window)
OUR NEW SCHEDULE
Our primary service is moving from Sunday evening to Saturday evening!
Our first service in our new location will be Saturday, July 13th at 7pm. Come early for coffee and Prep Room (prayer) at 6pm!
Schedule
Saturday 7pm Prep Room 6pm Intercession & Teaching 7pm
Monday 7pm Prep Room Study of Historic Revivals
Tuesday 7pm Soaking Prayer Teaching on Intimacy with God
Wednesday 7pm Prep Room Bible Study
Thursday 7pm theLab Classes (when in session)
Friday 7pm Prayer & Ministry in the City
Grand Opening Weekend
Mark your calendars for Saturday, July 27th & Sunday, July 28th!
We are excited to have very special guest Richard Crisco with us on Sunday, July 28th at 7pm.
More details to follow.
OUR NEW LOCATION
26091 Sherwood Avenue, Warren, MI 48091
OUR FRESH FOCUS
So, you are tired of church as usual? OK! Get ready!
Revival Church and theLab are focused on white hot prayer and equipping of hungry, remnant Christians. Our new property is set up more like a school than a church. In fact, very interestingly, a previous business in the building was a lab! How fitting is that?
You will have a unique opportunity to connect with a small group of Believers who are passionate about large scale revival—and who are devoted to learning how to pray, discovering intimacy with God, encountering the Holy Spirit and preparing for ministry.
We can't wait to get started on July 13th! (In the mean time, we are still meeting on Sundays in our current location. See you this week!)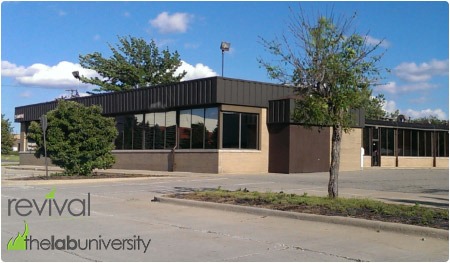 House of Prayer: A Revelation Driven House of Prayer model is coming to the Detroit region! You are invited to dive into the fire with us!
First! TONIGHT learn more about the coming house of prayer strategy as I teach at theLab on Revelation Driven Prayer! Perfect timing! You can audit this class for $25. Just show up and pay at the door TONIGHT, Thursday, January 31st at 7pm! (Cash, check, credit card)
Revival Church meets at CENTRAL CHURCH, 1529 E. 12 Mile Rd, Madison Heights, MI 48071.

---
The purpose of this message is twofold:
Explain the new house of prayer model that's coming soon to the Detroit region
Solicit help to find the perfect property to house it
Revelation Driven House of Prayer
Simply put, a Revelation Driven House of Prayer is a house of prayer marked by a sharp and vibrant prophetic fire.
We have experienced absolutely stunning miracles throughout the years when we have employed this revelation driven model of intercession. You can listen to some of the dramatic stories that we lived through in Manitou Springs, Colorado. I shared them Sunday at Revival Church. Listen to the house of prayer stories here: http://media.johnburton.net/6670824
This house of prayer model embraces various styles of prayer including decrees, soaking, declaring the Word, worship and others. The common thread is encounter and response to the heart of God.
Additionally, there is a mysterious yet powerful balance between brokenness and exuberant joy. Between repentance and freedom. Grief and victory.
Simply know this, it won't be a despair driven house of prayer! Sadness, depression, frustration, unbelief and hopelessness are not a part of the strategy! Joy, freedom, dancing, victory and bold authority to advance revival in our region will fuel us!
As we advance together, a powerful and constant prophetic atmosphere will be developed, and we will watch miracle after miracle occur as we respond to the revelation God gives us. It will be an adventure to say the least!
The Revelation Driven House of Prayer Plan
While the specifics can change as we get closer to launch, the plan currently includes:
Revival Church is the foundation on which the house of prayer will exist. The property we find will house both (which are really one, but for the sake of communicating this fresh vision, I'm making distinctions.)
Two primary weekly encounter services (Saturday & Sunday nights)
One Revival Church service (Sunday morning)
Joyful, weighty worship
Revelation Driven Prayer Monday & Tuesday nights
Verse-by-verse Bible study Wednesday nights
theLab Class Thursday nights
City focused events off site Friday nights
Daily noon worship & soaking prayer (Mon-Fri)
This model will be reproduced in our Tribes, and in other cities around the world! We are ready to bring our team to your location to help launch a Revelation Driven House of Prayer!
Property Search
We are ready to start the new house of prayer immediately. Can you help us find a property? Here's what we need:
Within approx 7 miles of our current location in Madison Heights. Troy, Warren, Royal Oak, Sterling Heights and other nearby places could work well.
At least 8,000 square feet, preferably closer to 20,000
A large open room that can hold a large stage plus at least 150 chairs
Parking for a minimum of 30 cars, preferably over 50
Air conditioned
Good condition/move in ready
Offices and classrooms
Zoned correctly and no modifications necessary to house a church (for example, buildings designed for large assemblies must have a certain type and number of restrooms)
Approx $2000/month to lease, or a donation of a property to Revival Church
Could be an existing church (which would be the easiest), a warehouse, industrial property, etc.
Additionally, we are currently fundraising for the new house of prayer. We need to raise an additional $45,000. We are encouraging people to ask the Lord about making a significant, special donation in addition to regular tithes. Get creative in your giving! Real estate, jewelry, vehicles, etc. will help us reach this goal! You can give online at www.detroitrevivalchurch.com/donate. All donations are tax deductible.
Some have made faith pledge, and you can do the same by emailing us at [email protected]. All it would take is nine people pledging $5000 over the next few months! Just mention the house of prayer property in your submission!
prophetic house of prayer teaching
A Crisis in the Church: the house of prayer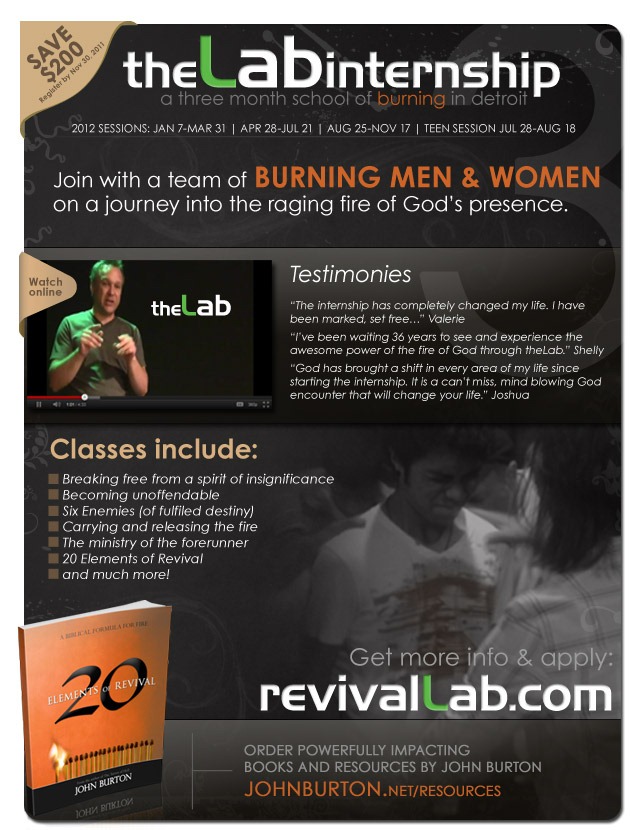 2012 sessions: Jan 7-Mar 31 | apr 28-jul 21 | aug 25-nov 17 | teen session jul 28-aug 18
Click here for the schedule
Click here for the class list
Join with a team of burning men & women on a journey into the fire of God's presence. We believe there is a significant yet hidden company of Believers that God is gathering together to be trained, healed and infused with fire. These mighty people will carry and release the burning of the Holy Spirit into the revival-ready Detroit region…and beyond to the cities of the Earth.
The internship will be fueled by deep and prophetic prayer both in a small group setting and as we move out together to intercede in churches throughout the region.
INTERNSHIP WEEKLY SCHEDULE
THURSDAY-7PM
Debriefing, training and intercession
FRIDAY 10PM-MIDNIGHT
theLab Intercession Event
SATURDAY 10AM-2PM
Primary teaching session
SUNDAY 5PM
Revival Church pre-service prayer
SUNDAY 6PM
Revival Church service
ADDITIONAL EVENTS
We will also be involved in special revival and prayer events in the city. Interns will be expected to serve at these events.
Find more info at www.revivallab.com or email us at [email protected].