Manitou Springs Flood and Tornado: God is orchestrating the advance of revival though we are sad to announce the closure of RHOP in Manitou Springs…
---
RHOP'S CLOSING & REVIVAL CHURCH'S NEW PROPERTY
Our team just returned from our third Manitou Springs, Colorado prayer journey this year—and instead of advance, Revolution House of Prayer has been shut down. Only 10 people remained to carry the burden of intercession unto revival, and that burden was too great. A greater army was required, and that army didn't respond.
I believe it was God's "Plan B" for the church to close. "Plan A" was simple: soldiers respond in force and pray night and day in this city that is so critical for revival regionally and nationally. Plan A didn't happen. The goal wasn't a mega-church as that size of a people would have compromised the mission. The call was for a team of remnant Christians to gather and advance revival through the house of prayer mandate.
Though it's sad our twelve-year-old ministry closed this past week, we can see God's redemptive plan in the midst of it.
We were presented with the opportunity to cancel return flights and rent a U-Haul to transfer RHOP's equipment to Revival Church's new property in Detroit.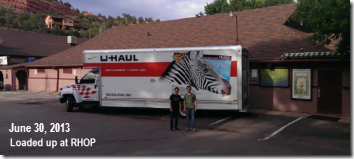 Though we broke down ten times (yes, TEN TIMES!) on the way here, we now have chairs, audio equipment, furniture, coffee equipment and more to help us get started in our new property!
So, as I stated above, the needs have diminished considerably. We aren't quite there yet…so, your donation will bless us considerably!
You can donate NOW: www.explorerevival.com/specialgift
MANITOU SPRINGS
My vision for Manitou Springs is increasing, not decreasing.
However, the vision for revival in that region has yet to spread to many others. We held conferences there two separate times this year to rally support and gather the hungry, yet beyond those events, the response was limited.
I can boldly say that the heavily resourced church of Colorado Springs has been missing in action. They must show up for work immediately and send masses of intercessors, revivalists, musicians, leaders and others into Manitou multiple times a week to advance the vision of revival.
If people like Dutch Sheets agree that Manitou Springs may be the darkest city in the nation, why wouldn't the soldiers of Christ get their boots on the ground and stay until God breaks in? Colorado Springs, you are resourced wonderfully and you are needed for battle.
If I sound frustrated, I am. I unapologetically am. We spent a few months rallying musicians to help lead worship for three nights at our last conference by contacting large and prayer driven ministries in the area. We literally received zero response. We called the pastors of the churches in the region to gather. They did not. We have personally prayed on site in over 100 churches in the Pikes Peak region…we have served with passion with nothing in return expected…well, expect for a fervent spirit of prayer to ignite in those churches.
Again, my heart is to communicate the need, to cast the vision and to sound the alarm. That alarm will continue to sound, though Manitou Springs is now without a governmental prayer covering.
THE FLOOD WAS PROPHESIED
One day before I loaded up the U-Haul truck at RHOP, my father-in-law had a dream.
In the dream I was loading the truck and he saw a flood coming. He said, "John, you have to go! The flood is coming! The water is rising! The time is now! You must get out!"
I continued to get a few more items to throw in the truck before I left.
The next day I did in fact load the truck and we prayed and released Manitou Springs into the hands of God. We prayed for Miles and Jodi and released them from their assignment there as they moved into another.
I sat at the table in my in-law's house and said, "Wouldn't it be crazy if a flood actually did come the day after we moved out!"
Crazy happened. The earth groaned. The next day, as I was driving to Detroit, the flood came.
The creek that runs under RHOP is usually only a few inches deep, but less than 24 hours after we left it was over 9 feet deep as mud and water raged past. Miles said it hit the foundation of RHOP, and he's never seen it anywhere near that high before.
Then, the earth groaned again. The highest recorded tornado in American history landed on the top of Pikes Peak, America's mountain that sits at Manitou Springs.
Job 27:20 Terrors overtake him like a flood; in the night a whirlwind carries him off.
THE TAKEAWAY
Pray. Pour money, musicians, intercessors and other resources into Manitou Springs. The Colorado fires were no coincidence. God is calling for the intercessors to rise up.
If this post pulls on your spirit, please contact me. My heart is broken for Manitou Springs. So goes Manitou, so goes the entire Pikes Peak region.
John Burton