New teen internship : theLab Internship 2012 Schedule :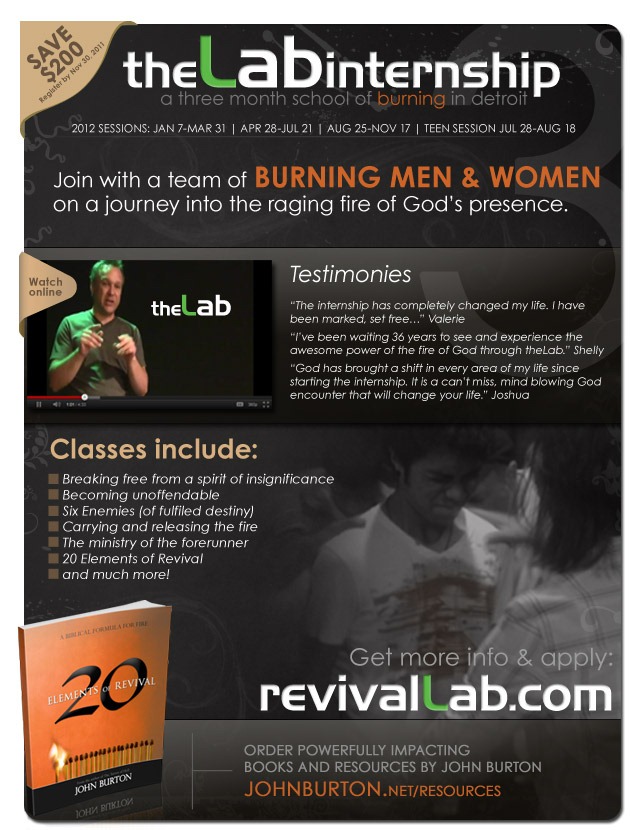 2012 sessions: Jan 7-Mar 31 | apr 28-jul 21 | aug 25-nov 17 | teen session jul 28-aug 18
Click here for the schedule
Click here for the class list
Join with a team of burning men & women on a journey into the fire of God's presence. We believe there is a significant yet hidden company of Believers that God is gathering together to be trained, healed and infused with fire. These mighty people will carry and release the burning of the Holy Spirit into the revival-ready Detroit region…and beyond to the cities of the Earth.
The internship will be fueled by deep and prophetic prayer both in a small group setting and as we move out together to intercede in churches throughout the region.
INTERNSHIP WEEKLY SCHEDULE
THURSDAY-7PM
Debriefing, training and intercession
FRIDAY 10PM-MIDNIGHT
theLab Intercession Event
SATURDAY 10AM-2PM
Primary teaching session
SUNDAY 5PM
Revival Church pre-service prayer
SUNDAY 6PM
Revival Church service
ADDITIONAL EVENTS
We will also be involved in special revival and prayer events in the city. Interns will be expected to serve at these events.
Find more info at www.revivallab.com or email us at [email protected].