Innumerable Christians are willingly engaging in occultic behavior, and it's not only on Halloween.
17

 

For nothing is hidden that will not be made manifest, nor is anything secret that will not be known and come to light.

Luke 8:17 (ESV)
I once heard about a Spirit-filled
pastor
who strategically avoided watching certain, questionable movies at theaters in his home town, instead driving an hour away to watch them in obscurity. He didn't want his choice of entertainment to be known, so he would head to the city to hide. This is an occultic maneuver.
oc·​cult

 

|

 

\

 ə-ˈkəlt : not revealed : SECRET: to shut off from view or exposure : COVER
Sadly, it has become common to hear about yet another Christian
pastor
or minister who has been exposed. Their secret life of
sin
was discovered, and the fallout is always devastating. Many go to great lengths to cover up their indiscretions, and they leave a trail of destruction that reaches far and wide. The Bible gives us a clear instruction to expose the darkness, yet today, too many Christians are doing the opposite, living secretive lives,
sinning
regularly and enjoying their dark, temporarily pleasurable deception.
14

 For God will bring every deed into judgment, with every secret thing, whether good or evil. Ecclesiastes 12:14 (ESV)
Listen to the podcast here… Before you start pointing a crooked finger at others, consider your own life. Is it possible you are driven by the occult as well? Have you created a system of checks and balances to ensure your private life is not exposed? How well does your mask fit? Are you sweet, holy and appropriate in public and altogether different in private or with your family? This is the occult at work, and it is a killer spirit. It's one thing to expose someone else's darkness, and it's something entirely different to deal with your own deception.
HALLOWEEN EVERY DAY OF THE YEAR
I personally believe it's absolute foolishness for Christians to participate in Halloween, and I've written on it quite a bit in the past. You can read one of my articles titled 
Halloween: The Invitation HERE
. Here is a portion of the article that speaks to our topic:
Over my last 25 years of ministry, I have had many encounters with witchcraft and the evil that is celebrated on Halloween, and I implore you to trust me: If you participate in Halloween at any level, you are at risk. There is nothing innocent about it and there is no way to sanctify it. The stories I could tell would make your skin crawl.  The level of demonic activity around the world on this night should result in millions of Christians gathering together to pray on fire in response. We must understand that a key role for us as Christians is to expose darkness. Strangely, instead of doing that with anointing and passion, when October rolls around, Christians—actual blood bought servants of a holy God—are actually enjoying and promoting darkness. If we understood the evil that surrounds this unholy day, we'd shout from the rooftops the danger and evil that is overcoming our culture.
It might shock you to consider that you may oppose Halloween while still vigorously affirming the occult. It's one thing to stand opposed to the clear, demonic and evil activities that surround Halloween, but if we embrace those same demons in the hopes they will help us hide our 365 day-a-year
sin
, we are deeply deceived—and in a lot of trouble. As dark as Halloween is, and it is extremely dark, I propose the occult that's present in so many devoted Christians the rest of the year is even more deadly. Covering up immorality will devour even the most devoted religious person.
8

 Be sober-minded; be watchful. Your adversary the devil prowls around like a roaring lion, seeking someone to devour. 1 Peter 5:8 (ESV)
PORN, LUST AND OTHER SECRETS
8

 for at one time you were darkness, but now you are light in the Lord. Walk as children of light

9

 (for the fruit of light is found in all that is good and right and true), Ephesians 5:8-9 (ESV)
I believe one of the most valuable attributes of a healthy marriage is transparency. Not only is it a catalyst for intimacy, but it diffuses the darkness. When Amy and I we were first married 24 years ago, we agreed to alert other the moment we found ourselves even the slightest bit attracted to someone else in an unhealthy manner. If there was an emotional connection initiating, or if unrighteous thoughts attempted to come in regarding another person, we were quick to share that. The result? It was diffused. Our voluntary accountability and devotion to bring things into the light not only immediately diffused a few specific situations, it resulted in a culture within our marriage that was not conducive to immoral and threatening feelings and behaviors flourishing. This commitment to each other has expanded to most every part of our lives. My wife, Amy, knows she can access any device I own, any computer, any phone, any tablet, and freely search through them. She can check my history. I can do the same on her devices. Any inappropriate pictures, videos, messages or material would be easily discovered. We are both grateful to God that porn, lust or impure media is not a part of our lives, and our entire marriage from start to where we are now is a testament to that. It feels good to be squeaky clean, and thanks to the empowering of the Holy Spirit, the darkness never has to overtake us. The occult must give way to the light!
12

 Again Jesus spoke to them, saying,

"I am the light of the world. Whoever follows me will not walk in darkness, but will have the light of life."

John 8:12 (ESV)
I want to encourage you to reject deceptive, occultic strategies. Don't hide the various compartments of your life, but rather be an open book. Don't live in fear of being exposed, but readily invite scrutiny in. You can be completely, entirely free from lust, pornography, anger, addictions, immorality and every other behavior and vice! This means you will make a dramatic shift in the direction of
holiness
. Celebrate the opportunity to eliminate questionable television and movies. Get excited about shutting out secular music in favor of Holy Spirit anointed worship music. Allow joy to replace your anger. You can finally be free from everything you've been trying to hide. The light of Jesus will certainly bring freedom to you and your family! You will then become a mighty threat to the darkness, ready to expose it, devoted to assaulting the devils that are celebrated by so many this time of year.
11

 Take no part in the unfruitful works of darkness, but instead expose them.

12

 For it is shameful even to speak of the things that they do in secret.

13

 But when anything is exposed by the light, it becomes visible,

14

 for anything that becomes visible is light. Therefore it says,

"Awake, O sleeper,

and arise from the dead,

and Christ will shine on you."

Ephesians 5:11-14 (ESV)
Bizarre, supernatural manifestations should be normal in the church. What happened?
When given the choice between hearing another sermon and witnessing invisible and very active demons being cast out of a precious soul, I'm buying the ticket to the deliverance. Why then, if deliverance is even allowed at all, is it so often stopped so they can escort the individual into a back room somewhere? Today's church needs to see the power of the Holy Spirit overcoming the power of the enemy in people's lives right before their eyes! Here's a
podcast
on this topic: In fact, supernatural manifestations are consistently shut down as irritations or some sort of spiritual disorder. Manifestations should be expected, not avoided. We must allow our all-powerful God to interact with the people. When such a mighty force touches weak, finite humans, it's simply impossible to maintain our casual or dignified disposition. We will react with shock, awe and wonder!
THIS REACHES BEYOND SIMPLE SUPERNATURAL MANIFESTATIONS
Too often the Western church is functioning in the safe, natural, middle ground, and the demons remain in hiding, very active and unconcerned about any Christian interference. There is no threat. However, when a deeply determined and wildly prophetic people who are devoted to intercession and warfare unite, the unseen world starts to shake under the weight of their authority. When people like this advance together, they are met with dramatic and often bizarre supernatural reactions. Demons and angels engage and respond, and this will be easily discerned by men and women of God who live their lives in the spiritual realm. The invisible realm becomes exposed. We must have mature warriors who understand the realm of the invisible and who function in great authority giving key leadership in our churches. It's laughable to think that a church is truly having impact if the enemy isn't provoked and if the Holy Spirit isn't manifesting.
A DEMONIC COMMAND CENTER IN MANITOU SPRINGS, COLORADO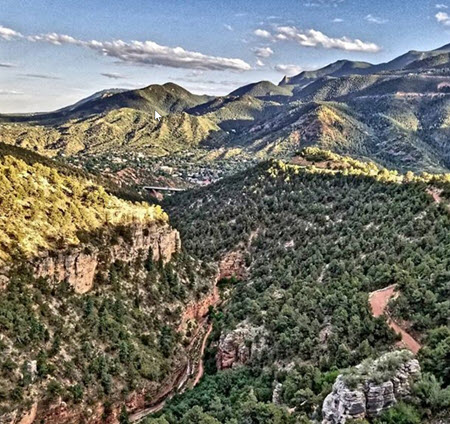 I'm astonished at how often Christians live in disbelief (or disinterest) regarding the demonic world. The story I'm about to share can easily be dismissed as too extreme. They'd prefer to climb back under their safe, comfy blanket and deny reality—all while the demonic army gains strength and momentum. Hiding under the blankets or sticking your head in the sand is no strategy against such a formidable force. The Lord had revealed to me that Manitou Springs was a demonic communication center, a command center, much like NORAD, which was an active center of defense for our nation for years just a few miles from our town at the base of Pikes Peak. Further, it was expressed that Manitou Springs, at the base of America's mountain, was called to be an angelic command center of revival for the nation. We had a lot of work to do. A complete take-over and shift in authority must occur. My lead intercessors and I were prayer walking through the streets of Manitou Springs, Colorado several years ago. This city is well known for it's occult roots. Anton LaVey, who wrote the Satanic bible, lived there. Witchcraft is rampant and
homosexuality
and liberal ideals promoted. In fact, the
pastor
of the city at the time led a profoundly heretical church. During this particular prayer walk, which was one of hundreds, we were interceding on the grounds of a very old Episcopal church property. Suddenly, I saw a dark entity, a hooded creature. I told my intercessory friends, Miles and Jodi, about the encounter and we quickly moved closer to the church building where this demon was seen (and had since ducked into hiding). It's extremely important that we are all prophetic people, able to hear God's voice very clearly. If we don't, we can miss some life altering instructions and revelations. What God said next was absolutely critical for the advance of the Kingdom in this dark city. God told us the demon was a messenger on assignment, and that he was there to receive the keys of authority to the city. He was to transport them to his leaders. Understand, the enemy is granted great authority to advance its agenda when humans are in agreement. It gives power to their assignments. God revealed this particular messenger, on a very important mission, was fully surprised to see Spirit-filled children of God at his rendezvous point. It was even more shocked that I saw it. We prayed, seeking instructions on how to deal with this situation. God told us to intercept the keys. The authority in Manitou Springs was being transferred that day in surprise fashion.
AN ASSIGNMENT DEEP INSIDE THE EARTH
Very shortly after this transfer of authority I, along with very experienced and high ranking intercessors from the surrounding states gathered together for a prayer assignment in Manitou Springs. After some dramatic prophetic experiences that day, we capped it off with our primary assignment deep within a cave system. The intercessors knew Manitou had very evil roots and a wicked history, and they wanted to gain spiritual intelligence so they could devise a strategy. As we were all about to enter the cave, the regional intercessory leader, who was a little older than the rest of us, told me she wouldn't be going into the cave. She would stay back and cover us in prayer. She then privately gave me an assignment:
determine whether the deep part of the cave where we were going to end up was a demonic command center.
I eagerly accepted the challenge and then I, along with the rest of the team, started our journey into the depths. As I was walking deeper into the cave, I began to understand the severity of the assignment. I certainly didn't want to presume anything. I didn't want to guess. I needed to hear from God clearly about whether our final destination was in fact a center of demonic activity that was focused on destroying the people of Manitou Springs and the nation, or not. When we finally entered the furthest room in the cave system, I was absolutely stunned at what I was experiencing. All I could think was, "The Holy Spirit isn't welcome here." It was unlike anything I had ever experienced. The void created by the absence of God's manifest presence was something I never want to feel again. It felt like Hell without the fire and torment, and I can't imagine spending even a few seconds in there. However, I was on assignment and I had to deal with this supernatural reality. I couldn't leave. We stopped and turned off our lights and began to pray. It was perfectly dark. I hit my knees, trembling, wondering what was going to happen and what God wanted us to do. In the spirit, I saw the earth open underneath me. A massive entity emerged from the depths. This was a portal between the demonic realm and the land of the living. I did in fact discover a demonic command center. I was experiencing intercession unlike any time in my life. It's impossible to describe the experience. I was beyond overwhelmed, shaking, undone, disturbed. It was confirmed that the determined agreement of humans in Manitou Springs with the Satanic realm was extremely strong, and demons emerged from the depths to give instructions to people and to receive information from them. These were messenger demons much like the one I experienced on my prayer walk by the Episcopal church. Wait! The Episcopal church! God reminded me of the encounter I had there. As this massive portal was opened up under my feet, it was clear what I was to do. I had taken the keys of authority. I had them! I was to use this new found authority to shut this portal down. Lock it up. Seal it shut. Take dominion. I shared all of this revelation, in that pitch dark cave, with the other prophetic intercessors, and they all immediately agreed that I was discerning everything correctly. In that evil place where the Holy Spirit wasn't welcome, I felt a mighty shift. The anointing of the Holy Spirit filled me and I commanded, in the authority of Jesus Christ, that the enemy's assignment was over and that the portal must shut. We all roared and groaned in the Spirit, prayed with power, declared truth of the Word and successfully fulfilled our mandate. As we emerged from the cave, the faithful general in the faith who remained behind to pray had a smile on her face. She asked me, "Well, was it?" I said, "Yes!" I went on to explain what happened. She nodded her head and told me that God revealed the same thing to her as she was praying. Mission accomplished. Understand, this never could have happened if we didn't embrace the wild and bizarre supernatural realities that are all around us. In fact, a secular drama company from Broadway in New York City put this experience and others into a production and toured it from Washington D.C to New York City to Chicago to Los Angeles. My prophetic decrees, powerful personal freedom and other supernatural stories from our ministry were depicted on stage in front of thousands of mostly liberal, atheistic people who were in a prime position to meet Jesus! Isn't it amazing how God
works
when we start moving in the supernatural, spiritual realm?
A TEAR JERKING EMAIL
This assignment in the cave along with many others over several years (some even more dramatic than this one) resulted in powerful breakthrough. This week, I received an email that moved me to tears. You see, we passed the baton to others as we eventually moved out of Manitou Springs. This message shows how much prayer, the prophetic, endurance and obedience can do to the enemy's camp. I pray this encourages you to allow God to move exactly as he wants, to invade the realm of wickedness with authority, to expect supernatural manifestations and to contend for freedom, even if you don't see the results on our watch.
Hey John! I love getting your emails – they are so challenging and so good. Thank you for what you do! I'm a huge believer in giving credit where it's due – and since you were such a HUGE part of our transition and journey to Manitou, as David and I are a week away from transitionIng our, I wanted to give you an update – because you sowed seeds for so many years and made this ground so fertile. You wouldn't recognize Manitou today! It's becoming a beautiful community – restoration taking place in the supernatural and in the natural.  Houses and buildings being restored and families moving in seeking community. We've prayed over every inch of this city. The bridge over rainbow falls was restored, and the day it reopened, we prayed over it as a city gate and renamed "beautiful" at the Lord's prompting. The same weekend, we dedicated the old Masonic lodge as the new worship space for new life Manitou – cleansed the ground, and claimed that gate as well. The mineral springs by the Loop was recently refaced, and, "coincidentally," a new life member was contracted to do the work. He wrote our prophetic passage for Manitou on the back of each rock – Isaiah 41:17-20 – "the poor and needy are searching for water where there is none, and I THE LORD will answer them…" and now scripture is hidden in one of the central fountains in Manitou. It's our little secret. 🙂 Not long after that, a sign that had been decades missing from the rainbow falls bridge was replaced. It says "Manitou Springs – healing waters." New Life Manitou has been a full-fledged, weekly church for 3 years now. We beat the odds! It's a thriving community of believers serving the city and accepted as part of the community. We're meeting in the renovated (and very well-cleansed!) Masonic lodge on El Paso and running around 150 each Sunday. Every week, it seems, a new family shows up saying they just felt called to Manitou. We're literally the only evangelical church here – but Manitou has embraced and not just tolerated us. Hiawatha Gardens, where you guys met for the HOP, is being restored. Interestingly, your banner is still hanging on the back door – even though they've been in there cleaning and renovating. There sign remains. Just a reminder of your mark on this community. David and I have been here for 4 years, and now we're being called away. My heart is so torn – I have grown to adore this town and its people – our neighbors who are atheists and lesbians and agnostics who we are leaving we now have to entrust to Jesus. We're headed back to San Antonio to pastor a church there. I can't help but think of your story of leaving and how it must have been so bittersweet for you and your family. We have certainly felt the weight of living here – the call and yet the resistance and pressure – and yet the yearning to see more of God's movement, knowing that you wouldn't be here to see the completion firsthand. Because of that, I wanted to tell you again that your hard work and toil and trials and prayer and faithfulness did not go unseen, unnoticed, or unfruitful. Your obedience here in Manitou for all those years paved the way for what is happening now and for the restoration and revival that is happening here in Manitou. I know from firsthand experience that it wasn't easy and that you suffered for the call. But your legacy lives on here. Your faithfulness and intercession and prophetic words spoken over this city tore down strongholds and softened hearts. You pastored this city so well. Well done, good and faithful servant. And thank you for giving us so much insight and comfort 4 years ago when we were so freaked out about moving here. Thank you for being the forerunner and for giving us the courage to carry the torch. Thank you for introducing us to Miles and Jodi, who passed the prophetic torch to us. I still have the house of prayer banner they gave us and still weep at the thought that our weekly prayer meetings were held in the very same room as your early prayer meetings were held. God has such a heart for this place, and my heart breaks to leave it – We have wept over it, loved it, and learned so much in our time here – but our time is done and we did what we came to do – 4 years of so much joy, so much travail, so much beauty. And you were such a huge part – so thank you so much for your labor, John. You are a giant in the kingdom, and I just wanted to let you know that we recognize your sacrifices and work here. It lives on and you are part of a very beautiful story that God is writing in Manitou Springs. Thank you, thank you, thank you. The Father is well pleased. Love, Sarah and David
I cried tears of joy.
A suffocating spirit was out for destruction as we were contending for revival.
I've waited fifteen years to write this article. I implore you to read every word.
As young church planters in one of America's darkest regions, Amy and I along with our two oldest boys, who were little guys back in 2001, launched Revolution Church. The vision was intense and our passion was for revival that would launch in that strategic city and impact the nations.
Manitou Springs, Colorado is famous for its dark history and present liberal leanings. Rumor has it that Anton Levey wrote at least some of the Satanic Bible from his home there. It's a quirky town at the base of Pikes Peak near Colorado Springs. We started the church there in a 700 square foot office space and then quickly grew to a core of 25 people. We moved to our second of four ultimate locations, a 2000 square foot storefront right downtown Manitou Springs. It's there where we met Janet (name changed for the sake of this article).
I'll never forget the Sunday morning service as the sun shined brightly through the large plate glass windows in our small meeting place at the Arcade in Manitou Springs. Janet was a first-time guest, and she seemed to be attempting to engage during the service. Understand, at the time, Christians in Manitou Springs were few and far between, so it was not common to see Spirit-filled people visiting, unless they drove from Colorado Springs. In fact, I was invited to preach at a Manitou Springs festival the first year we were there. The organizer had no idea what he had done! In the middle of my fiery message, a bold declaration of the power and necessity of the blood of Jesus, a tall man in flowing garments stormed to the front and demanded equal time. This alternate religious, New Age leader was agitated by the anointing. It was uncommon in Manitou Springs and his turf was certainly being threatened.
At the end of the service I invited people to come forward to receive the baptism in the Holy Spirit. Janet sprung from her seat and kneeled at the altar. I quickly realized she was not even saved.
After spending time with her, introducing Jesus to her and ministering to her, she boldly asked a question, "Do you ever pray for people in their homes?"
We agreed to meet at her townhouse that week to pray and encourage her. We had no idea what we were about to get ourselves into.
JANET'S HOUSE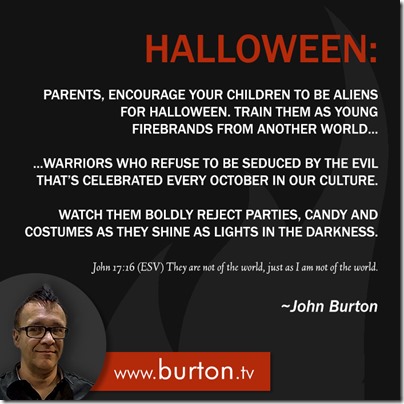 We arrived one evening, sat on the couch and prayed for Janet and her baby. It was an unusual moment for us as I felt little to no anointing. Something was hindering our prayers. Janet confided in us that she had dabbled in witchcraft and was ready to move on from it. I applauded her courage to break away from what I know is a very strong, seductive spirit. She repented of her involvement and we prayed some more. The breakthrough remained elusive. I asked her if she owned anything inappropriate that she should get rid of. She reluctantly admitted she did and disappeared upstairs to retrieve some items.
She emerged down the stairs with a T-shirt with some occult symbolism on it. She also held the witch's handbook.
She surrendered these two pieces of occult paraphernalia to us, and we again prayed. I thought it would be easier to pray now that she had removed them from her life. I was wrong. Amy and I didn't understand why it felt so dead in her home, but we had done all we knew to do. We encouraged her again and prepared to leave. She then asked us, "I've heard of anointing homes in oil. Do you do that?" I told her to find some Crisco.
We anointed doorways, windows and anywhere else we could dab some oil. After we finished anointing and praying downstairs, I led the way up the staircase. At the top of the stairs I saw a guest room and a bathroom. I also saw Janet's room. I was not prepared for what happened next.
I stepped into her room and immediately could not breathe. It felt like I stepped into a swimming pool sideways. I was engulfed with a suffocating, heavy, evil presence. I stepped back outside her room. Relief.
I didn't share my experience with Amy or Janet, but instead prayed through the guest room and bathroom. I then stepped back into Janet's room. Crushing suffocation.
I attempted to pray in tongues, but there was absolutely no way I could. Every prayer fell dead to the ground.
I urgently asked Janet if there might be any additional items she should throw in the trash. She slowly, casually looked in her closet and pulled out a couple things and placed them on her bed. That didn't work. I was gasping for air, but not only air, for the breath of the Holy Spirit! We needed God to move in that place, and quick!
I was very direct with her. I said, "Janet! I will not pray for you and you will not find freedom if you don't immediately eliminate every single thing from your life that is impure!"
I was standing between her bed and the wall, next to her night stand. She placed several more items on her bed, but it was not helping. One final time, as I was ready to get out of there, I said, "There is something you are holding on to that is much more evil than anything you've surrendered so far. What is it? No more delay!"
She reluctantly glanced over to the night stand, inches from where I was, and pointed at something I had not noticed. She said, "Well, that's where I perform my sacrifices." I looked at a small altar with ashes all over it. Yes, that was it.
She ran down and grabbed a large, plastic trash bag. We renounced what was happening at that altar and threw it away. Immediately I could pray in the Spirit. The wind of the Spirit was refreshing beyond description. The fire in my prayer was a stark contrast to how debilitated I was previously.
Amy then began to pray with Janet and talk with her. I was praying in tongues and doing my best to hear what God was saying. God instructed me to ask Janet about demons visiting her room. God had given me incredibly precise revelation. I revealed to her that those demons require written documentation about her interactions with them. Her jaw dropped and her eyes spread open. She had never been more stunned at something someone said. I read her mail.
She went to the closet and pulled out a stack of at least 20 spiral notebooks. She said she had much more stored on her computer. She confessed that demons visit her every night and terrorize her. She is forced to write about their visits. That is why she invited us to her home. She wanted the demons to leave.
She put the notebooks and many additional things on her bed. Six trash bags of occult and witchcraft materials were taken to the dumpster.
JANET'S STRUGGLE CONTINUES
After that experience in Janet's tiny townhouse, you'd imagine she would have gone on toward radical deliverance. Sadly, that didn't happen, at least as far as we know. She disappeared. We aggressively searched for her and finally, after several weeks, did track her down. She would attend church occasionally, but would manifest demonically at times. She aggressively confronted my wife once and then ultimately vanished again. That was the last time we ever saw Janet, well, sort of. Janet was about to visit some people in their dreams.
HALLOWEEN SEASON IN MANITOU SPRINGS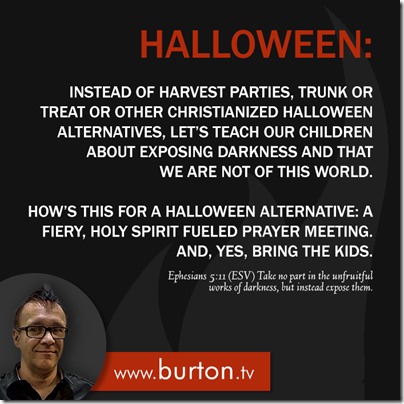 October in Manitou Springs is always extremely volatile. Witchcraft is rampant and the atmosphere in that town is heavy. Creepy. Threatening. Also, it was my favorite time of the year. We knew we were called to contend against the darkness as we we were advancing toward revival.
Each year in Manitou Springs we'd prayer walk the city as we witnessed small fires in the foothills of the mountains ignite. The flames would dance as thought the mountains were alive. Witches were having their meetings, and we were having ours. We'd never consider hosting a harvest party or other event like that on Halloween. It was all out war, a spiritual war, and we had no option but to be alert, armed in the Spirit and on assignment. It was time for prayer.
The attack during October each year was intense. Three years in a row, precisely on October 31st, our oldest son was admitted to the hospital with a severe asthma attack. The suffocating spirit was assaulting him every October, until God gave us some revelation on how the enemy was assaulting us. We responded and the Halloween attacks on him then ceased.
In 2003, two years after we had planted Revolution Church, and quite some time since we'd seen Janet, Amy was pregnant with our third child. One night, in the middle of October, Amy shot up in bed, frantic, and woke me up.
She was shaking. She said she just had a horrifying, vivid dream of Janet wielding a large knife. She drove it into my wife's stomach and killed our baby.
After praying we went back to sleep, shaken but confident that God was in control. The next morning we awoke and prepared for a scheduled church staff meeting at our home. At the beginning of the meeting, I asked our staff for prayer and started to mention Amy's dream. I was interrupted by one of our staff members. She said, "Amy, I had a dream about you too last night. It was disturbing. I saw Janet with a knife. She stabbed you in your stomach and killed the baby."
We were speechless. Another staff member was beside herself. She said, "I didn't have a dream, but I had an vision about the exact scenario you both described!"
Later that day, a friend of Amy's who had never met Janet or known anything about her called. She was upset. She didn't want to scare Amy, but she had to share about a dream she had. "Amy, there was this girl (she went on to describe Janet's unique appearance precisely), and I saw a large knife in her hand. She attacked you, stabbed you in the stomach and killed the baby!"
Amy and I proceeded to do literally everything we could. We prayed, of course. We stood in our authority. We had a powerful deliverance minister and his team conduct a spiritual house cleaning in our home. They reported it was the cleanest house they had ever been in.
A CHRISTMAS EVE TO FORGET
A couple of months passed, and we had shaken off the disturbances that October visited on our family. In fact, we were excited about a special doctor's appointment on Christmas Eve. We were going to hopefully discover the sex of our baby!
I will never, for the rest of my life, forget what happened in the waiting room. Amy, our two sons and Amy's parents were there as we waited our turn to meet with the sonographer. Our appointment was the last of the day and doctors, nurses and receptionists were scurrying around, closing up shop and preparing to head out to various holiday festivities. Joy was in the house!
Suddenly, I felt an extremely heavy, holy blanket of grace descend upon me. My emotional strength suddenly tripled at least. I was spiritually tuned in, sensitive, wondering why God had decided to strengthen me in that manner. I was about to find out.
"Amy Burton," called the nurse. It was our turn.
Amy and her mom joined me in the ultrasound room. Amy laid back as we were all excited about seeing our wonderful, new baby. The sonographer placed the instrument on Amy's belly, and instantly removed it.
She said, "Wait here. I need to see if I can find a doctor before they all leave for the day."
The next two minutes were spent in silence. Joy and gladness gave way to nerves.
The doctor finally arrived, took a quick look, and said, "I'm so sorry, your baby has died."
WITCHCRAFT KILLED OUR CHILD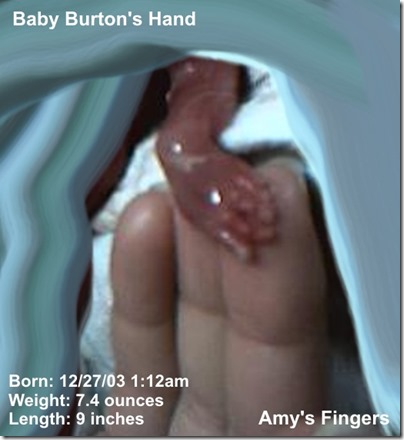 Wails, cries and tears emerged out of my wife. The strength I received minutes prior was now being put to use.
The next day was Christmas morning. We did all we could to make sure it was a wonderful one for our boys. We unwrapped gifts as we sat around the tree. Literally every single present I got for Amy was either maternity clothing or a gift for the baby. She carefully unwrapped each as her turn came and placed them in a pile to return to the store.
The following day we were in a hospital room, waiting for Amy to deliver Elizabeth Hope Burton.
As the labor inducement was quite a ways from taking effect, Amy said I could go to a late-night prayer meeting a few blocks away. My phone was kept on and I remained ready to rush back to the hospital at any moment. At that prayer meeting, God again strengthened me. Shortly after returning to the hospital at around midnight, we both met Elizabeth.
The doctor was shocked at the cause of death. It was a cord accident. Cord accidents aren't unusual, but this particular one was. He said he'd never seen a cord wrapped five times around a baby's neck. Elizabeth was suffocated to death. Witchcraft killed Elizabeth.
WE WRESTLE NOT AGAINST FLESH AND BLOOD
Amy and I bless Janet. We pray for her, wherever she may be. We don't hold her accountable in any way. She was a hurting, lost young lady. She didn't kill Elizabeth. Extremely vile, destructive, evil entities did. At the time, we did all we knew to do to help Janet. We also did all we knew to do to cancel the curse and to wage war against hateful, murderous evil spirits. We failed. We learned.
We lost six more babies after we lost Elizabeth, but we are so blessed to have three wonderful boys and two precious girls in the Burton family.
Amy has been a champion. She has ministered to those who have lost babies to stillbirth or miscarriage. She has cried with them, grieved with them, prayed with them and stood with them.
While our faith was hit, it was not shattered. We have learned over the years to war, to wrestle with the enemy and to contend with faith and passion. Life isn't about some set of rules that Satan has to obey. He cheats. He hates. He does all he can to rip us to shreds, and he wastes no time finding just the best way to do that.
I know many of you who are reading this are already thinking about theological issues with my story. You might think Christians can't be touched by witchcraft. You'd be wrong.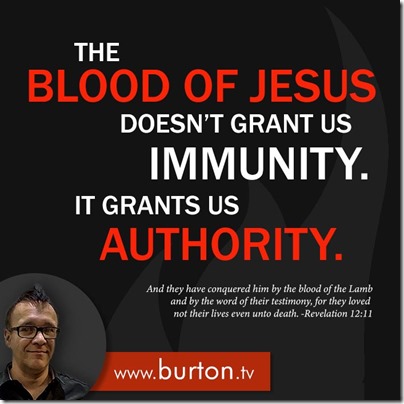 The slightest open door or lazy approach to intercession, or pride or even ignorance can give the enemy access. He doesn't fight fair. He knows our weaknesses. In fact, some of you may be considering Job. He was upright, yet struck.
Understand, the blood of Jesus doesn't grant us immunity. It grants us authority. We need to enroll in the school of the Spirit and learn how to battle. If we don't fight, the fight will come to us. If we don't engage, we will be hit.
I held off for fifteen years in writing this article because it's not a happy story. But, I realized that so much of today's church has become inauthentic by only highlighting that which makes us happy.
In order to win battles, and ultimately the war, we have to learn from struggles. We must understand the ferocity of the enemy. We need to be in the Word, in prayer and free from even the slightest sin or compromise.
The lesson we learned was not that we were steeped in sin. We weren't. We were living holy lives as young though immature Jesus lovers. The lesson is that we must clearly understand that the enemy is ready to pounce, and that we must be ready.
HALLOWEEN IS EVIL—AND NO CHRISTIAN SHOULD PARTICIPATE AT ANY LEVEL
Witchcraft is permeating the atmosphere this and every October. It's time to war, not party. Pastors, call solemn assemblies instead of holding harvest parties. This is an all hands on deck season.
I'll leave you with some short bullet points that I posted to Facebook earlier today about Halloween. If you didn't understand before why I so vehemently renounce this unholy day, you now should.
Consecrate a fast; call a solemn assembly. Gather the elders and all the inhabitants of the land to the house of the LORD your God, and cry out to the LORD. Joel 1:14
Eleven reasons Christians celebrate Halloween
They don't believe witchcraft is a big deal.
They wrongly think the way they celebrate doesn't involve witchcraft.
They incorrectly assume Christians are immune to curses and the power of witchcraft.
They can't imagine the thought of their kids missing out.
They celebrated Halloween as children and conclude it didn't have any negative impact on them.
They wrongly equate it with Christmas, which "also has pagan roots" yet is universally embraced by Christians.
They believe it can be sanitized and Christianized.
They believe it's a great opportunity to evangelize, but without exposing the darkness or revealing how wicked the holiday is.
They have fallen for false-grace deception that allows them to be free and have fun no matter what.
They haven't experienced the wonder and terror of the spirit realm.
They lack discernment.
RELATED ARTICLE: