Bizarre, supernatural manifestations should be normal in the church. What happened?
When given the choice between hearing another sermon and witnessing invisible and very active demons being cast out of a precious soul, I'm buying the ticket to the deliverance. Why then, if deliverance is even allowed at all, is it so often stopped so they can escort the individual into a back room somewhere? Today's church needs to see the power of the Holy Spirit overcoming the power of the enemy in people's lives right before their eyes! Here's a
podcast
on this topic: In fact, supernatural manifestations are consistently shut down as irritations or some sort of spiritual disorder. Manifestations should be expected, not avoided. We must allow our all-powerful God to interact with the people. When such a mighty force touches weak, finite humans, it's simply impossible to maintain our casual or dignified disposition. We will react with shock, awe and wonder!
THIS REACHES BEYOND SIMPLE SUPERNATURAL MANIFESTATIONS
Too often the Western church is functioning in the safe, natural, middle ground, and the demons remain in hiding, very active and unconcerned about any Christian interference. There is no threat. However, when a deeply determined and wildly prophetic people who are devoted to intercession and warfare unite, the unseen world starts to shake under the weight of their authority. When people like this advance together, they are met with dramatic and often bizarre supernatural reactions. Demons and angels engage and respond, and this will be easily discerned by men and women of God who live their lives in the spiritual realm. The invisible realm becomes exposed. We must have mature warriors who understand the realm of the invisible and who function in great authority giving key leadership in our churches. It's laughable to think that a church is truly having impact if the enemy isn't provoked and if the Holy Spirit isn't manifesting.
A DEMONIC COMMAND CENTER IN MANITOU SPRINGS, COLORADO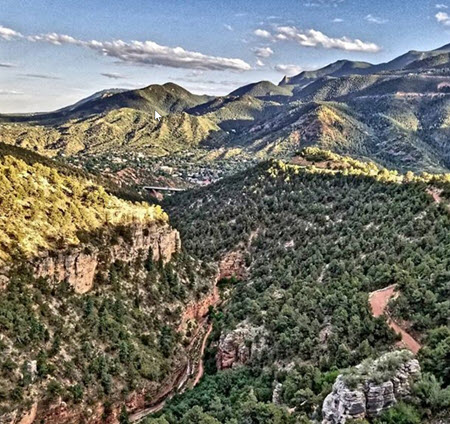 I'm astonished at how often Christians live in disbelief (or disinterest) regarding the demonic world. The story I'm about to share can easily be dismissed as too extreme. They'd prefer to climb back under their safe, comfy blanket and deny reality—all while the demonic army gains strength and momentum. Hiding under the blankets or sticking your head in the sand is no strategy against such a formidable force. The Lord had revealed to me that Manitou Springs was a demonic communication center, a command center, much like NORAD, which was an active center of defense for our nation for years just a few miles from our town at the base of Pikes Peak. Further, it was expressed that Manitou Springs, at the base of America's mountain, was called to be an angelic command center of revival for the nation. We had a lot of work to do. A complete take-over and shift in authority must occur. My lead intercessors and I were prayer walking through the streets of Manitou Springs, Colorado several years ago. This city is well known for it's occult roots. Anton LaVey, who wrote the Satanic bible, lived there. Witchcraft is rampant and
homosexuality
and liberal ideals promoted. In fact, the
pastor
of the city at the time led a profoundly heretical church. During this particular prayer walk, which was one of hundreds, we were interceding on the grounds of a very old Episcopal church property. Suddenly, I saw a dark entity, a hooded creature. I told my intercessory friends, Miles and Jodi, about the encounter and we quickly moved closer to the church building where this demon was seen (and had since ducked into hiding). It's extremely important that we are all prophetic people, able to hear God's voice very clearly. If we don't, we can miss some life altering instructions and revelations. What God said next was absolutely critical for the advance of the Kingdom in this dark city. God told us the demon was a messenger on assignment, and that he was there to receive the keys of authority to the city. He was to transport them to his leaders. Understand, the enemy is granted great authority to advance its agenda when humans are in agreement. It gives power to their assignments. God revealed this particular messenger, on a very important mission, was fully surprised to see Spirit-filled children of God at his rendezvous point. It was even more shocked that I saw it. We prayed, seeking instructions on how to deal with this situation. God told us to intercept the keys. The authority in Manitou Springs was being transferred that day in surprise fashion.
AN ASSIGNMENT DEEP INSIDE THE EARTH
Very shortly after this transfer of authority I, along with very experienced and high ranking intercessors from the surrounding states gathered together for a prayer assignment in Manitou Springs. After some dramatic prophetic experiences that day, we capped it off with our primary assignment deep within a cave system. The intercessors knew Manitou had very evil roots and a wicked history, and they wanted to gain spiritual intelligence so they could devise a strategy. As we were all about to enter the cave, the regional intercessory leader, who was a little older than the rest of us, told me she wouldn't be going into the cave. She would stay back and cover us in prayer. She then privately gave me an assignment:
determine whether the deep part of the cave where we were going to end up was a demonic command center.
I eagerly accepted the challenge and then I, along with the rest of the team, started our journey into the depths. As I was walking deeper into the cave, I began to understand the severity of the assignment. I certainly didn't want to presume anything. I didn't want to guess. I needed to hear from God clearly about whether our final destination was in fact a center of demonic activity that was focused on destroying the people of Manitou Springs and the nation, or not. When we finally entered the furthest room in the cave system, I was absolutely stunned at what I was experiencing. All I could think was, "The Holy Spirit isn't welcome here." It was unlike anything I had ever experienced. The void created by the absence of God's manifest presence was something I never want to feel again. It felt like Hell without the fire and torment, and I can't imagine spending even a few seconds in there. However, I was on assignment and I had to deal with this supernatural reality. I couldn't leave. We stopped and turned off our lights and began to pray. It was perfectly dark. I hit my knees, trembling, wondering what was going to happen and what God wanted us to do. In the spirit, I saw the earth open underneath me. A massive entity emerged from the depths. This was a portal between the demonic realm and the land of the living. I did in fact discover a demonic command center. I was experiencing intercession unlike any time in my life. It's impossible to describe the experience. I was beyond overwhelmed, shaking, undone, disturbed. It was confirmed that the determined agreement of humans in Manitou Springs with the Satanic realm was extremely strong, and demons emerged from the depths to give instructions to people and to receive information from them. These were messenger demons much like the one I experienced on my prayer walk by the Episcopal church. Wait! The Episcopal church! God reminded me of the encounter I had there. As this massive portal was opened up under my feet, it was clear what I was to do. I had taken the keys of authority. I had them! I was to use this new found authority to shut this portal down. Lock it up. Seal it shut. Take dominion. I shared all of this revelation, in that pitch dark cave, with the other prophetic intercessors, and they all immediately agreed that I was discerning everything correctly. In that evil place where the Holy Spirit wasn't welcome, I felt a mighty shift. The anointing of the Holy Spirit filled me and I commanded, in the authority of Jesus Christ, that the enemy's assignment was over and that the portal must shut. We all roared and groaned in the Spirit, prayed with power, declared truth of the Word and successfully fulfilled our mandate. As we emerged from the cave, the faithful general in the faith who remained behind to pray had a smile on her face. She asked me, "Well, was it?" I said, "Yes!" I went on to explain what happened. She nodded her head and told me that God revealed the same thing to her as she was praying. Mission accomplished. Understand, this never could have happened if we didn't embrace the wild and bizarre supernatural realities that are all around us. In fact, a secular drama company from Broadway in New York City put this experience and others into a production and toured it from Washington D.C to New York City to Chicago to Los Angeles. My prophetic decrees, powerful personal freedom and other supernatural stories from our ministry were depicted on stage in front of thousands of mostly liberal, atheistic people who were in a prime position to meet Jesus! Isn't it amazing how God
works
when we start moving in the supernatural, spiritual realm?
A TEAR JERKING EMAIL
This assignment in the cave along with many others over several years (some even more dramatic than this one) resulted in powerful breakthrough. This week, I received an email that moved me to tears. You see, we passed the baton to others as we eventually moved out of Manitou Springs. This message shows how much prayer, the prophetic, endurance and obedience can do to the enemy's camp. I pray this encourages you to allow God to move exactly as he wants, to invade the realm of wickedness with authority, to expect supernatural manifestations and to contend for freedom, even if you don't see the results on our watch.
Hey John! I love getting your emails – they are so challenging and so good. Thank you for what you do! I'm a huge believer in giving credit where it's due – and since you were such a HUGE part of our transition and journey to Manitou, as David and I are a week away from transitionIng our, I wanted to give you an update – because you sowed seeds for so many years and made this ground so fertile. You wouldn't recognize Manitou today! It's becoming a beautiful community – restoration taking place in the supernatural and in the natural.  Houses and buildings being restored and families moving in seeking community. We've prayed over every inch of this city. The bridge over rainbow falls was restored, and the day it reopened, we prayed over it as a city gate and renamed "beautiful" at the Lord's prompting. The same weekend, we dedicated the old Masonic lodge as the new worship space for new life Manitou – cleansed the ground, and claimed that gate as well. The mineral springs by the Loop was recently refaced, and, "coincidentally," a new life member was contracted to do the work. He wrote our prophetic passage for Manitou on the back of each rock – Isaiah 41:17-20 – "the poor and needy are searching for water where there is none, and I THE LORD will answer them…" and now scripture is hidden in one of the central fountains in Manitou. It's our little secret. 🙂 Not long after that, a sign that had been decades missing from the rainbow falls bridge was replaced. It says "Manitou Springs – healing waters." New Life Manitou has been a full-fledged, weekly church for 3 years now. We beat the odds! It's a thriving community of believers serving the city and accepted as part of the community. We're meeting in the renovated (and very well-cleansed!) Masonic lodge on El Paso and running around 150 each Sunday. Every week, it seems, a new family shows up saying they just felt called to Manitou. We're literally the only evangelical church here – but Manitou has embraced and not just tolerated us. Hiawatha Gardens, where you guys met for the HOP, is being restored. Interestingly, your banner is still hanging on the back door – even though they've been in there cleaning and renovating. There sign remains. Just a reminder of your mark on this community. David and I have been here for 4 years, and now we're being called away. My heart is so torn – I have grown to adore this town and its people – our neighbors who are atheists and lesbians and agnostics who we are leaving we now have to entrust to Jesus. We're headed back to San Antonio to pastor a church there. I can't help but think of your story of leaving and how it must have been so bittersweet for you and your family. We have certainly felt the weight of living here – the call and yet the resistance and pressure – and yet the yearning to see more of God's movement, knowing that you wouldn't be here to see the completion firsthand. Because of that, I wanted to tell you again that your hard work and toil and trials and prayer and faithfulness did not go unseen, unnoticed, or unfruitful. Your obedience here in Manitou for all those years paved the way for what is happening now and for the restoration and revival that is happening here in Manitou. I know from firsthand experience that it wasn't easy and that you suffered for the call. But your legacy lives on here. Your faithfulness and intercession and prophetic words spoken over this city tore down strongholds and softened hearts. You pastored this city so well. Well done, good and faithful servant. And thank you for giving us so much insight and comfort 4 years ago when we were so freaked out about moving here. Thank you for being the forerunner and for giving us the courage to carry the torch. Thank you for introducing us to Miles and Jodi, who passed the prophetic torch to us. I still have the house of prayer banner they gave us and still weep at the thought that our weekly prayer meetings were held in the very same room as your early prayer meetings were held. God has such a heart for this place, and my heart breaks to leave it – We have wept over it, loved it, and learned so much in our time here – but our time is done and we did what we came to do – 4 years of so much joy, so much travail, so much beauty. And you were such a huge part – so thank you so much for your labor, John. You are a giant in the kingdom, and I just wanted to let you know that we recognize your sacrifices and work here. It lives on and you are part of a very beautiful story that God is writing in Manitou Springs. Thank you, thank you, thank you. The Father is well pleased. Love, Sarah and David
I cried tears of joy.
Prayer in the Cave usually fills up almost immediately—but we still have spots available!
People in the Ozark region are not familiar with our ministry Carriers of Fire International yet, and certainly have never heard of the prayer adventure called Prayer in the Cave.
This event usually fills up quickly, but tonight's Prayer in the Cave still has spots available!
This is literally a can't miss experience!
When we were in Colorado we would take teams into cave systems and experience powerful seasons of prayer. Miracles have happened as have deliverances and stunning freedom. In fact, one story from the cave was depicted in a secular, off-Broadway production that toured the nation. God's wonders were decreed to liberal audiences from coast to coast. Additionally the story was included in a book titled Healed! by Andy Sanders.
If you haven't registered yet, there are a handful of spots left. I'm actually surprised it didn't fill up on the first day. In Colorado the demand was quite high as reports of what God was doing began to spread. We do have people from other states on their way including one person who is using her air miles to fly in from Michigan!
The adventure begins TONIGHT at Marvel Cave in Branson, Missouri at 6:15pm sharp!