Detroit City Strategy: The most important event of the week is NOT our Sunday service.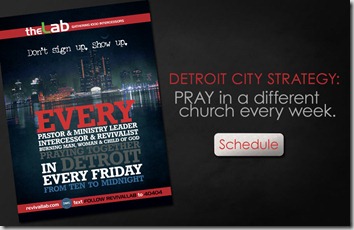 As much as I LOVE Sunday night services at Revival Church (and, yes, I mean LOVE!), they are not the most important events of the week.
For those that are interested in city-wide revival, transformation and real unity there is no match for Friday night's prayer events that travel the city of Detroit.
*Tonight is extremely special. After Catherine Mullins and Brian Simmons minister the fire of revival at The Crossing (the conference starts at 6:30pm), we'll take over and continue in burning groans and cries of intercession!
10pm TONIGHT: The Crossing 31590 Grand River Ave.Farmington MI, 48336
Detroit: theLab Friday Prayer Events—A movement unlike any other
theLab is an apostolic and prophetic movement in the Detroit region that is working WONDERS. In fact, it has been so powerful that a school of ministry has been birthed out of it! theLab School of Fire is shocking and rocking a lot of zealous, emerging history makers!
Since January, 2011 theLab has been in around 50 different churches in the Detroit region. That means that 50 churches have been rocked by the life and fire of the Holy Spirit in unusual fashion.
The grace that's on this movement is remarkable. Astonishing. The call is for EVERY pastor, leader, intercessor, revivalist and burning man and woman of God in Detroit to gather together every Friday night from 10pm-midnight. This is a city movement of fire for the entire city church of Detroit. I'm sounding the alarm. Who will respond?
Joel 1:14 – The Message® (MSG)
Declare a holy fast, call a special meeting, get the leaders together, Round up everyone in the country. Get them into God's Sanctuary for serious prayer to God.
What racial problems in Detroit?
Since before I moved to Detroit I've heard about the severe racial tension that plagues this region.
Since a growing team of burning revivalists and I have been traveling the city every Friday night for over a year, both in urban and suburban churches, my testimony is:
I sense no racial tension whatsoever. None.
We pray in fire together. We love God together. Black. White. There is unity. There is no division. NONE.
And, it's extremely easy. No working things out. No focus on past racial violations. Just freedom.
Off the Radar
I know what you are probably thinking. I'm not seeing all of the other churches and ministries that are steeped in division and racial strife.
I know they are out there, but the prophetic word is this:
They are off the radar.
The next move of God that is drawing very near in Detroit DOES NOT include them—unless they simply repent, pray, humble themselves and join the movement of revival in Detroit.
Repentance will put them right back on the radar of God's city church mission in Detroit. It's that easy.
I will make this as clear as I can—division, jealousy, bitterness and resistance in any form, whether it's racial, theological, relational or otherwise will take us off the radar. We will miss the outpouring. The fear of the Lord should be striking every one of us right now.
Those who are divisive and resistant are simply being replaced by a fresh army of revivalists and a new city church of power in Detroit.
I believe the days of attempting to unite the old guard in Detroit is over. Seeking cohesion between the pastors here is an honorable mission, but that season is coming to an end as a willing remnant takes their place. This simply means that the mission is switching from reconciliation to advance. It's time to take steps.
The good news is that at any time, those off the radar can willingly step right back onto it. It's that easy. But, the pillar of fire is moving, so they better do it quickly.
I wanted to say that last nights service was absolutely incredible. What amazes me most is that it was only a "taste" of things to come!- Testimony from last night's Revival Church service

That was awesome last night!!!!!!!!!!!! Thanks for giving the Holy Spirit free reign in the church! Never been in such a great place!!! Praying for you guys! Can't wait till Friday!!!- Testimony from last night's Revival Church service
I'm still trembling as I write this. Something shifted at Revival Church last night.
Honestly, it wasn't a complex strategy or a huge new idea. It certainly wasn't planned or scripted. God simply moved.
In the midst of the outbreak and as people were burning and drunk as they were sprawled out all over the place I said, with a grin, "Man, and I had a really great sermon for you all tonight!"
In truth, I did! It's a prophetic word that I'll be sharing Friday morning with my Revival Road Team at Revival Nation Church in Sarnia, Ontario, Canada instead. (Come on out with us! We leave Grosse Pointe at 8:30am this Friday!)
But last night had different designs.
The launching point seemed to be a very strong unction in my spirit that many people in Detroit are yearning to worship God in spirit and in truth—without human restriction. They are deeply hungering for an opportunity to step out of the natural and into the supernatural and worship with fire.
The groans, the cries, the dances, the passion that is increasing deeply within so many is looking to be released as spiritual worship unto a spiritual God!
The word continued that many will follow our freedom. As we launch into freedom many will dive right in behind us.
Then, I asked several fire-breathing ladies to come to the front and cry out, release the fire of God into all of us. Wow! Talk about heat! I crumpled to the ground in drunkenness and just soaked as they gave leadership to that part of the night.
Here's another recent testimony:
I have never experienced a congregation like Revival Church where EVERYONE is using their gifts. I've known that it's not for the Pastor to do EVERYTHING, and Revival Church is a great example of God working in the people who attend.
We have such amazing people at Revival Church! I am so blessed!!!
I did share a snipped of my sermon—there's a significant difference between the Triumphal Entry on Palm Sunday and the outpouring of the Holy Spirit that exploded the church in Acts 2.
Between the two events was the cross. Around 1/2 million people celebrated Jesus on Palm Sunday. Only 2 remained as Jesus went to the cross.
The power of the resurrection and the arrival of the Holy Spirit resulted in an outbreak in an upper room that was exponentially more powerful than what happened on Palm Sunday—even though the numbers were significantly less.
We don't need Palm Sunday Christians. We need Believers who go to the cross and experience the Promise.
So, let's get ready for more fire! Let's see the outpouring that's assigned to Detroit arrive right on schedule!
By all means, if you don't attend church on Sunday nights, come out to our Revival Command Center and contend with us for fire!!