Posts Tagged 'sinners in the hands of an angry God'
Evangelism and church growth strategies have gone off the rails in an attempt to close the sale.
Enough. The church has been failing far too miserably for far too long in one specific area—dressing up Jesus.
This tragedy is rooted in movements that refuse to embrace the severity of God. Their infatuation with emotional love, intimacy and connection to the exclusion of an inner tremble and utter brokenness that can only come from a revelation of the terror of the Lord has compromised a generation.
Listen to this podcast:
This puppy dog, cuddly Jesus that so many yearn for is a fantasy. If the extent of your relationship with God is enjoying his kindness and goodness to the exclusion of his terror and severity, you actually may be developing intimacy with an angel of light instead of the lover of your soul.
The church has knee-jerked away from the bold, passionate street preacher declarations in favor of a message that presents Jesus in a softer, more affirming light. The problem? Jesus is both a lamb and a lion.
"Aslan is a lion- the Lion, the great Lion." "Ooh" said Susan. "I'd thought he was a man. Is he-quite safe? I shall feel rather nervous about meeting a lion"…"Safe?" said Mr Beaver …"Who said anything about safe? 'Course he isn't safe. But he's good. He's the King, I tell you."― C.S. Lewis, The Lion, the Witch and the Wardrobe
The answer to mean-spirited street preachers is not to change the message, but to change the spirit. Unfortunately, today's Christian culture has surrendered to the accusations of hate and intolerance that have been hurled by many. So, instead of a potent, burning and convicting message, we are hearing little more than "Jesus loves you," and "You are special."
This methodology and theology has infected much of today's church growth strategies and even worship. Take note of how many songs we sing today in churches all over that are about how great we are instead of how great God is. The focus is on how irresistible we are as opposed to how desperate we are—and how holy, perfect and magnificent God is.
Today's church has dressed up Jesus, almost as an apology to the world for previous generations staying true to the truths of repentance, holiness and eternity. This new fashioned "jesus" stays well away from the topics of hell, brokenness, our depravity, surrender and anything that has even the faintest scent of negativity.
IT'S TIME TO GOVERN!
I'm disgusted at how the world has so successfully neutered so many in the church. We have been on the defensive for far too long as liberals, homosexual activists, atheists, pro-abortionists and others have continually hurled accusations of intolerance, convincing many that we don't truly love as they do. Our response has been mostly pathetic. The church has shrunk back as the world has painted us into a corner, demanding WE repent for a lack of love, tolerance and affirmation. No more!
My job isn't to get you to like Jesus. It's to get you to admit he is God and you are not and your only hope is full surrender to this magnificent, fearful deity.
Of course we should all continually check our hearts, and we must be driven by true love. But, let me tell you, the love of God looks little like what we are seeing today. Yes, his love absolutely can be tender, caring and gentle. It can also fuel his anger, wrath and judgment.
The church must repent, not to the world, but to God for allowing it to be disempowered, neutered. The threat of revival is fading every day. We must stand firmly and decree without a hint of apology or political correctness, sin is sin! God is holy. The Bible is true. We need prophets not wordsmiths.
The church's job isn't to convince the world that Jesus is a really great guy. Our job is to expose darkness, preach truth, allow the love and terror of God to explode into lost souls and allow the Holy Spirit to move. We are to govern with great authority and immovable resolve to stand for truth. Do it with a right spirit, but, please, finally, just do it.
WATERED DOWN EVANGELISM
11 And if any place will not receive you and they will not listen to you, when you leave, shake off the dust that is on your feet as a testimony against them." 12 So they went out and proclaimed that people should repent. Mark 6:11-12 (ESV)
Yes, there are some evangelists who are mean spirited. Others have great intentions but poor delivery. However, as I stated above, we cannot discard the message. Simply address the spirit and then proclaim the offensive truth with explosive anointing.
Today, so much of evangelism looks little different than fortune telling and New Age mysticism. Instead of soul-piercing, convicting messages being shouted at camp meetings and through the streets like were heard in generations past, today the messages are centered around how wonderful everybody is.
We need preachers behind the pulpits and in the streets who unapologetically and with great burden shout, "Repent! For the kingdom of God is at hand!"
I find it fascinating that John the Baptist, as the forerunner, made this decree famous (Matthew 3:2). Then, when he was arrested, look what happened:
17 From that time Jesus began to preach, saying, "Repent, for the kingdom of heaven is at hand." Matthew 4:17 (ESV)
This is the model of evangelism. John the Baptist started it and Jesus confirmed it.
Evangelism that encourages people to consider following Jesus because of his benefits and how special and amazing he thinks we all are deviates from that model to serious detriment.
SINNERS IN THE HANDS OF AN ANGRY GOD
Theologically deviant evangelism and powerless preaching from the pulpit have resulted in millions of people filling churches who are apathetic, lukewarm and who are following Jesus in an unsaved condition.
It's time the church repents for attempting to dress up Jesus in order to make him more appealing to a resistant culture. Somehow we've been duped into believing that we can't preach cutting and dividing truth without also loving the people we are delivering it to. The enemy has done well in his attempt to convince us that we need to be soft, casual and emotionally sedated in order to sell our religious goods. The problem, of course, is that we are not salesmen. We are prophets! While we all don't hold the office of prophet, we are all called to carry the mantle of Gideon who, without apology, tore down altars. We are to be like Elijah who confronted culture like no other. We are to be like Paul confronting the magician:
8 But Elymas the magician (for that is the meaning of his name) opposed them, seeking to turn the proconsul away from the faith. 9 But Saul, who was also called Paul, filled with the Holy Spirit, looked intently at him 10 and said, "You son of the devil, you enemy of all righteousness, full of all deceit and villainy, will you not stop making crooked the straight paths of the Lord? 11 And now, behold, the hand of the Lord is upon you, and you will be blind and unable to see the sun for a time." Immediately mist and darkness fell upon him, and he went about seeking people to lead him by the hand. Acts 13:8-11 (ESV)
Jonathan Edwards delivered what many consider to be the world's most famous sermon, Sinners in the Hands of an Angry God. Consider these points from his message and then consider the messages that are being preached in the streets and behind pulpits today:
So that, thus it is that natural men are held in the hand of God, over the pit of hell; they have deserved the fiery pit, and are already sentenced to it; and God is dreadfully provoked, his anger is as great towards them as to those that are actually suffering the executions of the fierceness of his wrath in hell, and they have done nothing in the least to appease or abate that anger, neither is God in the least bound by any promise to hold them up one moment; the devil is waiting for them, hell is gaping for them, the flames gather and flash about them, and would fain lay hold on them, and swallow them up; the fire pent up in their own hearts is struggling to break out: and they have no interest in any Mediator, there are no means within reach that can be any security to them. In short, they have no refuge, nothing to take hold of; all that preserves them every moment is the mere arbitrary will, and uncovenanted, unobliged forbearance of an incensed God. ~Jonathan Edwards
Evangelism and preaching must include the truth of mankind's condition and position should they refuse to repent. Love demands we do. If God's wrath, anger and vengeance is directed at someone, and they are a breath away from falling into an eternal abyss, how could we not reveal that to them with tearful urgency?
36 Whoever believes in the Son has eternal life; whoever does not obey the Son shall not see life, but the wrath of God remains on him. John 3:36 (ESV)
THE TERROR OF THE LORD
The fear of God, the terror of the Lord, the power of his wrath and his violent assault against the forces of Hell both at the cross and coming soon at the end of the age must be acknowledged as key, foundational truths. We can't ignore them. We shouldn't want to.
11 Knowing therefore the terror of the Lord, we persuade men; but we are made manifest unto God; and I trust also are made manifest in your consciences. 2 Corinthians 5:11 (KJV)
As a result of knowing the fierceness of God and the soul-shocking terror of the Lord, we persuade men. We evangelize. We preach. With tears in our eyes and fire in our veins we boldly reveal the ferocity of God and the love that has driven him to reach out to mankind.
Make no mistake, when the fear of the Lord is mentioned in Scripture, it doesn't always mean respect as some teach. No, the terror of God is just that—pure terror.
The Greek word may sound familiar to you: phobos
This word literally means:
alarm or fright :- be afraid, + exceedingly, fear, terror, "that which causes fright, a terror," "fearful sights".
We need to preach in such a way that terror lands on the hearers.
17 And this was known to all the Jews and Greeks also dwelling at Ephesus; and fear fell on them all, and the name of the Lord Jesus was magnified. Acts 19:17 (KJV)
In the above scripture, the word "fear" translates the exact same way it did in 2 Corinthians 5:11. Terror. When the terror of the Lord lands on the people, the name of the Lord Jesus is magnified. We cannot dress Jesus up and hide his terrifying attributes. Remember, He is not safe, but he is good.
We see terror striking Paul as well:
3 And I was with you in weakness, and in fear, and in much trembling. 4 And my speech and my preaching was not with enticing words of man's wisdom, but in demonstration of the Spirit and of power: 5 That your faith should not stand in the wisdom of men, but in the power of God. 1 Corinthians 2:3-5 (KJV)
He live a life driven by the terror of the Lord, marked by much trembling, and he preached from that place. the power of God, and not man's wisdom, brought the results that we are feeling 2000 years after his ministry on the earth ended.
Consider the following verses that all translate to mean terror:
20 Them that sin rebuke before all, that others also may fear. 1 Timothy 5:20 (KJV)

11 And after three days and an half the Spirit of life from God entered into them, and they stood upon their feet; and great fear fell upon them which saw them. Revelation 11:11 (KJV)

27 What I tell you in darkness, that speak ye in light: and what ye hear in the ear, that preach ye upon the housetops. 28 And fear not them which kill the body, but are not able to kill the soul: but rather fear him which is able to destroy both soul and body in hell. Matthew 10:27-28 (KJV)
I'm certain that many who read this are thinking about the verse that reveals that perfect love casts out fear. I've met many wonderful people who have been mightily confused about this. They unwittingly evaded all fear, even the fear of the Lord.
The truth is that perfect love does not cast out the terror of the Lord. If that were the case, God would be working against himself and we would have to deal with contradicting truths in the Word.
I'd encourage you read my article, Should we reject fear in all forms? Does God affirm certain types of fear? It will answer a lot of questions for you.
FINAL THOUGHTS
I know many who are fully invested in the "happy Jesus" movement have probably stopped readying by now. If you are in that camp, and you've made it this far, please read just a little further. Your passion for intimacy with Jesus is good, but make sure it's not incomplete. Deep, transforming intimacy with Jesus is a core message of mine. Without that vulnerable, close and otherworldly relationship with Jesus, I'd give up. Knowing God in this way is something that can never be described or replaced. However, several times in my life, God provoked me to something deeper. He didn't allow me to stay in that sweet, tender place. He changed the way he was manifesting and I was faced with his severity.
I'll never be able to forget my experience with the forces of Hell. My life was forever changed that night many years ago when God allowed me to experience the feeling of being taken to Hell. His severity was vivid and terrifying, yet it in no way contradicted my intimate heart connection with him. Knowing him as both lamb and lion is critical, and I'm personally desperate to have a greater revelation of him in his fullness. I pray you are too. Jesus will one day shock us all as we see him as he truly is:
15 From his mouth comes a sharp sword with which to strike down the nations, and he will rule them with a rod of iron. He will tread the winepress of the fury of the wrath of God the Almighty. 16 On his robe and on his thigh he has a name written, King of kings and Lord of lords. Revelation 19:15-16 (ESV)
We need a fresh wave of great awakeners—those who will unapologetically preach hell fire in today's dire end times.
To the shame of much of today's church there has been a firm and steadfast rejection of any truth that doesn't result in people feeling happy affection for God. While a core message of mine has to do with enjoyable and permeating intimacy with Jesus, I understand that it is not a mutually exclusive one. That teaching when it stands alone apart from the full counsel of God's Word turns out a people who don't understand the fear of the Lord, the severity of their lifestyle decisions or the intensity and nearness of eternity. It results in an overly confident and casual church that presumes God's primary focus is our satisfaction as it forsakes the realities of holiness, standards, scriptural expectations, judgment and how those who are truly saved are hanging on to that position by a thread.
And "If the righteous is scarcely saved, what will become of the ungodly and the sinner?" 1 Peter 4:18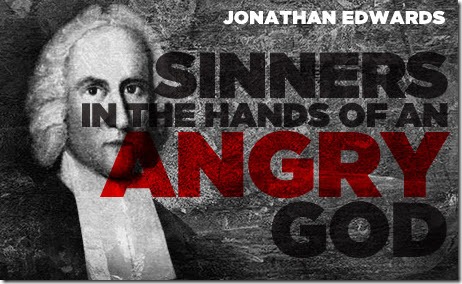 This Christian culture of positivity depicts a God who is so enamored by us that judgment is contrary to his nature. The deception is that God so values us individually that our enjoyment in life is primary to him. This lie has fueled sanctioned perversion in the church through the "gay Christian" movement and the affirmation of homosexual marriage by many leading denominations.
I'll say it as clearly as I can: God is much more interested in the establishment of his name and His Word than he is in the feelings or desires of individuals, or even of entire regions. This is God's nature. This is love.
…therefore, behold, I have stretched out my hand against you, and will hand you over as plunder to the nations. And I will cut you off from the peoples and will make you perish out of the countries; I will destroy you. Then you will know that I am the LORD. Ezekiel 25:7
It's all about him, not us.
In our narcissistic society our theologies have become radically distorted from just a generation or two ago. We are so self-consumed that we have adopted an image of a god that is focused day and night on worshiping us instead of us, those who are as the scum of the earth, worshiping him.
…when slandered, we entreat. We have become, and are still, like the scum of the world, the refuse of all things. 1 Corinthians 4:13

For if anyone thinks he is something, when he is nothing, he deceives himself. Galatians 6:3

For we who live are always being given over to death for Jesus' sake, so that the life of Jesus also may be manifested in our mortal flesh. So death is at work in us, but life in you. 2 Corinthians 4:11-12
The Christian life is not to be about personal gain. A pursuit of supposed human rights has nearly destroyed our nation, and the same strategies are in the church. The right to slaughter unborn babies for the sake of personal convenience is a horrifying indictment on our nation—and it didn't seem that it could get any worse, until the recent admission by a Planned Parenthood leader who casually admitted to an even more sinister evil—selling body parts of murdered people.
Yes, we need hell fire preaching in the church again.
As people both in the church and in the world have been focused on rights, pleasures and positions, evil has been advancing and God's righteous standards have been minimized or ridiculed as nonsense. Again, this is happening in the world and in the church. Churches today support both gay marriage and abortion. It's no longer shocking. It will forever be sickening.
We need a great awakening.
"The bow of God's wrath is bent, and the arrow made ready to string and justice bends the arrow at your heart, and strains the bow, and it is nothing but the mere pleasure of God, and that of an angry God, without any promise or obligation at all, that keeps the arrow one moment from being made drunk with your blood." ~Jonathan Edwards
We have mistaken God as one who is always happy and passive, like that sweet grandfather who is forever handing out candy and hugs no matter how rebellious the child is. It's true that God is love, but we have attempted to define love via humanistic insight, through our own lens and our own longings for acceptance. It's also true that God is longsuffering, but only he knows how long his suffering will be. The full force of his wrath will be released one day, and many lesser though terrible judgments will come before that happens. God is a fearful force to behold and we have been self-centered and entitled presuming that approach will somehow draw us closer to his heart.
"Safe?" said Mr. Beaver; "don't you hear what Mrs. Beaver tells you? Who said anything about safe? 'Course he isn't safe. But he's good. He's the King, I tell you." ― C.S. Lewis, The Lion, the Witch, and the Wardrobe
"…the Hoods of God's vengeance have been withheld; but your guilt in the meantime is constantly increasing, and you are every day treasuring up more wrath…If God should only withdraw his hand from the floodgate, it would immediately fly open, and the fiery floods of fierceness and wrath of God, would rush forth with inconceivable fury." ~Jonathan Edwards
ZEPHANIAH AND THE COMING JUDGMENT
"I will utterly sweep away everything from the face of the earth," declares the LORD. "I will sweep away man and beast; I will sweep away the birds of the heavens and the fish of the sea, and the rubble with the wicked. I will cut off mankind from the face of the earth," declares the LORD. "I will stretch out my hand against Judah and against all the inhabitants of Jerusalem; and I will cut off from this place the remnant of Baal and the name of the idolatrous priests along with the priests, those who bow down on the roofs to the host of the heavens, those who bow down and swear to the LORD and yet swear by Milcom, those who have turned back from following the LORD, who do not seek the LORD or inquire of him." Zephaniah 1:2-6
The prophecy in Zephaniah is futuristic. It is yet to happen, most scholars believe. This has some serious implications. What this means is that God cannot be defined simply by the very real truth that he love, he is kind and he is patient. Also, the Old Testament God is very much the same as the New Testament God. His supposed Old Testament style end-time personality is front and center and undeniable in this passage.
There is a greater revelation of God's nature that is not in contradiction whatsoever with his more 'positive' or appealing side. He is and forever will be the very definition of love. We can and should run to him and not from him as we trust him fully. We must enjoy him in a place of immersive intimacy. We should always be full of joy and abundant life—and sober and troubled as he prepares to move on the earth.
After reading through the depiction of the coming judgment on the earth we may not so casually pray for a 'move of God' as we pursue revival in the land. When God moves in force we will experience his greatness—his great goodness and love as well as his great fierceness and wrath. Those who are truly his (which are much fewer than the number who profess to be his) are safe from that wrath—but not of his judgment!
God's wrath remains on the unredeemed. That is clear. However, at the crucifixion Jesus took God's wrath upon himself in place of those who are legitimately his own. That being said, while we are free from wrath, judgment will absolutely visit us in the church—and it will visit us first!
For it is time for judgment to begin at the household of God; and if it begins with us, what will be the outcome for those who do not obey the gospel of God? 1 Peter 4:17
Again, we need hell fire preachers to emerge and announce to the church and the world the reality of their situation and the measure of God's wrath and judgment that is coming. Contrary to popular belief a very real revelation of hell, of torment, of God's holiness and of our desperation and wickedness is needed to draw people to the Lover of their souls! A clear picture of Satan's rage, of God's standards, of eternity and of God's overwhelming passion for people will result in an honest evaluation of their condition. For some it will result in glorious salvation.
The prophecy in Zephaniah is true. It is coming. A loving, kind, tender God is actually going to manifest in some terrible and violent ways. Is this side of God repulsive to you? I encourage you to deal with it. You can't change God to squeeze into a Santa Clause suit. He won't fit. Satan will though. False gods and idols fit into whatever suit we will give them. They are more than willing to appeal to our fleshly desires so as to trap us…and then to destroy us.
Carefully read what follows and ask if that picture of God matches your own:
At that time I will search Jerusalem with lamps, and I will punish the men who are complacent, those who say in their hearts, 'The LORD will not do good, nor will he do ill.' Their goods shall be plundered, and their houses laid waste. Though they build houses, they shall not inhabit them; though they plant vineyards, they shall not drink wine from them." The great day of the LORD is near, near and hastening fast; the sound of the day of the LORD is bitter; the mighty man cries aloud there. A day of wrath is that day, a day of distress and anguish, a day of ruin and devastation, a day of darkness and gloom, a day of clouds and thick darkness, a day of trumpet blast and battle cry against the fortified cities and against the lofty battlements. I will bring distress on mankind, so that they shall walk like the blind, because they have sinned against the LORD; their blood shall be poured out like dust, and their flesh like dung. Neither their silver nor their gold shall be able to deliver them on the day of the wrath of the LORD. In the fire of his jealousy, all the earth shall be consumed; for a full and sudden end he will make of all the inhabitants of the earth. Zephaniah 1:12-18
That's hell fire preaching. That's a necessary message. It's about what is yet to come. This is a revelation of God in the New Covenant. It reveals God's nature to us afresh.
God, who is by definition love, will do what is necessary to preserve love.
A complacent people will result in a bitter day sound that announces the day of the Lord. That day is a day of wrath, distress, anguish, ruin, devastation, darkness, gloom, clouds and thick darkness. It's also a day of a trumpet blast and a battle cry! God himself will bring distress on mankind. It won't be the enemy. The trouble won't simply be the result of God lifting his protection over a nation. He will personally bring distress to mankind himself.
Blood shall be poured out because of his wrath. The fire of his jealousy will result in the earth being consumed suddenly—and all the inhabitants will experience a sudden end.
Those who are deeply intimate with Jesus will both celebrate and weep as a result of this news.
Those who are casual and expect God to satisfy them and focus on their happiness on the earth will reject him—and many will actually declare that He is Satan when he moves contrary to their fleshly expectations of how God should operate.
This, my friend, is the unforgivable sin of the blasphemy of the Holy Spirit. The moment we attribute a move of God to a move of Satan we can know we have found trouble.
"Truly, I say to you, all sins will be forgiven the children of man, and whatever blasphemies they utter, but whoever blasphemes against the Holy Spirit never has forgiveness, but is guilty of an eternal sin"— for they were saying, "He has an unclean spirit." Mark 3:28-30
The great falling away will be filled with formerly professing Christians who never missed a church service, who said their prayers and faithfully tithed and taught in Sunday School. Just as during they did during the last days of Jesus on the earth, they will quickly shift from a lifestyle of crying out "Hosanna to the King of kings!" to "Crucify him!"
The world needs to know this Jesus. The world needs to understand that God is fearful. Truly, as C.S. Lewis declared, he is not safe, but he is good. That revelation will result in a great harvest. Why? Because truth sets people free.
So Jesus said to the Jews who had believed him, "If you abide in my word, you are truly my disciples, and you will know the truth, and the truth will set you free." John 8:31-32
I'm both awakened and deeply grieved in my spirit.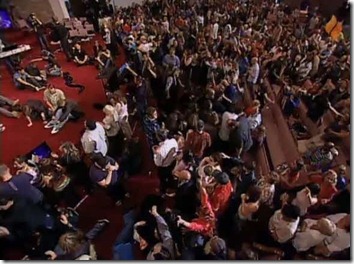 I can barely type. I'm trembling as the Holy Spirit is raging within me. My God. The cross must be central in our churches again. The Gospel must be preached like in the days of old again.
This weekend marked what I consider the most critical corporate gathering for the church of Detroit this year.
Watch the video of Nathan Morris preaching "Candy Cane Christianity" here: http://bayrevival.org/media_archive_sub.php?id=205
The Bay of the Holy Spirit with Pastor John Kilpatrick and Evangelist Nathan Morris visited Detroit Thursday and Friday, and those unparalleled national leaders of revival carried their responsibility for Detroit on their shoulders.
The call for deep repentance and a return to the cross is the message of the hour for Detroit. I'm truly troubled, but it's an appropriate troubling. It's time for religious systems to be confronted. The ENTIRE church of Detroit should have been at these meetings!!!
When the nation's premier revivalist, a father of revival, calls a meeting, the church must respond. I was SO GRIEVED that just a few hundred people from the Detroit region were there out of over 1450! The rest were people from other regions and nations who paid the price to travel from far away to respond to the call to gather!
The message Nathan delivered on Thursday is unlike anything we hear in churches today—but was common in the great revivals of history.
Let me say this very clearly: It is a rare thing indeed for someone to escape the fires of Hell—and a tragically large number of church goers will be shocked to find themselves there one day. It's horrifically common.
The great revivalist Leonard Ravenhill said:
I read of the revivals of the past, great sweeping revivals where thousands of men were swept into the Kingdom of God. 

I read about Charles G. Finney winning his thousands and his hundreds of thousands of souls to Christ. 

Then I picked up a book and read the messages of Charles G. Finney and the message of Jonathan Edwards on 'Sinners in the Hands of an Angry God,' 

and I said, 'No wonder men trembled; no wonder they fell in the altars and cried out in repentance and sobbed their way to the throne of grace!'
Luke 12:5 But I will forewarn you whom ye shall fear: Fear him, which after he hath killed hath power to cast into hell; yea, I say unto you, Fear him.
The fear of the Lord must return!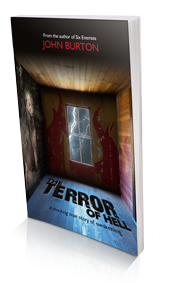 There's a lack of brokenness and repentance in the church today… we are blind to the depravity that sin creates. People have actually made arguments against deep, troubling brokenness, mourning and travail! Gut wrenching repentance and surrender at the cross must return to the church!
There's a disturbing movement away from sin/Hell consciousness… some believe that we only focus on God and ignore the trauma of sin and what the enemy has done.
Hell is referred to over three hundred times in the New Testament. It's referred to rarely today.
THE MIRACLE IN MODESTO
A low budget, terribly acted but extremely anointed traveling production called Heaven's Gates/Hell's Flames resulted in one of the greatest sudden moves of God in modern American history.
The production simple depicts people who suddenly die and then are either welcomed into Heaven or forcibly dragged by demons to Hell.
Over 81,000 people came to the production in Modesto, California over 28 days with 33,000 documented salvations.
Pastor Glen Berteau: Somebody said, "I hear you've got scare tactics." No, that's reality tactics. I said, "That's the reality of it all." The reality is that there is a Hell, just like there's a Heaven. And good people if they don't know Jesus, they're going to go there.
You can read more here: http://janaeusa.angelfire.com/Berteau.html 
m10.28
I'd recommend watching another low budget but riveting film called m10.28. I can barely get through the scene I'll post here. In fact, the experience I wrote about in my book The Terror of Hell is terrifyingly similar to what you see happening at the 4:50 mark… through the 5:30 mark. I experienced being dragged toward Hell and then suddenly waking up in overwhelming fear with a message of awakening and repentance nearly destroying me it was so severe.
Hell is real. Most go there. Here's the video link: http://youtu.be/VllhuffKyJA
AWAKENING
It's time to wake up church. No more politics. No more apathy. No more games. Wake up!
Detroit! No more embarrassing turnouts! No more excuses! No more unnecessary busyness that keeps us away from the mission! No more!
It's time to gather! It's time to repent! It's time to consecrate ourselves for tomorrow the Lord will do wonders among us!
FALSE GRACE MESSAGE
Beware of the false doctrine of hyper grace that minimizes repentance, judgment and Hell and results in an abdication of the responsibility of the Believer. No form of grace removes the believer's responsibility to repent for his sin. This doctrine is responsible for many in the church being lulled into false security. I am convinced that many go to Hell because of this doctrine. I know The Terror of Hell message must become more of a focus of our ministry.