Posts Tagged 'controlling'
"I just can't sit through one more church service!" This is the cry of our current remnant generation. Pastors, are you listening?
My wife and I were so excited to reconnect with a couple of friends yesterday. This couple has been invested in the prophetic and in the local church as powerful regional leaders for years. We spent the evening talking about the state of the church, and how the new wine simply must come, yet the church is far from ready.
One of them simply stated, "I just can't sit through one more church service!"
Such a simple statement yet it resonated powerfully in my spirit. I can't either.
Listen to a powerful podcast on this subject…
This afternoon I talked on the phone with another regional leader, a pastor who is more done with church as usual than any I've ever met. He's longing for God to identify like-minded pastors and leaders who are absolutely desperate for reformation and revolution in the church. He's crying out for revival and he is discovering it's challenging to find remnant leadership, fiery, broken and hungry pastors who no longer care about growing their church, adding programs, gaining notoriety, raising funds or seeking after "success." His passion is to connect with others who are done and undone and longing for a pure, holy move of God.
PEOPLE ARE LEAVING THE CHURCH IN DROVES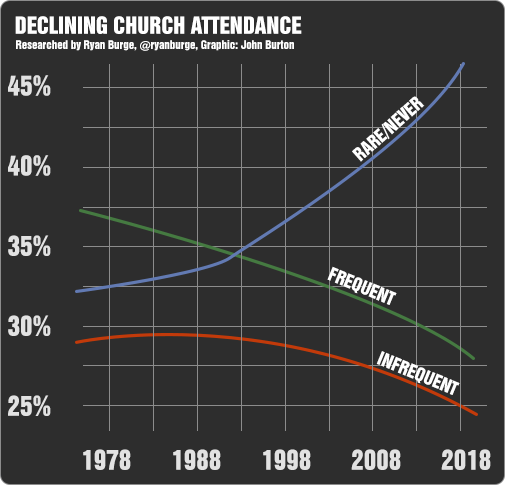 Research by Ryan Burge, an assistant professor of political science at Eastern Illinois University, reveals:
In the early 1970s, about 38% of Americans attended church nearly every week or more. A third rarely or never attended church, while the rest attended once in a while. That all changed in the early 1990s, when the rarely/never attending category began a slow and unmistakable climb. Today nearly half of all Americans attend church once a year or less, and only about a quarter attend on a regular basis. A similar number attend once in a while.
I believe the bottom line is that a growing number of people see little purpose for the church. To them, the value of participating is greatly diminished. Why even go?
The last thing we need is a natural, logical solution to this problem. I believe it's critical that we function as the church, and gathering together as the ekklesia is commanded in Scripture. However, more programs, minor tweaks, practical adjustments or gimmicky ideas is not what is needed.
24  And let us consider how to stir up one another to love and good works, 25  not neglecting to meet together, as is the habit of some, but encouraging one another, and all the more as you see the Day drawing near. Hebrews 10:24-25 (ESV)
We need a full deconstruction of today's model. Full-blown reform is required.
Today's powerless, predictable, boring church service simply must go.
SO, WHAT IS CHURCH AS USUAL?
When I talk about church in this article, I'm mostly talking about the gathering, the local, regularly scheduled church service that most usually takes place on Sunday mornings. Yes, I know the church isn't a building. That drum has been beat to death. The church must gather, and it's usually nice to do so indoors out of the heat or cold, rain or snow.
Most anybody who has attended church in the last several decades has a good idea of what it looks like. Greeting, worship, announcements, sermon, prayer, dismissal. Repeat next week.
In this context, there are key reasons why so many are leaving the church. It's true that a good number of those are leaving for selfish reasons. They are misguided or simply immature. They are pouting and leaving.
There are also many remnant Believers who, like my friend so clearly articulated, "can't sit through another church service!"
They are yearning for more. They can't handle another perfectly crafted, wonderfully produced, humanly orchestrated mess with just a sprinkle of supernatural flavor for good measure. They are done.
Specifically, I believe the remnant is fed up with a few things that should be fixed, like yesterday.
BORING PREACHING
Pastors, we can learn what you are attempting to teach us from much more gifted preachers and through brilliantly written Bible resources online. I'm not trying to be cruel, I'm trying to make a very important point. People don't want your regurgitated Bible info forced on them over an agonizing 45 minutes. They want to smell the aroma of the Holy Spirit radiating from you!
The real point isn't boring preaching, it's a lack of fire and revelation due to a nonexistent spirit of prayer. When pastors spend most of their time on their knees right in the middle of the furnace of intercession night and day, the flames of anointing and revelation will rage out of them when they stand behind the pulpit. Weeping, groans of intercession, cries of repentance, an uncontrollable tremble and the brooding of the Holy Spirit will mark messages birthed in the prayer room.
FEAR OF MAN
Please pastors, stop with the careful wordsmithing and unoffensive sermon points. It's time for the troublers of Israel to arise! Preach on fire and shake the casual out of their stupor!
Say what needs to be said and let the big givers storm out with their money still in their pockets. Preach! Tear down strongholds, confront wickedness and scare the pretenders out of the holy place God has called you to steward.
It's time self-focused, semi-interested people are no longer given the opportunity to demand what they are looking for in a church. It's time to close up the welcome centers and put away the welcome gifts. When presented with the unmistakable burning only a supernatural church can offer, their decision to stay or leave will be immediate. ~It's Time to Start Scaring Visitors Away From the Church
TIRED ORDER OF SERVICE
Disenchanted remnant Christians are longing for church services that start with choruses of intercession, are filled with prophetic utterances and eventually end with decrees and declarations!
Eliminate the time for handshakes and Christian side-hugs, the painfully irritating announcements that interrupt the flow of the Holy Spirit, the unnecessarily invasive offering sermonettes and the perfect timing that ensures everything fits within a two-hour window.
Pastors, let go of the structure! Open the mic for people to pray with passion! Cancel your lunch reservations! Fill the service with fiery intercession, prophetic decrees and exhortation of powerful truths of Scripture as the Holy Spirit ebbs and flows in perfect violation of human order!
NO REVIVAL EMPHASIS
If there's one thing I can discern it's the spirit of revival. I've heard pastors talk about revival, but it's rare to find one that truly gets it. You'll know they don't get it when their revival talk centers around the hopes for their own church to grow instead of contending for a regional outpouring that has little to do with their local church.
I believe we need to see prayer and revival centers launch in cities all over the world. These are prophetic centers of intercession that burn continually for a move of God. They couldn't care less if the outpouring is centered in their own ministry or not. Their prophetic and apostolic assignment is much greater than that.
Churches and ministries that will draw the disenfranchised remnant are those that are fully devoted to partnering with the Holy Spirit in the region. They have no desire to find a nice local community where they can connect with new friends as they hold hands and sing some songs as they "do life" together. Nope. These are warriors. They aren't in it for the benefits. They are in it to the death, and they are ready to lay it all down for the sake of revival.
THE PROPHETIC IS MINIMIZED
19  Do not quench the Spirit. 20  Do not despise prophecies, 1 Thessalonians 5:19-20 (ESV)
I personally believe that churches that don't embrace prophetic ministry are significantly out of line. Without an active, vibrant prophetic culture in the church, it will feel dead, be misguided and it will muzzle those who have a mandate to release critical revelation to the body.
A prophetic culture will result in an electric, urgent and supernatural atmosphere that is fueled by a constant spirit of prayer. The body will watch the leadership function from their knees with a tremble in their spirit and will model that lifestyle. Prophetic unction will flow from all, and the release of revelation will powerfully mark the corporate gathering.
FOCUS ON CHURCH GROWTH
The focus on church growth must cease. The remnant doesn't care about a larger building or a growing population. Of course, they are consumed with passion for souls, but this is the difference between today's typical church strategy and the one today's revival minded people have adopted.
Typical church leaders equate success with a larger crowd. They argue that more people in the church equals more souls in the Kingdom. This is not usually the case. It's an immature and unrealistic strategy.
The remnant church, however, values the presence of God over the presence of people. They would rather gather together with twenty or thirty firebrands who have been marked by the Spirit of God instead of five hundred spiritually curious people. They want the Upper Room 120, not the thousands who were too busy to truly invest.
The strategy is prayer induced revival. When the small group of fully surrendered and sold out remnant revivalists pray on fire together, they are building a foundation for the harvest. They aren't looking for an extra few hundred people in their meeting, they want the millions!
In fact, growing with people who are not raging on fire for Jesus will only result in a watered-down experience where all sorts of compromises are made to ensure the moderates are satiated. Remnant Christians are done with such foolish distractions.
NO SUPERNATURAL ACTIVITY
A church without signs, wonders and miracles, without dreams and visions, without the glory of God, is a church without a strategic, powerful and supernatural prayer culture. A prayerless church is no church at all and remnant Believers refuse to waste their time with such a humanistic endeavor.
I hear about people scrutinizing churches that are functioning in the supernatural. I have often suggested that churches that do not operate in the invisible realm where the wonders of God manifest should be questioned. Why is God not moving in your midst?
As we cultivate a prayer-infused church where everybody prays with tongues of fire and prophesies and contends against the darkness, we'll have a church on fire that is driven by the winds of the Holy Spirit. People are so hungry for this but it is exceptionally rare to find a church that flows this way.
CONTROLLING AND RESTRICTIVE LEADERSHIP
Pastors, we must raise up people to outshine us! Get out of the way and celebrate the callings and gifts in others. Allow God to move mightily through them and step aside when God is ready to use them.
We need revival churches that are raising up sons and daughters and releasing them into the world! We need revival leaders who will drop the reigns and allow the messy, unpredictable and supernatural to happen!
I've known pastors who are completely lost without a perfectly timed order of service. They need to step off the platform and hit the altar and let the Spirit of God rage!
NO LEGITIMATE VISION
Why are we even gathering together? What is the vision? What's the point?
When many pastors are asked about their vision, they often share their ministry goals. The two couldn't be more different. You may have goals to add a certain number of people to the pews or to build a second campus, but that is not vision.
Vision is a supernatural infusion of the impossible. It's the burning purpose of the ministry. It's the very reason the leader is gathering people together. True vision will grip the pastor night and day. It's costly. It's deeply personal yet the body is invited to participate.
Revival-minded people want to run with a leader who has had their hip taken out by God, who has no other reason for living than to fulfill their mandate. The vision is alive, burning, raging, all-encompassing and humanly impossible to fulfill.
MISPLACED EMPHASIS ON WORSHIP
In many churches that consider themselves to be supernaturally motivated, a spirit of prayer has been replaced by a strategy of worship. Emphasis has been placed on an excellent musical experience, believing that it's the highest form of supernatural expression and the quickest route to fulfilling the goal of introducing a spiritual element into the service.
A sixty-second prayer as the worship team members hold hands in a circle on the platform is usually followed by an hour or so of practice.
I'll say this as clearly as I can: a spirit of true worship cannot come without a spirit of fervent prayer leading the way.
Some of my favorite worship experiences have been in churches with a single, ragtag guitar playing leader, sometimes with other musicians and sometimes not, who just bleeds intercession. You can see it. You can feel it. They play spontaneously, in the Spirit, with no song list, no script, no karaoke sing-a-longs. Intermixed are songs in tongues, tears of passion and powerful prayers and declarations. The people are undone, rocking, trembling and deeply hungry as the Holy Spirit whips through them like a mighty wind.
Compare this with highly polished, well-orchestrated worship sets with surface-level, manufactured exuberance that any discerning remnant Believer can pick up on with their eyes closed and their hands tied behind their backs.
Again, no spirit of prayer, no spirit of worship. Period.
UNUSUAL CHURCH
Remnant Christians can't stand one more church as usual service. We are done!
It's time for unusual church. It's an unscripted, spontaneous, risky, messy, open-ended, explosive and often offensive environment where God blows in with might.
My pastor friend's plea is real. He wants to connect with pastors and leaders who are yearning for an unusual church experience. I do too.
My prophetic friends who last night cried out for anything but church as usual are not alone. There are many remnant Christians who are desperate for the new wine. I hear from people all over the world on a very regular basis asking me if I know where they might find such a church, an unusual church on fire. Sadly, I must confess most of the time that I do not. This must change.
Come on pastors, no more church as usual. For real this time.
Everywhere I turn I hear someone angrily calling out controlling pastors, and it has to stop.
I often hear people use the term 'spiritual abuse' when sharing about challenges in their church. It seems to lend a clearly valid reason to leave a church, right? Not necessarily. I do understand that there are some horrible, selfish, mean spirited, controlling pastors—and congregants—out there. My heart is broken over situations like that. However, actual abuse is quite rare. I recently had a conversation with someone regarding spiritual abuse, and here's my response when it was argued that spiritual abuse is rampant in the church:
I think it's tragic when rejection causes people to flee the church when it was rejection that caused Jesus to die for the church. Jesus was abused, hated, physically destroyed… yet he served the church. He forgave. We have people today who are leaving churches because of the most ridiculous reasons. When they don't get what they want, they accuse the pastor of control. Whenever accusation is in the mix we know someone has embraced a demonic anointing. He is the accuser of the brethren… and we should not be. I also believe that abuse of people towards leaders is extremely rare. My wife and I have been in ministry 21 years… and we've experienced some very difficult things. Very cruel people… gossip, division, mistreatment, etc. But we've never been close to being abused. I used to work for a 10/40 Window ministry. I've met Christian leaders in those nations who have been imprisoned in horrific conditions… stories of abuse like having a shotgun put in someone's mouth because they didn't renounce Christ… they pulled the trigger and she lived. I could go on and on… pastors murdered in front of their congregation… another stripped naked and abused as he preached. I've seen piles of burning Christian bodies that were killed and torched by terrorists. So, no, I haven't seen abuse much at all. I've seen bad stuff. Tough stuff. Inconvenient stuff. Emotionally difficult stuff. Unfair stuff. My heart goes out to those who have been treated poorly by pastors. And my heart goes out to pastors who have been treated poorly by people. But, I won't call it abuse if it's simply a very bad trial.
As I said, I understand what it is to endure extremely unfair actions by leadership that were emotionally painful and that resulted in trauma and hardship in our family. Going through these seasons are so painful, however as I look back I see just how important they were in our development, in our training, in our pursuit of love and humility. It's easy to love everybody when you are celebrated. The real test comes when you are are treated wrongly. I believe this is a test that God will allow us all to take. Unfortunately, too many people take on a victim mentality and run away from their church assignment hurling accusations and screaming about abuse. Test failed. False-expectations can easily lead to offense. As part of the church, too many presume it's the
pastor
's job to coddle them and to jump through their hoops. In fact, it's our job as the congregation to serve the mission of the church. It's not the job of the
pastor
to serve ours. It will do all of us a world of good if we lay down our expectations and simply minister to God with passion!
SPIRITUAL ABUSE
I'll never forget a powerful moment when I was ministering in Connecticut several years ago. I was speaking at conference. After one of the final sessions, one that I was not speaking in, I was approached by a lady who presumed I was a pastor at the church. I told her I was simply visiting as a guest minister, and apparently that was okay with her. I was someone she could talk with. What she told me shook me to the core, and my definition of spiritual abuse changed forever. She told me her discussion with me was the final step in a process of healing for her. I didn't understand, but I continued to listen. Several years ago she attended a church in the area. She went on to describe her experiences with Satanic Ritual Abuse (SRA). I won't describe the grotesque abuses in this article, but simply know it's enough to make you cry uncontrollably…and vomit. The fact that this lady regularly was abused in this manner in a church, by a supposed pastor, was beyond what the human mind could understand. After years of being emotionally incapacitated, God met her. He gave her an assignment of forgiveness and healing. She set out to do everything God prescribed her to do, and she was not at her final step. She drove to the city where the abuse took place, the city where I was ministering, a place that she never returned to. She avoided it like the plague (to her it was) for years. So, there she was, standing before an unsuspecting visiting minister releasing forgiveness to her abusers, decreeing her own freedom and finding healing. It was a spine-tingling, absolutely remarkable moment. This lady was abused. I hope you can now see how most accusations of abuse will never even come close.
SPIRITUAL TESTS ARE DIFFERENT THAN SPIRITUAL ABUSE
Am I unsympathetic toward those who are treated poorly? No. I'm really not. But, I must admit, I actually expect God to put people in those situations. So, I don't immediately rush to judgment of the pastor and I don't immediately attempt to rescue them from their pit. It's there where character is built.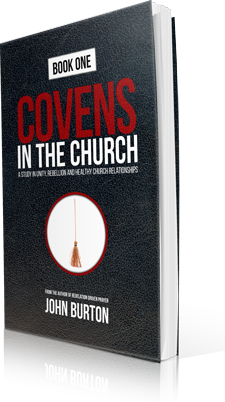 Joseph was wrongly thrown into a pit, sold into slavery, cast into prison…and ultimately made the second most powerful person in the nation. Why was Joseph welcomed into the palace? Because he passed the test of the pit and the prison. He forgave and loved his brothers, the very ones who tried to destroy him. I wonder how many people who are leaving churches, hurling accusations against their pastors, realize they are doing great damage to their lives. The palace that God has for them a couple decades down the road (Joseph waited over 20 years between being thrown into the pit and seeing his brothers again) may never be enjoyed. A failure to bless those who curse will result in a failure to fulfill your life calling. I've met many people who are so disillusioned by the church that they are attempting to form
doctrine
that neuters leaders of their authority. They don't believe in any measure of rank or hierarchy and are quick to assault those who do. Many are leaving the institutional church and forming house churches. They cite 1 Corinthians 14:26 as evidence that leadership is unnecessary and even unbiblical while ignoring Hebrews 13:17. I've heard people say that pastors and leaders should not be designated, they should not be preaching, they should not even be there at all as everybody is at the same level and everybody can bring ministry equally. This is not true, friend.
What then, brothers? When you come together, each one has a hymn, a lesson, a revelation, a tongue, or an interpretation. Let all things be done for building up. 1 Corinthians 14:26 (ESV) Obey your leaders and submit to them, for they are keeping watch over your souls, as those who will have to give an account. Let them do this with joy and not with groaning, for that would be of no advantage to you. Hebrews 13:17 (ESV)
Many house churches are fully biblical and ordained of God, but many are movements of rebellion, full of wounded and disillusioned people who are rejecting leaders who have failed them instead of welcoming them to the table as Joseph did with his brothers. I write more about this in my book Covens in the Church. I'd encourage you read that, especially if you have been tempted to leave a church.
GOD'S GRACE
The truth is that God will supernaturally impart
grace
to endure seasons of testing. There will be many tears and many questions…and you can absolutely ask those questions! But, do so with a humble heart. Don't attempt to figure out who is right and who is wrong? Why? Your leadership may most certainly be wrong, but that's not the point of focus—your response is. Will you respond in love and humility, or will you become an Absalom, demanding attention is given to your particular problem or point of view? God is well able to give you supernatural strength to endure the pit, the test. The focus is not on who was wrong, but on how we respond when wronged. Is there ever a time to leave a church? Yes, but it's much less often than you'd think. If God leads you to leave a church, it's not a decision you make alone. Your pastor must play a part, and significant process must take place before you move on… with a blessing.
---
You can order Covens in the Church and other resources at www.burton.tv/resources.