Posts Tagged 'school of revival'
Enjoy a large and growing library of video, articles, books and equipping at www.burton.tv!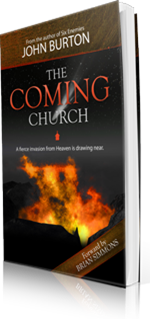 Thank YOU for connecting with us and aligning with our passion for legitimate revival and awakening in the nations!
By now you've most likely heard about my book The Coming Church. If you haven't started reading it yet, I encourage you to dive in! You will find yourself coming alive and burning hot as God shakes you to your core!
In addition to The Coming Church, I've written nine other books on topics such as prayer, intimacy with God, dealing with authority and fulfilling your mission.
Also, I have a massive library of articles, both on my site at www.burton.tv/articles and on Charisma Media's sites. You can check them out here: www.burton.tv/charisma.
If you like to watch or listen to full length teachings, head over to www.burton.tv/media. Teachings from my studio here in Branson, Missouri and also other messages from the road are available at no cost to you!
Lastly, you may be ready for three months of fire! If you are hungry to grow fast and deep, check out the School of Revival! This is an online school of fire that will stretch you and equip you in prayer, revival and other key end-time focuses. Go to www.schoolofrevival.tv today!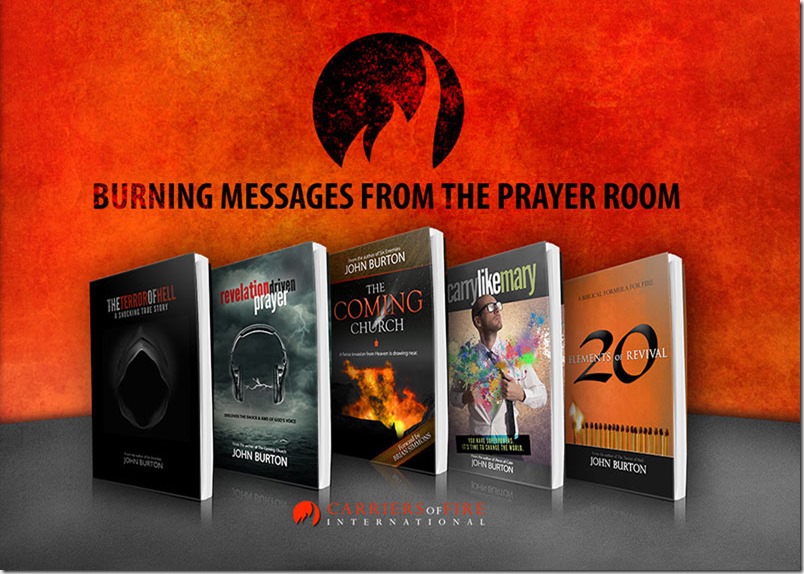 Most of all, I love to hear from all of my partners and friends!
Let me know what God is doing in our region.
I'd love to come out and hold some meetings in your church or at your camp or conference. Let's connect and see what God might do!
John Burton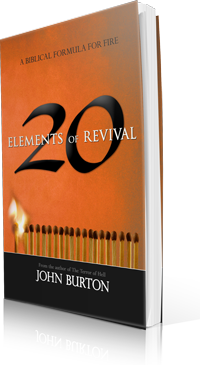 Join us locally or online TONIGHT at 7pm for the beginning of our brand new series 20 ELEMENTS OF REVIVAL!
Discover how to live in a state of white hot, continual revival—and how to see it spread into a city wide inferno!
Join us locally in Detroit for prayer, worship, teaching and then a time of discussion:
theFurnace is located at 26091 Sherwood, Warren, MI 48091
If you aren't near, you can watch online beginning at 7pm at www.thefurnace.tv/live.
DOWNLOAD NOTES
You can download tonight's notes to follow along as you watch HERE.
20 ELEMENTS OF REVIVAL
The contention of this book is simple: The extreme manifest presence of God is the biblical norm for New Testament believers. We label it many ways: revival, an outpouring, renewal, and certainly different moves of God have distinct flavors to them. However, regardless of the descriptive term we attach to it, we simply are not experiencing it. As we investigate a simple and powerful formula for revival, we will find ourselves deeply provoked and advancing with extreme momentum toward the goal of a city-wide outpouring of the Holy Spirit!
20 Elements of Revival- I just finished reading 20 Elements of Revival. Everyone should read this book! I wish I had the cash for a case of this book. Seriously! I keep thinking of more people who NEED a copy of it! It's very, very, very rare for me to feel this way about a book other than the Bible. -Kathi

Just finished reading the two books you gave me…and I am buzzing in the Holy Spirit! My wife and I had an hour conversation about the depth of their implications. You have nailed it my friend. I have met few people who have put all this together….and I am in awe and grateful. I want all our leadership team to especially read 20 Elements of Revival. -Tim
Watch our primary service TONIGHT via video streaming at 7pm ET!
First, watch last night's School of Prayer. It was a powerful night with practical teaching on how to have extreme success in prayer.
We then modeled what was taught in prayer. You are SURE to learn a lot! WATCH HERE.
theFurnace • School of Prayer • Mighty in Prayer
---

theFurnace exists to gather forerunners who are united in the mandate to initiate reformation in the church and revival in the region. As carriers of the fire of God, we are single-minded in our mission to rally a generation that will embrace the cross of Christ, pursue radical holiness, engage in fervent prayer, live a life of repentance and experience both the freedom and the fear of the Lord.
You can DOWNLOAD NOTES and follow along with tonight's message by clicking on "Extravagant Intimacy" under the Teaching Notes section next to the media player at www.thefurnace.tv/live.
"The coming moves of God will require nothing short of a revolution of our current structures, models and mindsets. Not an adjustment or an enhancement, but deep reform. The resulting fire and presence of the Holy Spirit will cause us to marvel and wonder why we ever resisted at all."- John Burton, based on his book 20 Elements of Revival

---