Watch our primary service TONIGHT via video streaming at 7pm ET!
First, watch last night's School of Prayer. It was a powerful night with practical teaching on how to have extreme success in prayer.
We then modeled what was taught in prayer. You are SURE to learn a lot! WATCH HERE.
theFurnace • School of Prayer • Mighty in Prayer
---

theFurnace exists to gather forerunners who are united in the mandate to initiate reformation in the church and revival in the region. As carriers of the fire of God, we are single-minded in our mission to rally a generation that will embrace the cross of Christ, pursue radical holiness, engage in fervent prayer, live a life of repentance and experience both the freedom and the fear of the Lord.
You can DOWNLOAD NOTES and follow along with tonight's message by clicking on "Extravagant Intimacy" under the Teaching Notes section next to the media player at www.thefurnace.tv/live.
"The coming moves of God will require nothing short of a revolution of our current structures, models and mindsets. Not an adjustment or an enhancement, but deep reform. The resulting fire and presence of the Holy Spirit will cause us to marvel and wonder why we ever resisted at all."- John Burton, based on his book 20 Elements of Revival

---


I will be broadcasting live Monday-Friday at 11pm…tune in TONIGHT at www.thefurnace.tv/live!
Last night I started forty nights of video broadcasts, and I will continue TONIGHT at 11pm Eastern.
You can watch last night's video, "False-Grace: What Does God Look Like?" HERE.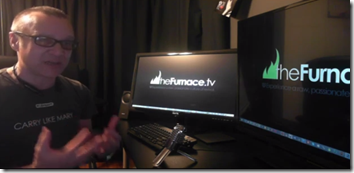 You can always jump right to the Youtube LIVE stream every night from our live streaming page: www.thefurnace.tv/live.
Be sure to comment right on the Youtube page during the show!
See you TONIGHT!
Tonight at 9pm EDT (7pm local time in Saskatoon) John Burton will be teaching Carry Like Mary
If you haven't heard this teaching, IT'S IS A CAN'T MISS, MUST SEE revelation!
Watch TONIGHT at http://www.fafc.ca!

Read all about this powerful conference here: http://www.fafc.ca/v04/index.php?option=com_content&view=article&id=76:john-burton-meetings&catid=16:upcoming-events&Itemid=63
John Burton Meetings
John Burton has been developing and leading ministries for over 20 years and is a sought out teacher, prophetic messenger and revivalist. John has authored six books, has appeared on Christian television and radio and directed one of the primary internships at the International House of Prayer (IHOP) in Kansas City. Additionally, he planted two churches, has initiated two city prayer movements and is currently directing a prayer and revival focused ministry school in Detroit called theLab.
Three Powerful Services FREE & Open to the Public.
Friday, March 30 @ 7:00pm
Saturday, March 31 @ 7:00pm
Sunday, April 1st @ 10:00am
John will impart 3 messages of remarkable freedom based on his book, Covens in the Church::
+ Becoming Unoffendable – Learn clear and powerful truths that will set you free from the threat of having an offendable heart. Many in the church are held captive by a spirit of offence, so we plan on having a massive jail break!
+ Carry Like Mary – When we receive the revelation that we are carriers of the most powerful force in existence, God Himself, everything changes. The way we approach our relationships, our missions and our connections in the church all change. Get ready to explode in extreme life as you deliver Jesus to the world!
+ Covens in the Church – Discover how important you are, and how critical it is that the church remains tightly connected and in position. John will discuss the subtle yet viciously powerful spirit of Absalom in addition to the call for the church to be submitted, humble and ready for Kingdom advance.
---
Pastors & Ministry Leaders Sessions – REGISTRATION
Session Schedule (Saturday, March 31)
9:30am Coffee & Muffins
10:00am Session One
12:00pm Lunch
1:00pm Session Two
PLEASE ONLY REGISTER FOR THE PASTORS AND LEADERS SESSION
IF YOU ARE A PASTOR OR MINISTRY LEADER.